Squalane oil and rosehip seed oil are two super popular beauty ingredients. It's not a huge surprise, since they are both awesome! Chances are, you already know what these two ingredients are. You might even be familiar with some of the top rosehip oil and squalane benefits. But when should you be using squalane and when should you use rosehip oil? Is one ingredient better for sensitive skin? What about acne?
This post may contain affiliate links. Read the full disclosure here
These are just a few of the questions we'll answer in this comparison of squalane vs. rosehip seed oil.
What Is Squalane Oil?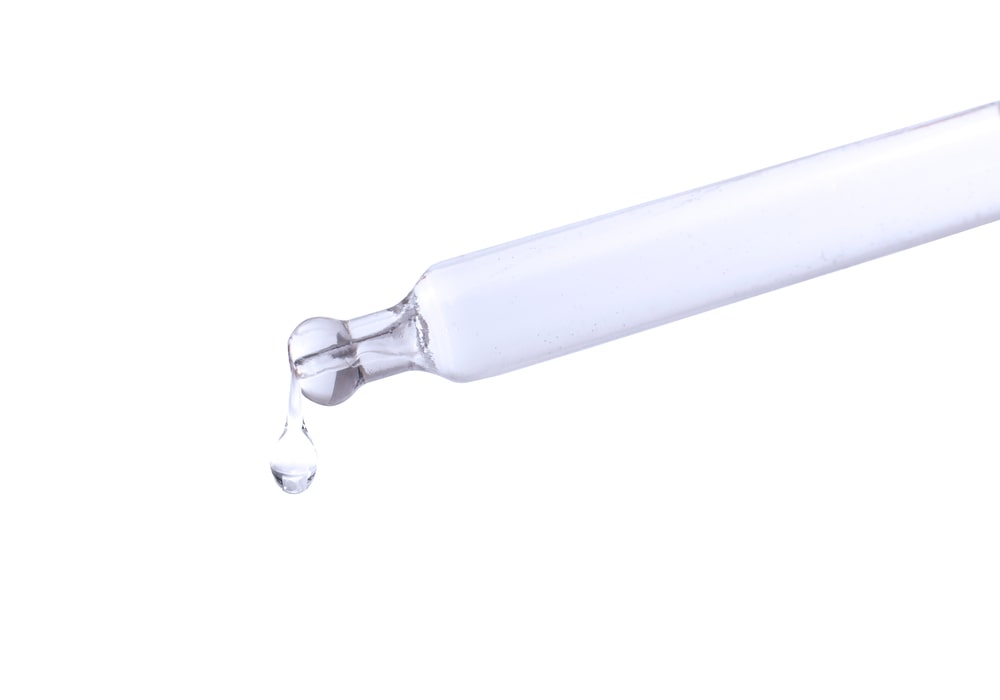 Let's first get a better understanding of what squalane is and why it is so useful in skincare. Squalane (spelled with an a) is a hydrogenated version of squalene (with an e). Squalene is produced naturally in our sebaceous glands. Learn more about the comparison of squalane vs. squalene here.
Our sebaceous glands produce sebum, which is a mixture of wax esters, triglycerides, and squalene. This provides a protective layer on the surface of the skin. It helps moisturize the skin and keep the skin barrier healthy. Unfortunately, our production of squalene decreases as we age. So we produce squalene naturally, but where does the squalane we find in products come from?
Traditionally, squalane oil was harvested from sharks. Shark liver contains high amounts of squalene. Luckily, many companies shifted to sourcing squalane from plant sources. The vegan-friendly options are derived from olive oil, sugar cane, rice bran, amaranth seed, and wheat germ.
Squalane Oil Skin Benefits
Now that we have a better idea of where squalane comes from, what skin benefits does it provide? Do we need to add more to our skin since we already naturally produce squalane?
Let's take a look at some of the top skin benefits and we'll let you decide.
Hydration – Squalane provides hydration that quickly absorbs into the skin. It hydrates the skin without leaving a heavy or greasy feel.
Anti-inflammatory properties – It contains anti-inflammatory properties that can help reduce redness and calm the skin. It can help soothe inflammatory skin conditions such as eczema, rosacea, acne, and psoriasis.
Helps prevent moisture loss – It supports a healthy skin barrier and helps the skin retain moisture for plump, supple skin.
Helps prevent premature aging – The antioxidants in squalane help protect the skin against damage caused by UV light.
Wondering if squalane is better than hyaluronic acid? Read that comparison here.
What is Rosehip Oil?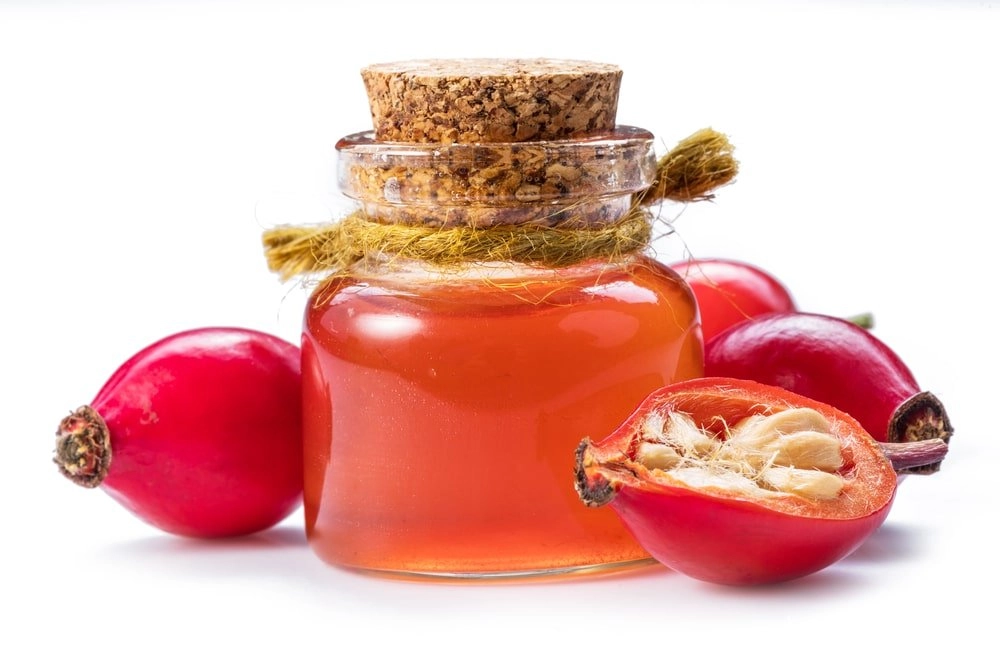 Rosehip oil or rosehip seed oil is derived from the small fruit from the rosa canina rose bush. It's widely known and loved in the skincare community. You'll find this oil in anti-aging serums, toners, moisturizing oils, and nourishing creams. Rose oil comes from rose petals themselves, but rosehip oil is from the fruit seeds of the rose plant.
While it's a great ingredient on its own, it's a great carrier oil in skin care formulations.
Rosehip Seed Oil Skin Benefits
There is a reason why rosehip oil in tons of skincare products. It offers tons of benefits! It hydrates, provides anti-aging benefits, promotes collagen production, brightens the skin, and more.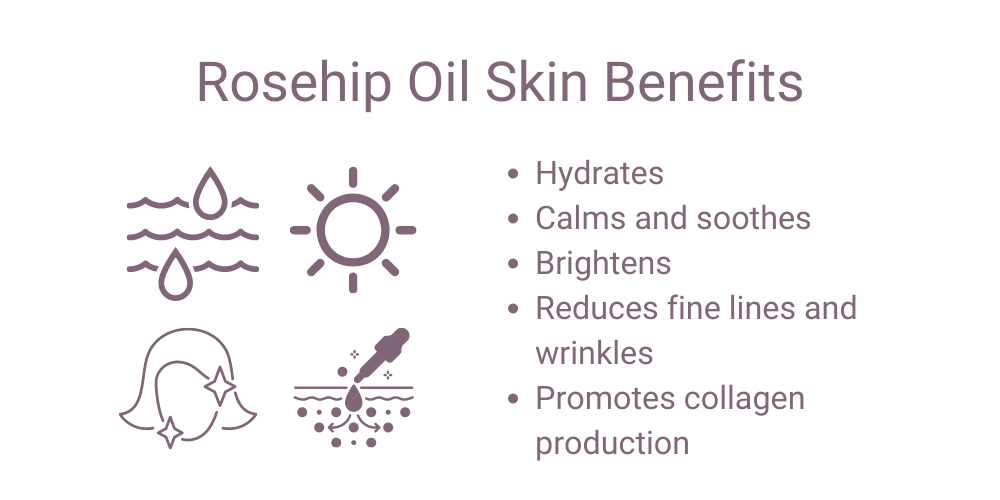 Hydration – Rosehip oil hydrates and moisturizes the skin. It's rich in polyunsaturated fatty acids such as linoleic acid and linolenic acid that help replenish skin hydration. It quickly absorbs into the skin and also helps the skin retain moisture.
Brightens skin – It naturally exfoliates for glowing, brighter skin. Rosehip seed oil is high in vitamin C and vitamin A, which promote skin cell turnover.
Helps protect against sun damage – It is loaded with antioxidants that help prevent photoaging and help with sun damage.
Promotes collagen production – Another benefit of the high vitamin A and vitamin C content is the boost to collagen production and skin elasticity. This becomes more important as we age since natural collagen production decreases.
Anti-inflammatory properties – Rosehip seed oil can help soothe and calm the skin. It contains polyphenols, anthocyanin, and vitamin E which can help calm skin irritation.
Evens skin tone – It helps even skin tone and visibly reduces hyperpigmentation. Rosehip oil is rich in vitamin A which normalizes the activity of tyrosinase. This enzyme is critical to melanin production.
Reduces fine lines and wrinkles – Rosehip oil reduces the appearance of fine lines and wrinkles. The mix of fatty acids, vitamins, and antioxidants promotes healthy skin for a supple, youthful glow.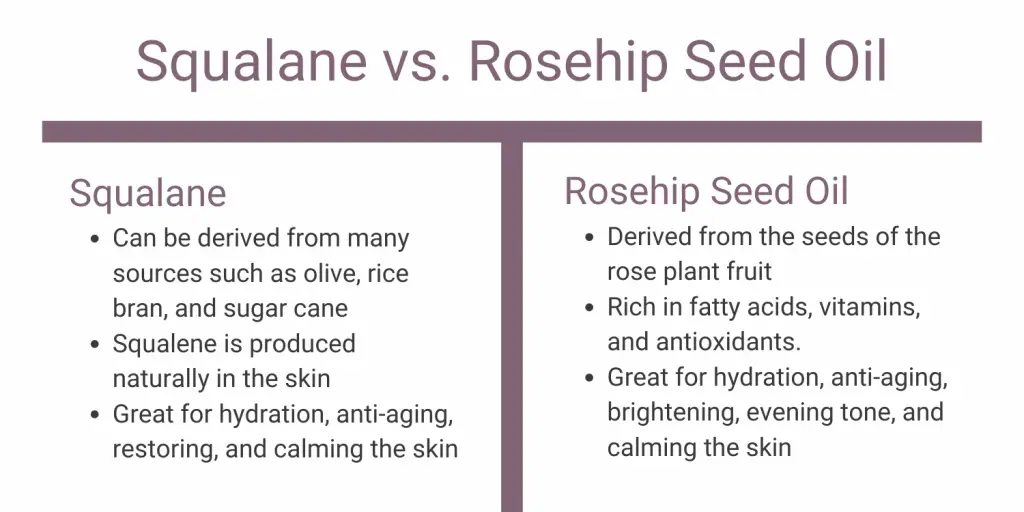 Comparing Rosehip Oil and Squalane – Which is Better?
You can't go wrong with either of these ingredients! When comparing head-to-head, which one is better? Well, it depends on your particular skin needs and skin type.
For instance, if you want to even texture, tone, reduce hyperpigmentation, or brighten the skin, then rosehip seed oil is the best choice. However, if you struggle with sensitive skin, then squalane oil is a safer choice.
Let's take a deeper look at the similarities and differences between squalane and rosehip seed oil.
Similarities
Squalane and rosehip oil offer amazing benefits to the skin. They can both be sourced naturally and be vegan-friendly. You'll find both of these ingredients in hydrating and anti-aging products. Rosehip oil and squalane oil support a healthy skin barrier to help the skin retain moisture.
Both ingredients offer great anti-aging benefits. Without clinical data comparing the two, we can't say which ingredient is better for anti-aging. But squalane and rosehip oil are both in tons of anti-aging products with amazing clinical results.
Differences
Squalane can be derived from many different sources. It can be derived from shark liver, olive oil, coconut oil, sugar cane, rice bran, and more. On the other hand, rosehip oil comes from one source, the seed from the fruit of the rose plant.
The skin naturally produces squalene. That is not the case for rosehip seed oil.
Rosehip seed oil offers a wider range of skin benefits. It hydrates, calms, and soothes the skin similar to squalane. But rosehip oil also helps brighten, even tone, reduce the appearance of scars, and promotes collagen production.
Sensitive Skin
This one is a toss-up. Both squalane and rosehip oil are good options for sensitive skin. We believe squalane is slightly better for sensitive skin. Research shows squalane has a very low chance of irritating the skin and it also offers anti-inflammatory properties to help soothe and calm the skin.
Squalane for Sensitive Skin
Squalane is a great option for sensitive skin. It's considered safe to use for all skin types. Squalane has a low chance of causing irritation to the skin. Since squalane is naturally produced by the skin, it absorbs well and is considered safe even for sensitive skin. It also offers skin calming and hydrating benefits for supple, smooth, and soothed skin!
Rosehip Oil for Sensitive Skin
Rosehip oil is also a great option for sensitive skin. It is rich in antioxidants and contains anti-inflammatory properties that help soothe and calm the skin. It is commonly recommended to help soothe skin conditions such as eczema. The Cosmetic Ingredient Review Expert Panel considers rosehip oil safe to use when formulated to be non-irritating and non-sensitizing.
Acne-Prone Skin and Clogged Pores
So is squalane or rosehip oil better for acne? Out of these two, rosehip oil is the better option for acne and blemish-prone skin. Squalane isn't a bad option, but rosehip oil is a well-rounded ingredient that pairs well with other acne-fighting ingredients. Consider including rosehip seed oil as part of your skincare routine!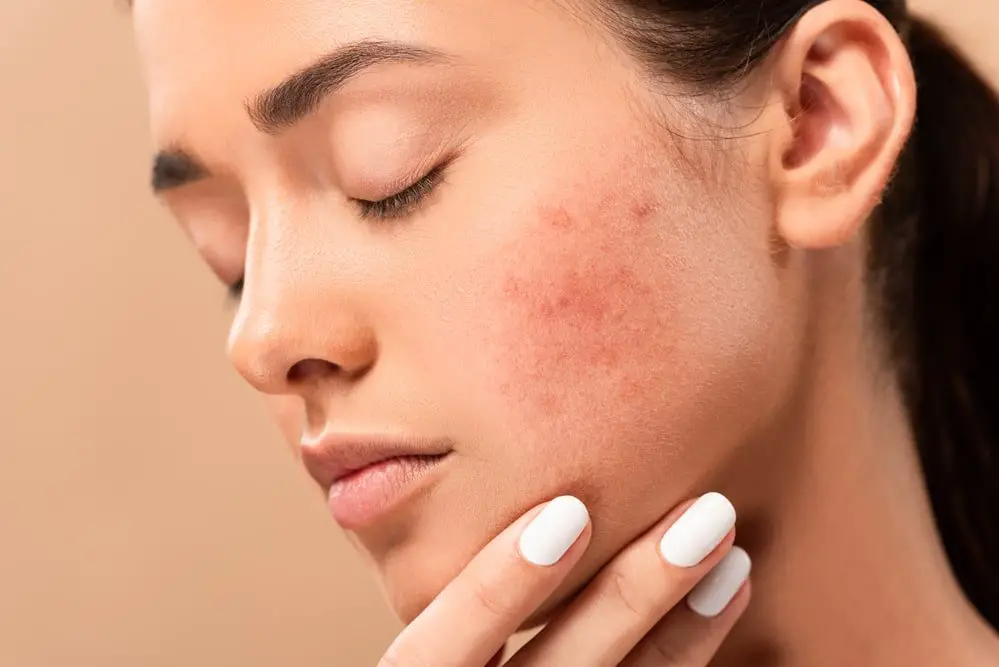 Squalane for Acne
Squalane is a great lightweight hydrator safe for all skin types, including acne-prone skin. One study linked the oxidation of squalene to acne and that it increased the likelihood to clog pores. However, squalane (the hydrogenated version) is more stable and is non-comedogenic. In other words, you don't have to worry about squalane clogging your pores. Squalane has a comedogenic rating of 0-1, which means it is unlikely to clog your pores.
The anti-inflammatory properties of squalane may also help reduce the redness caused by acne and blemishes.
Rosehip Oil for Acne
However, rosehip oil is also a good option for acne-prone skin. It contains anti-inflammatory and antimicrobial properties that soothe and calm the skin. Similar to squalane, rosehip oil also has a low comedogenic rating. For instance, rosehip oil has a comedogenic rating of 2, which means it has a low chance of clogging your pores.
It's common to find rosehip oil as an ingredient in acne-fighting and acne treatment products. It helps naturally hydrate the skin, reduce inflammation associated with acne, and helps reduce the appearance of acne scars.
Squalane Oil and Rosehip Oil Together
Having trouble deciding between the two? Use them together! These ingredients are safe to use together. Both squalane oil and rosehip oil are friendly ingredients that pair well with others.
Here are some of our favorite products that contain both rosehip oil and squalane.
Biossance Squalane + Phyto-Retinol Serum
It's hard to talk about squalane without referencing a Biossance product. They're sort of known for it. This serum is loaded with squalane, rosehip oil and many other moisturizing and anti-aging ingredients. It also contains bakuchiol, niacinamide, and hyaluronic acid. It's a retinol alternative that reduces appearance of wrinkles, fine lines, and helps with the effects of sun damage.
The Phyto-Retinol Serum is backed with clinical results and hundreds of positive customer reviews.
Uses bakuchiol, a retinol alternative
Easing wrinkles and fine lines
Even skin tone and texture
Keep skin soft, smooth, and supple
Youth To The People Superberry Hydrate + Glow Facial Oil
This face oil includes rosehip seed oil, squalane, and much, much more. It has a unique blend of antioxidant-rich berries, including the maqui berry, which is the most antioxidant-dense fruit in the world. The Youth To The People oil is super fast absorbing and will leave the skin hydrated, nourished, and glowing.
Youth To The People products are 100% vegan, made with cold-pressed extracts, without animal testing, parabens, phthalates, or dimethicone.
Eve Hansen Rose Camellia Facial Oil 
Here's another amazing product with rosehip seed oil, squalane, grapeseed oil, argan oil, and more. This product is stacked with nourishing plant-based oils! This Eve Hansen oil hydrates and improves skin tone, helps reduce the appearance of fine lines and wrinkles, and helps fight free radicals.
This product is made with natural and organic ingredients, is vegan, and cruelty-free. It's also made without sulfates, parabens, and phthalates.
OMGBOTANICALS Hyaluronic Acid Renewing Serum
This renewing serum contains hyaluronic acid, olive-derived squalane, rosehip oil, and chamomile extract. This powerful combo offers deep hydration, fights free radicals, protects the skin from sun damage, reduces the appearance of fine lines, and helps even tone.
This is a great affordable option with rosehip oil, squalane, and other effective ingredients.
Other Ingredient Comparison Articles You'll Love: