Want to learn more about this nourishing oil that comes from Morocco? We're here to help. Argan oil was traditionally used in cooking for its smooth nutty flavor. Now it's in a wide range of skin care and hair care products. Once the skin benefits of argan oil caught on, its popularity began to soar.
This post may contain affiliate links. Read the full disclosure here
What Is Argania Spinosa Kernel Oil (Argan Oil)?
Argan Oil INCI Name: Argania Spinosa Kernel Oil
Argan oil, also known as argania spinosa kernel oil, comes from the kernels of the Argan tree, native to Morocco. Argan oil naturally contains vitamin E, carotenes, squalene, and fatty-acids making it a worthy ingredient in skincare products. This ingredient was first introduced in cosmetics in 2003 and it quickly gained popularity based on a wide range of benefits.
You'll find argan oil as an ingredient in products, but it's also sold as 100% pure oil. This moisturizing, soothing ingredient is gentle enough for all skin types.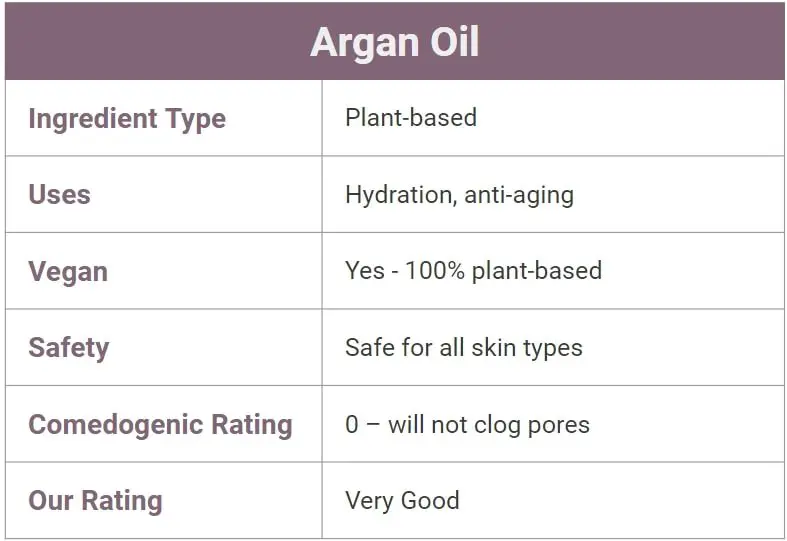 Argan Oil Benefits In Skincare
It's no surprise argania spinosa kernel oil is an ingredient in popular better-for-you and plant-based skincare products; it does wonders for your skin! So what can argan oil do for your face? From hydration to anti-aging benefits, this ingredient one of our favorites!
Fight Free Radicals
Argan oil contains antioxidants such as vitamin E and polyphenols to protect skin cells from free radical damage caused by sun exposure and other environmental factors. This may help reduce the appearance of redness, hyperpigmentation, and could even help protect against the development of skin cancer.
Hydration (without excess oiliness)
Argan oil provides hydration to the skin. It's rich in vitamin E which helps water retention in the skin. Despite its ability to hydrate, it won't lead to excess oiliness. This oil has sebum-reducing properties to help control that greasy, shiny appearance of the skin.
Fights Acne
While argan oil isn't considered an "acne treatment" it can be a worthy acne-fighting ingredient in your skincare products. Acne caused by excess sebum (oil) production can be lessened with ingredients such as argan oil. It also makes for a great ingredient in acne products since it can help even the appearance of redness while it hydrates the skin. Many harsh-chemical acne treatments leave skin raw and dry. Argan oil can help alleviate some of the nasty side-effects caused by harsh acne treatment products.
Anti-aging
Applying argan oil to your face daily may reduce the appearance of aging. Anecdotal evidence shows argan oil may help improve the elasticity of the skin. It can help repair the skin barrier to reduce the appearance of fine lines and wrinkles.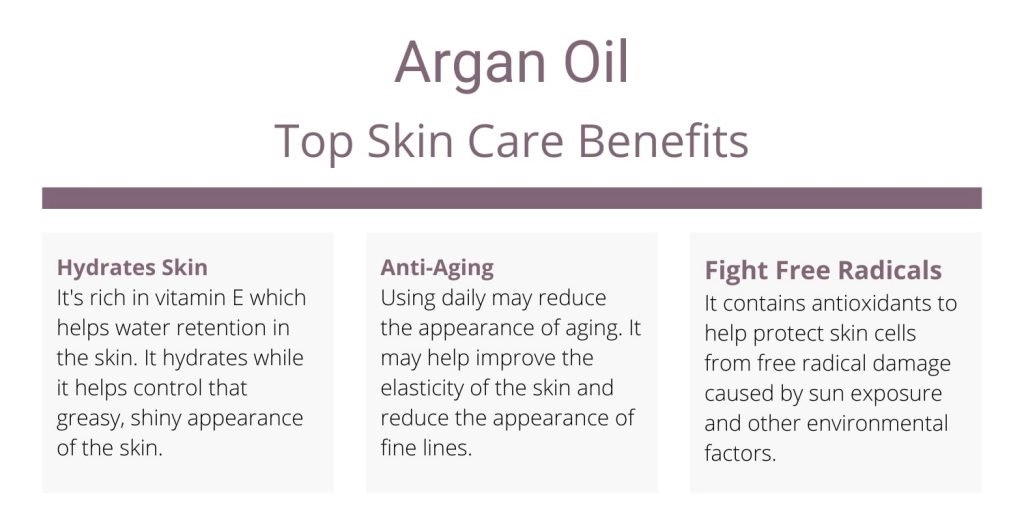 Related Anti-Aging Skincare Ingredients You May Find Interesting
What Makes Argan Oil So Effective?
Argan oil has a unique composition that offers numerous benefits to the skin. Here are some of the key components of argania spinosa oil.
Fatty Acids
Argan oil is comprised of fatty acids that are essential for skin membrane health. Fatty acids help stimulate cell regeneration for a bright, toned complexion.
Squalene
Squalene softens skin and is easily absorbed into the skin. It can help prevent wrinkles, fine lines, help retain moisture in the skin, and prevent UV damage.
Vitamin E
Argan oil contains vitamin E, which is packed with antioxidants. This free radical scavenger helps the skin retain moisture, it hydrates, and it can help prevent the signs of aging.
Vitamin E can help soothe and heal the skin. It's great for soothing skin after too much sun but it can also help reduce the appearance of hyperpigmentation and scars.
Triterpene Alcohols
Triterpene alcohols can help reduce inflammation and it may help skin repair the damage caused by UV radiation.
Ferulic Acid
Argan oil is high in ferulic acid, a type of polyphenol that's rich in antioxidants. It's free-radical fighting properties increase when exposed to sunlight. It provides UV protection and has anti-inflammatory properties.
Phytosterols
Phytosterols promote collagen production to help protect skin and slow the effects of aging.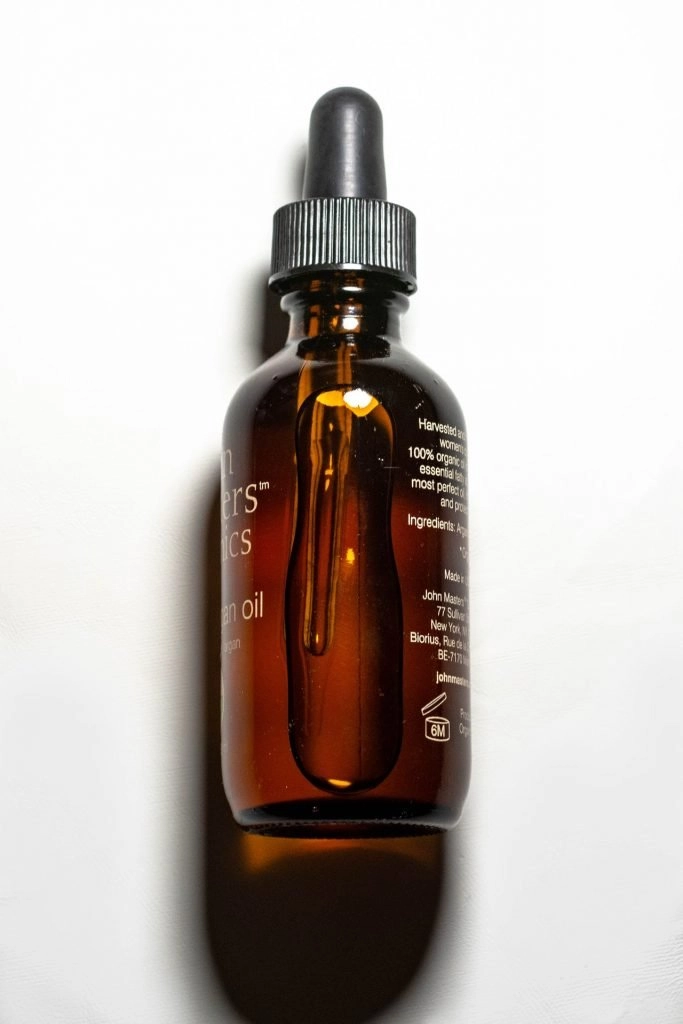 Argan Oil vs. Moroccan Oil – What's the Difference?
Argan oil and Moroccan oil are very similar so they are often confused. Argan oil comes from the kernels of the argan tree, which is native to Morocco. This is the true pure form or Argan oil. Argan oil can be referred to as Moroccan oil, but if the label says "Moroccan oil" it may include other oils in addition to Argan oil.
Moroccan oil generally refers to a mixture of oils that include Argan oil. This isn't always a bad thing, but it's good to understand what other ingredients are included in the mixture. If you're using Moroccan oil on your face, you may want only non-comedogenic ingredients so the product doesn't clog your pores.
So which is better? It comes down to what you are looking for. For a non-comedogenic, moisturizing, anti-aging oil, pure Argan oil is the way to go. However, if you are looking for ingredients that offer other benefits as well, then Moroccan oil might be a better fit for your skin needs.
You may also see Argan oil compared to Rosehip oil and Marula oil since they share many of the same benefits. Learn more about the benefits of using Rosehip oil here.
Here are some other skin replenishing oils you'll also love:
Will Argan Oil Clog Your Pores?
No, argan oil will not clog your pores. Argan oil has a comedogenic rating of 0. This is based on a scale of 0 to 5 that estimates the likelihood that an ingredient/product will clog pores. Since argan oil has a rating of 0, it has a very low chance of clogging pores. This is one of the reasons this ingredient is recommended for acne-prone and oily skin.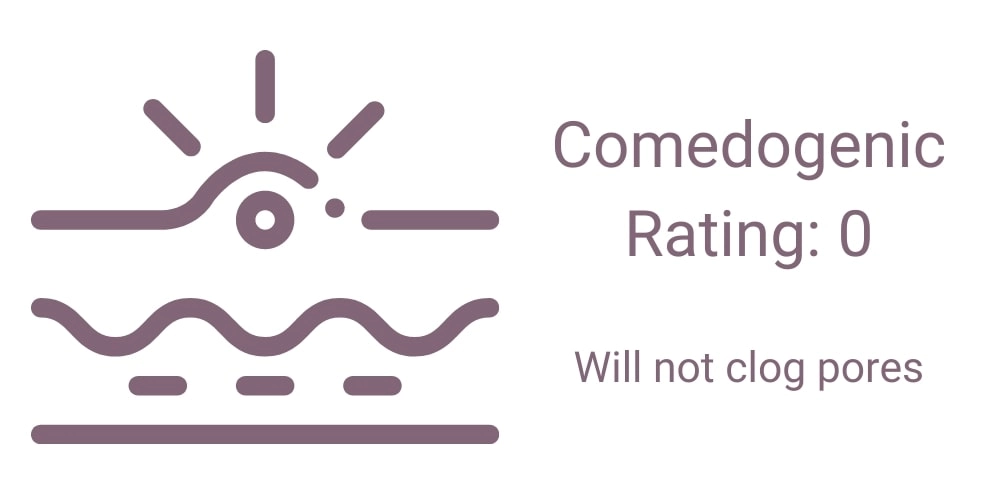 Argan oil is non-comedogenic, lightweight, and absorbs into the skin quickly.
Where to Buy Pure Argan Oil
You can find high-quality sources of pure argan oil are most specialty beauty shops and even select health-food grocery stores. You can also find plenty of pure argan oil options on Amazon here.
The source of the argan oil is important here too. Minimally processed oils tend to be most expensive but they are also more effective. In other words, you may not want to reach for the cheapest argan oil option available.
When buying pure argan oil, make sure it is exactly that. Look for an ingredient label that contains argania spinosa kernel oil and that's it. Opt for products without added water, fragrances, or preservatives. These additional ingredient can diminish the effectiveness of this nourishing oil.
Local Drug Store and Grocery Store Options
Since the benefits of argan oil are well-known for hair and the skin, it's not uncommon to find it at your local grocery store or drugstore.
CVS offers a few decent argan oil options but the availability varies from store to store. One of the best options is the Life-Flo Pure Argan Oil. You can find it on the CVS site here or the same product on Amazon here.
The Trader Joe's argan oil is raved about, similar to many other TJ's products. If you live close to a Trader Joe's you understand the hype. They don't sell online but you can find this product on Amazon as well. You'll have to pay double the price, but it's always an option.
There are even options if you're a Walmart shopper as well! Sky Organics Organic Argan Oil is our favorite Walmart option available.
For all the Target lovers out there, we have you covered too! Our favorite Target argan oil is the SheaMoisture 100% Pure Argan Oil. It's a great pure option for under $10. This product can also be found on Amazon here.
Argan Oil for Oily Skin
Can argan oil be used on oily skin? Yes, argan oil is safe to use on oily and even acne-prone skin. Since argan oil is non-comedogenic (meaning it won't clog your pores) it's a great ingredient that can provide healthy hydration, even for oily skin. Argan oil is also a great option for balanced and combination skin!
It may seem counterintuitive to use an oil on oily skin but oily skin needs hydration too! The key is to use ingredients such as argan oil that absorb into the skin for glowing, balanced skin.
Frequently Asked Questions
References