Amaranth seed oil has been around for a long time, but it's been growing in popularity based on its newfound skin benefits. Yea, you can cook with it but it's great for your skin too!
This post may contain affiliate links. Read the full disclosure here
Most oils that you cook with don't sound all the appealing to smear on your face, right? While soaking your face with olive oil is a bit much, amaranth seed oil is worth a deeper look. Learn more about the uses of amaranth oil in skincare along with the main benefits it offers the skin.
What is Amaranth Seed Oil?
The amaranth (Amaranthus) plant has 60-70 different species throughout the world. The plant prefers warmer climates in high elevations but will grow in cooler temperatures too. This plant species is easily spotted by its tall height, bright gold and purple flowers, and red leaves. The seed is a tiny dot found in the flowers that are cream color with a few black spots. This plant has 60 to 70 species but we only use 3.
Amaranth has a long history dating back to the Aztecs over 8,000 years ago. The Aztec civilization was where Mexico is today. Other Mesoamerican civilizations also lived in Mexico and Central America, where this specific genus of amaranth is found today.
It is one of the oldest known crops to be cultivated on the planet. The plant is packed full of nutrients, which is why the Mesoamerican civilizations used the seeds for numerous things.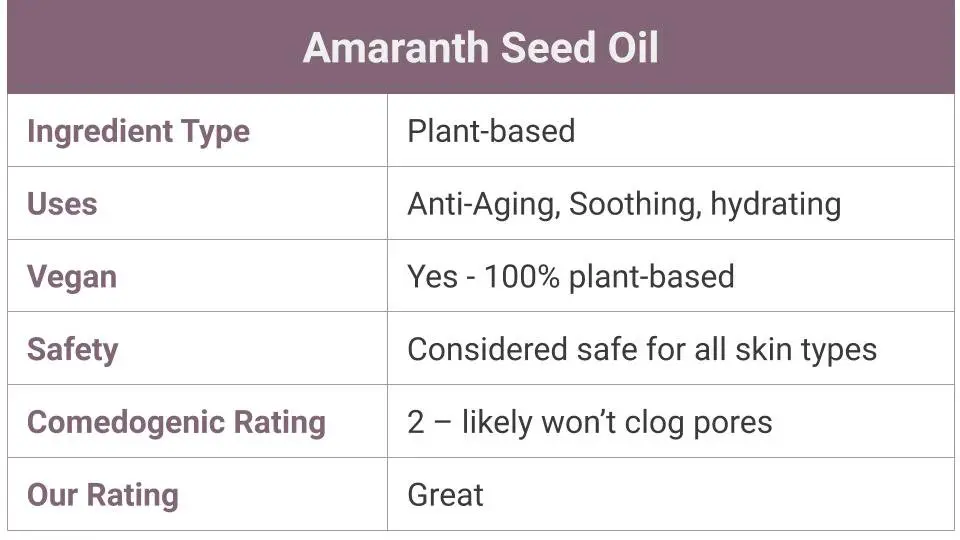 Today you'll find amaranth seed oil in products that can be consumed for health benefits but also applied topically for a wide range of skin benefits.
Amaranth Seed Oil Composition
Amaranth seed oil is made up of a lot of vitamins, minerals, fatty acids, flavonoids, and components. The vitamins include the following ascorbic acid, riboflavin, folate, niacin, thiamin, vitamin A, pantothenic acid, vitamin. B, vitamin B-6, vitamin E, choline, betaine, and lutein. In other words, amaranth seed oil has a well-rounded ingredient profile.
Minerals include the following amaranth calcium copper, magnesium, magnesium phosphorus, potassium, sodium zinc, and selenium.
Fatty acids found in the seeds include the following palmitic acid, stearic acid, oleic acid, linoleic acid, and linolenic acid.
Flavonoids in the seeds include flavonoids quercetin, nicotiorin, myricetin, rutin, phenolic acids, ferulic acid, gallic acid, caffeic acid, coumaric acid, chlorogenic acid, epigallocatechin, and anthocyanins.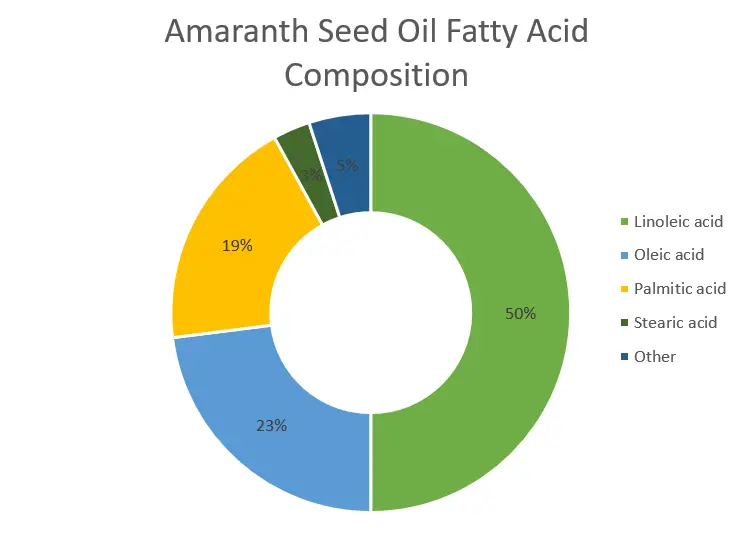 Components of amaranth include the following arginine, phenylalanine, histidine isoleucine, lysine, methionine, valine, leucine, tryptophan, and threonine. One of the most essential parts of the amaranth plant is a lipid, also known as fat, called squalene. It is found in the plant.
Amaranth Seed Oil Squalene
The amaranth seed oil has the greatest amount of squalene. This lipid (fat) is made naturally in the liver. It helps the body keep the skin and tissues moist and lubricated and protects the body from environmental toxins. For this reason, you'll find products listed as amaranth squalane since it's a natural source of squalene.
If you're curious, you can learn more about the differences of squalane and squalene here.
Where Does Squalene Come From?
Amaranth has the greatest squalene levels of all plant sources. It even has up to eight times as much as shark liver oil. Which is known to have high concentrates of squalene in their liver. It is secreted by the sebaceous glands that are connected to hair follicles on the body. A person can have up to 6,000 sebaceous glands.
Squalene is a natural form of skin protection. It also helps some of the internal organs such as the liver and small intestine by increasing the fat metabolism in the body.
Squalene is popular in cosmetics and skincare products. In the past few years, it has been an ingredient focus in many popular products.
How is Squalene Made?
Squalene oil is usually extracted by mechanical pressure devices or organic solvents. However, each extracted method still requires the oil to be refined to eliminate unwanted pigments, compounds, phospholipids, and free fatty acids,
The mechanical pressure extraction method generates little modifications of the compounds when compared with other extraction processes.
The squalene oil is ejected by either the conventional technique of mechanical pressing or a modern method of solvent removal. The best type of extraction is cold mechanical pressing (cold-pressed), which preserves the phytonutrients, which ensures that all the oil has the ideal amount of squalene and Vitamin E and some of the beneficial fats. If you're looking for a great (naturally-sourced) squalane product, check out our Biossance Squalane + Phyto-Retinol Serum Review.
Amaranth Squalene Benefits
Amaranth-based squalene offers a wide range of skin benefits. It can help replenish dry or damaged skin, help reduce the appearance of fine lines and wrinkles, and improve texture and tone.
Anti Aging – It can fight signs of aging by reducing the appearance of fine lines and wrinkles. It replenishes dry skin for a youthful, plump complexion.
Hydration – Amaranth squalene can deeply hydrate the skin without excess oiliness.
Even Tone & Texture – It can visibly improve skin tone and texture for radiant, glowing skin.
Amaranth Seed Oil Skin Benefits?
Amaranth seed oil is rich in Vitamin E and fatty acids making it a great ingredient for dry, damaged, and mature skin. This oil can help replenish hydration, fight off free radicals, and soften and smooth skin for a youthful complexion.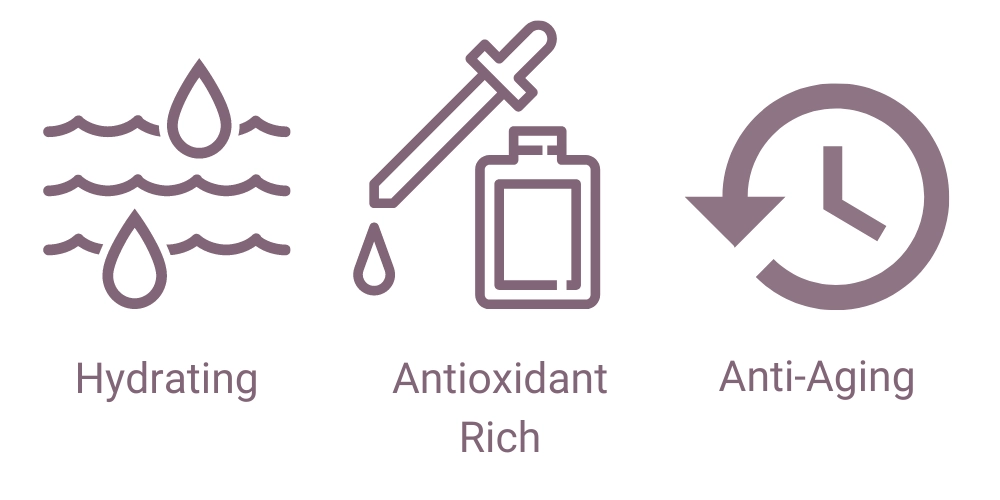 Anti-Aging
It can help rejuvenate tired skin. Our natural production of squalene diminishes as we age. This squalene-rich skincare ingredient can help replenish hydration and skin-loving nutrients for glowing skin.
It can also help reduce the appearance of fine lines and wrinkles. Hydrated skin can also help prevent future wrinkles!
Hydrate
Amaranth seed oil deeply hydrates skin without excess oiliness or leaving a greasy residue. It's a great option to replenish dry or damaged skin.
Fight Free Radicals
It is rich in antioxidants that help fight off skin stressors and damage caused by the sun's harmful UV rays. This can help slow down premature aging.
Anti-Inflammatory
It has anti-inflammatory properties that can help soothe and calm unhappy skin. Many believe it can beneficial for those who struggle with skin conditions such as psoriasis and dermatitis.
Smooth and Soften Skin
Enjoy smoother and softer skin with daily use. Amaranth seed oil absorbs quickly into the skin without leaving it feeling greasy or oily.
Top Skincare Uses?
You'll find amaranth seed oil included in various anti-aging and moisturizing skin products but it can also be found in its pure form. That's right, you can buy 100% pure, cold-pressed amaranth seed oil.
It's in creams, serums, and gel-based skin care products for all the benefits noted above. By itself, it acts as a rich, replenishing face oil.
Amaranth seed oil also makes for a great natural makeup remover. Place a few drops of the amaranth seed oil on your fingertip to remove makeup, use a cotton ball to wipe the makeup off. Then leave the remaining oil on your face as a moisturizer always be careful around your eyes as you would be with any type of cleaner.
It's also great for the hair! For shiny hair, massage a few drops of the oil into your scalp and hair and wrap it in a towel for 20 to 30 minutes, then shampoo it out, and you're left with a beautiful shiny head of hair.
Will it clog pores?
Amaranth seed oil has a comedogenic rating of 2 which means it likely won't clog your pores. There's a chance it can clog your pores but it probably won't. Proceed with caution if you struggle with acne, blemishes, or clogged pores. This is the same comedogenic rating as cranberry seed oil, jojoba oil, and Adansonia Digitata seed oil.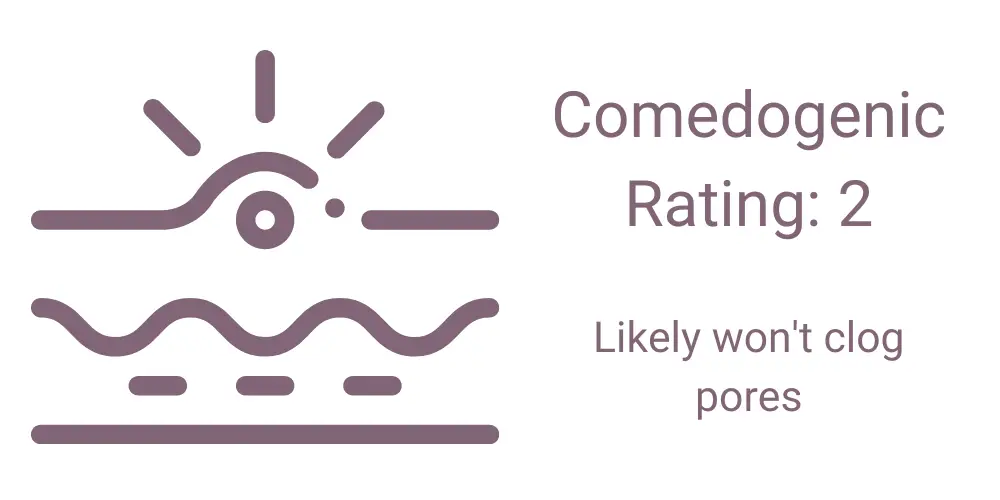 Is it safe for acne-prone skin?
Since there is a chance amaranth seed oil can clog pores, it's best to proceed with caution if you have acne or blemish-prone skin. This ingredient may help soothe and calm acne-related irritation or dryness for acne treatment products. However, it's not the ideal ingredient for those suffering from acne.
Concerns and side effects
Amaranth seed oil is considered safe to use for skin. As noted above, take precaution if you struggle with acne or clogged pores. The Cosmetic Ingredient Review panel also deemed this ingredient safe to use in cosmetics.
Related Ingredients You Might Like