As you're meandering down the skincare aisle at your local beauty store, you may have come across a few products containing one key ingredient: rosehip oil. This natural oil is used by people around the world, and many claim it provides tons of amazing advantages. In fact, many celebrities approve of this oil. Celebs Lena Dunham and Hannah Bronfman both rave about rosehip oil and its benefits, and TV star Kristin Cavallari is another celeb who says she uses the oil as an alternative for Botox.
This post may contain affiliate links. Read the full disclosure here
What is Rosa Canina Seed Oil?
Rosa Canina is a wild rose specie native to Europe that is commonly known as dog rose. The rosehip oil ingredient in skincare comes from the seeds of this wild rose. But rosehip seed oil can also be listed as rosa mosqueta, which refers to the different subspecies of the wild rose.
In early times, it was primarily used by the Egyptians, Mayans, and Native Americans for its nourishment and healing properties. Today, the oil is used to treat a wide variety of inflammatory diseases and common skin problems. According to board-certified cosmetic dermatologist at Union Square Laser Dermatology Y. Claire Chang, "Rosehip oil has been shown to be full of antioxidants, vitamins, and essential fatty acids that may potentially have skin benefits."
One key factor to understand about rosehip oil is that it's ideal for those with sensitive, dry skin. It has loads of hydrating qualities, and it's anti-aging benefits make it a top skin care product choice for many adults, especially those with aging skin.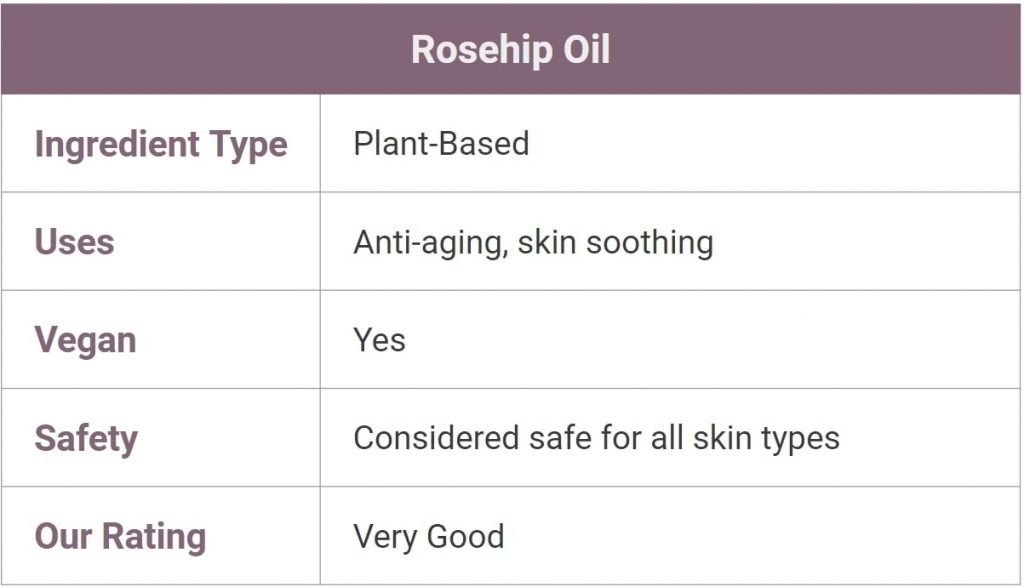 How is it used?
Rosehip oil can be applied directly to the skin, but it can also be used as a carrier oil for more potent facial oils. That being said, you'll find this ingredient in many different skincare products; if you look at the ingredient list for a few different skincare products, chances are you'll see rosehip oil listed. However, although this amazing oil is found inside many different skincare product options, it is still very possible to find it in its pure form. If you're in the market for the pure oil, be sure it's packaged in a dark container; UV rays from sunlight can decrease the potency of the oil.
It is recommended to use rosehip oil up to twice a day; once in the morning and once in the evening. While there are a few different ways to use this oil, the most popular way is to apply it directly to the skin. You can also add it to your moisturizer. However, many experts will tell you that the pure rosehip oil is the best way to experience the full benefits of this natural product, especially when using it on the face. To ensure a long shelf life, be sure to store your rosehip oil in a cool, dark place.
Rosehip Oil Benefits for Face
Now that you know a little more about what rosehip oil is, including how it's used, now it's time to dive into the benefits. For hundreds of years, this incredible natural oil has provided these amazing advantages: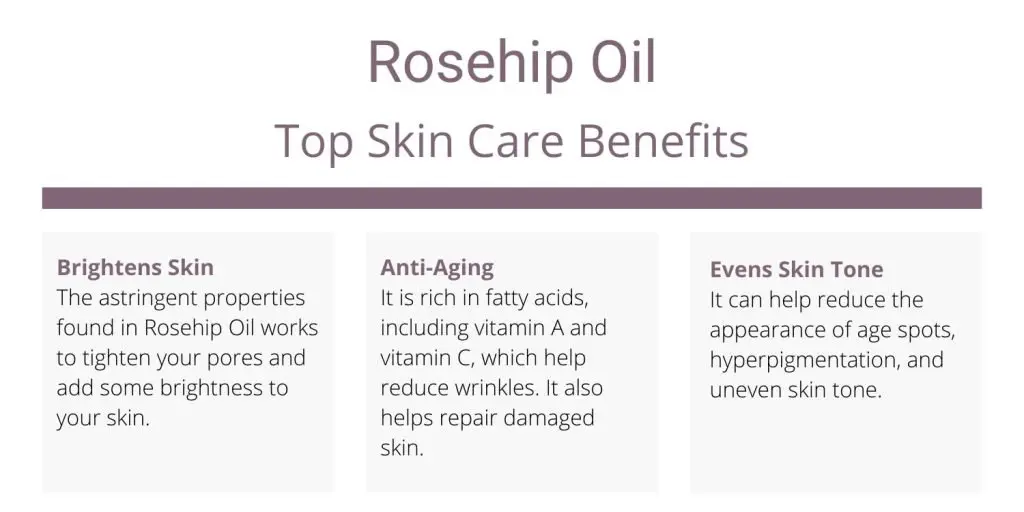 Smooths fine lines and firms skin
One key element of rosehip oil is that it contains tons of vitamins that are perfect for our skin. One of which, vitamin A, helps to target those fine lines, while vitamin C adds brightness to those troublesome dark spots. Vitamin C also stimulates collagen production. But that's not all; rosehip oil also contains vitamin E, which helps protect against sun damage, including environmental pollution.
It's a natural anti-inflammatory and contains healing properties
Many experts claim that rosehip oil contains a high concentration of fatty acids, such as linoleic and oleic acid. These acids work as an antioxidant, moisturizer, and skin protector. In addition, while the studies are limited, rosehip oil has been shown to speed up the wound healing process. Other studies have also concluded that the oil improves the appearance of post-surgical scars, and it also aids in improving inflammatory conditions such as dry skin and eczema.
It's a good mixer
Another one of the leading benefits of rosehip oil is that is mixes extremely well with other ingredients, making it very useful in many different skincare products. According to experts, this oil can be easily integrated into your daily beauty routine. However, you still want to be cautious when using this oil with other products; it's recommended to do a small at-home patch test before using it on a regular basis over your entire face. Additionally, there is always a risk of an allergic reaction, which is common with skincare products. That being said, start with a small amount, then increase it if your skin reacts to the oil well.
It effectively treats wrinkles
One of the leading benefits of rosehip oil is that it helps to target wrinkles. In fact, this one quality is why many aging adults seek out this oil. Rosehip oil contains many anti-inflammatory fatty acids, including vitamin A and vitamin c, which help to treat these annoying wrinkles. These qualities also help to repair damaged skin and provide an antioxidant boost. While other oils can do this, rosehip oil provides these benefits without leaving an oily feel after the application.
Brightens skin
Tired of dealing with those dark, aging spots on your face? If so, then rosehip oil can help. The astringent properties found in this oil works to tighten your pores and add some brightness to your skin. By adding just a small amount of rosehip oil to your daily routine, you can notice a significant change in the brightness of your skin. Try applying a few drops to your cleansed skin at bedtime, then wake up with bright, glowing skin in the morning.
Helps fade away scars
The effects of scarring is something that millions of people deal with as they age. Luckily, rosehip oil works great at stopping these scars in their tracks. With the help of its anti-inflammatory fatty acids and vitamins A and C, this oil makes for the perfect recipe for fading away those scars and keeping your skin bright and even.
Evens skin tone
Another troublesome issue experienced by adults as they age relates to uneven skin tones. However, by simply adding rosehip oil to your daily beauty routine, you can experience a more even skin tone in just days. In fact, the Duchess of Cambridge, Kate Middleton, claims that she uses rosehip oil in her daily routine, and she loves the effects it has on her skin. If you're finding it difficult to remove those red blotches on your cheeks, then rosehip oil may be the answer.
It's a great exfoliator
Aside from the many benefits listed above, rosehip oil also works great at exfoliating your skin. That being said, many experts recommend adding rosehip oil to your daily face wash routine. Working similarly to sugar and sea salt, rosehip oil is a natural exfoliator when it's combined with baking soda.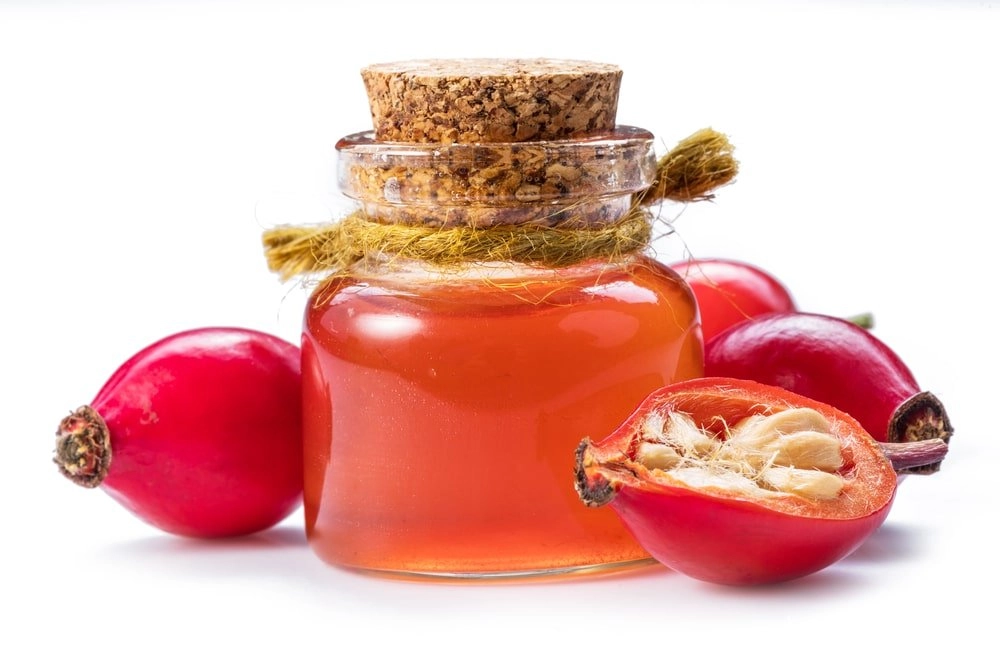 Rosehip Oil for Acne
The topic of rosehip seed oil for acne comes up a lot. Is it good or is it bad for acne? First, it's important to note rosehip oil is not a FDA approved acne treatment ingredient such as salicylic acid, benzoyl peroxide, and resorcinol.
But, rosehip oil is a great alternative to harsh chemicals for acne and blemish-prone skin. This plant oil has properties that can help heal the skin and ward off blemishes. For instance, rosehip oil is high in linoleic acid and lower in oleic acid. Studies have shown that acne-prone skin has higher concentrations of oleic acid and often deficiencies in linoleic acid. Rosehip oil also contains retinoids which have anti-aging and acne-fighting benefits.
You don't have to worry about rosehip oil clogging your pores or causing breakouts. This oil absorbs quickly into the skin, without leaving a thick, oily residue. It can help repair, nourish, and hydrate the skin without making breakouts worse. Rosehip oil is a great option for acne-prone and oily skin.
Rosehip Oil Comedogenic Rating
Rosehip seed oil has a comedogenic rating of 1-2. This means it likely will not clog your pores or make breakouts worse. The unique combination of linoleic acid, retinoids, and antioxidants can help fight blemishes and strengthen the skin. No need to worry about rosehip oil clogging your pores!
Top Rosehip Oil Brands
As you now know about the many amazing benefits of rosehip oil, including how it is used, let's now dive into some of the leading rosehip oil brands on the market today:
Life-Flo Pure Rosehip Seed Oil
If you're looking for an affordable rosehip oil product, then Life-Flo is the business for you. They provide a budget-friendly rosehip oil option that comes with all of the amazing qualities you look for in any rosehip oil product. Additionally, it's organic!
This cold-pressed, natural oil also contains vitamin E, which is an amazing antioxidant that protects your cells from the effects of aging. Combine that with its moisturizing qualities and you have a cost-effective rosehip oil option that makes for the perfect skincare solution!
Trilogy Certified Organic Rosehip Oil
Another one of the best rosehip oil brand options, that is also organic, is made by Trilogy. Although this product provides many benefits, it is especially aimed at those struggling with acne problems. And since acne is one of the most common types of skin problems in the United States, this product is very popular.
The Trilogy Organic Rosehip Oil helps to eliminate the scars developed after having acne. It accomplishes this with some essential fatty acids, like Omega 3 and Omega 6, including linoleic acid. These help to reduce inflammatory acne lesions, including reducing hyperpigmentation that's associated with both new and old acne scars.
La Bella Rosehip Face & Body Oil
While you understand that rosehip oil can provide many benefits for the face, it also has multiple advantages for the body as well. For a full-body solution, La Bella Rosehip Face & Body Oil is a fantastic option. While many rosehip oil products work for either the body or face, this product from La Bella works for both.
This oil works with tons of moisturizing power, but it doesn't come with all the weight that you'll find with standard lotions. That being said, it's a light, moisturizing solution that should be a top component in your daily skincare regimen.
Radha Beauty Rosehip Oil
One troubling skin condition that many people deal with is rosacea. For those who have it, this condition creates redness that's found around the cheeks and nose. Since not all rosehip oil products help treat this condition, that's where Radha Beauty Rosehip Oil comes in.
This cold-pressed, organic oil is the perfect moisturizer that can calm redness and ease the skin. It is a light oil, but it still packs a punch; this product can be a much better solution compared to lotion alternatives. By simply massaging Radha oil into your skin every morning, you can start to notice a decrease in symptoms from rosacea, and you'll also notice healthier, better-moisturized skin!
Teddie Organics Rosehip Seed Oil for Face, Hair and Skin
As a full-body solution, including for your hair, thousands choose Teddie Organics Rosehip Seed Oil for Face, Hair and Skin. In fact, many people consider this the best rosehip oil brand on the market today. This pure, cold-pressed rosehip oil can greatly improve your skin's elasticity, while also moisturizing the skin from head to toe. Combine that with its incredible anti-aging qualities and you have an oil that is loved by people all over the United States.
Just ask the thousands of satisfied customers and they'll tell you this oil has helped them treat many different skin conditions. From acne scars to rosacea, Teddie Organics Rosehip Seed Oil for Face, Hair and Skin can help combat the world's most troublesome skin conditions.
Frequently Asked Questions About Rosehip Oil
Experience the Power of Rosehip Oil Today!
Now that you've learned about what rosehip oil is, it's benefits, and the best rosehip oil brand for your specific situation, now is the time to try this amazing oil for yourself! If you want glowing, even-toned, and healthy skin, then rosehip oil should definitely be in your daily skincare routine. Pick up this oil today and experience gorgeous, vibrant skin for many years to come! 
Rosehip comparisons you might find interesting: