Anti-aging products are some of the best-selling on the skincare market. The active ingredients in these products work in various ways to plump the skin and promote a youthful glow.
This post may contain affiliate links. Read the full disclosure here
Retinol is one of the most common anti-aging ingredients found in skin care formulations. Similarly, you also find squalane used towards the same end. 
That's why people often ask, "Does retinol work like squalane?" A comparison of squalane vs retinol can help answer this, as well as reveal more benefits associated with these two active ingredients.
Which is Better – Our Take: Retinol is the more effective option to fight the signs of aging. Want to reduce wrinkles and fine lines? Retinol is the winner. However, if you have sensitive or dry skin retinol could lead to unwanted irritation.
If you want a gentle and hydrating option that helps defy aging, squalane is a better choice.
What is squalane?
Squalane is a natural, colorless, and lightweight oil that's classified as an emollient, meaning it has strong moisturizing properties. But, first things first. Whenever you hear of squalane, it's often necessary to make the distinction between squalane with an A and squalene with an E.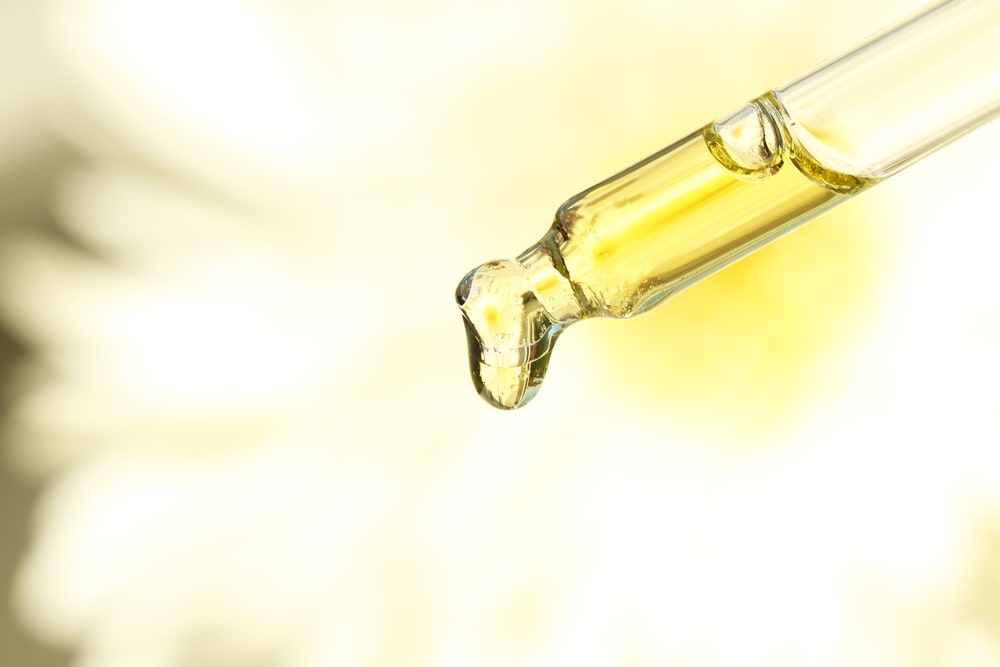 These two compounds are a bit like the chicken and egg. Squalene comes first because it's naturally found in the body and in plants and animals. Squalane is then derived from squalene through a process known as hydrogenation. 
Without getting heavy on the chemistry, hydrogenation modifies squalene so that it's more stable and has a longer shelf life. This modified version is called squalane. The squalane used in skincare products comes from shark liver oil or vegetable oils, though it's mostly plant-derived due to ethical reasons.
Because it's similar to the squalene found in human skin, it's readily absorbed by the skin. What's more, it's not only more stable, but it's also one of the safest additions to your skincare routine. The EPA has marked it with a green circle to show that it's verified to be of low concern.
Squalane benefits
Because of squalane's popularity, most people want to know what does squalane do for skin? Here's a round-up of all the top benefits: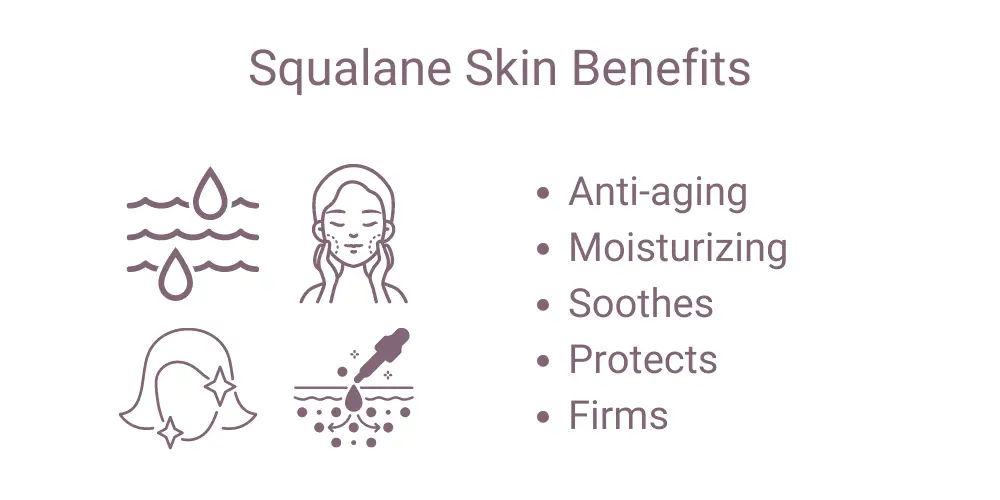 Boosts skin health
There have been several studies that look at the physiological benefits of squalane. Remember, squalane is derived from squalene (spelled with an "e") which is an essential component of human sebum. According to research, human sebum contains unique lipids such as squalene (12-13%) that are not found elsewhere in the body or among epidermal surface lipids.
Ultimately, the function of sebum is to protect your skin from moisture loss. But while levels of squalene in the skin tend to increase between childhood and maturity, they decline rapidly as we age. This leads to dryness and poor skin health.
Fortunately, squalane, the plant-derived version of squalene, comes to the rescue. It helps replenish the skin's protective barrier and promotes skin health.
Increases skin hydration
As an emollient, squalane's role is to increase your skin's smoothness, softness, and flexibility. It improves skin hydration by repairing the protective barrier and limiting the evaporation of epidermal water. This creates a swelling effect in the stratus corneum (outer layer of the skin).
The thickness of the stratum corneum can be measured, and one study showed that the right moisturizer formulation can improve SC thickness and hydration.
Therefore, using a moisturizer that contains squalane is an excellent solution to dry skin. One of the biggest advantages of doing this is that squalane doesn't have an oily feel. It is an elegant moisturizer that doesn't clog the pores and is suitable for sensitive skin.
Research shows there's a significant boost in skin hydration if a cream is used that closely mimics the skin's own natural moisturizing systems.
Combats visible signs of aging
Squalane can combat signs of aging in several ways. For starters, squalane has antioxidant properties. There's a growing belief in the scientific community that free radicals contribute to the aging process.
These free radicals come from metabolic processes in the body or from exposure to UV rays, pollutants, and other environmental stressors. The wrinkle-causing free radicals damage cells and tissue and can only be neutralized by antioxidants like squalane. 
According to research, squalane is also a skin detoxifier and hydrator. It rejuvenates and plumps the skin with hydration. This reduces the appearance of lines and wrinkles and helps restore a more youthful glow. 
Soothes inflammation
Research shows that squalane can support wound healing and tissue repair because of its anti-inflammatory properties. It does so by influencing the response of macrophages (white blood cells) to inflammation. You may have heard that extra virgin olive oil can reduce inflammation and one of the components that contribute to this property is squalene.
Squalane is a breathable oil that can cause skin inflammation resulting from acne flareups. It can also help other skin conditions like eczema, psoriasis, dermatitis, and rosacea. There's even a patent that uses squalane, squalene, or a mixture of the two for the local treatment of burns. 
Best squalane products
Squalane is available as a 100% pure, plant-derived oil and it can also be incorporated into skincare products, along with other beneficial ingredients to improve efficacy. Here are some squalane skincare products that may be worth investing in.
Amara Beauty Squalane oil
Amara Beauty squalane oil is 100% plant-derived from sugarcane. You can use the oil as is on damp skin, or mix it into your moisturizer or makeup.
Most reviews say that it's a lightweight oil that quickly absorbs into the skin and you only need to apply a few drops at a time. However, be sure to do a patch test if you have oily or sensitive skin to ensure the oil doesn't trigger an allergic reaction.
QRxLabs Squalane HA moisturizer
Squalane HA+ Moisturizing Cream with Hyaluronic Acid has intense moisturizing benefits. It contains two types of moisturizers. Squalane is an emollient that locks in moisture in the skin while hyaluronic acid is a humectant that draws moisture from the air and boosts hydration levels.
Based on reviews, this squalane moisturizing cream is non-greasy and leaves your skin soft, hydrated, and silky.
Trilane Squalane anti-aging moisturizer
Trilane Anti-Aging Beauty Oil works to moisturize rough, dry skin so that it turns soft, luminous, and youthful. It reduces the appearance of wrinkles and fine lines and promises antiaging benefits that are supported by the antioxidant properties of squalane.
Top reviews of the product confirm that it improves the appearance and feel of mature skin.
The Ordinary Squalane Cleanser
The Ordinary Squalane Cleanser is formulated to gently cleanse the skin while moisturizing. You can use it to remove makeup without drying up the skin. Most makeup removal products contain alcohol that strips the skin of its natural oils.
But this product is free of parabens, formaldehyde, sulfates, and mineral oil. The reviews are mostly positive and support the manufacturer's claims.
Biossance Squalane Sunscreen
Biossance Squalane + Zinc Sheer Mineral Sunscreen offers SPF30 sun protection. One of the benefits of squalane is that it replenishes the skin's natural protective barrier.
Zinc is an occlusive agent that also protects the skin's outer barrier by preventing the penetration of UVA/UVB rays. The reviews say that it's an effective sunscreen but may leave a temporary white cast.
More squalane comparison articles you might like:
What is retinol?
Retinol is derived from vitamin A and is also known as vitamin A1. It's one of the most popular anti-aging ingredients found in skin care products and is classified as a retinoid. Retinoids are other compounds that derive from or are chemically related to vitamin A.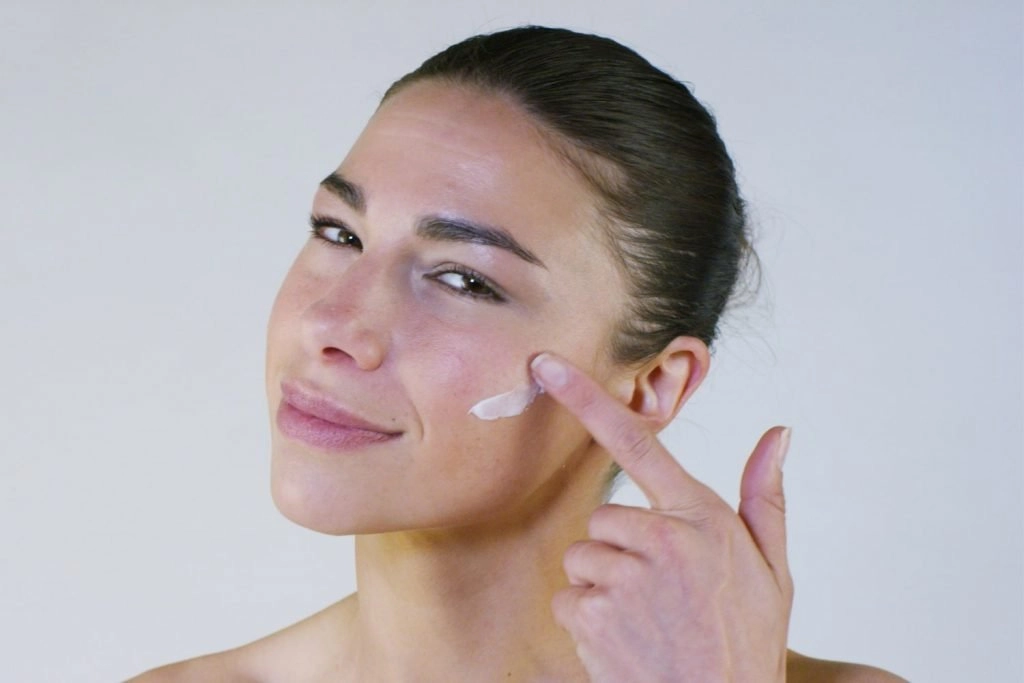 Retinol offers skin benefits because when applied topically, it converts into retinoic acid by enzymes within the skin. The retinoic acid is then able to influence skin structure positively.
Applying retinol is a better option than applying retinoic acid directly which is about twenty times more powerful than retinol and harsher on the skin.
The main difference between retinol and other retinoids is that you can buy retinol over the counter as long as the concentrations are 2% and below.
A low concentration is necessary to prevent side effects, such as irritation, redness, dryness, and peeling. Other vitamin-A-based drugs tend to be more potent, so they are available only by prescription.
Retinol skin benefits
So, what does retinol do to the face and skin? Topical retinol has many skin benefits which we will explore below.
Fights acne safely and affordably
According to one scientific article, topical retinoids are often recommended as an effective treatment for acne. That's because it encourages cell turnover which means clogged skin cells can be shed and replaced much more quickly.
Retinol also helps to reduce oil production, which minimizes the blockage of pores that leads to acne. The biggest advantage of using retinol to treat acne is that it's a safer and more affordable option than other treatments. 
Retinol skin care products are available over the counter and come with a low dosage that allows the skin to acclimate with minimal side effects. Based on scientific literature, topical retinoids have anti-inflammatory effects and a positive safety profile that compares well against other vitamin A derivatives.
Reduces wrinkles
Although retinol started off as an anti-acne treatment, it's now one of the most popular and effective anti-aging ingredients in the skincare industry. Retinol has the ability to stimulate collagen synthesis and protect against the damaging effects of UV rays. This helps to minimize the appearance of wrinkles and fine lines and keeps your skin smooth and useful. 
One study showed that topical application of retinol made the epidermis thicker which resulted in the reduction of facial wrinkles. The results were more notable with continued use.
However, it's important to note that retinol increases skin sensitivity, making it more vulnerable to sun damage. As such, retinol is typically applied at night followed by the application of a suitable sunscreen each morning.
Improves skin color and texture
One study showed that the application of Tretinoin or retinoic acid can help to treat post-inflammatory hyperpigmentation. The study also showed that Tretinoin can also lighten the skin in black persons. While retinoic acid has a stronger effect than retinol, it's possible that retinol can have the same positive effects achieved with Tretinoin. 
It can help get rid of dark spots that can result from inflammatory conditions, such as acne and eczema. As mentioned, retinol increases cell turnover.
The effect is similar to exfoliation because it gets rid of dead cells at a faster rate. As a result, it can brighten dull and dry skin while creating an even tone where there's discoloration.
Best retinol products
Retinol comes as a liquid serum, gel, cream, and emollient. A person can apply it topically to reap the many benefits it may provide to the health of their skin.
Baebody Retinol Moisturizer Cream
Baebody Retinol Moisturizer Cream for the face and neck also contains jojoba oil and vitamin E. The lightweight cream absorbs easily into the skin and can help treat wrinkles, fine lines, and hyperpigmentation.
One review said the cream was effective for crepey skin, but because it contains a high amount of retinol, it may not be suitable for sensitive skin.
Neutrogena Retinol Rapid Wrinkle Repair
Neutrogena Retinol Rapid Wrinkle Repair promises visibly younger skin in just seven days. The product also contains hyaluronic acid which increases moisture and plumps the skin.
You can use the cream for daily use. While some reviews complained about the cream stinging a bit, one review pointed out that this eventually goes away and is part of the skin renewal process.
CeraVe Anti Aging Retinol Serum
CeraVe Anti Aging Retinol Serum helps to brighten the skin and smooth fine lines. Besides retinol, it also contains hyaluronic acid, niacinamide, and ceramides.
The manufacturer recommends applying sunscreen since retinol can increase skin sensitivity. If you have sensitive skin, some reviews recommend using the serum sparingly until you become acclimated.
RoC Retinol Correxion Under Eye Cream
RoC Retinol Correxion Under Eye Cream is formulated for dark circles and puffiness. It's a daily wrinkle cream that can also help treat fine lines, dark circles, crow's feet, dry skin, and uneven skin tone.
Some reviews complained that they didn't notice any difference but it's recommended to stick with it for at least a few months to see results.
Dead Sea Retinol Body Oil
The Retinol Body Oil also contains fatty acids and vitamins. Like other products that contain retinol, it has antioxidant properties that improve the overall health of your skin.
It's cruelty-free and has a light scent plus a non-greasy texture. Reviews for the product indicate that the oil conditions the skin well and absorbs quickly.
More Retinol Comparison Articles You Might Like:
Comparing Squalane vs. Retinol 
When compared against each other, squalane and retinol have some similarities and differences.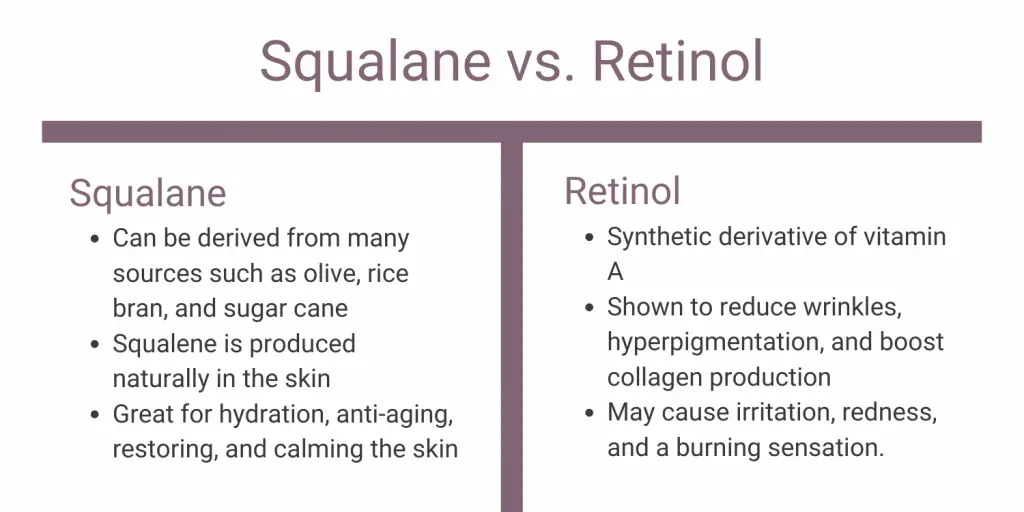 Similarities
Squalane and retinol both have antiaging benefits.
The two compounds are derived from natural sources. For instance, squalane is mainly derived from plants while retinol is a natural derivative of Vitamin A.
Differences
While squalane rarely causes irritation or side effects, retinol can be very irritating. It's also associated with side effects such as skin dryness, flaking, redness, stinging, itching, and tingling.
Retinol tends to have a shorter shelf life than squalane. Squalane is more stable because it has undergone hydrogenation.
Retinol is more effective at fighting wrinkles and fine lines.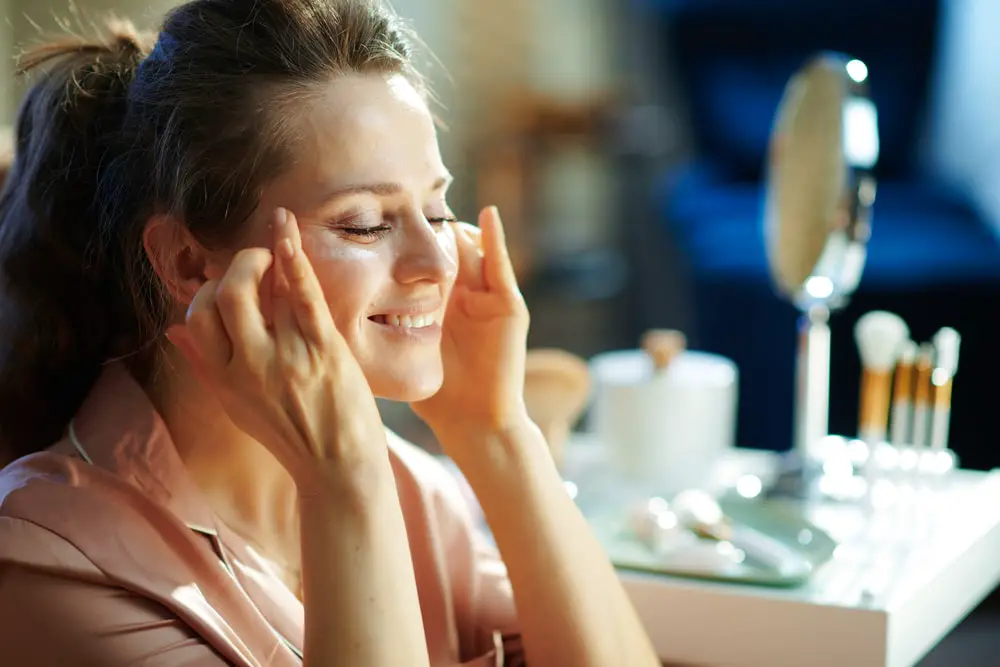 Squalane and Retinol Together
When combining skincare ingredients, it's important to consider whether the ingredients complement each other. Fortunately, squalane and retinol work well together. Since retinol tends to have a drying effect on the skin, it needs a moisturizing ingredient like squalane. Squalane is a powerful emollient that strengthens the skin's barrier, helping it to lock more moisture. 
It will help combat the dryness caused by retinol while allowing the retinol to work its magic. In addition, the anti-inflammatory effects of squalane can help treat any redness or irritation that results from using retinol.
The other reason why retinol and squalane work so well together is that squalane has a longer shelf life than retinol. When mixed with retinol, it helps to stabilize the retinol so it's less susceptible to oxidation and can retain its potency for longer.
Best products with squalane and retinol 
Here are some top products that contain squalane and retinol
The Ordinary Retinol 1% in Squalane.
The Ordinary Retinol 1% is a popular product that also comes in different concentrations, such as 0.5%. For the best results, you should use sunscreen as the retinol can leave your skin feeling sensitive.
Paula's Choice RESIST Barrier Repair Moisturizer
This anti-aging Paula's Choice product is designed to repair your skin's barrier and fight wrinkles and dry skin. The potent antioxidant blend also contains shea butter.
NURYSH DEFY Active Skin Repair
NURYSH DEFY anti-aging and skin repair serum capsules contain retinol, squalane, vitamin E, and ceramides. Each nighttime serum capsule is biodegradable and can be squeezed to produce fresh cream for easy application.
Natrurium Retinoid Face Oil
If you're worried about the irritation that can come from using retinol, this manufacturer promises a gentler effect with retinoids which are milder but offer similar benefits to retinol.
The product contains an advanced retinoid ester, squalane, and meadowfoam seed oil to even your skin tone without irritation.
NxN Whipped Day Cream Face
This anti-aging formula targets dry and sensitive skin and it contains squalane, natural retinol, and grapeseed oil. These ingredients work together to combat visible signs of aging and lock in moisture.
Frequently Asked Questions
Find answers to some of the most commonly asked questions about retinol and squalane.