Andiroba oil is another great natural oil that many people don't know about. This nourishing oil is also called crab oil or crabwood oil. But don't worry, it doesn't smell like crabs and it's not made from crabs either. That'd be gross. Andiroba oil is used for almost everything in the Amazon.
This post may contain affiliate links. Read the full disclosure here
We're not exactly sure where that nickname comes from but we'll stick with andiroba oil. The unique benefits of this ingredient are even more appealing than the name. Let's take a deeper look at the use of andiroba oil for the skin.
What is Andiroba Seed Oil?
INCI Name: Cara Guaianensis Seed Oil
Andiroba is an amazing plant from the Amazon region. Andiroba oil, bark, and leaves have been used for centuries by Brazilians for medicinal purposes. The oil stood the test of time. It's still in hair care and skincare products for its great natural benefits. It's packed with nourishing vitamins and minerals.
Andiroba oil comes from the nut of the South American plant. It can be made 100% naturally without any solvents or chemicals. The nuts are heated and then left to ferment for about 30 days. Then, the pulpous is removed. This sits out for another few weeks as the oil naturally drains out.
Andiroba oil is light yellow to light brown and has a mild fruity yet earthy scent. It's rich in oleic acid and has high amounts of linoleic acid and palmitic acid too. This seed oil is often compared to neem oil since it has similar properties. Here are the fatty acids in andiroba oil:
Pure andiroba oil is thick so it takes a few minutes to absorb into the skin. Also, a little goes a long way.
Andiroba Oil Skin Benefits
When you see all the fatty acids listed above, it's a given that this oil is going to offer amazing skin benefits. Andiroba oil hydrates and soothes, reduces the appearance of fine lines and wrinkles, supports collagen production, and helps improve skin elasticity.
In other words, this is another anti-aging natural oil you want in your corner.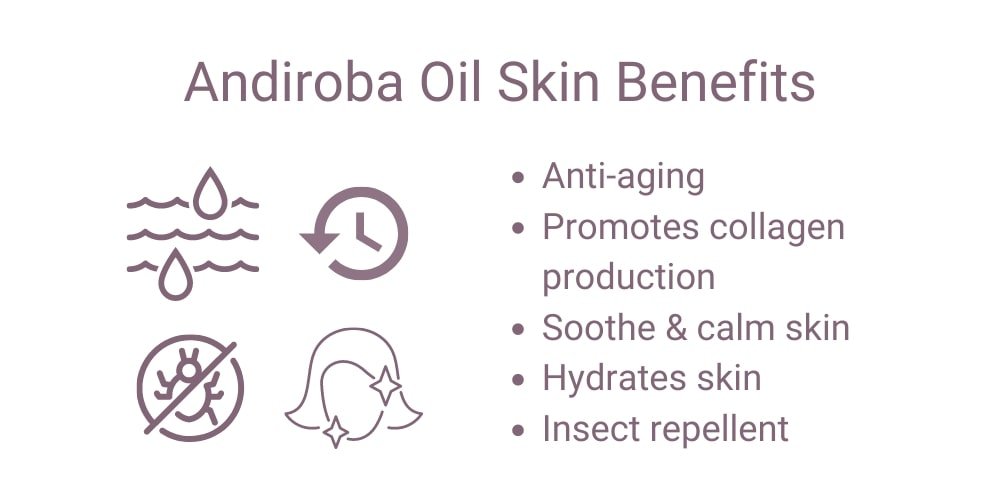 Hydrate
Andiroba oil is rich in fatty acids that restore hydration and nourish the skin. It soothes and smoothes away dry skin and rough skin patches. It can also help calm irritated skin, eczema, and psoriasis.
Anti Aging
It can help reduce the appearance of fine lines and wrinkles. Andiroba oil is rich in fatty acids and vitamins that restore hydration and nourish the skin. It can help plump, smooth, and soften the skin for a youthful, natural glow.
Firmness and Elasticity
This oil supports collagen growth to improve skin elasticity. Get smoother and firmer skin with consistent use.
Fights Free Radicals
Andiroba seed oil contains antioxidants that can help fight free radicals. This helps protect the skin against sun damage and environmental stressors that can cause premature aging and may even help reduce the risk of skin cancers.
Anti-Inflammatory Properties
It contains anti-inflammatory properties to help soothe and calm the skin. While it's great for soothing skin, it is also used for joint pain, arthritis, rheumatism, and muscle pain.
Natural Insect Repellent
This lovely oil can also help keep pesky bugs away! You can avoid the chemical-packed bug repellent when using andiroba oil. It's a great natural alternative to products packed with chemicals that can irritate the skin.
Best Andiroba Oil Products
There aren't a ton of products with andiroba seed oil in the U.S. but there are a few affordable options. We focused on the best products that work well on the face.
Vera Botanics Andiroba Seed Oil
Vera Botanics offers 100% pure, unrefined, cold-pressed andiroba seed oil sourced from Brazil. This multi-purpose oil is perfect for the face, hair, nails, lips, or even as a massage oil. It's not diluted with water or any fillers and it's 100% vegan and free of additives.
Get all the skin benefits with this high-quality oil at an affordable price.
Reduce the appearance of fine lines and wrinkles
Naturally fight free radical damage
Soothe and calm the skin with anti-inflammatory properties
Restore skin hydration
Paris Fragrances Raw & Unrefined Andiroba Oil
Don't be fooled by the name Paris Fragrances, this is another option for 100% pure, cold-pressed, unrefined andiroba nut oil. It's sustainably sourced from the Brazilian Amazon. You won't get the fancy branding or packaging with this product but you'll get straight up, high-quality cara guaianensis seed oil.
This product offers the same skin benefits as above, but listed here for good measure:
Reduce the appearance of fine lines and wrinkles
Naturally fight free radical damage
Soothe and calm the skin with anti-inflammatory properties
Restore skin hydration
Best Nature's Cosmetic Andiroba Oil
Just in case you want another option to choose from, this is another 100% pure, cold-pressed, unrefined andiroba oil. The Best Nature's Cosmetic Andiroba Seed Oil is wild-harvested from Brazil. It's perfect for the skin or hair.
Enjoy all the same anti-aging benefits you'd expect with andiroba oil such as reducing the appearance of fine lines and wrinkles, increasing collagen in the skin, hydrates, soothes, and protects the skin.
Andiroba Oil Comedogenic Rating
When looking at this luscious, moisturizing oil, it's natural to wonder – will it clog my pores? Probably not. Andiroba oil has a comedogenic rating of 2, so it likely will not clog pores.
The comedogenic rating system assigns a value of 0 to 5 based on the likelihood to clog pores. The lower the score, the less likely the ingredient is to clog your pores. A rating of 2 is relatively low risk, but it can clog pores in certain cases.
Andiroba oil often isn't a top choice for acne since it has a thicker feel and there is a moderately low risk that it can clog pores. But it can be useful for acne to help calm and soothe the irritation and redness caused by acne. For that purpose, this oil is useful for acne when paired with other acne treatment ingredients.
You may also consider an oil with lower oleic acid content and higher linoleic acid. For instance, rosehip oil is a better natural option for hydrating acne-prone skin.
Frequently Asked Questions
Should I Try It?
Yes! Andiroba seed oil is another amazing natural oil with fantastic skin benefits. The only downside of this oil is that it's not super popular in the United States. The options to buy it are limited and it isn't in a ton of product formulations. Who knows, maybe it will catch on in the next few years!
But you'll love the skin-soothing, hydrating, and anti-aging benefits andiroba oil if you can find it from a high quality source. See the best options on Amazon here.
Other Natural Anti-Aging Oils You'll Love: