We chose to review this anti-aging serum for its well-rounded ingredient profile that uses Bakuchiol, Niacinamide, Rosehip Oil, and Hyaluronic Acid. The Biossance Phyto-Retinol Serum claims to help with wrinkles, fine lines, and sun damage. With this product, you get the benefits of bakuchiol without the harsh side effects of retinol.
This post may contain affiliate links. Read the full disclosure here
The Biossance Squalane + Phyto-Retinol Serum is lightweight and has clinical data to support its claims to visibly improve wrinkles and smooth the appearance of fine lines.
Pros
Clean ingredients – vegan, cruelty-free, paraben-free, PEG-free, and free from synthetic fragrances.
Retinol Alternative – Lowers the risk of sensitivity and irritation by using bakuchiol instead of traditional retinol.
Nourishing – science-backed ingredients such as hyaluronic acid, rosehip oil, and niacinamide help replenish, smooth, and soften skin.
Conscious Brand – Biossance is a neat brand that focuses on renewable sources, conscious packaging, and plant-based ingredients.
Effective – It works. In addition to positive clinical results and customer testimonials, you can also find positive reviews across major retailers and Amazon.
Cons
Price – This product isn't cheap. Given the ingredient profile, it's hard to find alternatives that are much cheaper. Regardless, it's still a bigger purchase price for a 1 oz. skincare product.
Packaging – while the packaging might be environmentally conscious, some customers aren't happy with the pump and the ease of getting the last bit of product out. The current packaging leads to wasted product when nearing the end.
May Irritate Sensitive Skin – If you are prone to allergies or have sensitive skin, this product could trigger a reaction. If you have sensitive skin, be sure to test this product on a small area before using on the entire face. Ingredients such as bitter orange oil, linalool, and limonene may irritate the skin.
Biossance Squalane + Phyto-Retinol Serum Ratings & Reviews
You can find hundreds of reviews for this product around the web. From the Biossance website, Sephora, or Amazon, there are plenty of positive reviews to validate this product. Those that love the product reference the following benefits:
Retinol alternative is worth the hype
Fading wrinkles and firmer skin
Lightweight and absorbs easily
More even skin tone
Keeps skin feeling young and refreshed
Soft, supple skin
Those leaving negative or reviews with low ratings focused on the following aspects:
Not worth the price
Didn't get expected results
Caused reaction or irritation to skin
Didn't like the smell
Poor packaging (can't get out all of the product)
Biossance Squalane + Phyto-Retinol Ingredients
Here's a deeper look at all the ingredients on the Squalane + Phyto-Retinol Serum. Click on any of the hyperlinked ingredients below to see in-depth reviews of the ingredient. We've covered several of these in great detail.
Overall this Biossance product has a relatively clean ingredient profile. It's stacked with anti-aging ingredients such as bakuchiol but it also doubles down with moisturizing ingredients squalane and hyaluronic acid.
It has a few ingredients that might pose a risk to those with allergy-prone or sensitive skin but this product didn't have anything in here to be too worried about.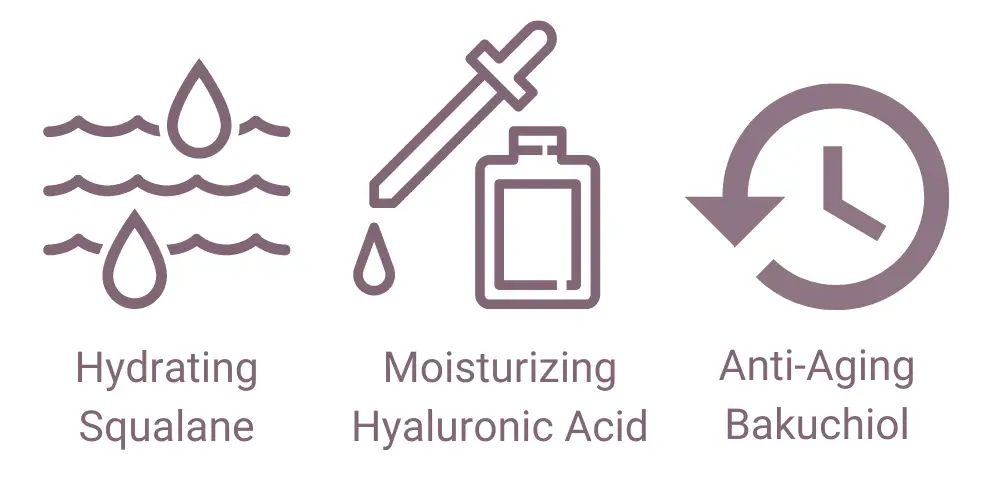 Squalane – Biossance sources from sugarcane so it's 100% plant-based and sustainable. It helps retain moisture, calms skin, controls oil production, and improves elasticity.
Niacinamide – Also known as vitamin B3 and nicotinamide, can help reduce the appearance of pores, even tone, and soften fine lines and wrinkles.
Sodium Acrylates Copolymer – This salt derived polymer helps improve product texture, binds ingredients, and is a film former.
Bakuchiol – It's a plant-based alternative to retinol. It offers anti-aging and skin-restoring benefits comparable to retinol.
Sodium Hyaluronate – Salt form of hyaluronic acid that is synthesized in order to create a smaller molecular structure for better resistance to oxidation and stability. 
Rosa Canina Fruit Oil – Also known as Rosehip Oil, which offers anti-aging, skin-soothing, and skin-brightening benefits.
Citrus Aurantium Amara (Bitter Orange) Peel Oil – Comes from the bitter orange peel, it's used as a fragrance and for skin conditioning.
Biosaccharide Gum-1 – Type of sugar created form sorbitol that has moisturizing, anti-aging, and skin-soothing properties.
Yeast Extract – It contains beta-glucans that can help hydrate, soothe, and protect the skin.
Soy Amino Acids – Can act as a film-former and skin conditioner.
Lecithin – Used as an emollient and binding agent, and penetration enhancer.
Hexylene Glycol – Used as a surfactant, emulsifier, and as a viscosity reducing agent.
Ethylhexylglycerin – It can help products last longer (preservative), but also offers skin conditioning agents.
Caprylyl Glycol – Alcohol derived from fatty-acids that helps lock moisture in the skin for a supple, plump appearance.
Phenoxyethanol – Synthetically produced ingredient mimics a naturally occurring ingredient. It is used in skincare and cosmetics as a preservative.
Tetrasodium Glutamate Diacetate – Vegetable-derived chelating agent to help stabilize products and improve the effectiveness of preservatives.
Citric Acid – Derived from citrus fruits used to help improve the appearance of tone and texture, and support cell turnover.
Linalool – Terpene alcohol used in skincare and cosmetic products for fragrance.
Geraniol – Fragrance that is made from plants such as Geraniums, Palmarosas, Java Citronell, and Roses.
Limonene – Compound found in lemons as well as other plants and is used for fragrance and as a penetration enhancer.
How to Use Biossance Squalane + Phyto-Retinol
To a clean, fresh face, apply 1-2 pumps of the serum on your face and neck. This product can be used twice a day, in the morning or at night. This is a lightweight serum, so it's not super moisturizing. If you have dry or dehydrated skin, you'll want to follow the Phyto-Retinol Serum with another moisturizer. If you want to keep it in the Biossance family, consider using the Squalane + Probiotic Gel Moisturizer.
Is Biossance Squalane + Phyto-Retinol Worth It?
If you don't have sensitive skin and aren't struggling with acne, this product is worth a try. We're total suckers for products with bakuchiol, but that ingredient aside this is still a great product. Biossance has the clinical trials and customer reviews to back up the claims they make for the product. It's not botox, but it's a worthy product with high-end ingredients under the $100 price-point.
Now if you are more prone to allergies or have sensitivities, you may want to find another option. A few of the ingredients on the list may lead to irritation are skin allergies. Linalool, geraniol, limonene, and orange peel oil are some examples of ingredients that are plant-based but can still cause irritation to the skin. When used in low concentrations as with this product, it usually doesn't cause issues but the risk is still there.
More Product Reviews You Might Like: