While you might not have heard the name Zea mays starch, you've likely heard of corn starch. That's what we're talking about here. It's one and the same. Corn is one of the most commonly grown foods in the world. So it's no surprise we found a use for it in skincare right? Learn about the benefits of using this mass-produced ingredient along with its safety considerations.
This post may contain affiliate links. Read the full disclosure here
What Is Zea Mays Starch?
Zea mays starch is also called "corn starch," since it's derived from corn. In other words, Zea mays starch is the scientific name for corn starch. The corn is peeled and then ground into a fine, flour-like powder. In its most fine state, it has similar attributes to talc, making it a good alternative to that mineral-based ingredient. Brands are opting for Zea mays starch since it absorbs oil and moisture better than talc. This is ideal for makeup application.
It's highly compatible with a wide variety of other mineral and natural ingredients. Zea mays starch is used in skincare products such as cleansers, moisturizers, makeup, and much more.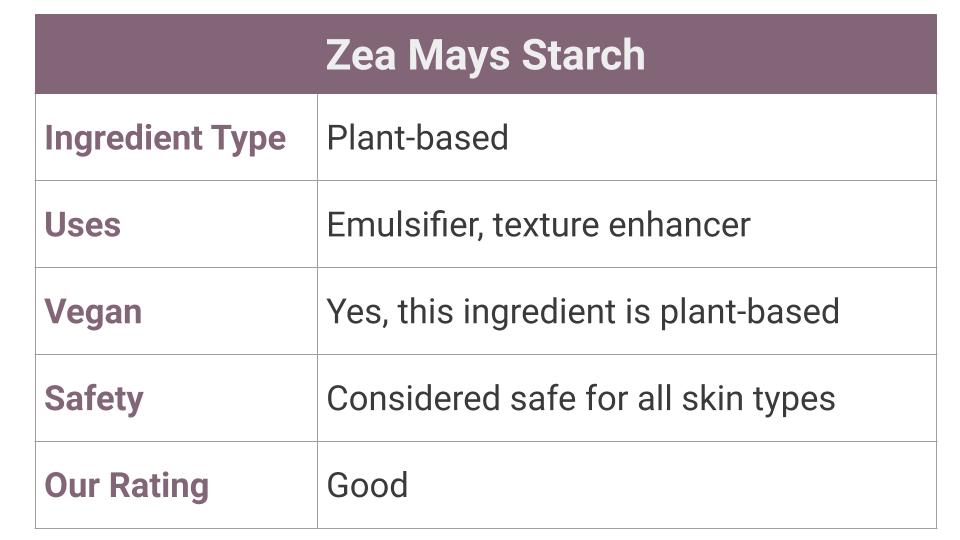 Zea Mays Starch Benefits for Skin
When it comes to Zea mays starch skin benefits, there are a lot of ways this ingredient can improve a wide variety of different products, ranging from lotion to makeup and other cosmetics. Let's take a look at Zea mays starch in skincare now, and examine its benefits in detail.
Mattifying properties – Zea mays starch helps "mattify" the skin. In other words, Zea mays starch in skincare helps remove grease, oil, and creates a matte, less shiny appearance. For this reason, it's often found in products that are advertised as helping to reduce shine and lessen oil and grease on the skin.
Non-caking base for makeup – Zea mays starch is used as a base for cosmetics including eyeshadow, powder foundations, and other mineral makeup. Because it does not cake easily, it's a great ingredient addition for makeup products.
Assists in emulsification – Zea mays starch helps bind together water and oil-based ingredients, creating a thick and stable emulsion that will not split. It enhances the stability of skincare products and helps improve their shelf life.
Exfoliant – The ability of Zea mays starch to exfoliate the skin depends on the type of starch used. If the starch is coarse-grained rather than ground into a fine powder, it can be used as an exfoliant. The grains of the starch will help remove dead skin cells and reveal healthy, bright skin.
Is Zea Mays Starch Vegan?
Zea mays starch is completely vegan since it's made from corn. There are no animal ingredients involved at any point in the production process.
However, Zea mays starch may be used in skincare products that have other animal-derived products or were tested on animals. Always do your research and consult with the manufacturer if you want to ensure the products you use are 100% vegan.
Is Zea Mays Starch Safe for Skin?
Zea mays starch is the same thing as corn starch, which is completely non-toxic and used in a variety of foods. It's non-toxic, non-reactive, and considered safe to use in skin care products and cosmetics of all kinds.
Don't fret over skincare and cosmetic products that have corn starch in them. This is a widely used ingredient that has research and plenty of use-cases to back it up. It's not a super fun, new, or sexy ingredient but it gets the job done.
Also Known As
Zea mays starch is the scientific name for corn starch. Those are the two common names when referring to this ingredient. You'll almost always find it labeled as either Zea mays starch or cornstarch so be on the lookout for this ingredient when shopping for skincare products
You'll also find variations of corn-derived ingredients such as Zea mays oil, Zea mays cob meal, and Zea mays germ extract.
Related Ingredients:
.