With all the natural and plant-based oils available today it's hard to know which is the best option is for your skin. It's great we have these amazing options but it's easy to get overwhelmed!
This post may contain affiliate links. Read the full disclosure here
Two such (natural) oils that are widely used are grapeseed oil and jojoba seed oil for the skin.
Jojoba oil and grapeseed oil are both fantastic options for anti-aging and moisturizing. However, grapeseed oil is the better option for greasy or oily skin and jojoba oil is better for normal or dry skin. Keep reading to find out how their benefits differ.
What Is Grapeseed Oil?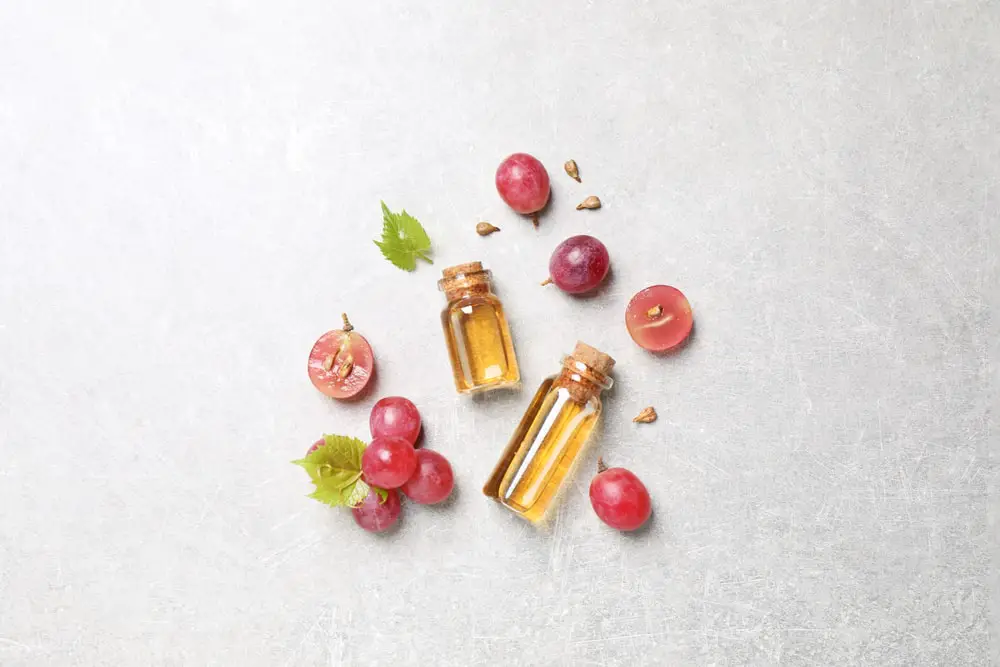 Grapeseed oil is a plant-based oil that is derived from the tiny seeds produced by the grape. Those seeds are mostly what is leftover as waste during the wine-making process. You can imagine that with the amount of wine produced in the world, there are a lot of leftover seeds that are beneficial for making grapeseed oil.
The way that they extract the oil from the seeds is by cold-pressing. This is the best method since it uses the least amount of chemicals and maintains the effectiveness of the oil.
This type of oil is widely used as a cooking oil, since it has a high smoke point that's beneficial for sauteing. With a light and delicate flavor, grapeseed oil is perfect to make dips and marinates, as well. The taste of the oil won't overpower the flavor of different kinds of foods. 
In skincare, grapeseed oil is prized due to the fact that it's high in vitamin E, C, and D. Plus, it has a bounty of omega-6 fatty acids, and polyphenols that are antioxidant compounds which come from plants.
As a natural beauty product, grapeseed oil can be used topically, and the best part is that the texture is pleasant, light, and non-greasy. Most oils can't claim that fact the way grapeseed oil can. 
Grapeseed Oil Skin Benefits
Grapeseed oil offers a wide range of skincare benefits. It's no surprise why this ingredient is popular in natural beauty products.
Helps manage breakouts
Absorbs fast
Events texture and tone
Moisturizes
Reduces the appearance of fine lines and wrinkles
Antimicrobial
Fights free radicals
One of the most surprising benefits of using grapeseed oil is that it works for acne-prone skin.
Plus, it has antimicrobial and anti-inflammatory benefits that can help reduce bad acne bacteria and minimize the swelling in cystic red acne bumps. All in all, when it comes to an acne fighter, you really can't beat grapeseed oil. 
Another benefit to using grapeseed oil daily is that due to the high levels of vitamin C, it can protect your skin against free radicals in the environment that can damage the skin. So grapeseed oil provides a barrier to fight off pollution and sun damage to the skin. 
For those with normal to dry skin, grapeseed oil is hydrating and helps balance out your natural oil levels by preventing moisture loss. The vitamin E content replenishes your lipid barrier for a more nourished and radiant feel to the skin. 
The polyphenols in grapeseed oil can help to ward off premature aging, so when you use the facial oil, you'll end up minimizing the appearance of fine lines and wrinkles. To sum it up, age prevention, moisture benefits, and improvements in acne-prone skin are some of the many reasons to add grapeseed oil to your skincare routine right away. 
What Is Jojoba Oil?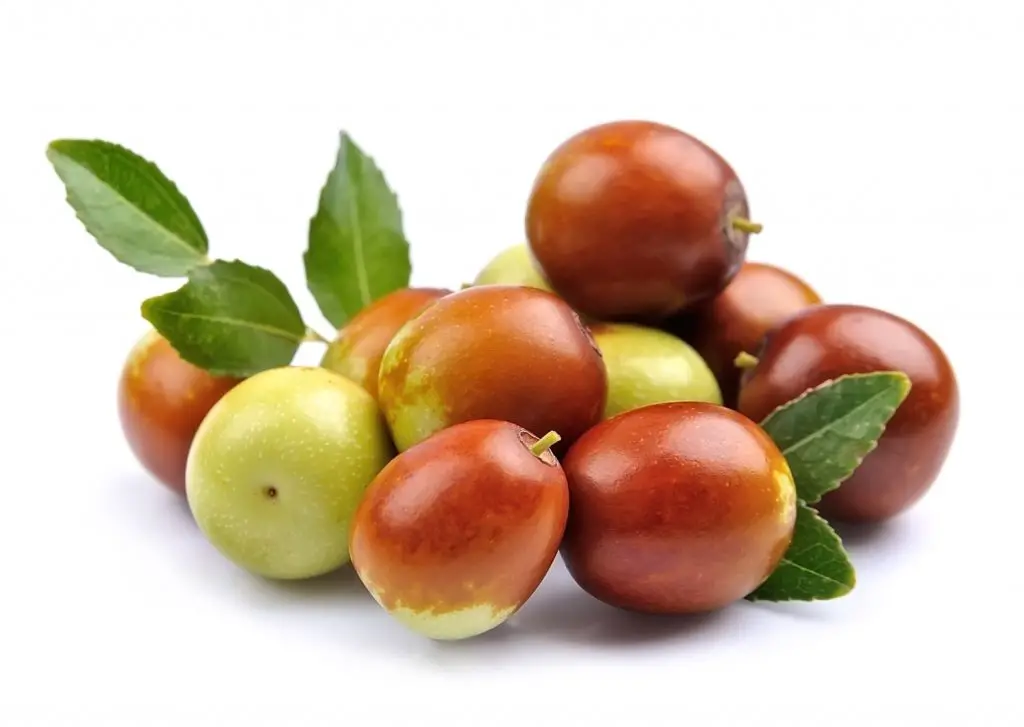 Jojoba oil is produced from the seeds of the Simmondsia chinensis, which is a shrub local to the states of Arizona and California. It also grows in parts of Mexico throughout the northwestern region. 
Jojoba oil has been widely used as a carrier oil in cosmetics and beauty for decades now and throughout history. Native American tribes used to cold-press the oil for use in medicine to treat wounds and skin irritations.  
The reason it's used so often in cosmetics, other than the skincare benefits, is that it's relatively shelf-stable and lasts a long time compared to other oils.
Overall, the oil is loaded with antioxidants, has a high amount of vitamin E and A, and is chock full of omega-6 fatty acids that are perfect for protecting the skin's barrier function. 
Jojoba Oil Skin Benefits
In looking at the skincare benefits of jojoba oil, it's a rich and nutty scented oil that works very well in all kinds of products. Cosmetic companies use it in lotions, serums, shampoos, and other body products. The versatility of jojoba oil is what makes it so useful, along with some of these benefits. 
Helps manage breakouts
Hypoallergenic

Events texture and tone

Moisturizes
Reduces the appearance of fine lines and wrinkles
Antimicrobial
Fights free radicals
Promotes collagen production
As a humectant, jojoba oil is very moisturizing. It has a medium to heavy feel which feels soothing and nourishing to the skin, but luckily it absorbs easily.  
Jojoba oil is antibacterial and has antioxidant properties that help ward off environmental toxins that could damage and prematurely age the skin. It can fight off the stress that the largest organ on your body experiences out in the daily world with free radicals attacking the barrier layer. 
As a hypoallergenic and non-comedogenic oil, it's valuable for use by those with acne-prone skin to help unclog pores. It's similar to the natural sebum or oil that your skin produces, so it's very well tolerated by those with sensitive skin or who experience breakouts. And if you have any old acne scars or marks on the skin, it's going to help fade those spots due to the high vitamin E content in the oil. 
There is some evidence that jojoba oil is able to promote collagen production in the skin. As the body ages, collagen production goes down each year so having an oil with antioxidant properties that spurs on collagen synthesis is a great idea. You'll likely have more elasticity, which is less sagging in the skin, and may promote fewer fine lines and wrinkles. 
More Jojoba Oil comparisons you might enjoy:
Grapeseed Oil vs. Jojoba Oil
It's easy to see why people could confuse the benefits and uses of grapeseed oil and jojoba oil.
Similarities
As far as the similarities go, they are rich in nutrients and of omega-6 fatty acids. They are versatile carrier oils for many different skin types, which is unusual because many oils are too heavy for oily or acne-prone skin.
These two oils are going to benefit all skin types and the many concerns they have from aging to sun damage and loss of elasticity. 
Differences
The main difference between grapeseed and jojoba oil is the feel of the oils on your skin. Grapeseed oil is more of a dry-touch oil, which absorbs super fast, is extremely lightweight, and feels like nothing at all on your skin.
Jojoba on the other hand is much heavier, tends to feel a bit greasy, and you can experience the weight of it on your skin, which many people enjoy actually feeling the heaviness of skincare products, while others hate it. That is especially true for those with very dry skin who like the suppleness of jojoba oil. 
Which Is Better For You?
All of the benefits of grapeseed oil and jojoba are very similar from improving acne problems to preventing aging in the skin. In looking at which is better for each skin type, that's where you'll discover a difference, mainly to do with the feel and weight of each oil.
If you have oily to normal skin, you'll want to go with the lighter weight feel of grapeseed oil to solve some of your skincare issues. Jojoba oil will probably feel too heavy for you, even though it won't clog your pores and actually absorbs fairly easily. 
With dry or very dry skin, you may enjoy the extra feel and hydration of jojoba oil. The luxurious oil feels richer and more nourishing on the skin. Plus, it will help lock in moisture on your skin to help solve that uncomfortable and tight feeling that dry skin sometimes has after cleansing. 
If you are interested in doubling up on your oils, you can easily use jojoba and grapeseed oil together for more antioxidant impact.
Many people like to blend them tougher and add various essential oils for an improved and spa-like self-care experience. Head-to-toe use of both of these oils is going to add skincare benefits you can truly see and feel. Get ready for gorgeous skin with grapeseed and jojoba oil.