Corallina officinalis extract, trying to figure out what this is and why it's in your skincare products? Spoiler-alert this ingredient comes from seaweed. It's a safe, good-for-you natural ingredient but it comes with tradeoffs.
This post may contain affiliate links. Read the full disclosure here
You may want to avoid products with this ingredient if you have acne or blemish-prone skin. It has a comedogenic rating of 3 (on a 0-5 scale) which means it may clog pores. This may not be a concern if you aren't struggling with pimples but you'll want to keep an eye on it.
What Is Corallina Officinalis Extract?
Corallina officinalis extract comes from corallina officinalis, a red algae found on rocky shores around the edges of tide pools. It can be ground up for use in skincare to exfoliate the skin, increase cell turnover, and help regulate oil production.
The common name of corallina officinalis is coral weed. It forms calcium carbonate deposits within its cells, making it harder and less pliable than other seaweed.
While putting dried seaweed powder on your face may not sound the most appealing but it does offer benefits at least!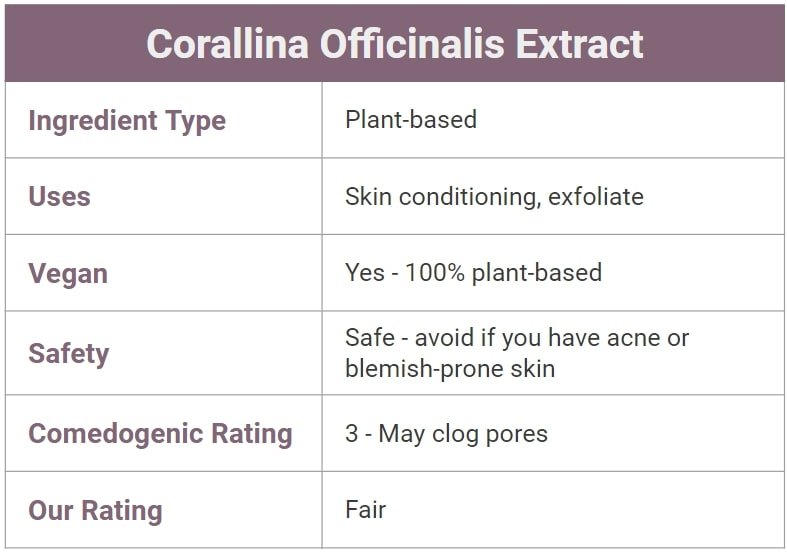 Benefits Of Corallina Officinalis Extract For Skin
Exfoliation is the main benefit Corallina officinalis offers. This is why you'll find it in body scrubs, facial cleansers, face masks, and other products that focus on exfoliation.
It can be used in these products to buff away dead skin revealing bright, glowing skin. When corallina officinalis is ground up it still has a gritty texture making it a popular option in body and face "scrubs".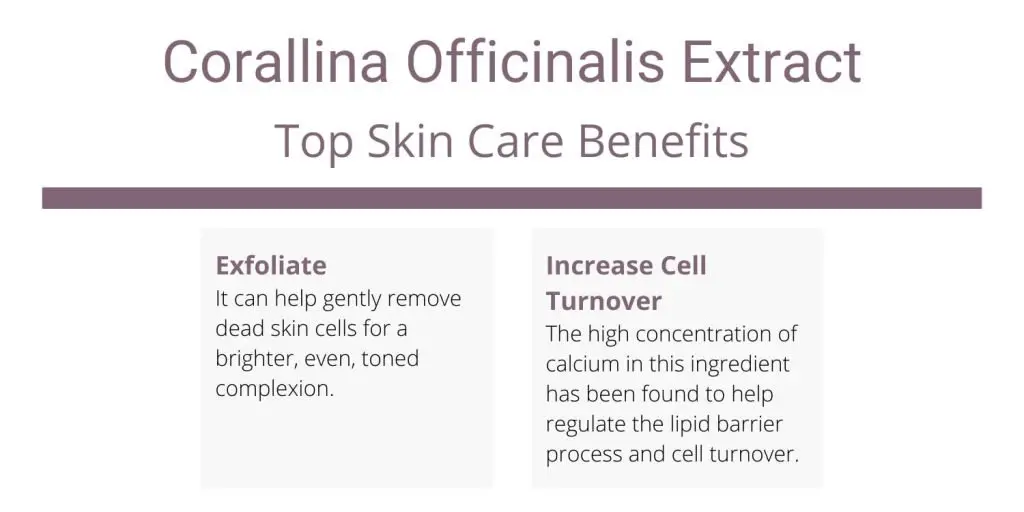 It may help the skin appear healthier with less visible imperfections such as wrinkles, age spots, and uneven tone. This red seaweed offers the following skincare benefits:
Exfoliate
Corallina officinalis can help gently remove dead skin cells for a brighter, even, toned complexion. This can help will dull skin, uneven tone, and uneven skin texture.
Increase cell turnover
The high concentration of calcium in this ingredient has been found to help regulate the lipid barrier process and cell turnover. This can help achieve a smooth, even complexion. It can even act as anti-cellulite and reduce the appearance of imperfections.
Corallina Officinalis Comedogenic Rating
This red seaweed extract has a comedogenic rating of 3, so it may clog pores. Even though exfoliation is often good for acne and blemish-prone skin, this ingredient may clog your pores. Proceed with caution if you're currently struggling with pimples or blackheads!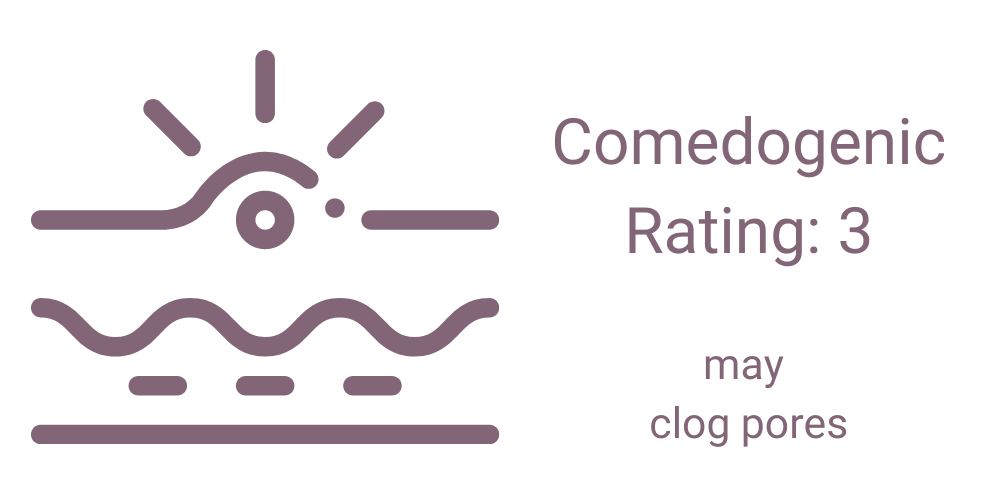 As you may have heard, comedogenic ratings are far from perfect. Ingredients are generally tested in high concentrations on the back of humans. The testing used to be done on rabbit ears but that process was banned. Everyone's skin type is different and the pores on your back are different from your face. But the main flaw in comedogenic testing is that it generally focuses on specific ingredients applied in high concentrations. When this ingredient is mixed with other effective skincare ingredients, it may not have the same pore-clogging attributes.
However, the comedogenic rating system is a good gauge on the skincare ingredients we use. It's also the best we have. Knowing that this ingredient is a 3, you know that there is a higher chance of it clogging your pores than other ingredients with lower comedogenic ratings. Products with this ingredient may not trigger breakouts and acne but it's worth considering if acne is a concern.
Learn more about the various types of seaweed and its skin benefits here.
Is Corallina Officinalis Vegan?
Yes, this ingredient is 100% vegan and plant-based. However, be sure to check the product label or ask the product manufacturer for any other ingredients or processes in the product that may not be vegan.
Is Corallina Officinalis Safe In Skincare?
The Cosmetic Ingredient Review considers Corallina Officinalis Extract to be a safe ingredient in skincare when used as directed. As noted above, this ingredient may not play nicely with acne or blemishes. Avoid products with this ingredient if you struggle with acne or clogged pores.
We rated this as a "Fair" ingredient since it has a higher comedogenic rating than we like to see. We love that it's a natural, vegan ingredient with exfoliating benefits.
References:
https://skinsalvationsf.com/comedogenic/
Cosmetic Ingredient Review: Safety Assessment of Red Algae-Derived Ingredients as Used in Cosmetics
Other Seaweed-Based Skin Care Ingredients: