The deeper you get into the world of skincare the more you realize how many details (and ingredients) are involved. We literally have an ingredient for everything. As you look to improve your skincare routine to slow the aging process, improve complexion, or add hydration, it's easy to go down the rabbit hole of products.
This post may contain affiliate links. Read the full disclosure here
Anti-aging serums, moisturizing gels, and repairing creams each offer their own unique benefits with their special one-of-a-kind ingredients. Well I hate to break it to you but beech tree extract is another skincare ingredient to add to the list. It's one of the goodies!
Find out how an ingredient made from the little buds from the beech tree can incorporated into your skincare routine.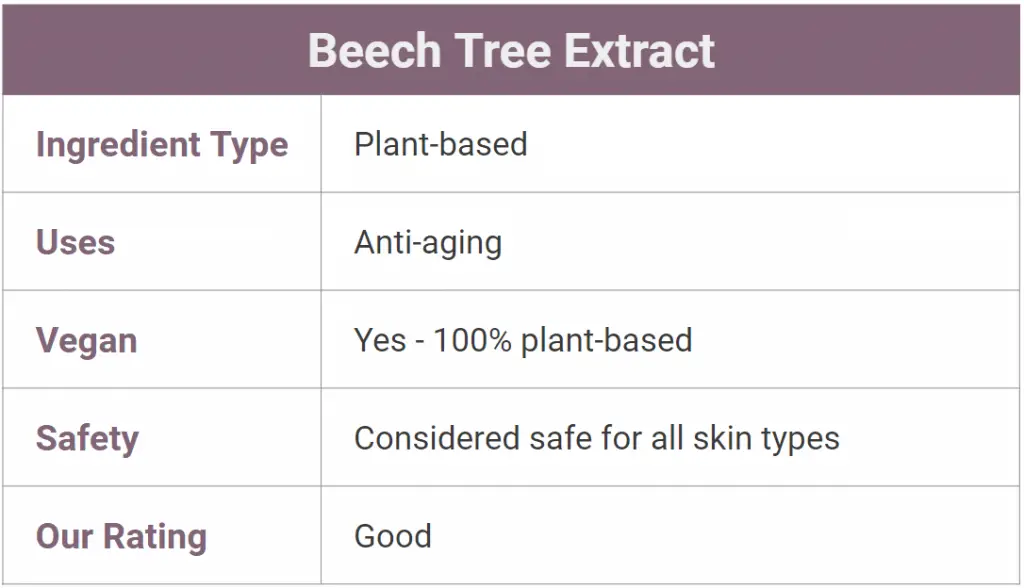 What Is Beech Tree Extract?
INCI Name: Fagus sylvatica bud extract
You may also see this ingredient referred to as Fagus sylvatica bud extract (that's its scientific name). Beech tree extract, or Beech bud extract is taken from the buds of the beech tree. Go figure.
Beech trees are part of the Fagaceae family, which also includes oaks and chestnuts, and they grow in temperate climates in Europe, North America, and Asia. Beech trees live for 250 years and are nicknamed the 'everlasting youth tree'. Not a bad nickname for an anti aging skincare ingredient.
Where does the extract come from? When the bugs fall off of the tree naturally, they are harvested and processed to extract the most beneficial compounds – resulting in beech bud extract.
So why do we use this ingredient in skincare? The buds of the beech tree contain hydroxyproline, an active ingredient that helps build collagen and enhance elastin in skin cells. They are also packed with nourishing vitamins and nutrients that can help restore the skin. Who doesn't need a little boost in collagen and elastin???
Beech tree bud extract first became popular in skincare in 2006. Since then, it has become less trendy but it has still proved to be a valuable ingredient.
Beech Bud Extract Benefits for Skin
Not sure why you should use beech tree extract in skincare? It has all the benefits you want in an anti-aging skincare ingredient. Beech tree bud extract is rich in vitamins, antioxidants, and it contains hydroxyproline, which helps build collagen and elastin in the skin. This unique offering helps hydrate, reduce the appearance of fine lines and wrinkles, event skin tone and texture, and helps strengthen and repair the skin barrier.
Hydrates – It helps hydrate the skin and improve moisture retention for plump, glowing skin.
Improves cell turnover – Increased turnover helps improve skin health, firmness, and helps with dull skin.
Anti-aging – Helps reduce the appearance of wrinkles & fine lines.
Even tone and texture – Helps improve overall texture and appearance of skin
Soothes skin – Can help soothe irritated and unhappy skin.
Strengthen barrier – Can help strengthen and repair skin barrier making it less prone to irritation and breakouts.
Antioxidants – Fights off free radicals that can cause premature aging
The following video gives provides a quick overview of how beech tree extract can help improve your skin:
The plant growth hormones in beech bud are thought to help promote and improve cell turnover for healthy, firm skin. It contains amino acids like hydroxyproline, which has been shown to affect collagen and elastin in skin cells, creating a better overall texture and reducing wrinkles and fine lines.
It's also rich in fatty acids such as linoleic acid (omega-6 fatty-acid) and oleic acid. This acid helps build up ceramides which are waxy lipid molecules that make up the skin's barrier and assist it in retaining moisture. Thanks to its ability to reduce wrinkles, rejuvenate skin, and improve the overall texture and appearance of skin, it is prized for its anti-aging benefits.
Best Products With Beech Tree Extract
Beech bud isn't a super common ingredient in skincare products but you can find it in specialty products. Those that use fagus sylvatica bud (that's what you'll see on the ingredients label) are often focused on anti-aging. Here are a few example products that use beech bud tree extract:
Jurlique Purely Age-Defying Firming Eye Cream, 0.5 oz – This eye cream does exactly what its name suggests by firming the skin around your eyes. It helps hydrate the skin, boost brightness, and reduce the appearance of fine lines and wrinkles.
Rocky Mountain Soap Co – Eye Cream – This product relies on beech bud as the key ingredient. It reduces the appearance of wrinkles and fine lines. It also replenishes the skin with hydration and nutrients.
Andalou Naturals Resveratrol Q10 Night Repair Cream – This product combines beech tree with other top-tier age-defying ingredients. It will help you achieve smoother, softer, plump, "age-less" skin.
Is It Vegan?
Yes. Beech tree extract is completely vegan and cruelty-free, since it's derived from the buds of the beech tree (Fagus sylvatica). There are absolutely no animal-derived products used to create, so it's vegan. No worry or concern to animals with this ingredient.
If you are vegan, however, we do recommend consulting the ingredients list of any skincare product before use to confirm that it doesn't contain any other animal-derived products.
Is It Safe In Skincare?
Beech tree extract has been found to be very safe when used in skincare. There are no known adverse effects for using products that contain beech tree extract in skincare products. In addition, beech tree extract and other products derived from beech trees have been used in traditional and folk medicine for centuries.
Also Known As
Beech tree extract is also called "beech tree bud" extract, since it comes from the buds of the beech tree. It may also sometimes be referred to by the Latin name of the beech, which is Fagus sylvatica, so you may also encounter the terms "fagus sylvatica extract" or "fagus extract" on some product labels.
Related Anti-Aging Skincare Ingredients