Along with the promises written on the package of every skincare product is a long list of ingredients. Many of these ingredients have long and complex names, while others are more familiar to the average consumer. One common ingredient is linolenic acid in skincare products. This article will tell you everything you need to know about linolenic acid found in skincare products.
This post may contain affiliate links. Read the full disclosure here
Linolenic acid is also known as alpha-Linolenic acid, ALA, omega-3 fatty acid, and form of Vitamin F.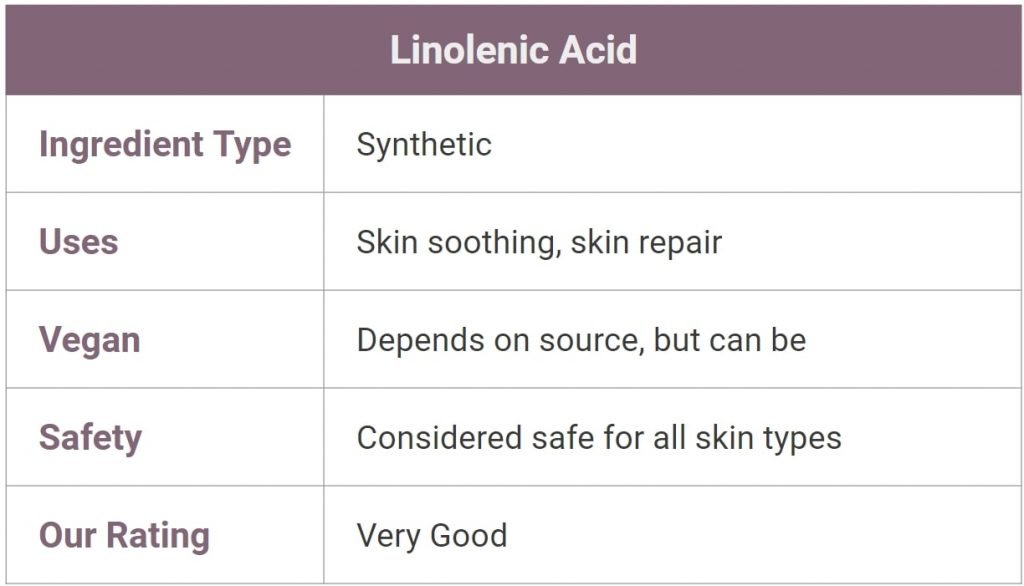 What is Linolenic Acid?
Linolenic acid is an essential fatty acid, specifically an omega-3 polyunsaturated fatty acid (PUFA). It's not naturally produced by the body so it needs to be ingested or applied topically. Nuts, vegetable oils, red meat, and dairy products all contain linolenic acid. Many people also take omega-3 supplements to promote overall health, especially for cardiovascular health.
Omega-3 polyunsaturated fats, like linolenic acid, are essential for the health of our cell membranes throughout our body. Healthy cell membranes mean that the tissues of the body are also healthy. Our blood can be pumped throughout our body with healthy blood vessels, and our skin can stay healthy and youthful with proper nutrients. Common oils used in skincare such as safflower oil, sunflower oil, argan oil, and rosehip oil are rich in linolenic acid.
Linolenic Acid Skin Benefits and Uses
Photoprotection – Sunburn does damage to the skin causing inflammation and cell damage due to prolonged exposure to ultraviolet radiation. Omega-3 fatty acids like linolenic acid can reduce the negative effects of sunburn and also provide another layer of protection when applied topically.
Anti-aging – The evidence of skin damage shows up in wrinkles, decreased elasticity, and altered skin pigmentation. Along with other omega-3 fatty acids, linolenic acid is shown to decrease signs of aging in skincare. Fewer wrinkles, less dryness, and less hyperpigmentation due to the sun.
Skin Soothing – Skin irritations happen to everyone. When omega-3 fatty acids like linolenic acid were used there were significant improvements in skin moisture, elasticity, firmness, roughness, and decreased inflammation.
Wound healing – Healthy skin heals faster! Building new cell membranes and strengthening them relies on omega-3 fatty acids.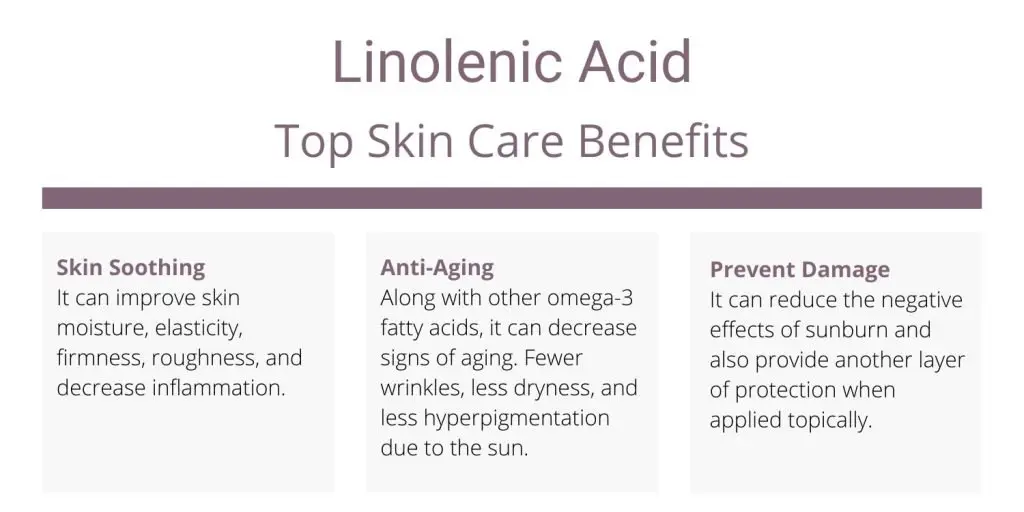 All of these healing and protective elements of linolenic acid create a combined renewing and youthful vitality of skin. The effectiveness of linolenic acid was tested as a treatment for faster healing after cosmetic laser facial treatments. They found that linolenic acid decreased inflammation, swelling, and wrinkles.
Topical Application vs. Oral Supplements
Linolenic acid in skincare shows benefits from both topical application and oral supplements. Many skin care products contain this ingredient and it can easily be absorbed through the skin. It also is absorbed and used by the body to help create healthy skin and tissues from the inside. Always make sure to contact your doctor before taking any additional supplements, even if it is to improve your overall skincare.
Skincare Products With Linolenic Acid
Skincare products promise many of the same things including cleansing, brightening, toning, smoothing, firming, plumping, hydrating, etc. The list of results is endless as are the products containing linolenic acid.
Facial oils
Serums and moisturizers
Cleansers
Eye creams
Shampoos and conditioners
Masks
Sunscreens
Lip balm
And many others!
Linolenic Acid for Acne
Linolenic acid is one of the most recommended oil for acne and blemish-prone skin. It's because acne patients have been found to have lower levels of linolenic acid in the skin surface lipids. By adding a lightweight oil rich in linolenic acid, the skin can stay balanced, without over producing sebum. This skincare ingredient, in combination with other acne-fighting ingredients such as salicylic acid, can be a great way to get clear skin.
Linolenic Acid vs. Oleic Acid
You may be wondering how linolenic acid compares to oleic acid and which one is better for you. They are both fatty-acids that naturally occur in the skin. The amount of each can generally be tied to your skin type, believe or not. Dry skin is more likely to have higher linolenic acid and people with oily skin often have higher amounts of oleic acid.
If you struggle with breakouts, oily-skin, or clogged pores, then linolenic acid will be a better fit for your skin. It's a lightweight oil that can help balance sebum production. The following oils are rich in linolenic acid
Grape seed oil
Sunflower oil
Hemp seed oil
Safflower oil
However, those with dry or aging skin will generally prefer oleic acid. It's a thicker oil that providers greater hydration to the skin. The following oils are rich in oleic acid:
Avocado oil
Shea butter
Coconut oil
Neem oil
Is Linolenic Acid Vegan?
Linolenic acid can be sourced from both vegan products and animal sources. Most skincare products use vegan sources of linolenic acid because it is cheaper than from animal sources.
Is It Safe to Use in Skincare? Any Concerns?
Linolenic acid in skincare products applied topically are considered very safe. There are oral supplements that contain high levels of omega-3 fatty acids (including linolenic acid) that have skincare benefits, but these involve more complicating factors. So, if you come across a skincare product that lists linolenic acid as an ingredient, you can be confident that it is safe for your skin.
Linolenic acid in skincare is an essential ingredient in many common products. As an omega-3 fatty acid, it helps to strengthen the cells of the skin. It's a safe and effective ingredient that's proven to promote healing and protect the skin. It's derived from both plant and animal sources but most commonly plant sources. If you are researching a skincare product and notice linolenic acid in the ingredients, you don't have to worry. It's great for your skin!
Sources:
https://lpi.oregonstate.edu/mic/health-disease/skin-health/essential-fatty-acids
https://www.medicinenet.com/alpha-linolenic_acid/supplements-vitamins.htm
https://www.ncbi.nlm.nih.gov/pmc/articles/PMC5749693/