There are a lot of new skincare products that have been arriving on the market during the past few years. With many people looking for organic options for their skincare regimens, it is important to take a close look at a few of the benefits of two popular face oils.
This post may contain affiliate links. Read the full disclosure here
Marula oil and rosehip oil. How do these two oils compare? You might be wondering which one is best for me? Don't fret, we're here to help.
We took a hard look at the benefits, uses, and considerations when using marula oil and rosehip oil for skin. Take a look at our detailed comparison below!
What is Marula Oil?
One of the newer oils that has arrived on the market recently is marula oil. Marula oil comes from a tree that is native to Southern Africa. Initially, this tree was relatively rare; however, as many cultures use the fruit from this tree in traditional medications and popular dishes, the trees began spreading.
Marula oil itself contains a wide variety of helpful ingredients. Some of the beneficial components of marula oil include:
Antioxidants such as tocotrienol help scavenge free radicals that can lead to premature aging
Fatty acids that help nourish and heal the skin, it contains omegas 6 & 9
Proteins that play a role in facilitating the absorption of marula oil into the skin itself
Antimicrobial properties
Vitamin E that helps soothe and calm the skin
In order to extract the oil from the tree, the fruits from the tree are isolated. There is a brown nut at the center that conceals white kernels. The oil is extracted specifically from these white kernels, purified, and used in skincare products. You can also extract the oil from the husk of the fruit, if necessary.
Because this oil is still relatively new to the skincare market, there is still a lot of research that is ongoing; however, marula oil has become more popular during the past few years. Many people are drawing comparisons between marula oil and a number of other popular skincare oils.
Marula Oils We Recommend
Here are some great options to try if you decide marula oil is the best fit for your skin needs.
Drunk Elephant Virgin Marula Luxury Facial Oil
Drunk Elephant is known for producing high-quality, effective, luxury-style products at moderate prices. The patented process to extract the marula oil in this product doesn't use any solvents or heat that could alter the structure or potentially reduce its wide range of benefits.
This oil can help other ingredients penetrate the skin and it absorbs quickly. The Drunk Elephant Marula oil is safe for all skin types, even those with sensitive skin. This brand purposely avoids fragrances and is committed to clean ingredients that benefit the skin.
Acure The Essentials Marula Oil
Acure offers straightforward products with pure, nourishing ingredients. Their marula oil is no exception. The Acure Marula Oil is crazy affordable, but with all the same skin-loving benefits.
Marula oil isn't the only thing they offer either. They also offer Rosehip Oil, Argan Oil, Squalane, and more.
Shea Terra Namibian Marula Cold-Pressed Extra Virgin Oil
Shea Terra also offers a budget-friendly pure marula oil. It's all-natural, cold-pressed, wild-harvested marula oil. No need to worry about additives in this product such as parabens, SLS, sulfates, phthalates, alcohol, or synthetic fragrances. This product is free from all of that.
This company has been sourcing quality ingredients from Southern Africa since the 2000s. When it comes to oils such as marula, they know what they're doing.
More Marula Oil Comparison Articles You Might Like:
What is Rosehip Oil?
One popular skincare oil that has been on the market for a while is rosehip oil. This oil itself is extracted from the seeds of rose bushes. In the past, these rose bushes were almost exclusively in the Andes Mountains, such as Rosa Rubiginosa and Rosa Moschata. Now, there are other bushes that are able to produce rosehip oil as well. For example, it is not unusual to isolate rosehip oil from bushes that are located in Europe and South Africa as well.
Similar to the production of other fresh oils that are used in skincare routines, the oil comes from the seed of the rose plants themselves. After the seeds are isolated, the oil is extracted specifically from the seed. Sometimes, the fruit is also used in the production of skincare products.
Even though there are a lot of benefits that come from rosehip oil, one of the most popular involves the antioxidant properties of rosehip oil. Because rosehip oil is particularly high in antioxidants, rosehip oil can be used to prevent cellular damage and slow the aging process. At the same time, it is important for everyone to read the ingredients on their rosehip oil products before they decide to start using them.
Some products contain more fruit than seed, which can change the antioxidant profile slightly. At the same time, rosehip oil has quickly become one of the Staples of numerous skincare regimens all over the world.
Rosehip Oils We Recommend
If rosehip oil is just what your skin needs, we have some great options for that too! This oil is in tons products, so there are plenty of great products to choose from.
Radha Beauty Rosehip Oil
One of our favorites is the Radha Beauty Rosehip oil. It's 100% pure, certified organic, fragrance free, cold-pressed rosehip oil. It's pure rosehip oil and nothing else. What more do you need?
Pure rosehip oil options such as this are great for hydrating and soothing blemish-prone skin and it's great for brightening too! It can be used on it's own or mixed with your favorite serum or lotion for added hydration.
Teddie Organics Rosehip Seed Oil
Teddie Organics provides another great 100% pure, cold-pressed rosehip oil option. It's affordable and has stellar reviews. Reduce the appearance of fine lines and wrinkles, even tone, and hydrate the skin with this organic option.
This product has tons of 5-star reviews with people sharing improvements with blemishes and reducing the appearance of acne scars.
Trilogy Certified Organic Rosehip Oil
Last but not least we have the Trilogy Certified Organic Rosehip Oil. This is another 100% pure, wild-harvested option that is certified organic and made in New Zealand without any animal testing.
People are obsessed with Trilogy products. They focus on high-quality, nature ingredients that deliver results.
More Rosehip Oil Comparison Articles You Might Like
How do Marula Oil and Rosehip Oil Benefits Compare?
Before deciding which oil is better, it is important to take a look at the benefits of each. Because both of these oils are relatively versatile, they have become incredibly popular. They are both easy to use and readily available. In addition, both marula and rosehip oil have been tested thoroughly and have been found to be effective in a number of ways. Some of the key benefits that marula oil and rosehip oil provide include:
Both oils are effective in moisturizing dry skin. Because the oils are incredibly smooth, they absorb into the skin relatively quickly.
Both oils are able to rejuvenate damaged skin, thanks to their relatively high concentration of antioxidants
Even though the oils are not recommended specifically for chronic skin conditions, those who are suffering from generalized inflammation or irritation find that these oils are able to soothe the skin quickly
Anyone who is suffering from a skin rash may be able to treat this rash by using rosehip oil or marula oil
In order for individuals to figure out which of these oils is right for them, it is important to take a closer look at some of the differences.
What Are the Differences Between Rosehip Oil and Marula Oil?
In order to take a closer look at the differences between rosehip oil and marula oil, it is important to look at the differences in the ingredients. It is true that these oils have a lot of crossover in their ingredients, which makes them similar; however, there are a few differences to note:
Marula Oil
Marula oil is very high in antioxidants and fatty acids. This includes omega 6 and omega 9 fatty acids along with oleic acid, linoleic acid, palmitic, and stearic acid. In particular, marula oil has a very high oleic acid content and it has a comedogenic rating of 3-4.
Furthermore, marula oil also contains a relatively high concentration of flavonoids and phenols.
High in oleic acid (70-80%)
Lower in linoleic acid (4-7%)
Comedogenic rating – 3-4 (can clog pores)
Great option for dry or dehydrated skin
Can help repair damaged skin or sensitive skin
Rosehip Oil
While rosehip oil also contains some fatty acids and antioxidants, rosehip oil also contains vitamin A, vitamin B1, vitamin B2, vitamin C, beta-carotene, flavonoids, and tannins. The fatty acid ratio for rosehip oil is flipped, compared to marula oil. Rosehip oil is lower in oleic acid but has a higher linoleic acid content.
High in linoleic acid (44%)
Lower in oleic acid (14%)
Comedogenic rating – 1 (likely won't clog pores)
Great option for oil or acne-prone skin
Can help brighten and even tone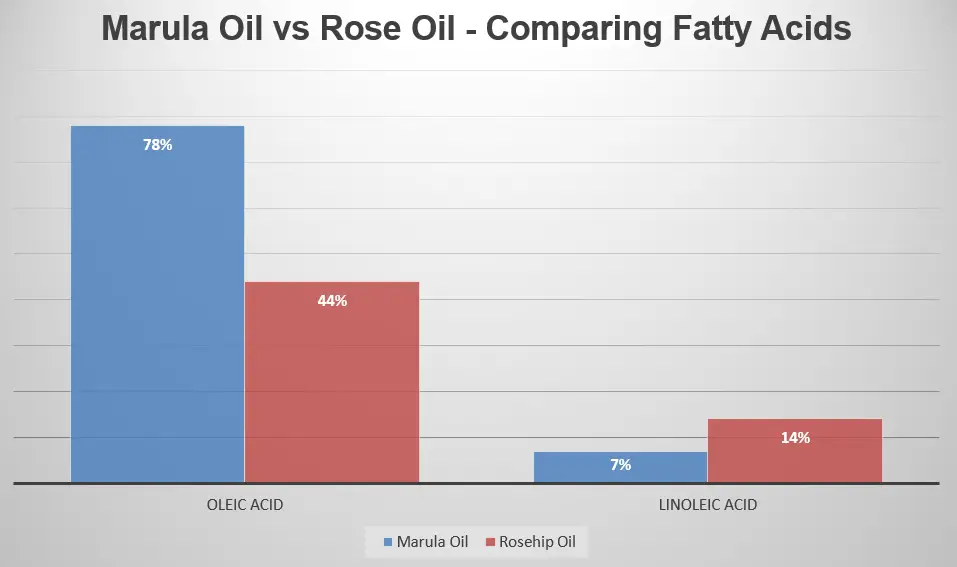 It is the differences and the ingredients and makeup of these two oils that is going to define how they can be used and which oil is going to be better.
Taking a Look at Rosehip Oil and Marula Oil for Specific Situations
Some of the specific situations where people might be trying to decide which oil to use include:
Anti-aging Properties
Both oils offer a blend of fatty acids, vitamins, and antioxidants that are beneficial for anti-aging. If you had to choose one oil here, rosehip oil is the winner. Rosehip oil is a bit more well-rounded in terms of the benefits it offers for aging skin. Since it's been around longer, rosehip has stronger statistics in terms of the aging benefits it can offer.
However, marula oil can deeply hydrate and replenish skin. So if aging skin is on the drier side, marula oil can greatly improve complexion and defy aging too!
Oily Skin
If you have oily skin you might be better off with rosehip oil. While marula oil could work too, it's not a perfect option for oily or acne-prone skin. Since it is mostly oleic acid (which is present in sebum), it has a higher risk of clogging pores and leading to excess oiliness.
Rosehip oil is also lighter, making it better suited for oily skin.
Dry Skin
For those who suffer from dry skin, they are going to look for an oil that has powerful moisturizing properties. Both oily are effective when it comes to dry skin.
They are both high in fatty acids with excellent moisturizing abilities. Both penetrate the surface relatively easily and absorb well.
Since marula is a heavier oil and has a high oleic acid content, it's likely a better option for dry or dehydrated skin. It helps replenish moisture in skin and also improves moisture retention.
Marula Oil vs Rosehip Oil: Can They Be Used Together?
Because there are a few differences between these two oils, some people might be wondering if they can use them together to access the benefits of both worlds. The good news is that you can use these oils together! Just be sure to use them in moderation to avoid applying too much product. But if you see a product that includes both of these oils, there is no need for concern.
When using together, this may exacerbate the oily properties of each product. This goes for the benefits as well as the tradeoffs. The biggest thing to watch out for is oily skin, clogged pores, or breakouts.
Marula Oil vs Rosehip Oil: Which is Better?
In the end, it is difficult to say which of these two oils is better. The reality is that they are better in certain situations. For example, individuals who are looking to treat acne are probably going to want to reach for rosehip oil. But if you have dry or dehydrated skin, marula oil is better.
Of course, it is also important for everyone to think about how these oils are going to impact them before they decide to start using them. It is critical for everyone to use new skincare products with caution the first time. Until they understand how these products are going to impact them, it is important to start low and go slow.
Finally, anyone who is suffering from a chronic skin condition should seek the help of a medical professional. Even though these oils can provide some benefits, it is good to have input from an expert as well.