When most hear the word chamomile the first thing that comes to mind is a soothing, relaxing tea. Or maybe a chamomile essential oil that helps calm and reduce stress. It's hard to be feel stressed when curling up on the favorite chair holding a huge mug of chamomile tea in the morning. Or maybe winding down from a looong day before bed. Just picture what that relaxing, self-soothing cup of tea could do for the skin.
This post may contain affiliate links. Read the full disclosure here
Chamomile offers the same soothing and calming benefits as an ingredient in skincare. Anthemis nobilis flower extract checks all the boxes as a skincare ingredient. It's a natural, plant-based ingredient that soothes skin, has inflammation-reducing properties, antibacterial properties, and it smells nice.
What Is Anthemis Nobilis Flower Extract?
The Anthemis nobilis flower is better known as the Roman or English Chamomile flower. The two main types of Chamomile are Roman and German. Learn more about the German Chamomile extract here.
Roman Chamomile is the most common type of chamomile, it's in skincare for its soothing and anti-inflammatory properties. Both Roman and German Chamomile have soothing properties. But German Chamomile is a better option to help reduce inflammation based on actives such as chamazulene.
One of the main compounds found in chamomile is apigenin. Studies have shown that apigenin may help strengthen the skin barrier.
It's hard to read much about chamomile without learning about bisabolol. Alpha bisabolol is a type of terpene alcohol that is found in anthemis nobilis extract that soothes skin, promotes healing, and has anti-inflammatory properties. One study found that flavonoids (such as alpha bisabolol) may also help increase the penetration of other ingredients. This can make other ingredients more effective by helping them absorb into the the skin.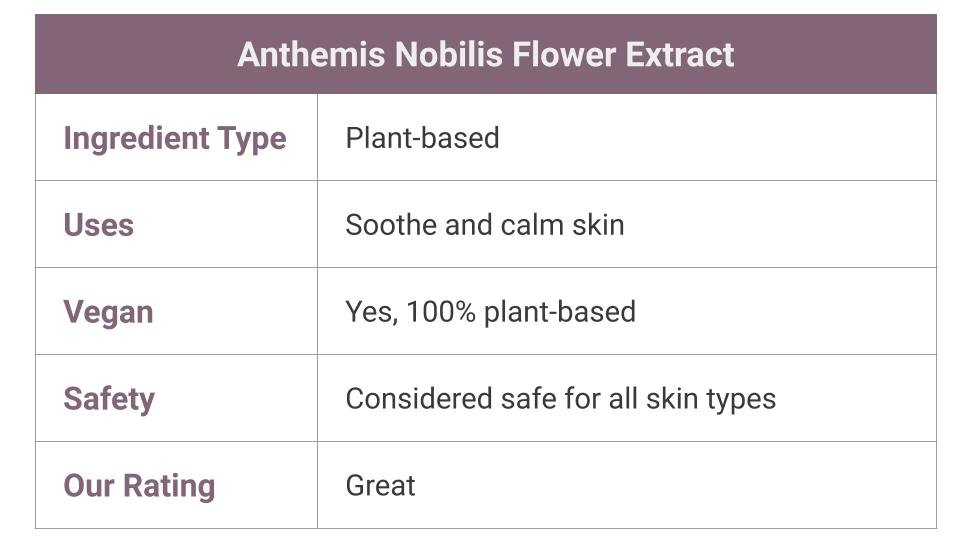 Anthemis Nobilis Flower Extract Skin Benefits
Anthemis nobilis flower extract is in skincare products in concentrations up to 10% for its soothing and skin conditioning benefits. This non-irritating ingredient boasts anti-inflammatory and antibacterial properties making it a great option for facial cleansers, treatments, and moisturizers.
Chamomile is also in acne treatment products for its skin soothing properties. While it doesn't treat acne on it can help soothe redness associated with blemishes. Its antibacterial properties also make it a great ingredient for blemish control products.
Many have used chamomile-based products to treating irritation and skin disorders such as eczema. Again, this is not an FDA approved treatment for any skin disorders but it can help.
Anti-Inflammatory
Anthemis nobilis flower extract has anti-inflammatory properties that may help soothe unhappy, irritated skin. Chamomile extract is popular in products for acne, eczema, and sensitive skin.
Antibacterial
Its antibacterial properties may help skin heal and help prevent acne. It's not an acne treatment on it own but it's a worthy addition to other acne treatment ingredients. This makes for a nice addition to natural or plant-based facial cleansers.
Natural Fragrance
Chamomile has a gentle fragrant scent that can enhance the product experience without adding unnecessary ingredients. This is a nice bonus to this skin soothing ingredient. Many fragrance ingredients pose risks of irritation or allergic reactions but that isn't the case with anthemis nobilis flower extract.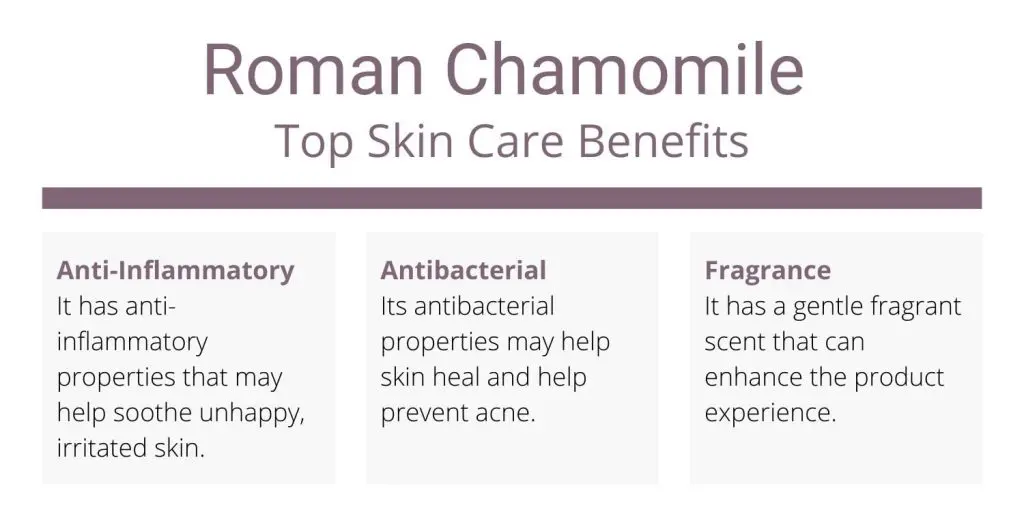 Frequently Asked Questions
References
https://www.accessdata.fda.gov/scripts/cdrh/cfdocs/cfcfr/CFRSearch.cfm?fr=182.20&SearchTerm=chamomile
https://online.personalcarecouncil.org/ctfa-static/online/lists/cir-pdfs/PRS653.pdf
https://pubmed.ncbi.nlm.nih.gov/28553737/
https://pubmed.ncbi.nlm.nih.gov/23489424/
https://pubmed.ncbi.nlm.nih.gov/8073060/