Squalane and jojoba oil are both fantastic emollient ingredients for the skin. But how do they compare against each other? Are they complementary, or do they enhance each other? Read on to find more about squalane vs. jojoba oil.
This post may contain affiliate links. Read the full disclosure here
Spoiler-Alert: Squalane is our favorite out of the two. It is less likely to cause you a reaction and it offers a wide range of skin benefits. However, some say it has a greasy feel (even though it's a lightweight oil). It's worth a try but you can't go wrong with jojoba oil either. Honestly, we love them both.
What is squalane?
Squalane is a skin-friendly, lightweight oil famously known for its moisturizing properties. Squalane is so skin-friendly because it's a hydrogenated version of squalene (spelled with an "e"), which naturally occurs in human sebum.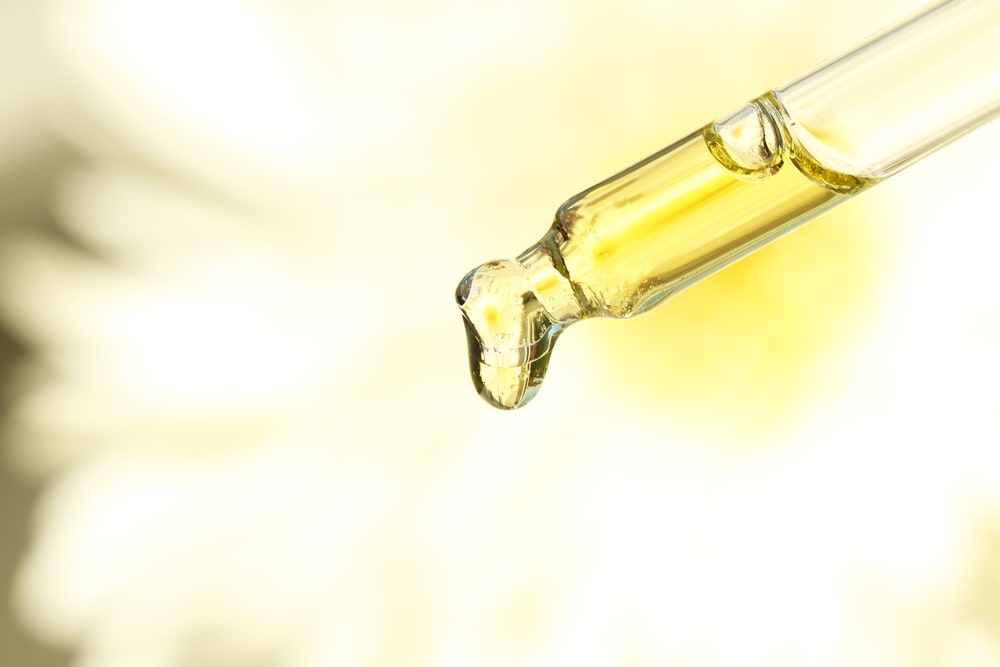 Human sebum consists of triacylglycerides, fatty acids (57%), wax esters (26%), and squalene (12%). But squalene is not stable, so it must be first converted into squalane before incorporating into skincare products. The conversion involves hydrogenation or adding more hydrogen atoms, such that squalene (C30H50) becomes squalane (C30H62). 
Squalane is a very stable, colorless, odorless, tasteless, non-toxic oil that easily penetrates the skin without feeling greasy or heavy. It's an excellent emollient that improves the skin's protective barrier and increases moisture retention and skin hydration.
The reason why we need squalane is that the body naturally produces less squalene as we age. Topical squalane derived from other sources in nature is compatible with your skin's natural oils, so it helps prevent dry skin.
In the past, squalane was mainly sourced from the liver oil of deep-sea sharks but is now sustainably sourced from plants. It typically comes from various plant sources, including rice bran, sugar cane, olive oil, and pumpkin seed oil. 
Squalane benefits
As mentioned, squalane oil is an excellent emollient, so it functions to protect, moisturize, and lubricate the skin. The benefits of using squalane oil on your skin are derived from these properties. Here are the top benefits of squalane oil explained in more detail.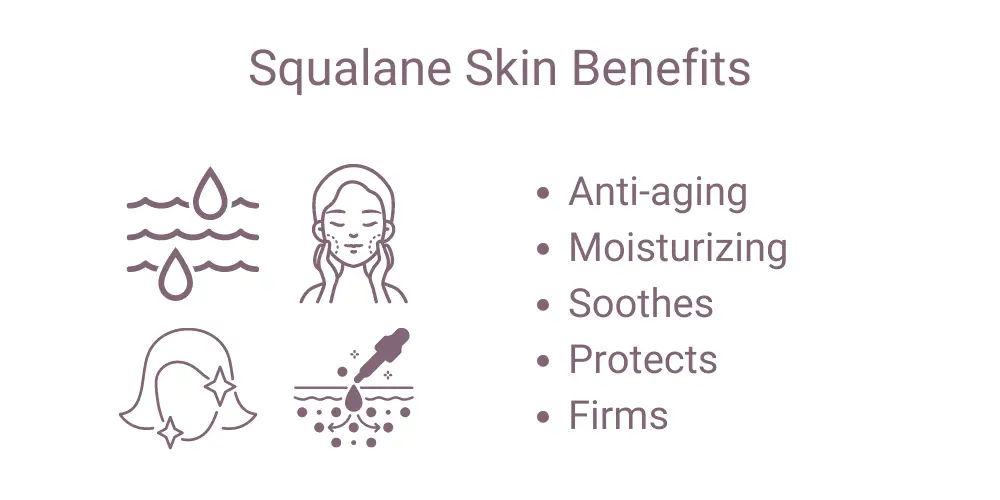 It's a lightweight moisturizer
The sebum produced by our skin already contains squalene that helps keep the skin moisturized and hydrated. But since squalene levels become depleted with age, it's essential to apply squalane topically. Squalane is the best oil to use because it's naturally occurring and resembles the skin's natural oils. 
It quickly absorbs into the skin without the added greasiness of some oils, which sit on top of the skin without penetrating the pores. Squalane helps repair the skin's protective barrier, so it's able to lock in more moisture and keep the skin hydrated for longer. Therefore, squalane is the best oil to use if you have dry and flaky skin.
It has anti-aging benefits
Squalane is a hydrogenated form of squalene. The hydrogenation process makes squalane suitable for use in anti-aging skin care products because squalane is less vulnerable to oxidation. Based on a scientific review of squalane, it's a quencher of singlet oxygen and protects the skin's surface from lipid peroxidation caused by UV exposure. 
Squalane is also a natural antioxidant that helps prevent oxidative stress that can accelerate aging. Antioxidants have a neutralizing effect on free radicals that damage cells and promote visible signs of aging, such as wrinkles and fine lines.
In addition, squalane's moisturizing action increases the skin's water content, which has a plumping effect that eliminates the skin's sunken lines and contour ridges. This makes the skin softer, smoother, and more pliable, contributing to the anti-aging and youthful effect.
It helps treat skin disorders
Squalane can be useful in treating skin disorders, such as seborrheic dermatitis, acne, psoriasis, or atopic dermatitis. This explains why scientific experts have recommended shark liver oil in patients suffering from atopic dermatitis.
Shark liver oil is a rich source of squalane, which has anti-inflammatory properties supported by research. It also helps that squalane easily penetrates your skin without clogging the pores. 
If you have oily or sensitive skin, it's generally safe to add squalane to your skincare routine because it's also non-comedogenic. The moisturizing effect of squalane will also help to relieve the dryness and flare-ups caused by inflammatory skin problems like acne, rosacea, psoriasis, and dermatitis.
It can improve the appearance of your skin tone
According to research, squalane is an emollient that can influence skin physiology, leading to an overall improvement in skin texture and appearance. To begin with, squalane moisturizing properties keep the skin hydrated and looking healthy. This oil closely mimics the oils produced by the body and is ideal for skin health. 
The anti-aging effects of squalane ensure that your skin fares well against UV rays and free radicals. When we age, topical application of squalane helps keep the oils in our skin balanced, resulting in youthful, well-complexioned skin.
In fact, animal studies show that topical application of squalane is more effective since the compound is absorbed poorly in the gastrointestinal tract.
Best squalane products
Let's look at some of the top five squalane products available on the market:
BIOSSANCE Squalane and Vitamin C Rose Oil – Best for Brightening Skin 
Biossance Squalane and Vitamin C Rose Oil offers the trifecta for hydrating, brightening, and firming the skin. This product is loved for fresh scent and lightweight texture that easily absorbs into the skin.
The vegan product doesn't contain parabens, synthetic fragrances, or PEG. Most reviewers love the product, the only down side is that it's on the pricey side.
Biossance Squalane + Copper Peptide Rapid Plumping Serum – Best for Dry Skin
Biossance Squalane + Copper Peptide Serum is an amazing go-to for hydrating the skin. It'll leave your skin hydrated, smoother, and plump.
BioMarine Oceana Topical Squalane Oil – Best for sensitive skin
BioMarine Oceana Topical Squalane Oil is extracted from deep-sea shark liver oil and has a light lavender scent. Some reviews compare this product to squalane derived from olive oil or sugarcane and have found this oil to be lighter and more absorbent. This makes it more suitable for sensitive skin.
However, you'll want to avoid this product if you only shop vegan and cruelty-free.
Everyday Beauty Squalane Oil – Best for multipurpose use
This 100% pure squalane oil is cold-pressed, unrefined, and derived from olive oils. It is suitable for direct use on your face, skin, hair, and nails.
You can also enrich your moisturizer and other skincare products with it. It blends well because it's lightweight and has a negligible natural fragrance. Overall, the reviews for this product are positive, but your experience may vary.
Biossance Squalane + Marine Algae Eye Cream – Best for mature skin
Biossance Squalane + Marine Algae Eye Cream helps smooth fine lines and wrinkles around the eye. It hydrates your skin, leaving it smooth, plump, and youthful. This anti-aging cream is typically applied to the entire eye area, including the eyelids. A good number of reviews said the cream works very well for hydrating the skin.
More Squalane Comparison Articles You Might Enjoy
What is jojoba oil?
Jojoba oil comes from the nut of the jojoba plant, which is indigenous to North America. Although it's called jojoba oil, it's more accurate to call it jojoba wax since it contains up to 98% wax esters.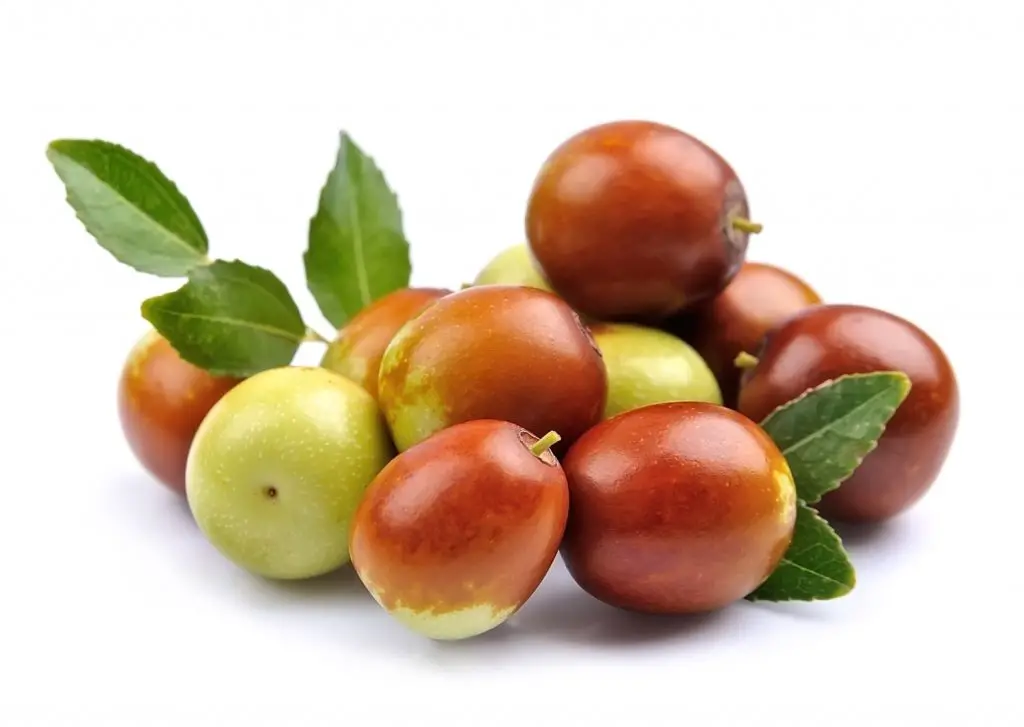 Jojoba oil also contains a small amount of triglycerides, fatty acids, vitamins, antioxidants, and other skin- beneficial compounds. This composition makes jojoba oil a suitable ingredient in skincare products, especially since wax esters are only found in the sebaceous cells and nowhere else in the body. 
It somewhat mimics the composition of human sebum, the skin's natural oils, which contain about 57% fatty acids and triglycerides. Sebum also contains about 26% wax esters and 12% squalane. Due to its abundance of wax esters, which are also found in the skin's sebum, jojoba oil tends to interact well with your skin, producing positive effects. 
Waxes are also found in nature in plant leaves, where they provide a protective layer that helps prevent water loss. This explains why jojoba oil is said to have excellent emollient properties. Its high composition of wax esters absorbs easily and replenishes the skin's protective barrier, helping to lock in moisture.
Jojoba oil benefits
Since jojoba oil is similar to the skin's sebum, it's associated with several benefits that secure its position as a top ingredient in the skincare industry.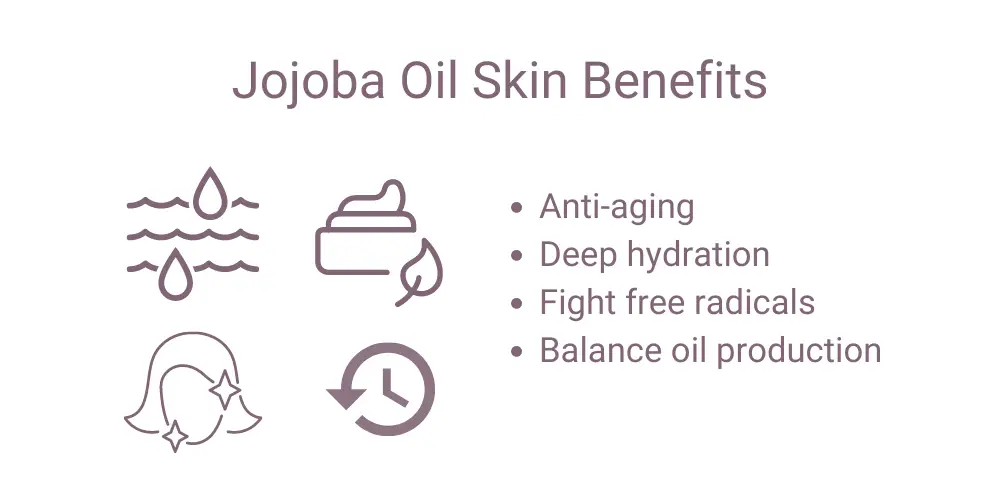 It moisturizes
Jojoba is largely an emollient that effectively penetrates the skin to create a protective layer or barrier that seals in moisture. Some research indicates that it can also be used as a humectant, a different type of moisturizer that increases the skin's water content by attracting moisture from the environment. 
Unlike water-based moisturizers, jojoba oil doesn't evaporate quickly from the skin. Instead, it has a long-lasting hydrating and excellent moisturizing effect that results in soft and healthier skin without clogging pores. 
It readily absorbs into the skin without leaving a greasy or heavy feeling. According to its safety assessment, jojoba oil and jojoba wax cause no significant irritation and are safe skincare ingredients.
It has antioxidant properties
Jojoba oil contains Vitamin E, a popular skincare ingredient with powerful antioxidant properties. Therefore, it helps promote the process of aging by combating free radicals that damage cells. 
It treats dry skin conditions
Research shows that jojoba oil has anti-inflammatory properties that help to calm and relieve many skin conditions. Based on a review of literature, the anti-inflammatory effect of jojoba makes it suitable to treat various skin conditions, such as sunburns, acne, psoriasis, and acne.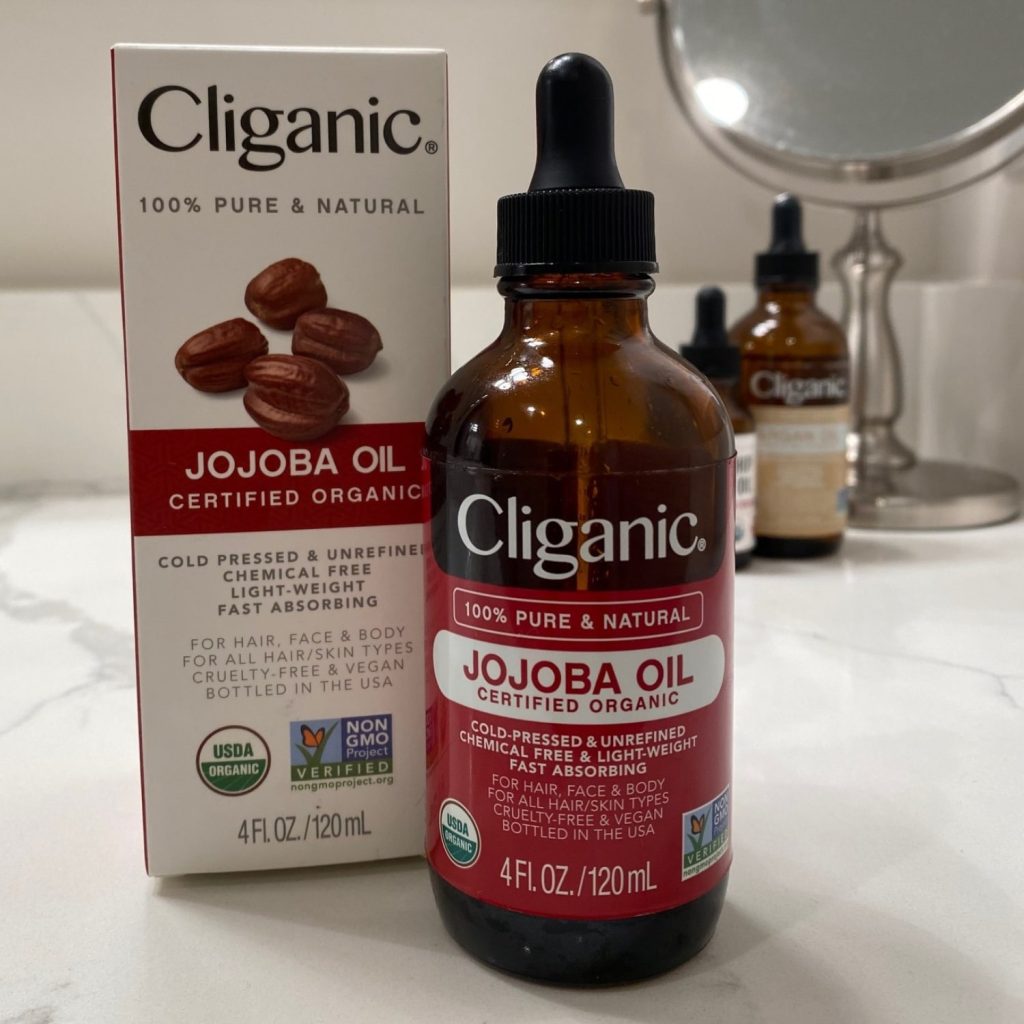 Best jojoba oil products
Here's a quick look at the best jojoba oil products available online:
Velona Jojoba Oil USDA Certified Organic – Best for dry, irritated, and sensitive skin
This unrefined Jojoba oil contains 100% natural and organic oils that deeply hydrate and moisturize. You can use it for your face, body, and hair to benefit from its antioxidant, antibacterial, and anti-inflammatory properties.
If you're looking for the best moisturizer for dry, irritated, and sensitive skin, this could be the right oil for you, according to some of the reviews.
Cliganic USDA Organic Jojoba Oil – Best for multipurpose use
This is a 100% natural, organic, cold-pressed Jojoba oil product. It can be used as a base carrier oil, making it suitable for various uses. You can add it to your preferred skin products and use it on your face and body.
This product has great reviews, but it's always a good idea to do a patch test when using a new oil on your skin.
Viva Naturals Organic Jojoba Oil
This organic jojoba oil is another alternative to the additional options above. It's a great option for hydrating face and body skin, nails, and hair.
More Jojoba Oil Comparison Articles You Might Enjoy:
Comparing squalane vs. jojoba oil
Here's a roundup of squalane vs. jojoba oil based on its properties, benefits, similarities, and differences.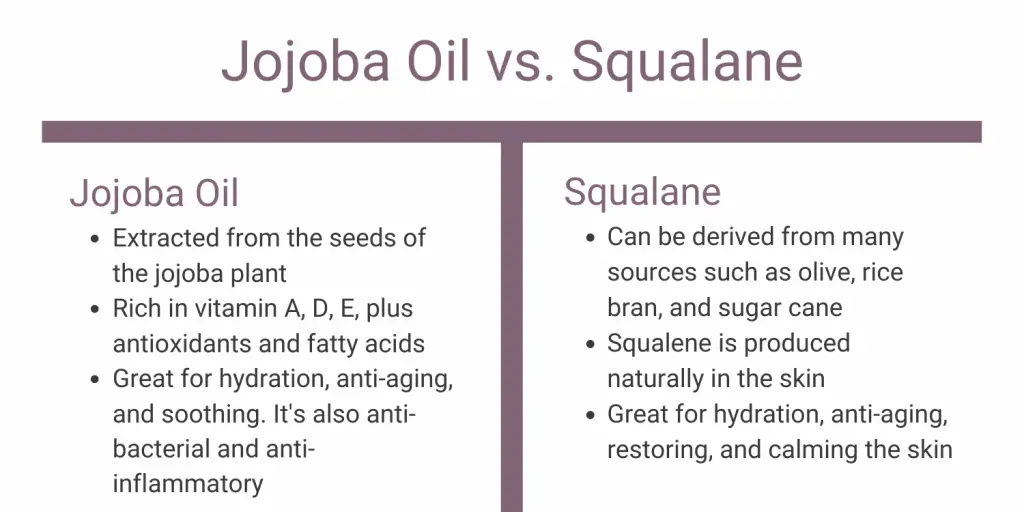 Similarities
The most important similarity between the two is that they both mimic the composition of the skin's natural oils.
The two naturally-occurring oils have excellent emollient properties, and their primary use in skincare is to moisturize and hydrate the skin.
Squalane and jojoba oil provide the same skincare benefits.
Because they are similar to skin sebum, squalane and jojoba oil are lightweight and will not clog the pores. 
Both oils are relatively stable, resistant to oxidation, and have a relatively long shelf life.
Squalane and jojoba oil are safe for the skin, and studies show they rarely cause irritation or adverse side effects.
Differences
Squalane oil comes from deep-sea shark liver oil, while jojoba oil comes from the nut of the jojoba oil plant.
Squalene has to go through hydrogenation to produce the more stable squalane, but jojoba oil is naturally stable.
Squalane and jojoba oil together
Squalane and jojoba oil complement each other. They're both found in human sebum, which contains 12% sebum and about 26% wax esters (the main composition of jojoba oil.). It's safe to say that these two ingredients can enhance each other.
That's why you will find many skincare products that incorporate these two key ingredients into their formulation. Squalane and jojoba oil moisturize and hydrate the skin without leaving a greasy residue.
Based on the benefits associated with jojoba oil and squalane, you can expect skin that's softer, youthful, and healthier when you use both oils together.
Best products with squalane and jojoba oil 
Since squalane and jojoba work well together, there are several skincare products that incorporate both ingredients in the formulas. 
Jojoba Hydra-Glo by Skn Bar with Squalane
This facial oil is made from natural and organic ingredients that hydrate, brighten, and revitalize the skin. Overall, the reviews support the claims that this facial oil has a beneficial effect on the skin. 
Paula's Choice Redness Relief Moisturizer | Jojoba Oil & Squalane
This product is specially formulated for irritated, red skin and rosacea. It's a plant-based moisturizer that alleviates and refines dry, tight, and flaky skin.
Moisture Milk Jojoba Squalane and Other Powerful Ingredients
This product can be used as a serum and a light moisturizing lotion. The key ingredients, including jojoba oil, squalane oil, hyaluronic acid, and shea butter, are all-powerful moisturizing ingredients that keep the skin well-hydrated. Based on reviews, the product is a great moisturizer for everyday use during the summer months.
Squalane Retinol Jojoba Oil Moisturizer for Face
According to reviews, this oil works as advertised. It's a lightweight, non-greasy face moisturizer that prevents water loss and promotes a more youthful complexion. It contains squalane and jojoba oil, and retinol, which makes the oil more potent. 
NOURISH Essential Moisturizer Squalane, Jojoba Oil, Hyaluronic Acid
The manufacturer claims that this is a moisturizing, firming, and soothing moisturizer. It contains squalane oil and jojoba oil that hydrates the skin and helps to brighten and plump the skin. Most reviews describe it as a light and nourishing cream that leaves the skin feeling great.
Frequently Asked Questions
Find answers to the most frequently asked questions about squalane and jojoba oil