Every time a new skincare ingredient emerges all the major publishers scramble to share how amazing it is and how it's the new perfect ingredient you've been missing. Then the products come.
This post may contain affiliate links. Read the full disclosure here
Squalane has been getting that treatment. It's trendy, effective, and plant-based (at least it can be). With all the hype it's hard to tell how these new ingredients compare to what is already out there. Chances are you've already used a product with hyaluronic acid before but do you need squalane?
Which one is better? We took a hard look at how squalane compares to hyaluronic acid. The way they function is different but they share many of the same benefits.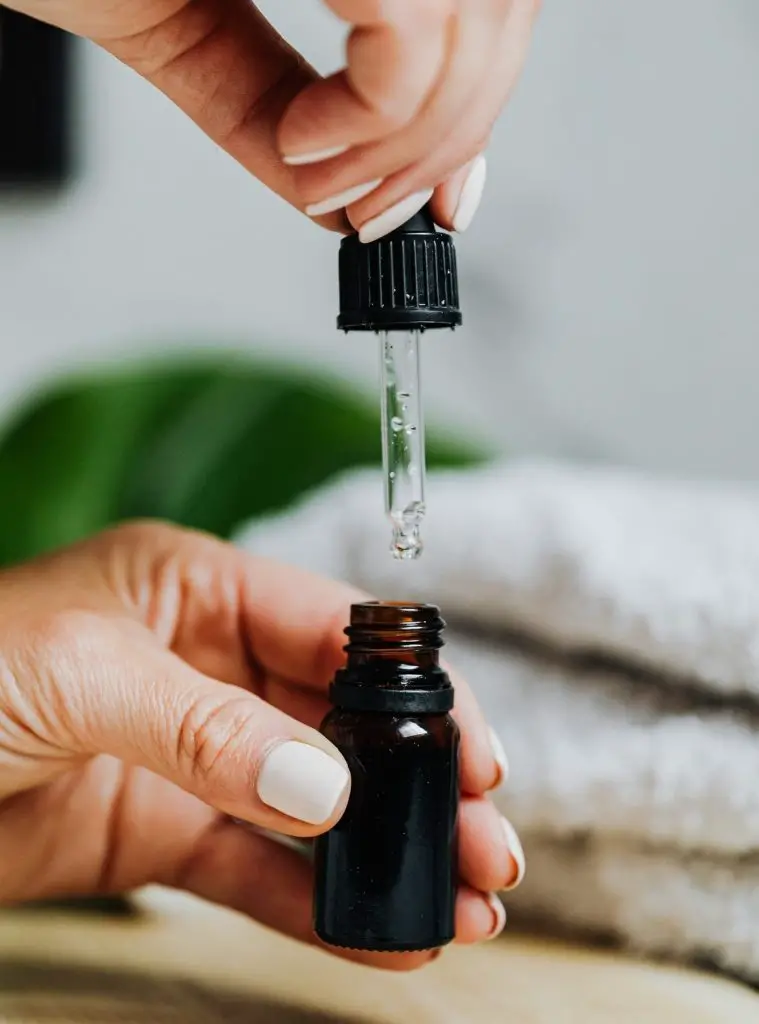 Squalane vs. Squalene?
Before jumping into squalane, it's important to understand the difference between squalane and squalene.
Squalene (with an e) is produced naturally in the body. The sebum that your oil glands produce consists of triglycerides, wax esters, and squalene. Squalene makes up about 13% of our sebum.
If you have ever struggled with acne or clogged pores, you have likely read about the consequences of producing too much sebum (oil). But when it comes to skin hydration, squalane plays an important role. This oil hydrates skin and helps it maintain a protective barrier. This lipid is also rich in antioxidants, which help fight free radicals.
As we age the natural production of squalene slows down. That's where anti-aging skin care products come in. In its natural form, squalene isn't very stable. In other words, it's not the best option for skincare products.
That's where squalane (with an a) comes into play. Squalene goes through a hydrogenation process to become squalane. Without this process, the ingredient could oxidize. That would limit the benefits of the ingredient and it may lead to skin irritation. As squalane, we can enjoy this ingredient in our favorite anti-aging serums, oils, and creams. It's technically an oil but it doesn't feel that way. It's lightweight, noncomedonal, antibacterial, and considered safe for sensitive skin.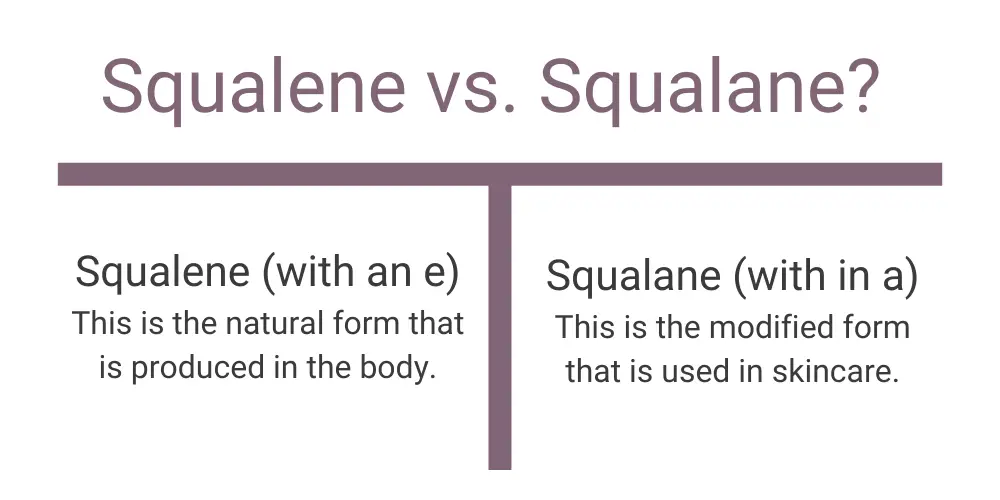 In general, when we're referring to skincare products squalene and squalane mean the same thing. But squalane it's technically the correct spelling if you are referring to the skincare ingredient itself.
Check out these other squalane comparison articles:
Squalane Benefits
Popularity of squalane is growing. It has a wide range of benefits for the skin and it can be a great ingredient for all skin types.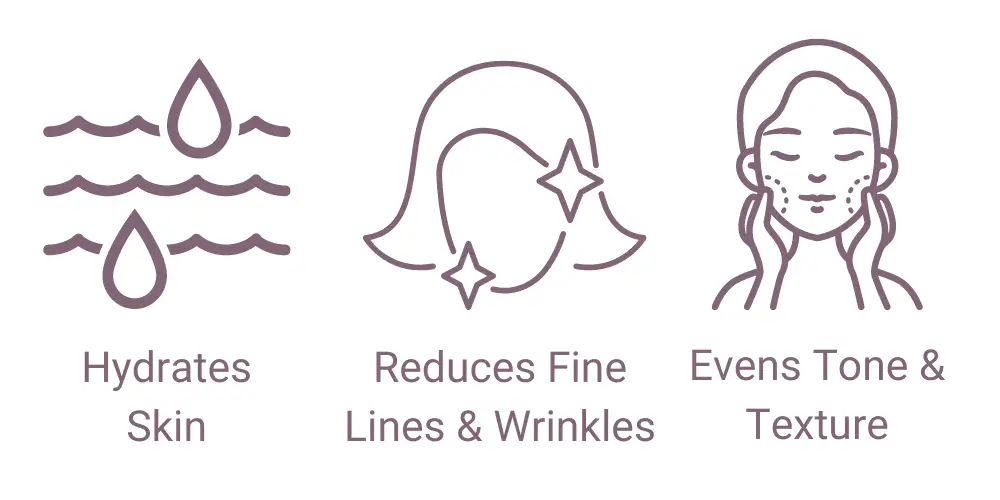 Reduces Fine Lines – it helps reduce the appearance of fine lines and wrinkles for a more youthful complexion.
Hydrates – it hydrates the skin without excess oiliness.
Even Texture – it can help even skin texture, giving you a smooth, glowing complexion.
Balance oiliness – it can help control the overproduction of sebum in the skin.
Non-comedogenic – Squalane won't clog your pores and isn't a concern if you struggle with blemishes or blackheads.
Is Squalane Vegan?
It depends. Squalane is often vegan nowadays but it isn't always.
Squalane can be sourced from shark liver. Sounds gross and certainly not good for sharks. But this used to be the top source of squalane for cosmetics and skincare products. Today, you likely won't find products (at least in the U.S.) that are still using shark derived squalane. Goes without saying, but this type is not vegan.
Luckily, we've figured out how to source squalane from plants. It can be sourced from olives, rice bran, amaranth seed, wheat germ, and sugar cane. Learn more about amaranth squalane oil here. Plant-derived squalane is 100% vegan and made from renewable sources. Thanks to modern science, plant-based squalane is cheaper to source from plants and it offers high quality and performance comparable to that of shark-derived squalane.
Brands such as Biossance have taken a stand on the sourcing of the squalane in their products. Their squalane is made from sugar cane and is 100% vegan and cruelty-free. They consider squalane as nature's best moisturizer for you and the planet. By using sugarcane, Biossance alone saves 2 million sharks every year.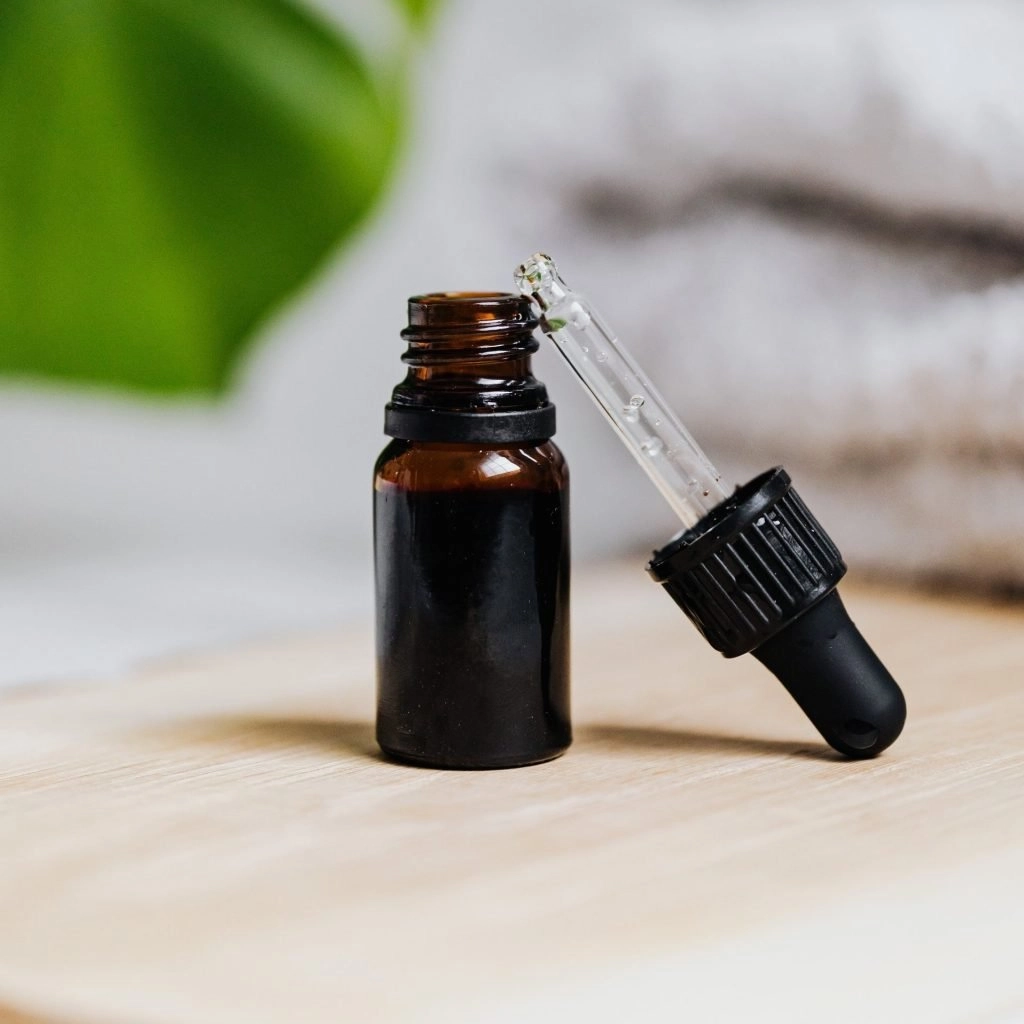 Hyaluronic Acid
Hyaluronic acid, also known as hyaluronan. It's a clear, sugar substance that is found naturally in our bodies. You'll find it in our joints, eye, and skin. Its primary function for the body is to hold in moisture to keep tissues lubricated. When it comes to our skin, hyaluronic acid helps keep it hydrated and plump.
Similar to squalane, the amount of hyaluronic acid produced by the body decreases as we age. The older we get, the less we produce. A healthy diet can support hyaluronic production but it can also be applied topically. It's a common ingredient in age-defying and moisturizing products. If you're into skincare, you've probably already used a product with hyaluronic acid.
Hyaluronic acid goes well with most other skincare ingredients. The one to watch out for is glycolic acid, this low PH acid can reduce the effectiveness of hyaluronic acid. It tends to work well with penetration enhancing ingredients to ensure it is adequately absorbed and doesn't sit on top of the skin.
Hyaluronic Acid Benefits
Hyaluronic acid also offers its fair share of benefits. You can enjoy the following benefits from using hyaluronic acid: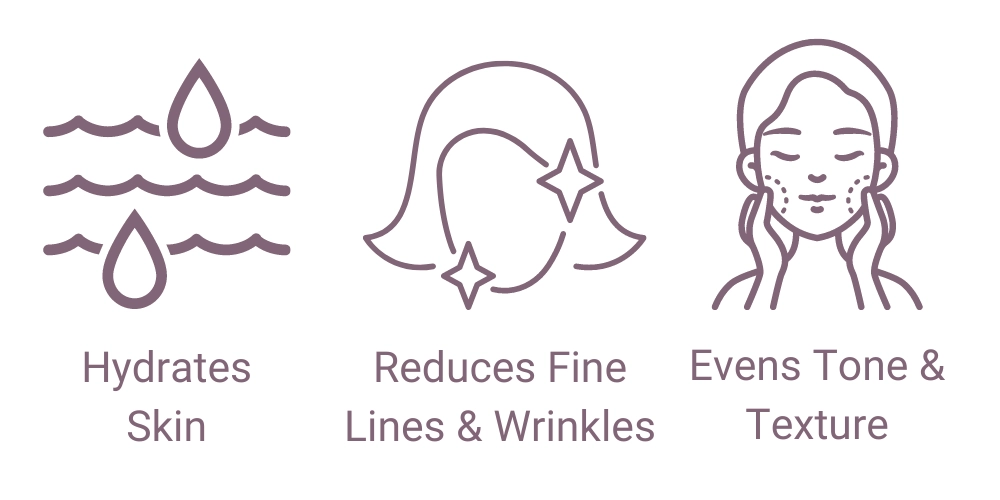 Hydrates – it helps the skin retain moisture for a plump, glowing complexion.
Strengthens Barrier – It helps strengthen the skin barrier to help fight off irritation, blemishes, and sensitivities.
Improves tone – It helps improve the skin's tone and texture, for a more youthful, smooth complexion.
Fine lines and wrinkles – It also helps decrease the appearance of fine lines and wrinkles.
Is Hyaluronic Acid Vegan?
Learn more about where hyaluronic acid comes from here. Similar to squalane, it can be made from plants and animals.
Animal-based hyaluronic acid is made from rooster skin. Yep. It comes from the coxcomb, that floppy red skin on the top of the rooster's head. It's safe to say this form of hyaluronic acid is not vegan and not cruelty-free. Over the past few decades, this method of producing hyaluronic acid has been faced out. More and more brands are paying more attention to the environmental impact on ingredient sources. In today's times, this kind of thing is harder to hide and it usually doesn't fare well for a brand's reputation.
So what about the plant-based hyaluronic acid option? This type of hyaluronic acid is made using a fermentation process with soy and wheat. It is more cost-effective and better for the environment. You can enjoy your hyaluronic acid and keep the roosters happy. This method of production is vegan and cruelty-free.
What's the Difference Between Hyaluronic Acid and Squalane?
While both ingredients naturally occur in the body, they offer different benefits to the skin. Hyaluronic acid is a molecule that holds up to 1,000 times its weight in water. Hyaluronic acid penetrates the skin and binds water to skin cells. By holding in moisture, it can help the skin stay hydrated, prevent the development of wrinkles, and reduce the appearance of present wrinkles. In skincare terms, this is also referred to as a humectant. You can think of them like a sponge. Other examples of humectants are sorbitol, glycerin, and butylene glycol.
While Hyaluronic acid is considered a humectant, squalane is an emollient. Emollients add moisture to the skin to soothe and hydrate it. They add moisture as well as help lock it in by forming a protective barrier. Hyaluronic acid is great at holding in moisture already present in the skin where squalane is replenishing dry skin by adding moisture.
You may also like:
Which is Better?
Hyaluronic acid and squalane are both amazing ingredients that each have their place in skincare. For dehydrated skin, squalane is the better choice. It will help replenish moisture to the skin while locking it in. On the other hand, if you're skin is on the oily side, hyaluronic could be a better option to help the skin maintain a balance while keeping the skin healthy and protected. Hyaluronic acid is also a great option if you're looking for benefits such as evening tone, reducing the appearance of age spots, or fighting off dullness (it helps stimulate cell turnover and regeneration).
It's hard to say which one is the best since they have a number of overlapping benefits that are great for the skin. Each help with skin hydration in their own way. Both are lightweight and don't have a thick, oily feel.
Both squalane and hyaluronic acid are noncomedogenic (won't clog pores) and they are safe even for sensitive skin. It's not like you are boxed into one or the other based on your skin type.
How to Use Hyaluronic Acid and Squalane Together
If they are both so great, you might be wondering if you can use squalane and hyaluronic acid together. Yes, you can! In fact, you can even find products that contain both ingredients. One example product we reviewed is the Biossance Squalane + Phyto-Retinol Serum. This product uses hyaluronic acid, squalane, and bakuchiol.
Another product that uses hyaluronic acid and squalane is the OMGBOTANICALS Renewing Serum. This product combines hyaluronic acid, squalane, and rosehip oil.
If you are using hyaluronic acid and squalane but not in the same product, start with hyaluronic acid. After that is absorbed, then apply the squalane oil for maximum hydration.
What Are the Best Hyaluronic Acid and Squalane Products
There are many options to choose from when it comes to these ingredients. It comes down to what you are looking in particular for your skin needs. You can find pure hyaluronic acid and pure squalane serums or skincare products that combine these with other beneficial ingredients. As noted above, you can even find products include both hyaluronic acid and squalane. Here are some of our favorites for each purpose.
Best Pure Hyaluronic Acid Product
Cosmetica Pure Hyaluronic Acid Serum – This product is straight-up hyaluronic acid at an affordable price. Its ingredients consist of distilled water, sodium hyaluronate, and benzyalcohol. It's vegan, cruelty-free, and paraben-free.
Improve skin texture and tone
Reduce the appearance of fine lines and wrinkles
Visibly plumper, softer, and smoother skin
Considered safe to use for sensitive skin
This product has a crazy-high number of reviews, most of which are positive. People are reporting better skin tone, softer skin, and less noticeable fine lines and wrinkles. Those that didn't like this product commented on the water-like consistency. Others shared that it wasn't moisturizing enough.
Best Pure Squalane Product
Timeless Skin Care Squalane 100% Pure – This product is pure squalane derived from olives. No need to worry about shark liver here. This lightweight oil absorbs quickly without a greasy residue. There is literally one ingredient in this product: squalane.
Offers deep hydration without excess oiliness
Reduce the appearance of fine lines and wrinkles
Safe for sensitive skin
Won't clog pores
This product is well-rated on Amazon as well. Customers love its ability to moisturize skin while reducing the appearance of wrinkles. One customer with acne-prone skin loves this product that moisturizes without making acne worse.
Best Product with Hyaluronic Acid and Squalane
Biossance Squalane + Phyto-Retinol Serum – This product is stacked. bakuchiol, niacinamide, rosehip oil, hyaluronic acid, and squalane all in one serum. It can help with the appearance of wrinkles, fine lines, and reduce the effects of sun damage.
Uses bakuchiol, a retinol alternative
Easing wrinkles and fine lines
Even skin tone and texture
Keep skin soft, smooth, and supple
This product is backed with clinical results and tons of positive customer reviews. It's an effective product from one of the leaders in squalane. Biossance uses sugarcane-based squalane in nearly all of its products. Those that didn't care for the product either had a negative reaction, didn't see the results expected, or they didn't like the product packaging.
Another popular product with squalane AND hyaluronic acid is the Tatcha Dewy Skin Cream. Learn more about this product along with more affordable options here.