Pumpkins have a lot to offer. We all think of fall time, Halloween, and maybe even pumpkin spiced lattes. But if pumpkin drinks and desserts aren't your thing, don't worry.
This post may contain affiliate links. Read the full disclosure here
The seeds from pumpkins have a unique purpose as well. We're not talking about a topper for a salad either. Pumpkin seed oil is great for the skin! It helps moisturize, nourish, and protect the skin.
What is Pumpkin Seed Oil?
INCI Name: Cucurbita Pepo Seed Oil
Cucurbita (pumpkin) seed oil is extracted from the seeds of the pumpkin. Plant-derived oil is popular in cooking, health, and skincare for its wide range of benefits.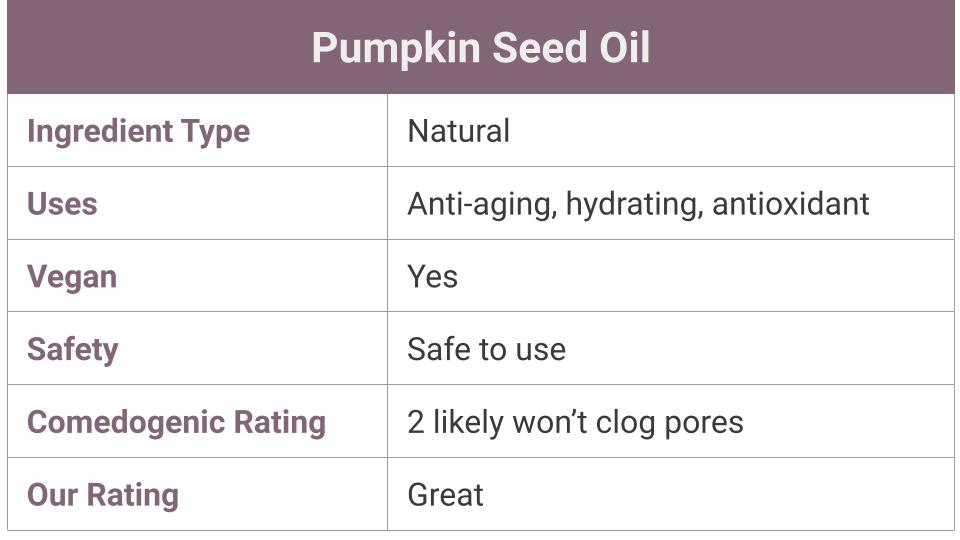 It has a unique composition rich in fatty acids, antioxidants, and nutrients. This ingredient is effective on its own when applied directly to the skin. But it also works well with other carrier oils.
Pumpkin Seed Oil vs. Pumpkin Seed Extract
Pumpkin seed oil may be listed as pumpkin seed extract or pumpkin seed oil. Don't worry, these are the same. The oil comes from the extraction process of pumpkin seeds. So sometimes the oil is referred to as an extract.
Pumpkin Seed Oil Benefits for Skin
While the idea of pumpkin seed extract sounds cool, what is it good for? In addition to health and cooking, it offers fantastic benefits for the skin.
When applied topically, pumpkin seed oil helps fight free radicals, hydrate, calm and soothe, fight acne, even tone, brighten, and slow the signs of aging.
The vitamins, zinc, antioxidants, and fatty acids make pumpkin seed oil a great option for acne-prone skin, eczema, dry skin, oily skin, and more.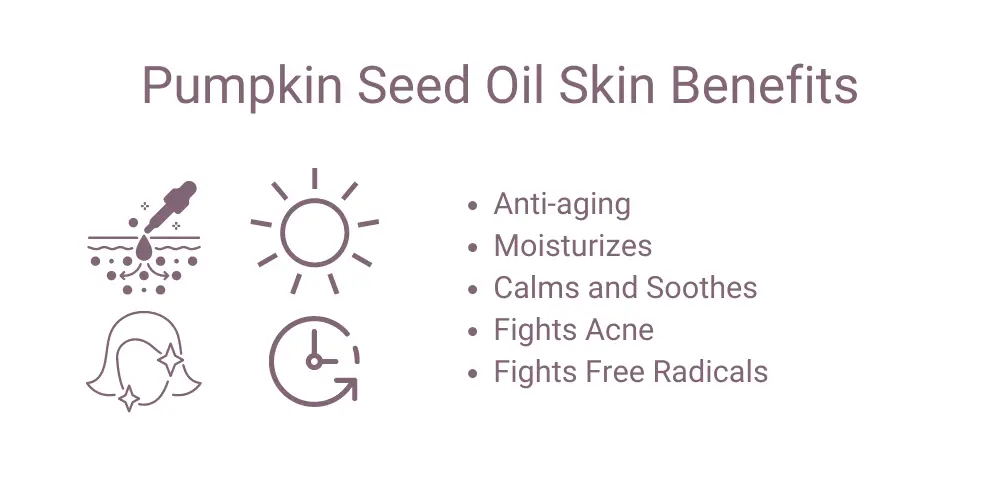 Neutralizes Free Radicals
Pumpkin seed oil is rich in antioxidants that help fight free radicals. An abundance of free radicals can damage the skin structure leading to premature aging. This plant oil contains vitamins A, C, E, and K, zinc, and other antioxidants to help protect the skin.
Moisturizes
The oil from pumpkin seeds is rich in omega 3 and omega 6 fatty acids. These fatty acids help replenish hydration to the skin for a glowing, plump complexion.
Calms and Soothes
Pumpkin seed oil has anti-inflammatory properties that help soothe and calm the skin. This makes it a popular natural option for skin conditions such as acne and eczema.
Fights Acne
The oil from pumpkin seeds is a natural option for fighting acne and blemishes. It's not an over-the-counter acne treatment. But it does over unique properties that can help acne-prone and oily skin.
It's a lightweight oil that easily absorbs into the skin
It contains antioxidants and anti-inflammatory properties that can help soothe and calm irritation from acne
Pumpkin seed also contains antibacterial and healing properties that can help repair the skin
The zinc in pumpkin seed oil can help regulate oil production in the skin
Even Tone and Brighten
Pumpkin seed extract contains enzymes and alpha hydroxy acids (AHAs) that gently exfoliate the skin. This can improve texture and even tone by shedding off dead skin cells and increasing cell turnover.
Anti-Aging
The combination of hydrating fatty acids, free-radical fighting antioxidants, and nourishing vitamins make pumpkin seed oil a great option for mature skin.
It can help reduce the appearance of fine lines, wrinkles, and age spots. Pumpkin seed oil can also improve skin strength and elasticity.
Pumpkin Seed Oil Composition
Pumpkin seed extract is loaded with antioxidants, vitamins, and minerals. This unique composition is how pumpkin seed extract can provide all the amazing skin benefits listed above.
It's a good source of the following nutrients:
Potassium
Magnesium
Calcium
Iron
Zinc
Phosphorus.
Pumpkin seed oil is rich in vitamins as well. Vitamins A-K make this plant oil a great option for skincare and haircare.
Vitamin A
Vitamin C
Vitamin E
Vitamin K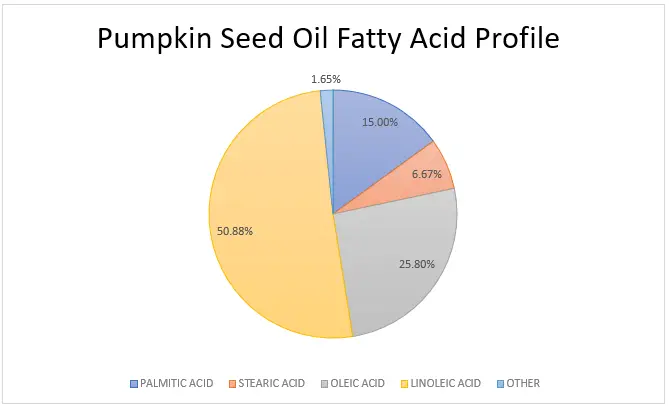 It's also rich in fatty acids. The fatty acid profile of pumpkin seed oil contains around 50% linoleic acid, 25% oleic acid, and 15% palmitic acid.
Oleic acid
Linoleic acid
Stearic acid
Palmitic acid
How to Use Pumpkin Seed Oil
Pumpkin seed oil has two many uses in skincare. It can be used as cleansing oil or as a hydrating oil. It makes for a great makeup remover or as a first-cleanse face wash.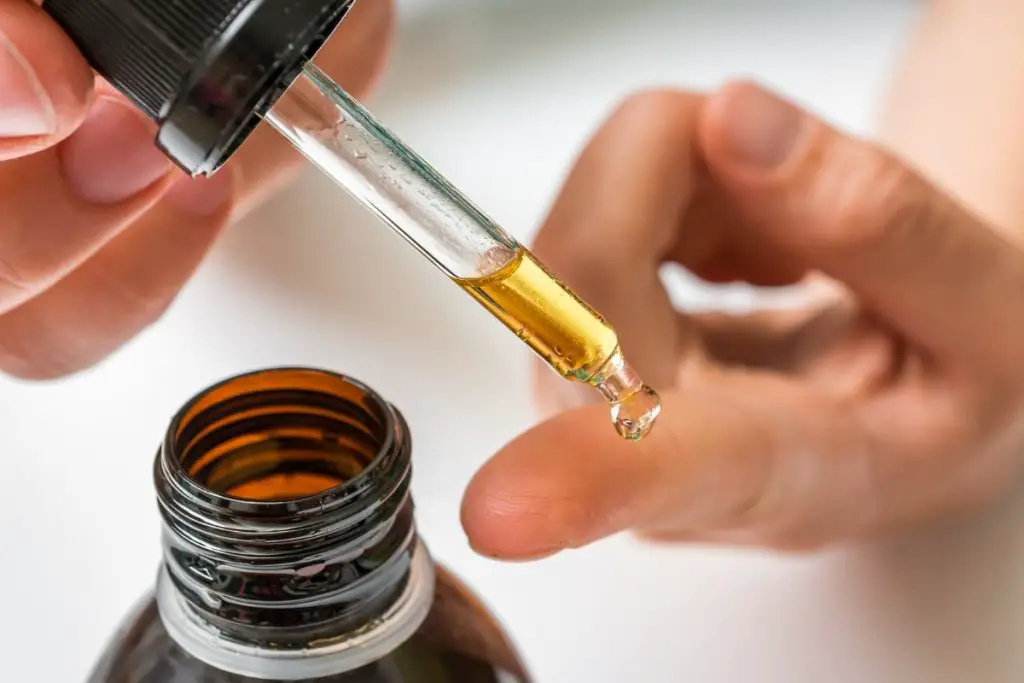 The most popular way to use pumpkin seed oil is as a moisturizing and nourishing serum. Apply pumpkin seed oil to the face as part of the moisturizing step. This should be after washing your face and applying any treatment products.
Pumpkin Seed Oil Comedogenic Rating
The comedogenic rating of pumpkin seed oil is 2. This means it probably will not clog your pores and is considered non comedogenic.
This scale is a number rating of 0-5 that estimates the likelihood of an ingredient or product clogging pores. The higher the rating, the more likely an ingredient is to clog your pores.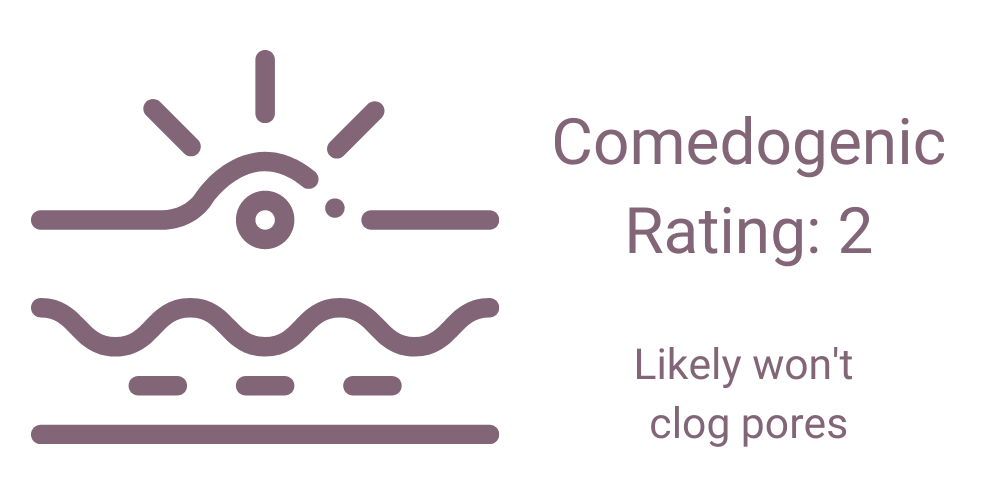 A comedogenic rating of 2 is considered low risk and safe for acne-prone skin. However, there is still a possibility pumpkin seed oil can clog your pores. Proceed with caution if you have moderate to severe acne or oily skin.
For comparison, here's the comedogenic rating of pumpkin seed oil compared to other popular natural oils.
Best Pumpkin Seed Oils for Face
When looking for the best pumpkin seed oil for the skin there are a few things to look for. Since it's a naturally-sourced ingredient, the quality of the sourcing is important. Take note of how the product is produced, what other ingredients are included, and the customer reviews.
Many people love pure, cold-pressed pumpkin seed oil. But it goes well with other nourishing oils such as jojoba seed oil, vitamin E oil, rosehip oil, and argan oil.
Search for products with the following attributes:
100% pure pumpkin seed oil (no fillers or additives)
Uses a cold-pressed extraction process
100% vegan and cruelty-free
Unrefined
100% organic
Free from fragrances, parabens, alcohol, and non-GMO
Frequently Asked Questions
Find answers to some of the most frequently asked questions about pumpkin seed oil and pumpkin seed extract
Related Ingredients: