When you hear cranberry the first thing that comes to mind is probably the juice. It's tasty and it offers a few health benefits. It also goes well with vodka. Ssshhhh.
This post may contain affiliate links. Read the full disclosure here
But we're not here to talk about the cranberry juice we drink or the guy who became Tiktok famous for cruising down the road on a longboard singing Fleetwood Mac while sipping on Ocean Spray.
So we've heard about drinking cranberry juice, but using cranberry seed oil on your face isn't as popular or well-known.
With an increasing push to go all-natural, many people are turning to organic oils for assistance. One recent example that has gotten a lot of attention is cranberry seed oil. What exactly is cranberry seed oil and where does it come from?
Let's take a deeper look at where this oil comes from and why it makes for a good skincare ingredient.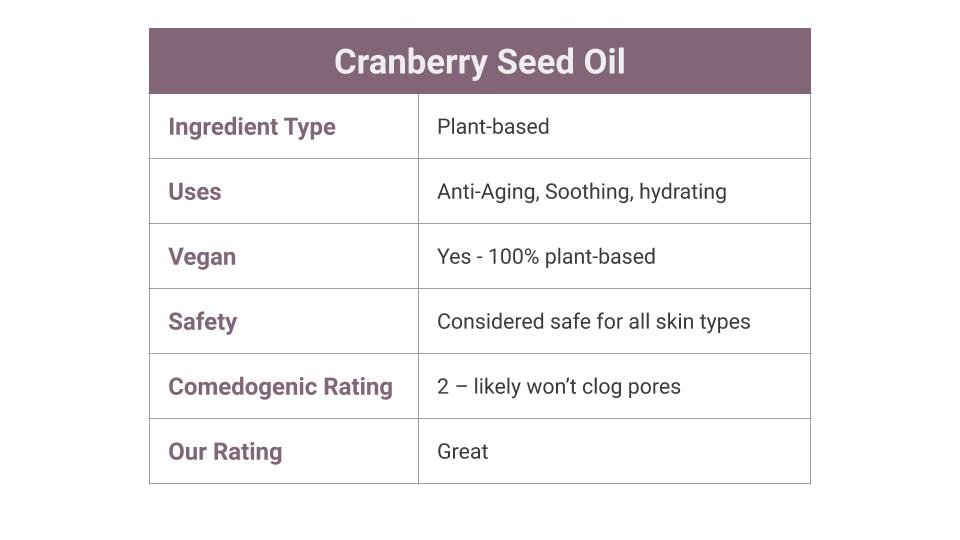 What Is the Composition of Cranberry Seed Oil?
Cranberry seed oil has a wide variety of important components that give it its healing powers. Some of the most common ingredients that are found in cranberry seed oil include:
Potent forms of vitamin E including tocopherols and tocotrienols, which are used to protect the skin against the stresses of sun exposure
A wide variety of omega-3 fatty acids, it's composition ranges from 30-35% linolenic acid
Omega-9 fatty acids such as oleic acid (20-25%) can improve the health of the skin and scalp overall
Phytosterols, which are important for combating aging, keeping the skin moist, and brightening the skin's complexion
Other important vitamins including vitamin A, vitamin C, and vitamin K
Omega-6 fatty acids such as linoleic acid (usually in ranges of 35-40%), which works with other fatty acids to reduce inflammation throughout the skin and hair
This is a brief overview of some of the most important ingredients that are present in cranberry seed oil. Because it has numerous healing molecules, it is found in a myriad of skincare products today. This means that countless people have already discovered the healing benefits that come with cranberry seed oil.
Where Does It Come From?
Cranberries are a fruit that is native to the North American continent. It usually grows on the trailing vines similar to strawberries. These vines are usually found in wetter areas of the continent. The wet properties of the soil are ideal for maintaining a water balance that is necessary for cranberries to grow.
Cranberry seed oil comes directly from the fruit itself. As the fruit dries, it is easier to access the seed. Then, the oil is extracted directly from these seeds. You may also find this ingredient on skincare labels as Vaccinium macrocarpon. That is the scientific name for this lovely ingredient.
This oil is then purified and added to a variety of products including shampoos, facemasks, lotions, and moisturizers. Because of the soothing and healing powers of cranberry seed oil, it has become an important part of numerous cosmetic and skincare products.
Cranberry Seed Oil Skin Benefits
During the past few years, many people have discovered the healing powers of cranberry seed oil. It can help people address a wide variety of problems that they might be experiencing but their skin. There are several reasons why it is so helpful for skincare regimens.
Cranberry seed oil is a great moisturizing and anti-aging ingredient. It's rich in fatty acids. It's the only natural oil that has a balance of omega 3, 6, and 9 fatty acids. In addition to that, it's rich in tocotrienols (vitamin E) which soothes and nourishes the skin.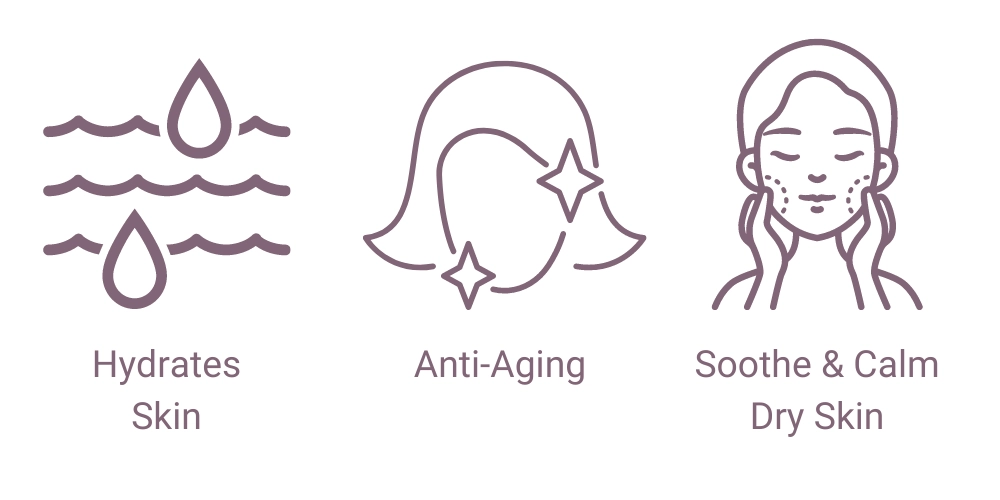 Anti-Aging Properties
One of the biggest reasons why people love cranberry seed oil is that it has anti-aging properties. It has an incredibly high profile of essential fatty acids. These include omega-3 fatty acids, omega-6 fatty acids, and omega-9 fatty acids. Because of the fatty acid content, vaccinium macrocarpon is able to soak deep into the skin itself.
Furthermore, vaccinium macrocarpon is also high in vitamin E. Vitamin E acts as a powerful antioxidant. This protects the skin against environmental stresses, including UV radiation that comes from the sun. As a result, vaccinium macrocarpon can increase the elasticity of the skin and prevent the development of aging spots.
Moisturizing and Soothing
Cranberry seed oil is also helpful for individuals who are looking for a way to soothe and moisturize their skin. One of the biggest problems with other moisturizers is that they use heavy oils. This makes the skin feel greasy. This is not a problem with cranberry seed oil. It also has anti-inflammatory properties that can help alleviate skin irritation and inflammation.
Scalp and Hair Health
Vaccinium macrocarpon is also helpful for taking care of the scalp and hair. Cranberry seed oil is able to prevent hair loss and hair thinning by stimulating the growth of individual hair strands. The anti-inflammatory properties of vaccinium macrocarpon can prevent the roots and hair follicles from drying out.
This can also help people who struggle with an itchy scalp. As a natural combatant against dandruff, cranberry seed oil contains tannins. This can help people keep their scalp hydrated, keeping common scalp problems at bay.
Antioxidant Properties
Cranberry seed oil also has a lot of antioxidant molecules that can reduce damage from free radicals. By scavenging free radicals, vaccinium macrocarpon is able to prevent a significant amount of damage to the skin that would otherwise lead to premature aging. These antioxidant molecules are incredibly important when it comes to the healing powers of cranberry seed oil skin products.
These are just a few of the numerous benefits of using cranberry seed oil as a part of skincare routine. As more research is done regarding this ingredient, and more development goes into products that are based on it, cranberry seed oil is only going to become more important when it comes to taking care of youthful and mature skin alike.
Where Can Cranberry Seed Oil Be Found in Skincare Products?
For those who are looking to give cranberry seed oil a try, it can be found in a wide variety of skincare products. Some of the most common locations in which cranberry seed oil can be found include:
Cranberry Seed Oil for Face
Without a doubt, cranberry seed oil is incredibly common in anti-aging facial oils. There are numerous companies that have already discovered the wondrous benefits that vaccinium macrocarpon can provide. Thanks to the omega-3 fatty acids and antioxidants, cranberry seed oil can help people preserve the youthful appearance of their skin.
If you are wondering where to find the best cranberry seed oil for your face, don't worry! There are plenty of great (pure) options available. The following product is one of our favorite cranberry seed facial oils:
Berry Beautiful – Cranberry Seed Oil
This oil is 100% pure, cold-pressed cranberry seed oil. All the good and none of the bad. It is processed without any enzymes, chemicals, or solvents. This unrefined oil is made here in the US. It's also gluten and GMO-free.
This oil is so pure you can also eat it! Some use this oil in their daily smoothies to get a natural source of Omega 3s!
Face Masks
There are lots of people who use cranberry seed oil and their face masks as well. For years, people have been depending on face masks to remove impurities from their skin and increase its glow. Now, cranberry seed oil is found in these face masks. For those who are looking to maximize the benefits of cranberry seed oil, face masks could be a good place to look.
Lotions and Moisturizers
Because cranberry seed oil is relatively light, this also makes it ideal as a moisturizer. Those who are looking for ways to deal with fine lines, cracks, and blemishes in their skin might want to turn to cranberry seed oil for help. As the primary ingredient in a wide variety of lotions and moisturizers, cranberry seed oil can keep people's skin moist without creating an oily, greasy feel.
St. Ives Intensive Healing Body Lotion
This rich St. Ives body lotion is the perfect lotion for problem areas such as feet, hands, or elbows. It leans on grape seed oil, cranberry seed oil, and other natural moisturizers for lasting hydration. This is a great option for a typical "drugstore" body lotion.
Lip Balms
Cranberry seed oil is even present in a number of lip balms. There are countless people who struggle to deal with dry lips, particularly when the temperature begins to drop. Cranberry seed oil, as a relatively light oil with numerous rejuvenating molecules, can help people deal with dry lips easily.
If you want to go all out on a lip balm, try the Drunk Elephant Lippe Balm 🙂
Drunk Elephant Lippe Balm
The Drunk Elephant lip balm moisturizes and volumizes lips with avocado, mongongo, marula, and cranberry seed oil. It's 100% free of fragrances, silicones, and essential oils. It's also cruelty-free.
Shampoos and Cleansers
Cranberry seed oil is even found in shampoos, cleansers, and some conditioners. Many people overlook their scalp when they are putting together a skincare regimen. Cranberry seed oil works just as well on the scalp, hair roots, and hair follicles as it does on other parts of the body.
These are just a few of the most common ways that cranberry seed oil is used in skincare products today. It is important for everyone to take a close look at the ingredients list on their skincare products. They might be using cranberry seed oil and not even know it!
Does Cranberry Seed Oil Clog the Pores?
There are many people who are concerned that cranberry seed oil may cause their pores to become clogged. Cranberry seed oil has a comedogenic rating of 2, meaning it likely won't clog your pores. There is a chance it can clog your pores but it probably won't.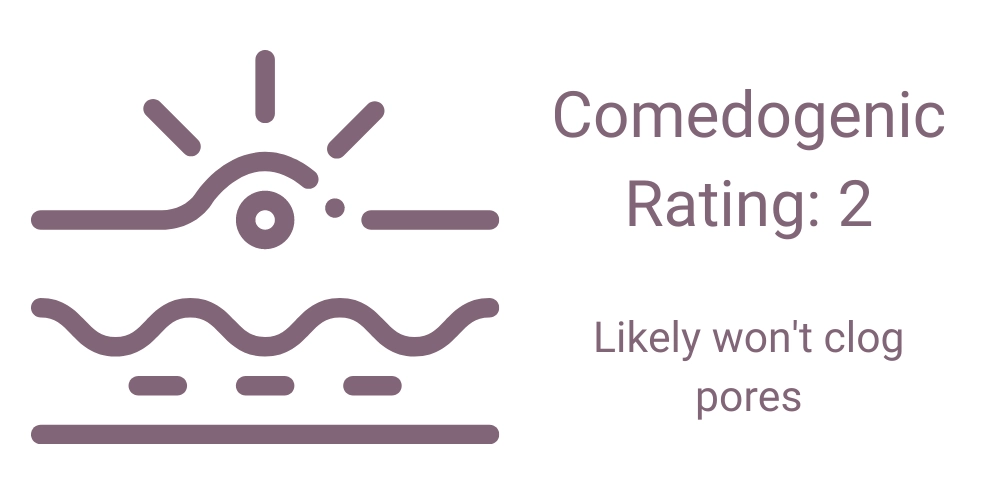 This is the same comedogenic rating as jojoba oil and Adansonia Digitata seed oil (these are two other skincare ingredients we love). Cranberry seed oil is considered a lightweight oil. It has an exceptional ratio of omega fatty acids compared to its overall weight, it will work well for just about every skin type.
On the other hand, individuals who have skin that is particularly oily may want to proceed with caution. In some skincare products, cranberry seed oil can be blended with other oils that have a higher density. In this situation, individuals with oily skin may find out that their pores are clogged. This could make their acne worse if they overdo it on this specific skincare product. Heavier oils are not good for people with oily skin. If vaccinium macrocarpon is blended with these oils, this can lead to problems.
In the vast majority of situations, cranberry seed oil will work well for just about every type of skin. Individuals who overdo it  might notice irritation, itching, and redness; however, these side effects are uncommon.
Whether someone has young skin, mature skin, or skin that is sensitive, cranberry seed oil can be a great skincare ingredient. The anti-inflammatory attributes of the omega-3 fatty acid combined with the antioxidant properties make it ideal for individuals with sensitive skin. If you are looking for a natural, light oil that will heal your skin, this ingredient with worth a try!
Frequently Asked Questions
Here we'll cover answers to some of the most commonly asked questions about cranberry seed oil.
Consider Using Cranberry Seed Oil in Your Skincare Routine
These are just a few of the most important points that everyone should keep in mind if they are considering cranberry seed oil as a part of their skincare regimen. 
The right product for one person might not be the right product for someone else. Finally, whenever someone is going to try a new skincare product for the first time, it is critical to start low and go slow. This will help everyone place their skin in the best position to heal appropriately. Consider getting cranberry seed oil a try as a part of your skincare routine.
Other Natural Oils You May Enjoy:
Sources: