Pineapple is an amazing fruit. It's bright, sweet, and makes us think about vacating on a tropical island. While this fruit is a refreshing treat and goes well with a pina colada, it's also great for the skin!
This post may contain affiliate links. Read the full disclosure here
Pineapple fruit extract is a common ingredient in exfoliating and brightening products. Why? This natural ingredient gently exfoliates the skin.
What is Ananas Sativus Fruit Extract?
INCI Name: Ananas Sativus Fruit Extract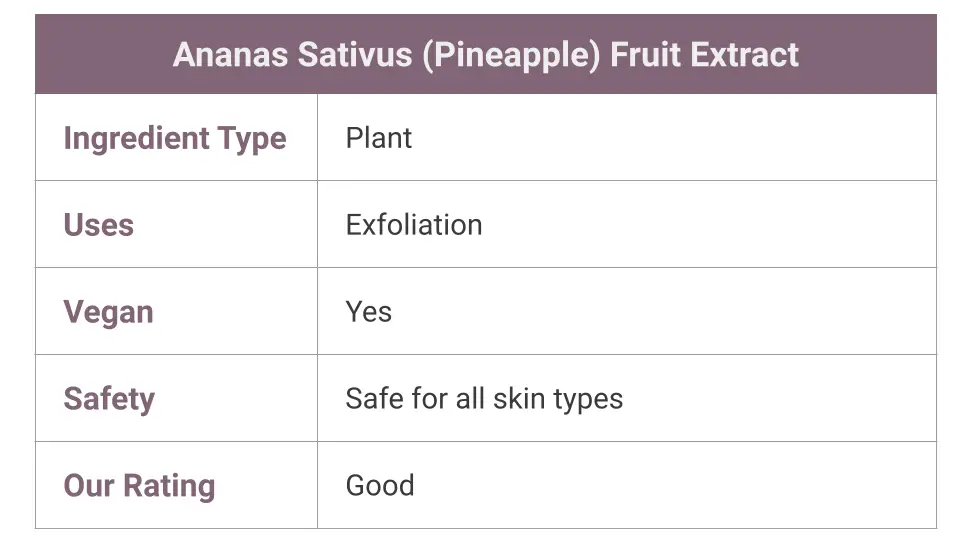 Ananas sativus fruit extract is a natural ingredient made from the fruit of the pineapple (Ananas comosus). This tropical fruit offers exfoliating, moisturizing, soothing, anti-inflammatory, and antioxidant properties.
Pineapple fruit extract comes from the core and stem of the pineapple fruit. This fruit extract contains bromelain, which is a group of enzymes rich in alpha hydroxy acids (AHAs). Pineapple extract also contains magnesium, phosphorus, and potassium.
Pineapple Extract Uses for Skin
Exfoliation is the primary use for pineapple fruit extract in skincare. This natural ingredient is in exfoliating and peeling face washes, creams, serums, and masks.
In products that contain pineapple fruit extract, it's common to see papaya fruit extract as an ingredient as well. Papaya and pineapple enzymes offer similar benefits so these ingredients go well together.
Pineapple Enzyme Masks
Pineapple enzyme masks are a popular option. These products often combine pineapple fruit extract with moisturizing ingredients and other exfoliating ingredients such as papaya fruit extract, or glycolic acid.
Herbivore Brighten Instant Glow Mask
This lovely mask uses enzymes from pineapple and papaya to gently exfoliate and brighten the skin. It has a tropical pineapple scent and is a great option for all skin types.
The Herbivore pineapple mask has a super clean ingredient profile. It's made without any synthetic ingredients, animal-based ingredients, phthalates, or parabens.
Pineapple Enzyme Peel
Pineapple enzyme peels are another popular type of product. These are generally high-strength products that are applied for a few minutes before washing them off. While pineapple and papaya might be key ingredients, they are often mixed with other potent exfoliators such as lactic acid and glycolic acid.
Perfect Image Pineapple Pumpkin Enzyme Skin Peel
The Perfect Image enzyme peel is a great option to exfoliate, improve hydration, reduce wrinkles, and even tone. It combines lactic acid, glycolic acid, pumpkin seed extract, pineapple fruit extract, papaya fruit extract, and chamomile.
This blend of powerful ingredients and plants helps gently exfoliate the skin without being too harsh or damaging. It is formulated with lactic acid to make it a better option for sensitive skin.
Pineapple Enzyme Scrub
One more popular product type with pineapple enzymes is a scrub. These face wash type products help wash away dead skin cells. Most "scrub" type products use beads or granules to physically scrub away dead skin cells.
Products that use pineapple don't require physical exfoliators since the pineapple enzymes can do all the hard work.
RAYA Pineapple Enzyme Facial Scrub
The RAYA Pineapple face scrub is a fun product with amazing natural ingredients. It relies on pineapple and papaya enzymes for effective exfoliation. It also combines jojoba oil, chamomile, and aloe vera to soothe and moisturize.
This bright yellow gel is a great option for dry, mature, and combination skin. It leaves the skin refined and smoother for a more even and brighter complexion.
Pineapple Fruit Extract Benefits
There's a reason why pineapple is showing up in more and more skin products. It offers a nice range of skin benefits. Exfoliation is the main benefit pineapple fruit extract offers the skin. But it also helps even tone, brighten, calm, soothe, and and help moisturize the skin.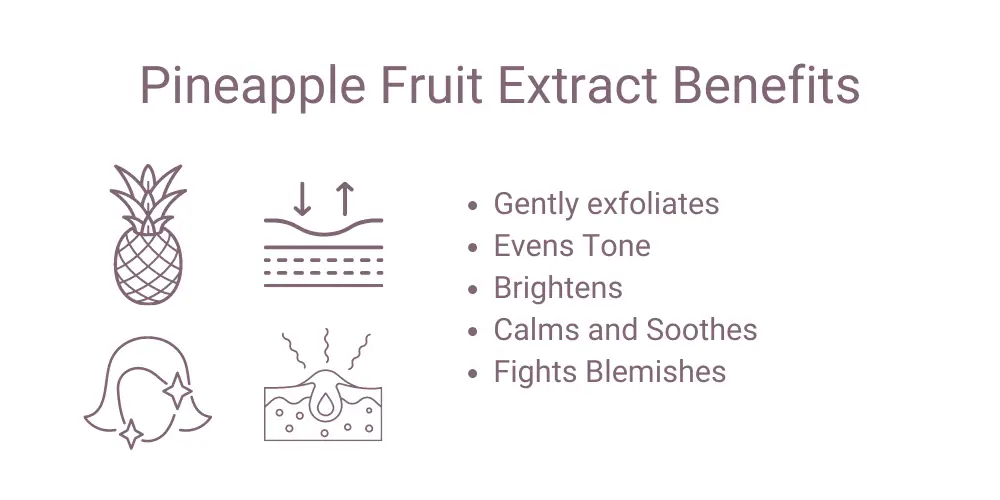 Contains vitamin C
Ananas sativus fruit extract contains vitamin C which stimulates collagen production, fades dark spots, protects the skin against sun damage, and helps fight the signs of aging.
Calms and Fights Blemishes
The mix of antioxidants, enzymes, and nutrients can help soothe and calm unhappy skin. Pineapple contains antioxidants and has anti-inflammatory properties to calm the skin.
One study on people conducted over 12 weeks found pineapple fruit extract was successful in treating contact dermatitis, greasy skin, acne and seborrheic dermatitis.
Gently Exfoliates
Pineapple contains alpha hydroxy acids (AHAs) that chemically exfoliate the skin. AHAs help slough off dead skin cells to reveal a bright glowing complexion. This fruit extract is a great option for dull skin or uneven tone.
Similar to ingredients such as glycolic acid, the bromelain in pineapple breaks down proteins that hold skin cells together. This may sound a little scary. But this process sheds dead skin cells.
Papain vs. Bromelain for Skin
Papain and Bromelain are commonly talked about together, but what are they and what is the difference?
Bromelain is a group of enzymes found in the stem, juice, and fruit of pineapple. Papain is proteolytic enzyme found in papaya. Both of these protein dissolving enzymes slough off dead skin cells. This chemical exfoliation process can help reduce acne, even skin tone and texture, brighten complexion, and reduce the appearance of wrinkles.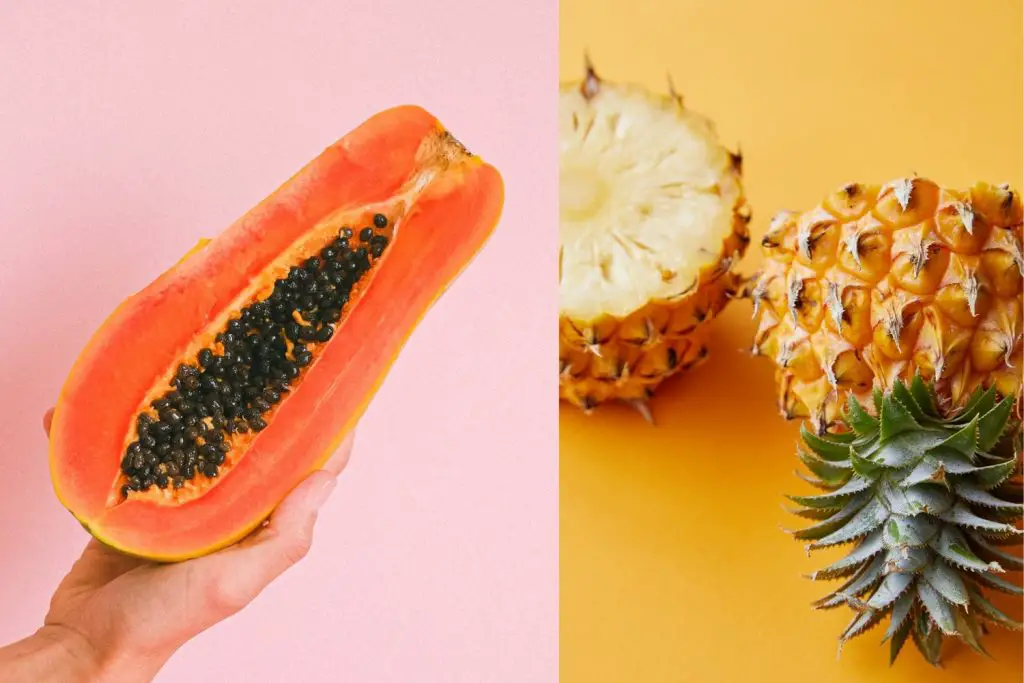 They are both great natural exfoliating options for the skin. We haven't identified any research that indicates if one is better than the other. However, there is no concern using these together. They often are!
Frequently Asked Questions
Find answers to the most commonly asked questions about ananas sativus (pineapple) fruit extract.
Related Articles You Might Like: