When trying to find the best skincare products and ingredients, you may have come across linoleic acid and oleic acid. While these names may sound a little scary, they aren't. In fact, these are already in your skin naturally. They play key roles in keeping your skin happy, healthy, and glowing.
Linoleic acid and oleic acid are essential fatty acids or EHAs. These omega fatty acids are abundant in the epidermis, the most outer layer of the skin. Once you learn about these, the natural reaction is to wonder which one is better for your skin.
Oils high in linoleic acid are lighter, where oils high in oleic acid are heavier, offering deeper hydration. Linoleic acid absorbs into the skin easily and is a better option for oily, acne-prone, and sensitive skin. However, oleic acid is thicker moisturizing oil perfect for dry, dehydrated, and aging skin.
In short, both of these acids are great for your skin and they work together well too. But depending on your skin needs, you might be better off with one over the other.
This post may contain affiliate links. Read the full disclosure here
What is Linoleic Acid?
Linoleic acid is an omega-6 fatty acid that helps support ceramide formation in the skin, which is critical to the skin barrier. This helps keep the skin healthy while keeping potential irritants out. The body doesn't naturally produce linoleic acid but it's abundant in the epidermis. You might be thinking, well where does it come from if the body doesn't produce linoleic acid?
Well, our bodies can synthesize it from the foods we eat. That's one of the reasons omega-3s are so important in your diet. It can also be applied topically.
Linoleic Acid Benefits
Linoleic acid offers a wide range of benefits to the skin. It can do wonders for the skin, especially if your skin isn't producing enough linoleic acid from your diet. It offers the following benefits when applied topically: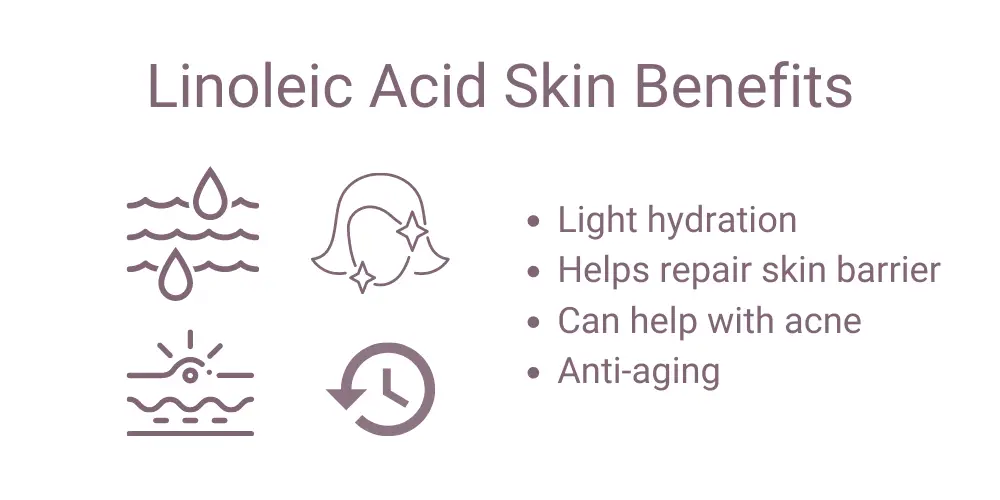 Hydration – Linoleic acid provides lightweight, easy to absorb hydration to the skin. Enjoy the hydration without excess oiliness.
Repair Skin Barrier – It can help repair and support a healthy skin barrier. This helps the skin hold-in moisture and helps it protect against stressors and irritants.
Can help with Acne – Skin struggling with acne can be deficient in linoleic acid but have an oversupply of oleic acid.
Anti-Aging – It can help restore skin health, leading to a healthier, more youthful glow.
What is Oleic Acid?
Oleic acid is an omega-9 fatty acid that our skin naturally produces. It is found in sebum (our natural skin oil). It's the most abundant fatty acid in nature.
Oils high in oleic acid are thicker and heavier, offering deep hydration. Even though it's thicker it penetrates the skin easily to replenish skin moisture. When added to product formulations, it can even help other ingredients penetrate the skin to increase effectiveness.
Oleic acid is also beneficial to skin care formulations for its stabilizing properties. This can help products last longer without separating or losing effectiveness.
It often has a higher comedogenic rating, so keep that in mind if you struggle with acne or clogged pores.
Oleic Acid Benefits
Similar to linoleic acid, oleic acid has amazing skin benefits. Skin hydration is the top reason to chase after oleic acid but that's not all it can do! Oleic acid offers the following benefits when applied topically: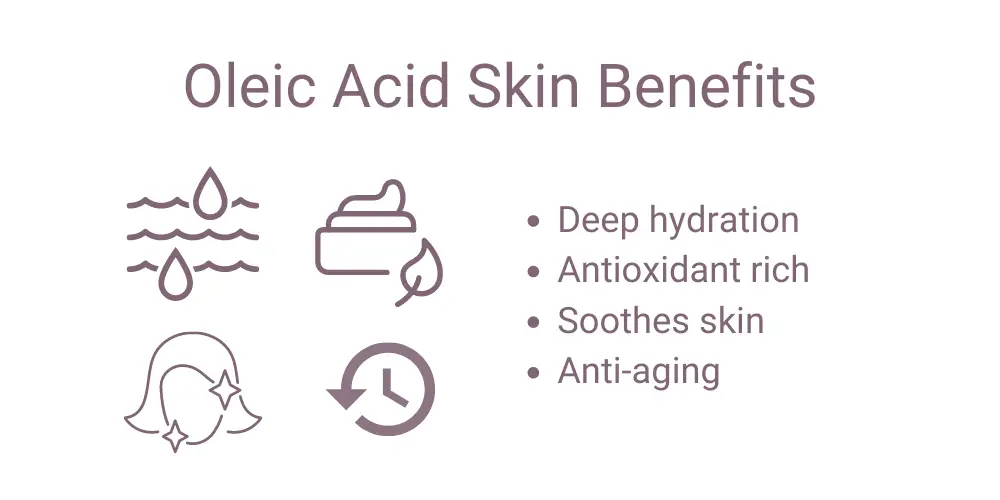 Hydration – As noted above, oleic acid absorbs well to replenish moisture in the skin. It's a great option for dry, dehydrated, or damaged skin.
Antioxidant-rich – These antioxidants help fight off free radicals that can lead to irritation and premature aging.
Soothes Skin – This nourishing oil can calm, soothe, and soften unhappy skin. It has anti-inflammatory properties that may help with skin conditions such as eczema, rosacea, and psoriasis.
Anti-aging – Reduce the appearance of fine lines and wrinkles with replenished, hydrated skin. Keeping skin nourished can also slow the signs of skin aging.
Which is Best for Me?
Without considering skin type or skin needs, it's hard to say which oil is the best. For instance, if you have oily, acne-prone, or sensitive skin, then oils high in linoleic acid are the best option. However, if you have dry, dehydrated, or mature skin, oils rich in oleic acid are best.
If you are somewhere in the middle with normal or combination skin, then you can look for oils that have a nice balance of oleic and linoleic acid.
Dry Skin or Mature Skin
Oils rich in oleic acid are the perfect fit for dry and dehydrated skin. The same goes for those looking for anti-aging benefits such as smoothing wrinkles and fine lines. Oleic acid rich oils deeply nourish and replenish hydration in the skin.
The side effect of having nourished, hydrated skin is softer, smoother, and plump skin. Consider the following oils with high oleic acid content:
Apricot kernel oil – 58-73% oleic acid and 18-31% linoleic acid
Argan Oil – 43-49% oleic acid and 29-36% linoleic acid
Marula Oil – 70-78% oleic acid and 4-7% linoleic acid
Moringa Oil – 65-85% oleic acid
Olive Oil – 55-80% oleic acid
Sea buckthorn – 28.4% oleic acid and 17.84% linoleic acid
Sunflower – 70-88% oleic acid and 3-20% linoleic acid
Normal to Combination Skin
If you have normal or combination skin, oils and skincare products with a balance of linoleic acid, oleic acid, and other nutrients are the best fit. In this case, you'll be looking for the same hydration and anti-aging benefits but you aren't as worried about excess oiliness or dry, flakey skin.
A combo of both of these essential fatty acids can help even tone, reduce the appearance of fine lines and wrinkles, and help protect the skin against premature aging.
Consider the following oils with a more balanced fatty acid content:
Argan Oil – 43-49% oleic acid and 29-36% linoleic acid
Cranberry Seed Oil – 30-35% linoleic acid, 20-25% oleic acid
Baobab oil – 30-40% oleic acid and 24-34% linoleic acid
Tamanu – 34-41% oleic acid and 29-38% linoleic acid
Oily, Acne-Prone, and Sensitive Skin
If you have acne or oily skin, you'll be better off with lighter oils high in linoleic acid. These are also great options for sensitive or easily irritated skin. These oils can hydrate and nourish skin without excess oiliness or clogged pores.
It's important to note – These oils aren't acne treatments but rather moisturizing options that mesh better with acne-prone skin.
Consider the following oils with high linoleic acid content:
Amaranth Seed Oil – 50% linoleic acid
Evening Primrose – 70-74% linoleic acid
Grapeseed Oil – 70% linoleic acid
Hemp Oil – 52% linoleic acid
Kukui Nut Oil – 40% linoleic acid
Prickly Pear Seed Oil – 60% linoleic acid
Pumpkin Seed Oil – 65% linoleic acid
Rosehip Oil – 45% linoleic acid
Safflower Oil – 70-80% linoleic acid
Sesame Oil – 42% linoleic acid
Sunflower Oil – 74% linoleic acid
Walnut Oil – 58% linoleic acid
Using Oleic Acid and Linoleic Acid For Skin
As you have seen above, oleic acid and linoleic acid go hand-in-hand. They work very well together and are often found together in natural plant-based skincare oils. Searching for products with only linoleic acid or only oleic acid doesn't make sense. Instead, take a look at the composition of the oil to see if it skews to oleic acid or linoleic acid.
Looking at this breakdown alone provides a good indication of the benefits it can offer the skin. Of course, the fatty acid content isn't the only thing to look at but it's a great place to start. With the information above you can narrow down the oils that are best for your skin type and skin needs.
Other Comparison Articles You May Like: