Gold-infused products are a growing trend in the beauty industry. Brands use gold specs, goal leaves, and colloidal gold for shimmering and sparkly products. Top beauty brands are jumping on the bandwagon with products promoting the anti-aging, antioxidant, and calming skin benefits of gold.
This post may contain affiliate links. Read the full disclosure here
Luxurious gold-infused products attract attention but are they good for the skin? We took a deep look at the benefits and potential concerns of using gold in skincare.
What is Colloidal Gold?
Colloidal gold is made of gold nanoparticles suspended in a liquid that can be applied topically. Colloidal refers to the way the gold is formulated. Tiny particles (usually to 1–15 nanometers) are suspended in a liquid so they can be spread evenly across the skin.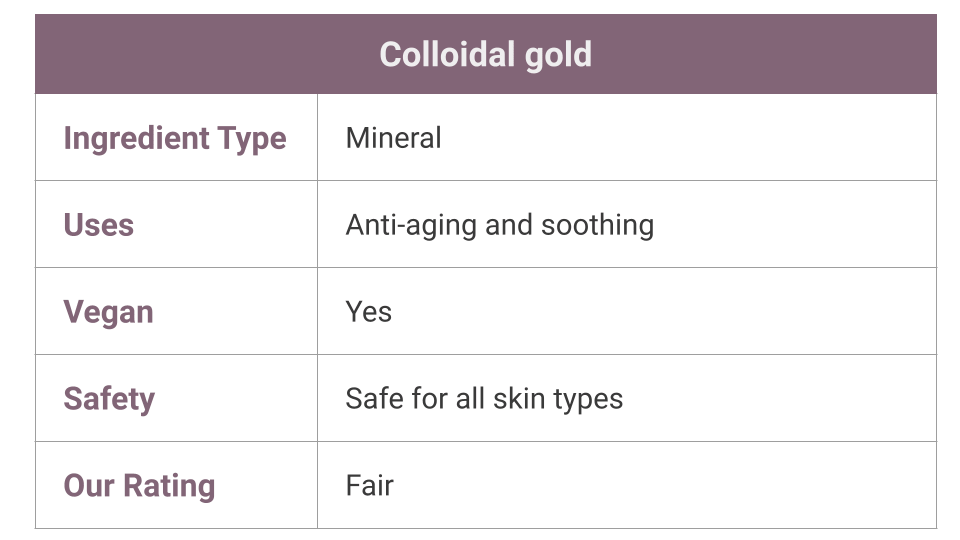 Gold-infused skincare products are growing in popularity for their fun, luxury appeal, and direct benefits for the skin.
Recent studies have focused on its impact on killing bacteria, fighting cancer cells, and penetrating the skin barrier. While the research on skin benefits is slim, gold offers unique properties that can benefit the skin.
Colloidal Gold Benefits for Skin
Gold-infused products offer a wide range of benefits for the skin. Colloidal gold fights free radicals, calms, soothes, improves complexion, and can help repair the skin. It also deeply penetrates the skin to help improve product efficacy.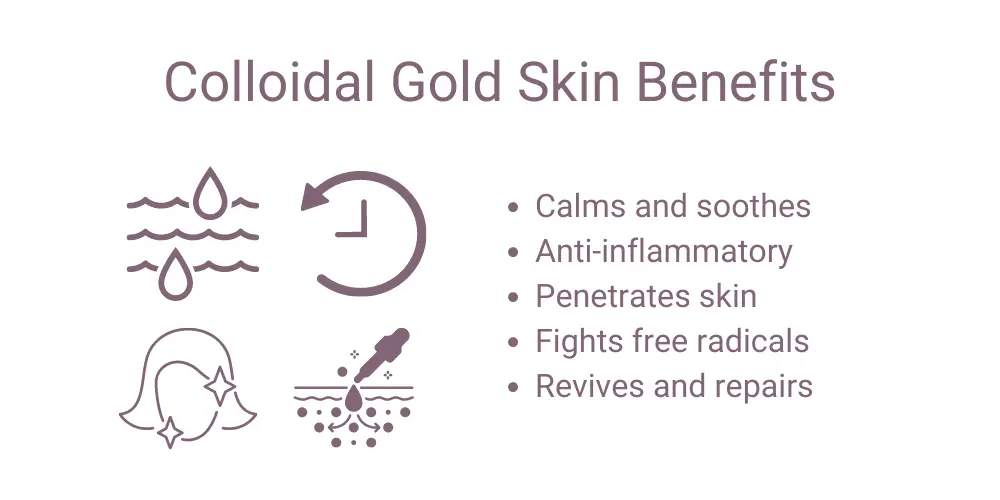 Fights Free Radicals
Colloidal gold is rich in antioxidants that help neutralize free radicals. This helps keep the skin's defense system healthy to protect the skin against environmental stressors.
Antioxidants can help slow the aging process including wrinkles, sun spots, and sun damage.
Calm and Soothe
Gold has anti-inflammatory properties that can help soothe and calm the skin. It can penetrate the skin to help promote healing and calming effects.
This can be especially helpful for those with skin conditions, acne, and sensitive skin.
Skin Reviving
Gold-infused skincare products can help revive and repair the skin for a natural, healthy glow. Blending colloidal gold with other effective ingredients can improve skin elasticity, texture, and firmness.
Penetrates Skin
The skin barrier does its job by keeping potential threats out. This is great for keeping the skin (and body) protected, but it can make skincare more challenging. Key ingredients that are good for the skin may not make it past the outer layer of the skin.
Colloidal gold can penetrate the skin which can make other ingredients more effective. One study found success in using gold nanoparticles to deliver Methotrexate to the skin. This treatment for psoriasis was more effective in penetrating the skin when paired with the gold nanoparticles.  
Colloidal Gold Side Effects & Concerns
The research backing up the skin benefits for gold is thin. While gold-infused products may have more appeal, gold still can't compete with core anti-aging and antioxidants skincare ingredients such as vitamin C, hyaluronic acid, or retinol.
Colloidal gold might be a beneficial ingredient and there are a handful of good products with gold. Be careful not to overpay for products simply because they contain a gold-based ingredient. There are plenty of affordable tested and proven ingredients available. For instance, look at the offering from The Ordinary.
Irritation is the most common side effect of colloidal gold. Similar to reactions from jewelry, gold can trigger an allergic reaction resulting in redness, itchiness, or a rash.
Is Colloidal Gold Safe?
Colloidal gold is assumed to be safe for the skin but the research is limited. There are perceived skin benefits when applying gold-based ingredients topically.
However, since colloidal gold can penetrate the skin barrier, toxicity could be a concern. The levels in skincare are likely safe, but the research is limited.
Colloidal gold has not been reviewed by the Cosmetic Ingredient Review Panel.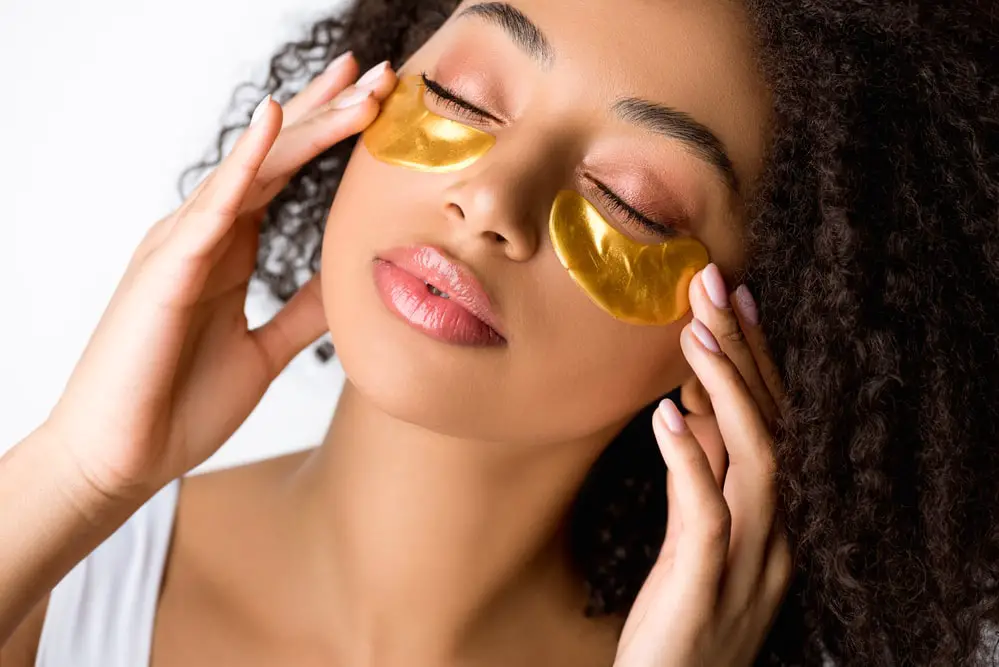 Frequently Asked Questions
Find answers to some of the most commonly asked questions about colloidal gold and gold-based products in skincare.
Our Take on Gold In Beauty Products
Early research indicates colloidal gold and gold-infused beauty products may offer benefits to the skin. But since the research is slim, we're not chasing after gold-beauty products.
The antioxidant and anti-inflammatory benefits can be found elsewhere with more trusted and proven skincare ingredients. If your favorite brand just launched a new product with gold and you want to try it out, go for it.
It likely won't do any harm and you may enjoy some of the benefits. Just don't fall into the marketing hype and overpay for a product because it contains gold.
Related Articles: