As the world continues to look for more and more holistic, natural health solutions, simmondsia chinensis seed oil, or more commonly known as jojoba oil, is a skincare ingredient that bubbles to the top of the list. It offers a host of enticing, proven benefits for your hair and skin.
This post may contain affiliate links. Read the full disclosure here
From soft supple skin to antibacterial properties to faster healing, the jojoba oil benefits for skin span far and wide. To best understand why you should include this essential oil in your regimen, we took a detailed look at the benefits, considerations, and most common uses in skincare.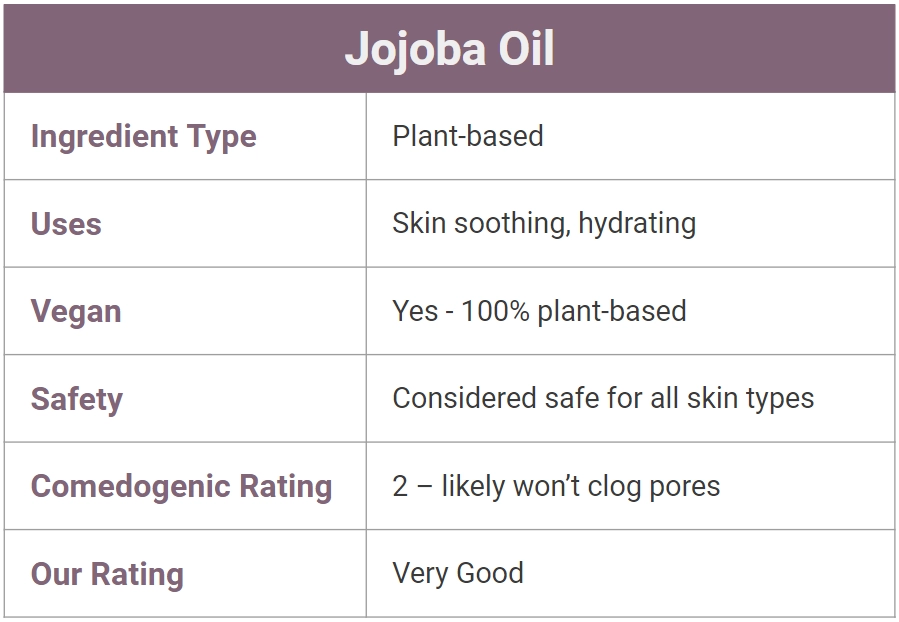 What Is Simmondsia Chinensis Seed Oil? 
Simmondsia Chinensis seed oil is commonly known as jojoba oil and is derived from the seeds of the Simmondsia Chinensis plant. It naturally grows in North America. This hearty perennial is unique in that it tends to thrive in the harshest, driest, of desert-like climates —where most other things couldn't exist. However, it's not the jojoba plant itself that boasts the remarkable benefits, it's the miraculous nut that is produced. 
The nut of the jojoba plant can be processed into an oil that can be used on its own as pure jojoba oil. You'll find plenty of pure jojoba options on Amazon here. It can also be mixed with more caustic essential oils and used as a carrier oil. A growing number of people are turning to this remarkable plant to experience its skin-lovin' benefits. 
What's interesting about this ingredient is that even though it appears to be a moisturizing plant oil, it's actually a wax ester.
Best Pure Jojoba Oils to Buy
You might be wondering where to buy pure jojoba oil. Don't worry, there plenty of great options out there! High-quality, pure, cold-pressed options are very affordable too!
We'll walk you through a list of our favorite jojoba products available. Let's take a look
Cliganic USDA Organic Jojoba Oil
This jojoba oil checks all the boxes. It's pure, organic, natural, and cold-pressed. With this Cliganic product you get all the good without any of the bad. This product is literally pure jojoba oil. No fluff.
We love this jojoba oil for its benefits for your face. But it can also be used on your hair, body, nails, and even as a massage oil.
Organic USDA Certified
Pure, cold-pressed jojoba oil
No additives or added fragrance
Alcohol-free
Thousands of positive reviews
Cruelty-free & vegan
Leven Rose Pure Jojoba Oil
Leven Rose offers another great pure, organic, cold-pressed jojoba oil option. It is harvested from Simmondsia chinensis grown in Arizona. It's proudly made in the USA without additives or fragrances. This oil is considered safe for all skin types. Similar to the Cliganic oil it can be used on your face, body, nails, and hair.
Pure, unrefined jojoba oil
Fragrance-free and Kosher friendly
Cold-pressed
Safe for all skin types
Cruelty-free
Thousands of positive reviews
Trader Joe's Jojoba Oil
If you're lucky enough to live near a Trader Joe's grocery, they too have an excellent jojoba oil option. TJ's is known for sourcing high-quality products at crazy low prices. Their jojoba oil falls into the same category.
If you don't live close to a Trader Joe's you still have options to purchase online. You will pay a premium though. Trader Joe's doesn't officially sell online but you'll find lots of "unauthorized" resellers that resell the same products at a higher price. Sometimes double what you'd pay in-store…
100% pure jojoba oil
Safe for all skin types
Vegan & Cruelty-Free
The one thing to keep an eye on with this product is that it's not packaged in dark amber or light blocking packaging. It's important to protect jojoba oil from natural light to extend shelf life and effectiveness. Also if you're buying online from an unauthorized seller, well there's some risk to that. Buyer beware!!
Top 10 Simmondsia Chinensis Oil Benefits for Skin
Today, there are volumes of evidence that support the use of pure jojoba oil as a remedy for dry skin, acne, and several other conditions.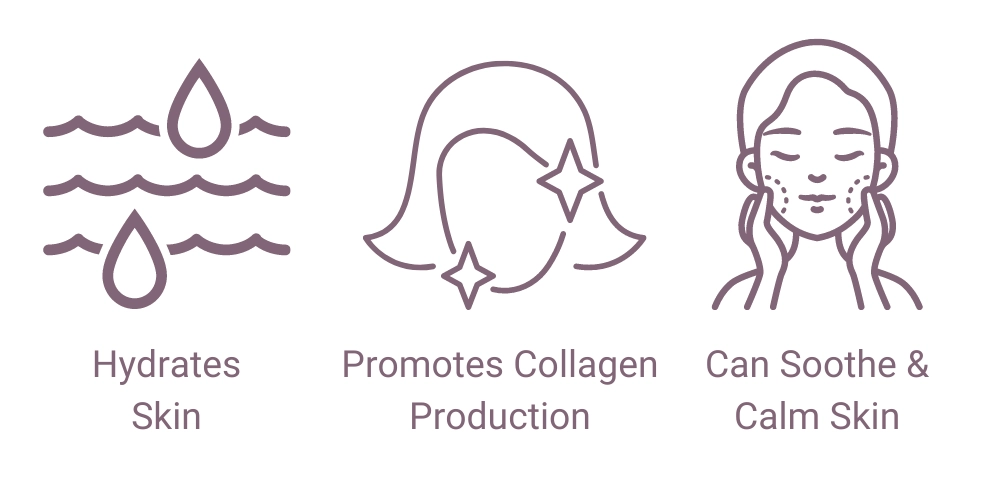 Jojoba Oil Is a Moisturizing Agent
As a humectant ingredient, jojoba oil works to seal the skin with a protective barrier, which locks moisture in and prevents it from exiting. This can help mitigate acne, bacterial infections, and dandruff from ever forming. 
Natural Antioxidant
Because jojoba oil contains natural forms of vitamin E, it's an excellent antioxidant. This means jojoba oil can help your skin combat the oxidative stress caused by toxins and exposure to everyday pollutants. 
Antibacterial & Antifungal Properties
In addition to the antimicrobial properties demonstrated by jojoba oil, it also boasts antifungal properties. While laboratory tests have shown that jojoba oil doesn't actually kill every fungal or bacterial species, it's effective at eradicating the types of fungi and bacteria that can cause candida, E.coli infections, and salmonella. 
Hypoallergenic
Jojoba oil is a wax on the molecular level. Even though it is absorbable by your skin, the waxy property of jojoba oil empowers it to create a smooth, soothing seal on the surface of the skin. Unlike other essential oils, allergic reactions are rare, and jojoba oil is usually non-irritating. 
Can Help Promote Collagen
Collagen is a protein located throughout your joints, skin, and components of your body. Because jojoba oil contains antioxidants, it can help initiate the production of collagen in your body. And this can be critical as you age and collagen levels decrease. By initiating the production of collagen, jojoba can help you look younger. 
Can Help Sooth Skin Drying Conditions
Skin drying conditions like psoriasis, eczema, and others can result in itchy, dry, flaking skin. However, jojoba oil features anti-inflammatory and healing properties. Those who suffer from these conditions typically find jojoba oil especially beneficial. 
Can Help Control the Production of Sebum
Jojoba oil is extremely similar to the sebum your body naturally creates, which allows it to control production. Every time you put jojoba on your skin, it's moisturized and soothed. This sends signals to your sweat follicles and hair that your skin doesn't need any additional sebum for hydration. And this can help prevent your skin from appearing oily while reducing acne that is caused by clogged pores. In other words, jojoba can help balance oily skin and rest your complexion. 
Can Help Expedite Healing
According to research published in the National Library of Medicine, jojoba may help expedite wound healing. This preliminary research suggests that jojoba oil can encourage your skin cells to bind together once they have been separated by a cut or a scratch. And this may explain why jojoba oil is regularly used to treat acne scarring and acne. 
Can Help Soothe Sunburns
Many of the most popular sunscreen products are loaded with jojoba oil. And research suggests that when vitamin E is mixed with other key antioxidants, it can protect your skin from sun damage. Fortunately, jojoba oil already contains both! Although sun damage can cause flaking and dehydrate your skin, jojoba oil can add moisture, restore vitamin E, and promote the natural healing of these sunburn symptoms. 
Can Help Soften Cuticles 
Don't spend top dollar on different cuticle oil blends! Instead, you can choose to go natural by using jojoba oil. This powerful essential oil can quickly and dramatically soften your cuticles on its own. And the natural antifungal and antibacterial properties of jojoba oil add a much-needed extra level of protection against many common infections. 
What Is Argan Oil and How Does it Compare?
Argan oil comes from Argania Spinosa— a Moroccan argan tree. To make argan oil, the kernels from the tree are pressed to extract the oil. Also called liquid gold, argan oil comes loaded with key nutrients, including: 
Vitamin E
Carotenes
Fatty acids 
Phenols 
Moroccans have utilized this naturally-occurring oil for everything from cosmetic to culinary purposes since 600 BC. Fortunately, the world — more so Western cosmetics — has lately been catching up, which has led to a max influx of products with argan oil. So, how does jojoba oil compare to argan oil? 
Argan vs Jojoba Oil: Which Oil Is Best for My Skin? 
Although both jojoba oils and argan oils act as outstanding humectants, those with oily skin will most likely benefit from argan oil because it can reduce the oiliness of the skin. On the other hand, jojoba oil is a much better option for those who may have sensitive skin. Both oils offer anti-inflammatory elements, offer healing, and will keep the skin moist. Yet, argan oil does exfoliate better because of its phenols. You may also be interested in how argan oil compares to rosehip oil. You can read more those two ingredients here.
Argan Oil Can Be Used for:
Help calm irritated skin from razor burn and ingrown hair
Fight free radicals
Boosting skin elasticity
Combatting stretch marks
Hydrate, without excess oiliness
Help reduce the appearance of fine lines and wrinkles
Jojoba Oil Can Be Ideal for:
Sensitive skin issues such as Rosacea, Eczema, Atopic dermatitis, and Psoriasis
Good for balancing sebum (oil) production
Moisturizing skin
Use as a cleansing oil
Is Jojoba Oil Comedogenic? Will It Clog Pores?
Skin acne can be caused by a vast number and range of factors, especially clogged pores. And many oils have the ability to clog your pores, which is defined as comedogenic. Non-comedogenic ingredients are defined as substances that will not clog pores. 
To best help you understand the propensity of a substance to clog pores, there is a comedogenic scale that ranks oils and butters used in cosmetic product formulation. Anyone who is subject to blackheads and acne breakouts should steer clear of highly comedogenic oils because they can lead to more acne problems. And those with drier skin may tend to lean more toward emollient oils in the middle of the scale. The scale ranges from:
0 – will not clog pores at all
1 – exceptionally low chance of pore clogging
2 – moderately low chance pore clogging
3 – moderate chances of clogging pores
4 – fairly high chance of clogging pores
5 – high chances of pore clogging 
Any substance that has a comedogenic rating of two or less is defined as non-comedogenic; while substances with a 5 rating will all but guarantee those prone to acne breakouts will experience one. Fortunately, jojoba oil has a comedogenic rating of two, which means it's defined as non-comedogenic and likely won't clog your pores.
Frequently Asked Questions
Other Skincare Ingredients You May Find Interesting: