As natural and plant-based skincare products grow in popularity, there are more and more ingredients that can be found at the grocery store. This is one of those examples. Citrus aurantium dulcis oil comes from peels of the same very oranges that can be found at the local store.
This post may contain affiliate links. Read the full disclosure here
From orange juice with champagne to skincare, is there anything oranges can't do? Well, this ingredient comes with trade offs when using on the skin. Learn about the potential concerns using products with orange peel oil.
What Is Citrus Aurantium Dulcis Peel Oil
Citrus aurantium dulcis peel oil is also called orange peel oil. As you may expect, this oil is derived from the Citrus aurantium dulcis plant – the sweet orange. This is the same type of orange you may find for sale in your local grocery store.
That's right! Citrus aurantium dulcis peel oil in skincare is derived from the same orange you may peel and eat regularly, or juice before your morning breakfast. While it can be a great fruit to eat, it brings up a few concerns when it's used as a skincare ingredient.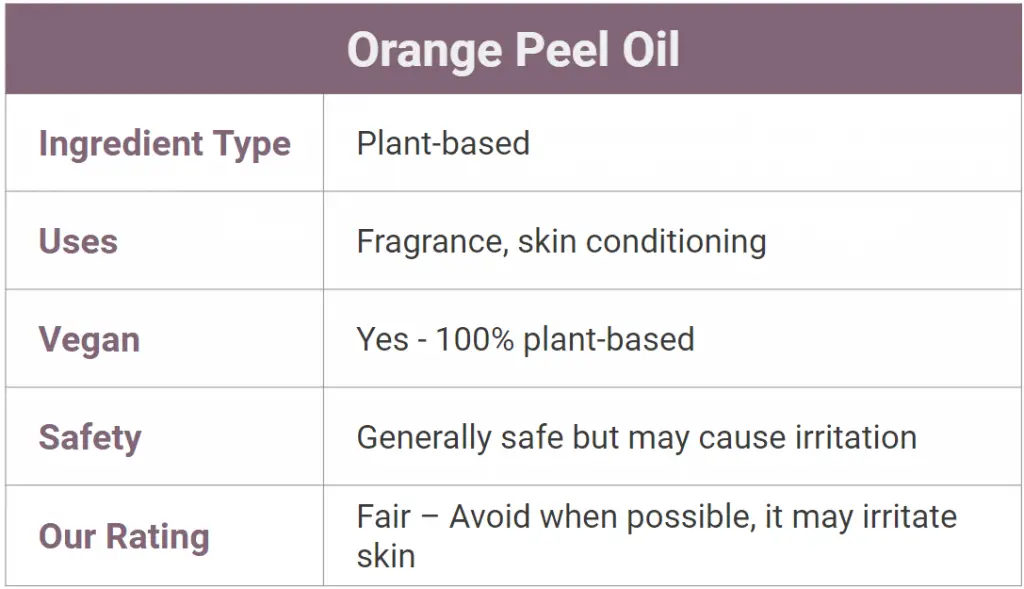 Orange Peel Oil Uses & Benefits In Skincare
So, what are Citrus aurantium dulcis peel oil skin benefits? Let's take a look at how orange peel oil is used in skincare now, and explain why it's common in so many different creams, ointments, and cosmetics.
Fragrance
Orange peel oil, just like the oranges it's derived from, has a fresh, sweet, citrus scent. The smell of orange peel oil makes it more pleasant to apply skincare products like lotions and creams.
High in AHAs
One of the biggest Citrus aurantium dulcis peel oil skin benefits is its ability to help the exfoliate skin. It's high in AHAs (alpha hydroxy acids), which allow it to work as an exfoliator and also minimize the effects of photodamage (sun damage) on skin.
AHAs also function as water-binding agents (humectants) in cosmetics and help preserve the moisture of your skin and prevent it from drying out.
Promotes Strong, Healthy Skin
Citrus aurantium dulcis peel oil also helps strengthen and thicken the outer layer of the skin, smoothing out fine lines and wrinkles, and minimizing dryness and flakiness of the skin. It also helps boost protein regeneration, as well as collagen and elastin synthesis.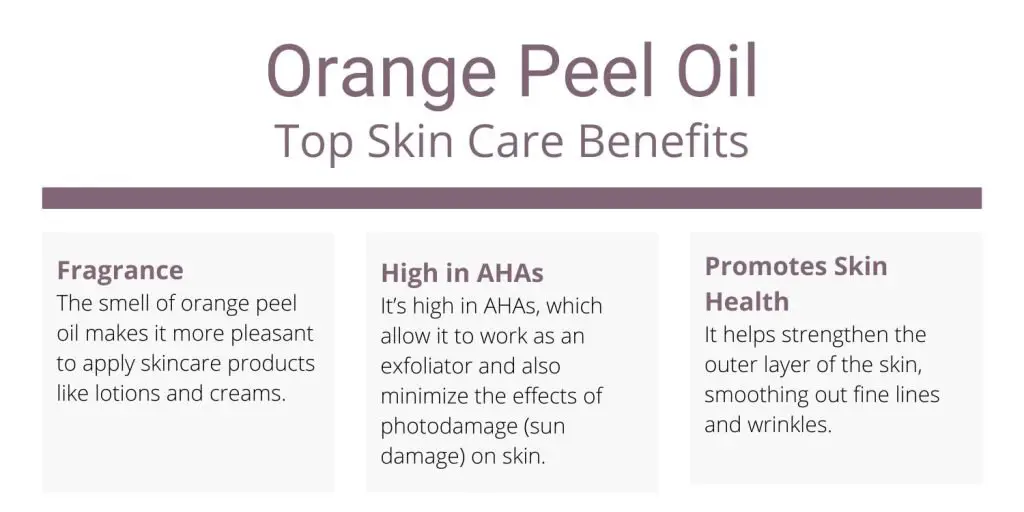 Even though this ingredient is natural and offers benefits, there are tradeoffs to using this ingredient. It might irritate your skin. Given the risk of irritation, we recommend avoid this ingredient when possible or at least opt for products that use very low concentrations of this ingredient.
One example of this ingredient out in the wild is in the PCA Skin C&E Strength Max product. Learn more about this product in our full review here.
Is Citrus Aurantium Dulcis Peel Oil Vegan?
Yes. Since it's derived from oranges, Citrus aurantium dulcis peel oil is completely vegan and cruelty-free, so you're free to use it if you're a vegan. Of course, you should also always check each skincare product you use to ensure it's free from any other animal-derived ingredients, and that it's not tested on animals.
Is Citrus Aurantium Dulcis Peel Oil Safe To Use In Skin Care?
According to the International Journal of Toxicology, Citrus aurantium dulcis peel oil is safe for use in cosmetic products when leave on products contain less than 0.0015% and are formulated to be non irritating and non sensitizing.
However, in its pure, highly-concentrated form, Citrus aurantium dulcis peel oil can be a skin irritant and may cause reddening and irritation in the skin (contact dermatitis). This ingredient also may oxidize when it's exposed to air, making it unstable. This process may sensitize the skin which can increase the chances of skin irritation and other skin issues. Orange peel oil has some of the same skin concerns as linalool, another fragrance derived from plants.
Learn more about other common fruit extracts used in skincare such as Cucumis Melo Melon Fruit Extract and Cranberry Seed Oil. You'd be surprised what these natural ingredients can do for the skin.
Also Known As
Citrus aurantium dulcis peel oil is also known as orange peel oil or orange peel extract. It's also sometimes called d-limonene or limonene since limonene is one of the main components in orange peel oil.
References
International Journal of Toxicology 2019, Vol 38 – 335-595