If you guessed this ingredient was lemon, you're not too far off. This ingredient refers to a compound found in citrus fruits and peels, including lemons. This is a natural ingredient that comes from plants but it doesn't provide direct skin benefits.
This post may contain affiliate links. Read the full disclosure here
Limonene is in cosmetics, skin care, and personal products as an added fragrance. While it's better than many synthetic fragrances, it can irritate the skin.
What Is Limonene?
Limonene is a colorless aliphatic hydrocarbon compound, and it's the largest component of oil in citrus fruit peels. It's commonly derived from a wide variety of citrus fruits, but orange peels have the highest proportion of limonene, so they are the most common source for this skincare ingredient.
Though citrus peels have the highest concentration of limonene, it's present in a lot of other plants as well, including coniferous and broad-leaved trees, and even cannabis sativa.
Limonene in its pure, concentrated form can be derived from citrus peels using either centrifugal separation or steam distillation. After processing, the limonene is stored separately, while the citrus peel remnants can be used for a variety of other purposes.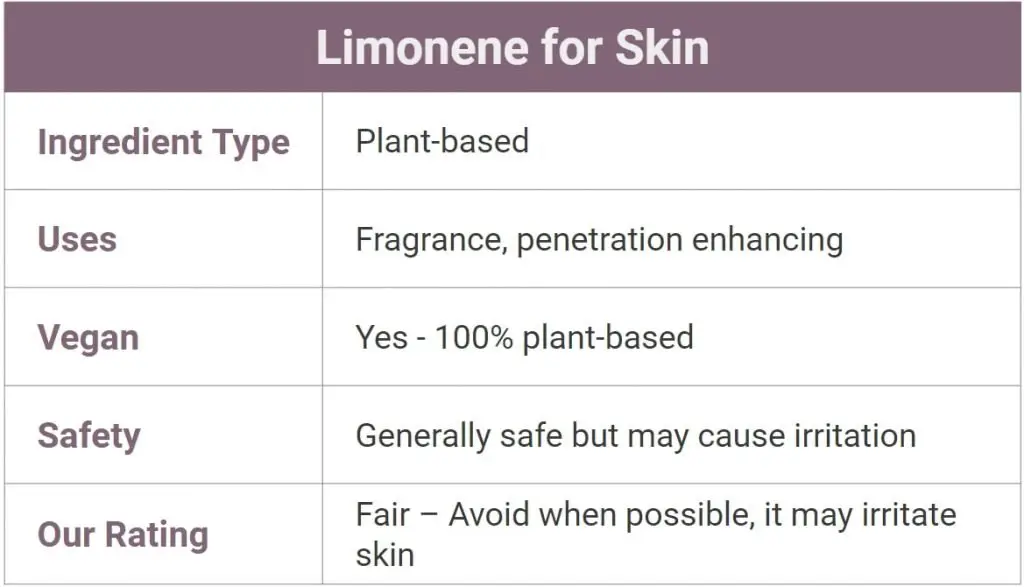 Limonene Benefits for Skin
The main use for limonene in skin care and cosmetics is for fragrance. It gives products a nice fresh scent. But it also contains antioxidants and has penetration enhancing properties.
Fragrance – Limonene is one of the chemicals responsible for the characteristic bright scent of oranges, lemons, limes, and other citrus fruits. When used as a skincare ingredient, small amounts of limonene can provide a pleasant smell. It's commonly used in lotions, cleansers, face masks, lip balms, and cosmetics for this purpose.
Penetration-enhancing capabilities – Limonene has a unique molecular structure that makes it a "carrier" for compound and ingredients that may not normally be able to penetrate the epithelial (outer layer) barrier. This means it can help deliver moisturizers, vitamins, antioxidants, and other compounds deeply within the skin when used as part of a skincare product
High in antioxidants – Limonene, like other terpenes, have antioxidant properties and can "donate" electrons to other atoms and molecules, limiting oxidative damage. Oxidative damage is thought to be a primary contributor to skin aging, particularly from sun damage, so products containing limonene may help reduce skin aging and protect your skin from free radicals.
Limonene Concerns
While limonene may smell nice, there is also a downside to using this ingredient. It may irritate the skin.
Given the generic benefits of this ingredient, we recommend opting for alternative ingredients that offer similar benefits, or products that do not use this ingredient. If the limonene concentration is low enough in the product, it may not lead to any negative side effects, but it's still an ingredient to watch.
Most people see the natural source and assume it's a great ingredient. But just because an ingredient is "natural" doesn't mean that it's good for your skin.
Is Limonene Vegan?
Yes. Limonene is derived from citrus fruits and is completely vegan and plant-based. As always, ensure you consult product packaging to look for animal-derived ingredients when shopping for skincare products. You may also want to check whether or not a particular product has been tested on animals.
Is Limonene Safe To Use In Skin Care?
While limonene is considered "safe" it's not the best skincare ingredient option. The low-cost fragrance ingredient may smell nice and but it can oxidize when exposed to air which may lead to contact dermatitis (skin irritation) and can sensitive skin. This can make breakouts, oily skin, and dry skin issues worse.
It is also on the European Commission's list of 26 known allergens. Some of the other ingredients on this fragrance allergen list include Linalool, Coumarin, Benzyl Salicylate, and Geraniol.
This ingredient has penetration enhancing properties which can make ingredients more effective, but it can also increase the chances of irritation for ingredients such as alcohols or witch hazel.
Frequently Asked Questions
Find answers to some of the most frequently asked questions about limonene.
Also Known As:
Limonene is sometimes called dipentene, cinene, or cajeputene, but this is quite rare.
Additionally, though it may not be labeled as such, ingredients like orange peel oil or other essential oils derived from citrus fruits have high levels of limonene, as well as other compounds derived from citrus fruits. Products labeled as containing these oils or extracts will have high levels of limonene.
Related Ingredients