This SkinMedica retinol has stellar reviews across the web. It's a quality retinol complex but it's not cheap. We took a deep look at all the reviews, benefits, and ingredients to determine if this product is worth it.
This post may contain affiliate links. Read the full disclosure here
Keep reading to see our full SkinMedica Retinol 1.0 Complex review. Find out what makes this product so unique.
SkinMedica Retinol Complex Benefits
Before buying a luxury skincare product, we want to know the benefits. What does the SkinMedica Retinol Complex do? What makes it so special?
The SkinMedica Age Defense Retinol is a powerful anti-aging product. It will help reduce the appearance of fine lines, wrinkles, and age spots. It also improves skin tone and texture. In short, it will help you achieve a plump, youthful complexion.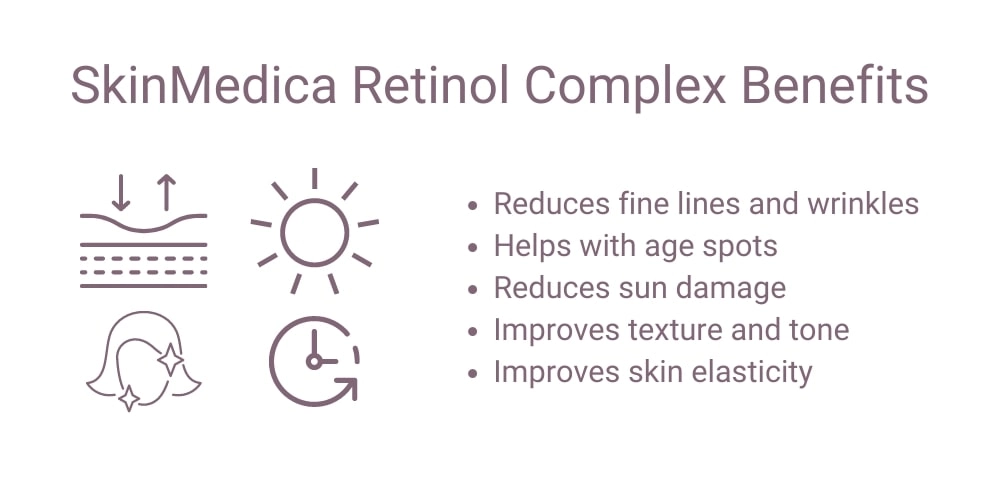 Reduces the appearance of fine lines and wrinkles
Reduce the appearance of age spots
Improves skin tone and texture
Improve skin elasticity
Reduce sun damage
Visibly reduce acne scars
Safe for all skin types
This product also uses a PhytoShield™ Complex which is a mix of antioxidants to help improve skin texture and reduce irritation.
SkinMedica Retinol 1.0 Complex Ingredients
The SkinMedica Retinol Complex is formulated to work for all skin types. It contains retinol which can be problematic for sensitive skin. But this light cream also uses skin hydrating and soothing ingredients. Retinol can cause dryness and peeling, so it's good to see moisturizing ingredients such as squalane, glycerin, soybean oil, and vitamin E.

Here are some of the key ingredients in the SkinMedica complex:
Glycine Soja Oil – An emollient plant oil made from soybeans. It helps calm, soothe, and hydrate the skin.
Niacinamide – A form of vitamin B3 that helps even skin tone and texture.
Squalane – Often made from olive oil, sugar cane, or rice bran. It hydrates, calms, soothes, and helps defy the signs of aging.
Retinol – Retinol is a type of retinoid derived from vitamin A. It's an anti-aging staple ingredient for reducing fine lines, wrinkles, and evening skin tone.
Tocopherol – Vitamin E helps prevent signs of aging, keeps the skin calm and hydrated, and helps reduce sun damage.
Palmitoyl Tripeptide-8 – A type of peptide that supports collagen production and general skin health.
Dunaliella Salina Extract – A type of micro-algae that is rich in antioxidants. It can help protect the skin against free radical damage.
Magnolia Grandiflora Bark Extract – This plant extract can help protect the skin from sun damage and prevent premature aging.
Here's the full ingredient list:
Water/Aqua/Eau, Cetyl Ethylhexanoate, Glycine Soja (Soybean) Oil, Caprylic/Capric Triglyceride, Niacinamide, Polyacrylate-13, Squalane, Retinol, Palmitoyl Tripeptide-8, Dunaliella Salina Extract, Magnolia Grandiflora Bark Extract, Tocopherol, Tocotrienols, Ceramide 3, Bisabolol, Phytosterols, Squalene, Tocopheryl Acetate, Oryza Sativa (Rice) Bran Wax (Oryza Sativa Cera), Glycerin, Polysorbate 20, Butylene Glycol, Cetyl Palmitate, Laureth-23, Trideceth-6 Phosphate, Sodium Hydroxide, Dicaprylyl Ether, Lauryl Alcohol, Polyisobutene, Dextran, Potassium Sorbate, Disodium EDTA, Phenoxyethanol, Ethylhexylglycerin
*Please note the actual ingredient list may change. Please refer to the product page when purchasing (or product itself) for the most up-to-date ingredient list.
The Age Defense Retinol 1.0 Complex is sulfate-free, phthalate-free, and paraben-free.
SkinMedica Retinol Complex for Acne
The SkinMedica retinol isn't specifically formulated to treat acne. However, it is safe for acne and blemish-prone skin. It's also a great option for oily skin. Some of the reviews also comment on how this product helps with acne, bumps, and blemishes.
Retinol is a powerful anti-aging ingredient but it is also an effective ingredient for treating acne. It increases cell turnover to help remove dirt, dead skin cells, and oil from the skin. Retinol penetrates into the dermis to promote the production of collagen and elastin.
Most retinol-based acne treatments use retinol concentrations of 0.25 to 1.5%. The SkinMedica Retinol 1.0 (at 1%) is right in that same range.
SkinMedica Retinol Vs. Tretinoin
This SkinMedica Retinol uses a 1% concentration of retinol. Tretinoin is also a retinoid but it's a concentration of pure retinoic acid. Retinol is available in OTC products but Tretinoin requires a prescription.
The SkinMedica 1% Retinol Complex isn't as potent as Tretinoin products like Retin-A. You can still see amazing results with retinol-based products but it may take a little longer.
Tretinoin might work faster but it also can have more side effects. There is a greater chance of experiencing redness, itching, irritation, or peeling with prescription-grade retinoids.
Is the SkinMedica Retinol Worth It?
The SkinMedica Retinol complex has stellar reviews with lots of happy users. It's an effective product with a great ingredient profile. Can you find other retinol products for a lower price? Of course.
But with the SkinMedica Retinol, you can count on high-quality, science-based ingredients. The brand is well-known and this retinol product doesn't disappoint. This product is worth a try.
See our list of the favorite cruelty-free retinol products here.
Frequently Asked Questions
Find answers to the most commonly asked questions about the SkinMedica Retinol Complex.
Other Reviews and Product Comparisons You May Enjoy: