The other day at the grocery store I opted for the generic brand of flavored sparkling water instead of my favorite brand. They had the same flavor and the cost was less. I grabbed it. I thought, why not save a few bucks. It's just flavored carbonated water how different could it be?
This post may contain affiliate links. Read the full disclosure here
The next day I cracked one open and took my first drink. It wasn't good. Not only was it way different than my beloved brand, but it was barely drinkable. I won't be buying that brand again.
This same process comes up in skincare all too often. We want the amazing product and experience, but we're always tempted by cheaper options. It's hard to justify spending the big bucks on luxury skincare items when there are worthy alternatives.
The Tatcha Dewy Skin Cream is a widely loved product. It offers deep hydration, can help even texture/tone, improve firmness, and support skin elasticity. The Tatcha cream will leave your skin renewed, plump, and dewy. You'll pay around $68 for it though. The ingredient profile justifies the cost, but it's still a huge step up from the average Target skincare purchase.
But what if you don't want to spend that much? Are there Tatcha Dewy Skin alternatives that are worth a try?
Read about the top alternatives to this product below. But if you want to get right to our #1 recommendation, look no further. The best overall Tatcha Dewy Skin Cream alternative is the Honest Beauty Hydrogel Cream.
What Makes the Tatcha Dewy Skin Cream Unique?
Before jumping into the best alternatives to the Tatcha Dewy Skin Cream, we'll start with what makes this product unique. This skin cream is a best-seller for Tatcha. It's also a 2020 Glamour Beauty Award winner for the "Best Moisturizer" category.
This rich, moisturizing cream was designed for dry skin. It can also be used with normal skin and/or those who enjoy a thicker, rich moisturizer. If you have oily skin, this product isn't the best option. Tatcha recommends this product for dryness, dullness, and anti-aging.
The Tatcha Dewy Skin Cream has Hadasei-3™, Tatcha's proprietary complex made from fermented Uji green tea, Akita rice, and Mozuku algae. This trio nourishes skin, detoxifies, reduces the signs of aging, and hydrates.
Tatcha Dewy Skin Cream Ingredients
If you have been to Skincare Lab before, you know we love to dive deep into the ingredients. Here are some of the Dewy Skin Cream ingredient highlights: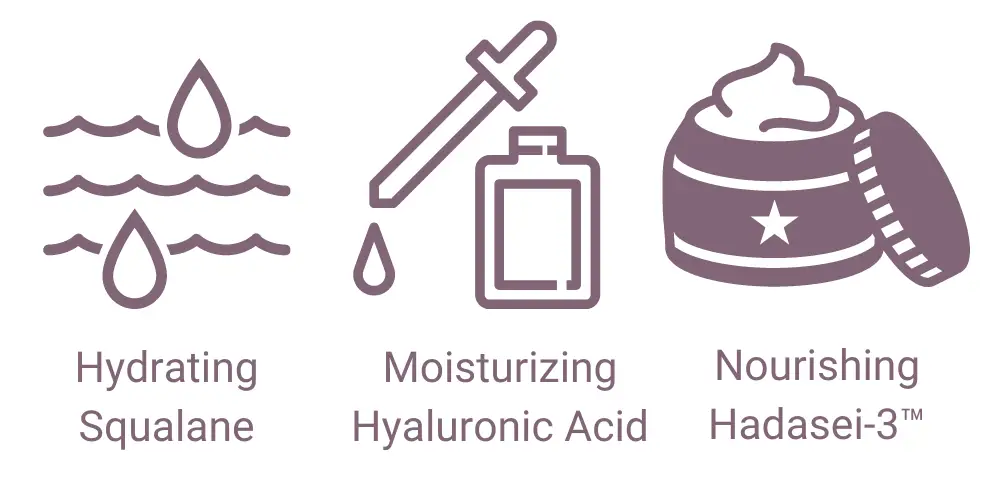 Japanese Purple Rice is packed with nutrients and antioxidants. It helps restore skin and fights free radicals.
Betaphycus Gelatinum Extract is a red algae rich in polysaccharides. These help strengthen the skin's barrier which can help moisture retention.
Hyaluronic Acid helps the skin retain moisture for healthier, plump skin.
Squalane is a modified version of squalene (with an e) that occurs naturally in our bodies. It helps soothe and hydrate skin.
Glycerin is another moisturizing ingredient that helps the skin retain moisture but it also hydrates! It's known as a humectant and an emollient.
Chondrus Crispus Extract is a red algae also known as Irish Moss or Carrageenan. It's a thickening and emulsifying agent (helps ingredient mix together).
Eisenia Arborea Extract is brown kelp used in skincare as a skin conditioning agent.
Botanical Extracts such as ginseng, wild thyme, and sweet marjoram help nourish and hydrate the skin.
As you can see from the list above, this Tatcha product is stacked with hydrating ingredients. It's safe to say this product will solve your dry skin issue. This product also makes the following claims. It's great to see a deep moisturizing, rich cream such as this still be non-comedogenic (it won't clog your pores).
Non-comedogenic
Non-sensitizing
Non-irritating
Dermatologist-tested
Cruelty-free
Paraben-free
No Synthetic fragrances
It's clear the Tatcha Dewy Skin Cream is a strong product but what are the alternatives?
Bliss Ex-Glow-Sion Super Rich Face Moisturizer
This Bliss product shares many of the same ingredients and attributes as the Dewy Skin Cream and it will only cost you about $20. The Bliss Ex-Glow-Sion Super Rich Face Moisturizer claims to leave your skin brighter, hydrated, and dewy. The product is targeted for all skin types, even those with oily skin. The Bliss moisturizer shares the following ingredients with the Tatcha Dewy Skin Cream:
Squalane (sugar-derived)
Green Tea and other soothing botanicals.
Glycerin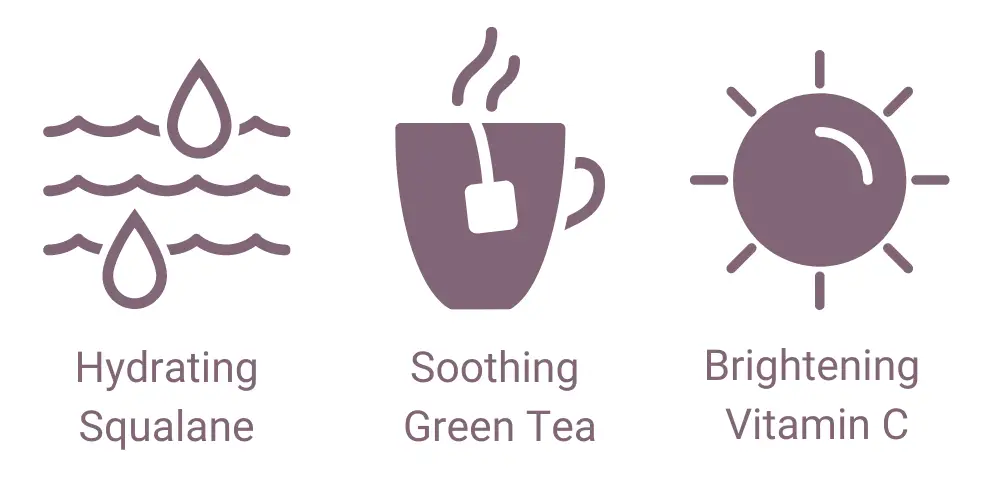 While it doesn't have hyaluronic acid, Japanese purple rice, or various red algae, it has other powerful ingredients of note. So what does the Bliss moisturizer have that the Tatcha cream doesn't? Here's the list:
Shea Butter is a rich moisturizer with anti-inflammatory and antioxidant properties made from shea tree nuts.
Sunflower Seed Oil is also rich in antioxidants, helps protect the skin barrier, and is non-comedogenic.
Vitamin C helps brighten skin, even tone, and help with the appearance of hyperpigmentation. However, it can cause issues for those with sensitive skin.
Lavender is packed with antioxidants, it also helps fight free radicals. Lavender helps soothe and calm skin plus it has antibacterial properties.
Is It a Good Alternative?
The Bliss Ex-Glow-Sion moisturizer shares some of the key ingredients which offer fantastic moisturizing benefits. It's a great product to try at a much cheaper price. However, it isn't going to offer the same level of hydration as the Tatcha Dewy Skin Cream. The Bliss moisturizer goes on a bit lighter and doubles as a brightening product (with vitamin C). If you're also looking for a product with Vitamin C, this is the perfect product. However, if you have super dry or dehydrated skin, you're still better going with the Tatcha Skin Cream.
Clinique Moisture Surge 72-Hour Auto-Replenishing Hydrator
 The Clinique 72-hour moisture surge is a replenishing gel-cream moisturizer. It is targeted for all skin types to leave you with plump, dewy, glowing skin. This product doesn't match up perfectly to the Tatcha Dewy Cream, but it's a strong contender with great benefits and an attractive price-point. It also has a 72-hour claim which means the product was tested and proven to hydrate the skin for up to 72 hours. Clinique claims it can be used under or over makeup.
So how does it stack up against the Dewy Skin Cream? The ingredient profile of this product is quite different but it offers the same core benefit. Hydration.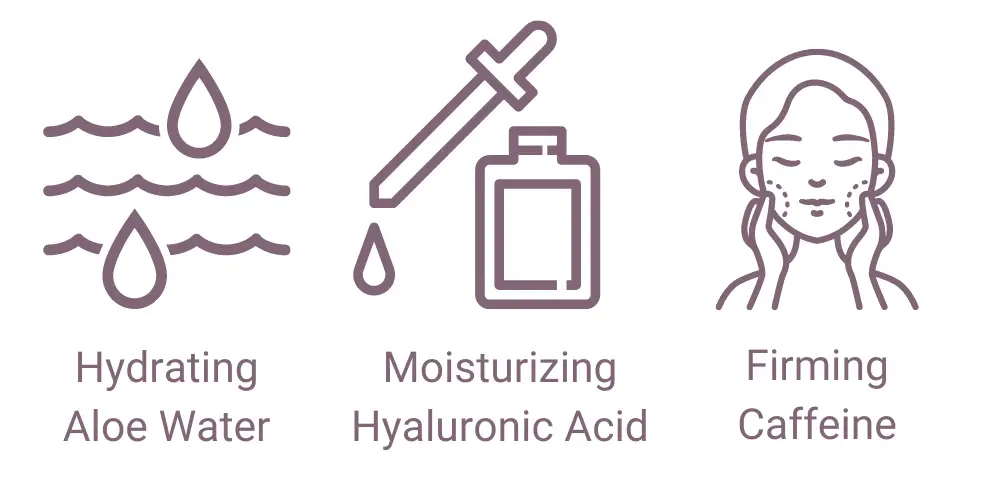 The Clinique Moisture Surge relies on hyaluronic acid and aloe water as the main moisturizing ingredients. Here are some of the shared ingredients with the Tatcha Dewy Skin Cream:
Hyaluronic Acid
Glycerin
Green Tea
Clinique Moisture Surge also has several beneficial ingredients the Dewy Skin Cream doesn't:
Sorbitol is a type of sugar alcohol that has moisturizing benefits and is also used as a thickening agent.
Aloe Leaf Water can help soothe and calm skin.
Caffeine can help tighten and brighten the skin to help reduce puffiness and the appearance of wrinkles.
Silybum Marianum (Lady's Thistle) Extract is rich in antioxidants and can help protect the skin from UV light exposure.
Betula Alba (Birch) Bark Extract helps stimulate collagen production for smooth, supple skin.
Saccharomyces Lysate Extract helps soothe and calm skin.
This product is also free from the following:
Paraben-free
Phthalate-free
Fragrance-free
Is It a Good Alternative?
Similar to the Bliss Moisturizer, the Clinique Moisture Surge doesn't offer the same level of hydration as the Tatcha Dewy Skin Cream. It's close though. The Clinique Moisture Surge has a lightweight feel with more of a gel-cream texture. Your face feels wet when applying but it dries quickly. It leaves your face with a nice hydrated, dewy finish. If you go with this product, you may consider first applying a hyaluronic acid serum and then layering on the Clinique Moisture Surge.
It's another great product to try as an alternative, but it isn't a spot-on option.
Honest Beauty Hydrogel Cream – Best Overall
This is the best alternative overall! The Honest Beauty Hydrogel Cream replenishes hydration and leaves the skin soft, smooth, and supple. It combines two types of hyaluronic acid, squalane, and sodium PCA to replenish and nourish the skin. It also helps reduce the appearance of fine lines and wrinkles.
The Hydrogel and the Tatcha Dewy Skin cream share the following key ingredients:
Squalane
Hyaluronic Acid (two different types)
Glycerin
This Honest Beauty cream also has the following ingredients.
Apple Fruit Extract – Helps protect the skin against premature aging
Sodium PCA – Helps the skin retain moisture and soothe the skin.
Jojoba Esters – Hydrate skin and help protect it from water loss.
Honest Beauty products are formulated without silicones, parabens, petrolatum, dyes, mineral oil, or synthetic fragrances.
Is It a Good Alternative?
The Honest Beauty Hydrogel is a great alternative to the Tatcha Dewy Skin Cream. The ingredient profile is different but they share the same key ingredients and many of the same skin benefits. Honest Beauty Hydrogel is also about 1/3 of the price!
This option is definitely worth a try.
In Closing
While there isn't a perfect alternative for the Tatcha Dewy Skin Cream, there are great alternatives at lower price points. In some cases, you can combine more than one product to get the same output as your favorite luxury skincare product. Sometimes you have to make tradeoffs to save money. It's up to you how far you are willing to go to save money!
If you really want to save $$$, consider making your own moisturizers at home!
Another product we didn't highlight above is the Biossance Squalane + Phyto-Retinol Serum. It's a serum, so it's a bit different than the Dewy Cream. But it also packs an impressive ingredient profile with hyaluronic acid, squalane, and bakuchiol.
If you enjoyed this article, you'll also like the following: