There is a lot of information online about what is good or bad for your skin. Sometimes you can get confused trying to figure out which of these you should believe. Moreover, people have become cautious and suspicious of advertisers because they've been found, on some occasions, to misrepresent their claims about skincare products.
This post may contain affiliate links. Read the full disclosure here
With the skincare industry promising almost everything, from UV protection to anti-aging products, you have to be careful about the kind of products you use for your skin. We know how it feels when you buy a product that has been misrepresented — no results, or even worse, irritated skin. This post will give a researched, unbiased, honest opinion about beta-glucan for the skin. Read on to find out more.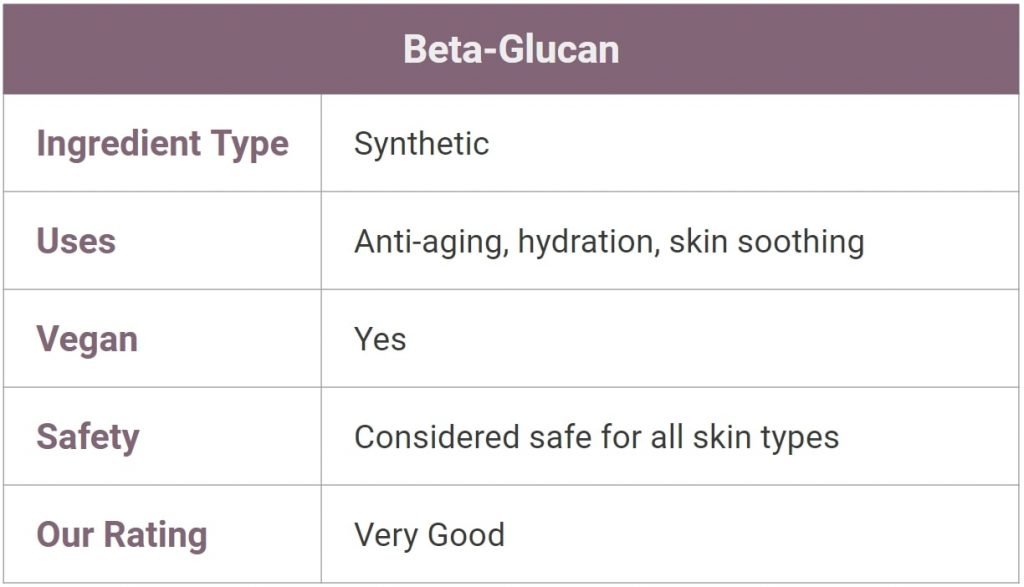 What Is Beta-Glucan?
Are you a skincare enthusiast? If yes, you're probably familiar with the ingredients like hyaluronic acid and lactic acid and glycolic acid. But what about beta-glucans?
Beta-glucans are forms of soluble dietary fiber found in the cell walls of plants, bacteria, yeast, and fungi. The beta-glucans used to improve the skin are obtained from oats, rice, and mushroom. They are mainly used to repair and calm irritated or broken skin.
Some studies suggest that beta-glucans show more impressive results compared to mainstream ingredients like hyaluronic acid. The element also has moisturizing properties that help reduce skin redness and wrinkles. Given that it's a soluble fiber, beta-glucan supplements can also regulate cholesterol.
You'll find beta-glucan in skincare products such as facial masks, serums, treatments, cleansers, and moisturizers.
Benefits of Beta-Glucan in Skincare
Historically, beta-glucagon was considered expensive to produce, with its molecular size being regarded as way too big to penetrate the human skin. Even in recent years, production cost has been the leading cause of reduced natural ingredients production in the skincare industry and the medicine and food industries. Here are some benefits of beta-glucan and studies that have been conducted on its effectiveness on the skin.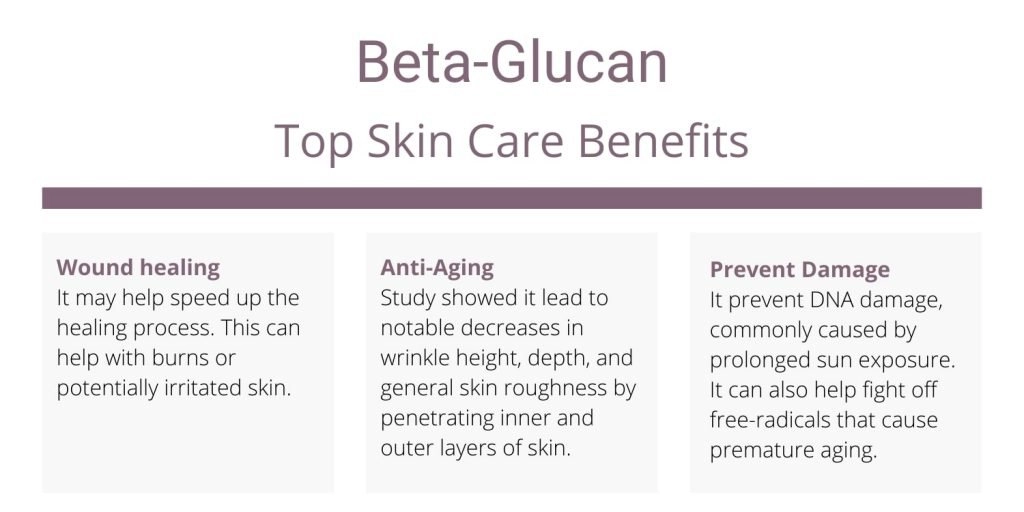 Beta-Glucan for Anti-Aging
Like other physiological phenomena, skin aging can be caused by many things such as exposure to the sun, inflammation, and collagen breakdown. Although it's impossible to stop aging, there are nutrients that you can use to fight your aging. However, you need to understand the most effective and even correct ways to protect your skin from aging.
So, how do beta-glucans prevent the skin from aging (by getting rid of wrinkles and fine lines)? An experiment done in 2005 indicated that 0.5% of oat beta-glucan in a solution could penetrate both the skin's inner and outer layers if taken at a dose of 5mg/cm2. Experts observed remarkable improvements within as little as eight weeks during the study, with a notable decrease in wrinkle height, depth, and general skin roughness.
Beta-Glucagon Helps Heal Burns
Sometimes we develop cuts on our skin, but the skin's self-protective nature helps us heals naturally. However, when your skin gets burnt, it's crucial to take great care of your condition if you want to speed up your healing process, whether the burn is mild or severe. Beta-glucans helps heal burns because it improves the body's immune system.
However, there is no evidence to support claims that beta-glucan boosts people's immune systems. Researchers only think that beta-glucan can help fight the body to fight infections and diseases. However, most of their studies have only been based on animal trials and not humans. As such, it may take a little more time before we can tell if beta-glucan can improve the human immune system.
Beta-Glucan Prevents DNA Damage
When applied directly to the skin, beta-glucan can prevent DNA damage, commonly caused by prolonged sun exposure. Almost all the studies that have been done on beta-glucans' photo-protective properties have been centered on cell lines. However, since beta-glucan can penetrate the epidermis (out layer) and the dermis (inner layer), it is likely to be effective if applied on the skin. 
Is It Safe to Use for Skincare?
Although it's a bit early to recommend beta-glucans for skincare, the future looks promising. It's worth noting that there are no reported side effects of beta-glucans when taken by mouth.
Things are looking good on the skincare (topical) front as well. Beta-glucan is considered safe to use, even for sensitive skin. It soothes, hydrates, and helps aging skin, without harm. The Cosmetic Ingredient Review expert panel deemed Beta-glucan safe to use in cosmetics based on current uses and concentrations.
Should You Use Beta-Glucans?
Beta-glucan supplements are likely safe for any adult when taken by mouth and considered safe when applied topically. If you wish to use these ingredients, it's vital that you first get in touch with your doctor for consultation. Your doctor or dermatologist will weigh the benefits and potential risks of the beta-glucan for your skin before making appropriate recommendations.
Related Anti-Aging Ingredients:
Sources
Bashir, Khawaja Muhammad, and Jae-Suk Choi. 2017. "Clinical And Physiological Perspectives Of Β-Glucans: The Past, Present, And Future." International Journal Of Molecular Sciences 18 (9): 1906. doi:10.3390/ijms18091906.
Pillai, R., M. Redmond, and J. Roding. 2005. "Anti-Wrinkle Therapy: Significant New Findings In The Non-Invasive Cosmetic Treatment Of Skin Wrinkles With Beta-Glucan." International Journal Of Cosmetic Science 27 (5): 292-292. doi:10.1111/j.1463-1318.2005.00268_3.x.
Da Silva, Ariane Fernanda, Rodrigo Juliano Oliveira, Andressa Megumi Niwa, Gláucia Fernanda Rocha D'Epiro, Lúcia Regina Ribeiro, and Mário Sérgio Mantovani. 2012. "Anticlastogenic Effect Of Β-Glucan, Extracted From Saccharomyces Cerevisiae, On Cultured Cells Exposed To Ultraviolet Radiation". Cytotechnology 65 (1): 41-48. doi:10.1007/s10616-012-9448-z.