What is geraniol? In science terms, geraniol is a acyclic monoterpene alcohol. In other terms, geraniol is a naturally-derived fragrance that comes from plants such as Geraniums, Palmarosas, Java Citronell, and Roses.
This post may contain affiliate links. Read the full disclosure here
It has a slightly sweet, floral scent making it a popular choice for cosmetics and skincare products. You'll also find it in essential oils that promote relaxation and calmness. Lastly, you'll find geraniol as an ingredient in foods and drinks. It is commonly used for flavors such as peach, raspberry, watermelon, and blueberry.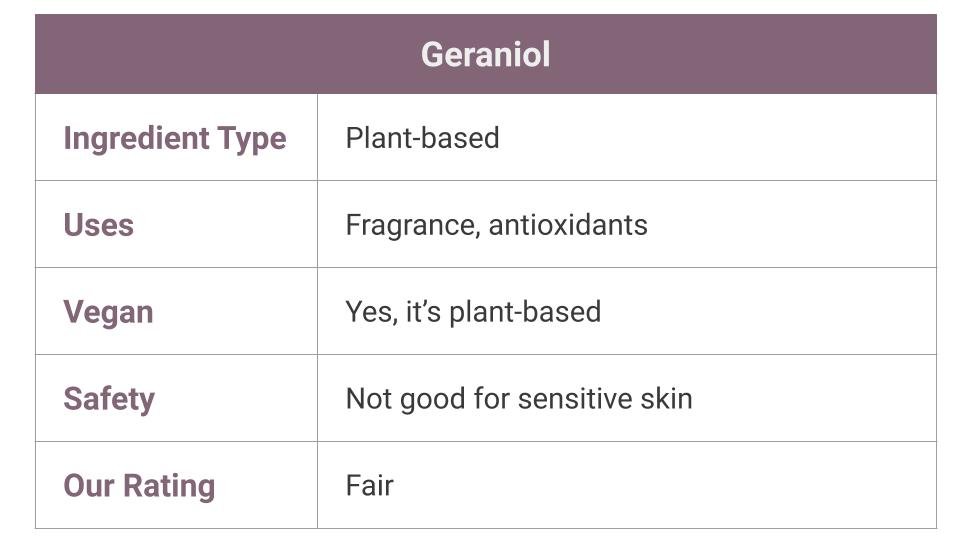 Is Geraniol Safe for Skin?
Geraniol may cause sensitivity or irritation when applied to the skin. Similar to other fragrances, this ingredient is volatile, it can oxidize when exposed to air and may sensitize the skin when applied. The risk is lower for geraniol since it doesn't penetrate the skin easily. While you'll want to proceed with caution if you have sensitive skin, it may not pose the same risk as other fragrances ingredients such as Linalool or Acacia Farnesiana Extract.
EWG rates geraniol as a 3-5 on their rating scale of 1-10 (1 is the best and 10 is the worst). The higher score comes from the research that shows this ingredient may trigger allergies or sensitivities.
It is also on the European Commission's list of 26 known allergens. Some of the other ingredients on this fragrance allergen list include Linalool, Coumarin, Benzyl Salicylate, and Limonene.
While there is a risk of irritation or dermatitis when using topically, geraniol is approved by the FDA (Food and Drug Administration) as safe to consume when used appropriately.
Geraniol Benefits for Skin
Geraniol is most commonly used in skincare and cosmetics products for it's sweet, rose-like fragrance. It offers an elegant but not overwhelming scent. In addition to the scent, geraniol is rich in antioxidants, has antibacterial and anti-inflammatory properties that may help the skin.
Antimicrobial and antibacterial – Studies suggest the properties in geraniol may help fight off certain types of bacteria that cause infections.
Fight free radicals – It's rich in antioxidants that help fight off free radicals that can lead to premature aging and skin dullness.
Soothes skin – Studies have shown that it has anti-inflammatory properties that may help soothe and calm the skin.
Smells nice – this is the main reason Geraniol is used in skincare, it offers a pleasant rose scent with a touch of citrus.
What Products Use Geraniol?
You'll find geraniol in skincare products such as toners, rose water, serums, face oils, and cleansers. Since geraniol is a natural compound in rose oil, this ingredient is sometimes listed out separately in products that use rose oil.
Botanics Organic Facial Oil – This plant-based facial oil soothes dry skin. It has geraniol listed on the label as an ingredient that is included in the essential oil ingredients. This is a good example of a skincare product that people love even though it has this ingredient that can irritate sensitive skin.
Dr. Hauschka Rose Nurturing Body Oil – This nourishing body oil will leave your skin silky, smooth, and supple. It also has geraniol in it as a by-product of the natural oils included in the product profile. This product is also well-rated across retailers, the brand website, and Amazon.
Benefit Cosmetics Benetint Rose Tinted Lip & Cheek Stain – This multi-purpose product can be used as a lipstick or as a blush. It has geraniol as an ingredient and also uses other fragrance ingredients that have a higher likelihood to cause sensitivities. Despite having these ingredients, many love this product!
Biossance Squalane + Phyto-Retinol Serum – This anti-aging serum combines bakuchiol, niacinamide, rosehip oil, and hyaluronic acid to reduce the appearance of fine lines, even tone, and improve wrinkles.
We included these products that use geraniol as examples that they can still work, and may not cause problems. However, this is an ingredient you'll want to keep an eye on especially if you've had allergies in the past or have sensitive skin.
Also Known As
Geraniol may be listed on product ingredient packaging under several different names. Be on the lookout for the following names if you are trying to spot geraniol in the ingredients list.
• (E)-3,7-Dimethyl-2,6-octadien-1-ol
• (E)-Geraniol
• (E)-Nerol 2,6-Octadien-1-ol, 3,7-dimethyl-,
• (E)- 2,6-Octadien-1-ol, 3,7-dimethyl-, trans- 2-trans-3,7-Dimethyl-2,6-octadien-1-ol
• 3,7-Dimethyl-2,6-octadien-1-ol, (E)-
• 3,7-Dimethyl-trans-2,6-octadien-1-ol
• 4-01-00-02277 (Beilstein Handbook Reference)
• AI3-00206
• BRN 1722456
• CCRIS 7243
• EINECS 203-377-1
• EPA Pesticide Chemical Code 597501
• FEMA No. 2507
• Geraniol
• Geraniol (natural)
• Geraniol Extra
• Geraniol alcohol
• Geranyl alcohol
• HSDB 484
• Lemonol
• NSC 9279
• beta-Geraniol
• trans-3,7-Dimethyl-2,6-octadien-1-ol
• trans-Geranio
Sources: