After waking up in the morning with limited sleep, I looked in the mirror to find a droopy, tired-looking face that has a few more wrinkles and lines than it used to. These are the moments that drive us to look for different options to delay the inevitable process of aging. Or at least delay the appearance of it. When you get to this point and you have the means to justify it, spending a few extra bucks on high-end skin care treatments and serums start becoming more rational.
This post may contain affiliate links. Read the full disclosure here
That's where the PCA Skin C&E Strength Max product comes in. It shows promising results, with before and after photos, that show decreases in the appearance of wrinkles, age spots, and a more even tone. Sounds promising right? Let's take a deeper look.
PCA Skin is a trusted and respected luxury skincare brand known for its anti-aging products. Their products aren't cheap, but they are effective. For those who are serious about skincare, PCA Skin just may be a good option for you.
C&E Strength Max Review
We gave thee PCA Skin C&E Strength Max a try and this is what we found. It is lightweight on the skin and absorbs quickly. It has a smooth texture that leaves a matte finish, making it a great option even when wearing makeup. It has a nice citrus scent (from the orange oil), although some reviewers didn't enjoy it as much as I did.
It left a slight stinging sensation after applying on certain areas, but it doesn't last long and it didn't cause much of a bother. PCA Skin lists this as a warning though, so it was expected before using the product. A mild itchiness continued for about four hours after applying.
As noted above, this product is very lightweight, so it has limited hydration. My skin is on the drier side, so I follow the C&E Strength Max with a hydrating serum or moisturizer. Without documented before and after photos, it's hard to tell if my wrinkles and fine lines are reduced. However, it does appear to have a more even tone and texture. That result was noticeable after two weeks of consistent use.
PCA Skin recommends cleansing, using a toner and any treatment products, and then this Vitamin C serum. They also recommend following this product with SPF during the day and a moisturizer at night.
Pros
Max-strength concentrations of vitamin C and vitamin E
Positive reviews across branded the site, retailers, and Amazon
Proven results
Trusted, well-known brand
Smooth, lightweight texture
Cons
Ingredients that may irritate sensitive skin
Uses silicones
Expensive – over $100 per ounce
Strong citrus smell, which isn't for everyone
Overall it is a well-liked and highly reviewed product, despite where you look. You'll find several 5-star reviews on Amazon as well as other top luxury beauty retailers. Those with negative things to say about the product either didn't get expected results or they didn't like the smell.
Skin Benefits
The combination of vitamin C and E help protect the skin against premature aging. It also helps fight off free radicals, reduce the appearance of fine lines, wrinkles, and even tone and texture. C&E Strength Max can help stimulate collagen production and strengthen skin for a healthy, even complexion.
Like most anti-aging products, this one claims to help your skin look younger and healthier by loading it up with skin-loving nutrients.
Even tone and texture
Reduce the appearance of fine lines and wrinkles
Supports collagen and elastin production
Reduce the appearance of hyperpigmentation and brown spots
Helps fight free radicals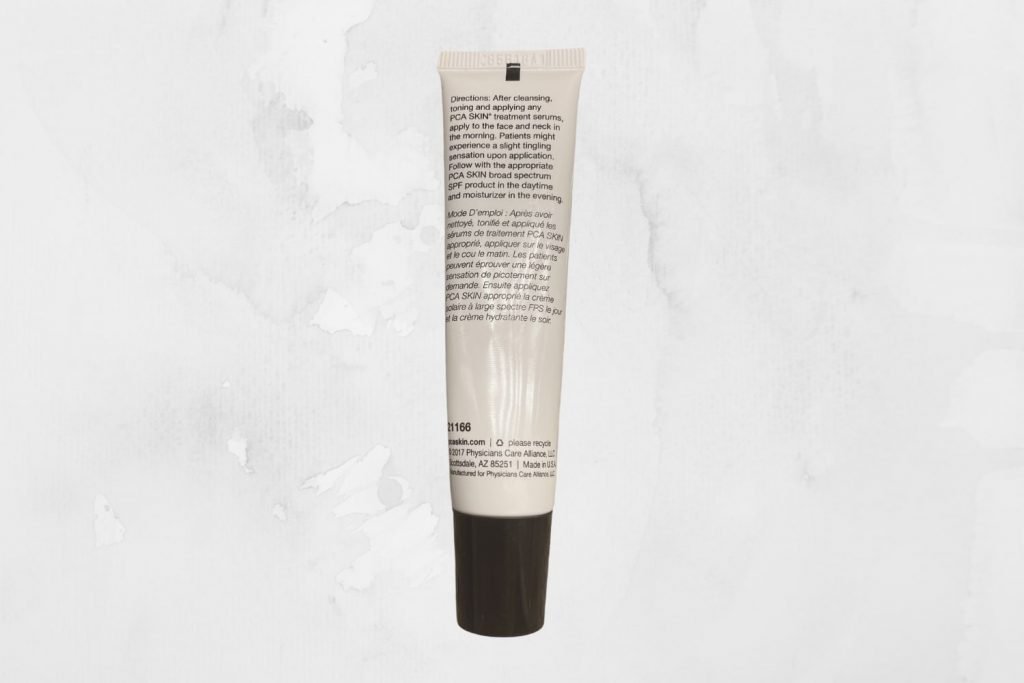 Ingredients
If you have read articles on Skincare Lab before, you know that we take product ingredients seriously. Learn about each ingredient included in the formulation of this product.
The C&E Strength Max product uses the max concentrations of vitamin C and vitamin E, for maximum results. It uses a 20% stabilized vitamin C complex and 5% vitamin E. It is formulated without parabens and synthetic fragrances.
Cyclopentasiloxane – It is a silicone that helps create a smooth, spreadable texture.
Ascorbic Acid – Vitamin C helps brighten skin and even tone and texture.
Polymethylsilsesquioxane – Another silicone that has film-forming properties and anti-aging benefits for a smooth, silky texture.
Ethylhexyl Hydroxystearate – Emollient ester that can help soften and smooth rough, dry skin.
Polysilicone-11 – Type of silicone that acts as a film-former.
Tocopherol – Vitamin E is an antioxidant to help skin repair.
Hordeum Distichon (Barley) Extract – Extracted from barley plants for its antioxidant and moisture-retaining properties.
Citrus Aurantium Dulcis (Orange) Oil – Orange oil can help promote healthy skin and it also has a pleasing natural fragrance.
Phellodendron Amurense Bark Extract – Comes from the bark of the Amur Cork tree and is used for its anti-inflammatory and antibacterial properties.
Santalum Album (Sandalwood) Wood Extract – Provides a soothing scent that can help even skin tone and fight blemishes.
Bisabolol – Is one of the active alcohols in Chamomile used in skincare for its calming, soothing, anti inflammatory benefits.
Retinyl Palmitate – vitamin A derivative similar to retinol but is gentler on the skin.
May not be the best option for sensitive skin – There is no doubt, this product is loaded with effective ingredients that have proven results. But it also has ingredients such as sandalwood and orange oil that can lead to problems with sensitive skin types.
Uses silicones – Many clean beauty brands and followers opt for silicone-free products. While silicone-based ingredients can be safe for the skin, they come with tradeoffs. The ingredients repel water so they don't wash off as easily. This can lead to clogged pores or breakouts without the proper face washing and makeup removing routine. Silicones also aren't good for the environment. They don't breakdown for hundreds of years and may end up contributing to pollution in oceans and waterways.
Bottom Line
This product could have a cleaner ingredient profile but it is loaded with ingredients that are effective for smoother, even, youthful-looking skin. Some of the ingredients above aren't the best for sensitive skin, so that's an area to watch if you have sensitive or irritation-prone skin. If this product doesn't cause issues with irritation and you don't have concerns about using products with silicones, then it's a great option to try.
Disclaimer: Actual product packaging, information, and ingredients may be different than what is shown on our website. We recommend that you do not rely solely on the information presented and that you always read labels, warnings, and directions before using or consuming a product. Go straight to the brand or manufacturer for additional details than what is provided above.
We do our best to cover ingredients and products accurately but there may be details or updates regarding specific products or ingredients that we have missed. Please reach out to use if you spot any errors or outdated information on our website.
More Product Reviews and Comparisons You May Like: