As natural and plant-based skincare products grow in popularity, more and more products are hitting the shelves. But we're also seeing different ingredients grow in popularity as well.
Seaweed in skincare, for instance, is becoming much more common in skincare products. At first, slimy brown/red/green seaweed may not sound appealing to smear on your face. You might be wondering, what can seaweed do for my skin?
After learning about how different types of seaweed help formulations and offer various benefits to the skin, it starts looking interesting. Seaweed is one of the most abundantly available ingredients on the earth. There aren't any concerns about sustainability with seaweed-based ingredients. It grows in rivers, oceans, and even lakes.
It's important to acknowledge that "seaweed" is vague because there are more than 50,000 seaweed species out there. This article focuses on some of the most popular seaweed ingredients found in skincare and the particular benefits they offer.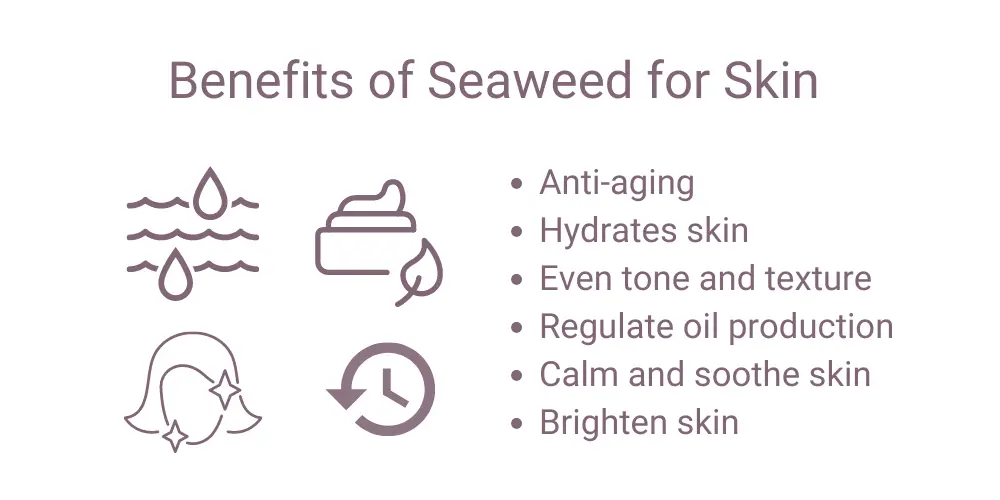 Seaweed Skin Benefits
If seaweed is becoming so popular, one of the first questions that may come to mind… is seaweed good for your face? In most cases, yes, seaweed is good for the skin, including the face. Different types of sea kelp offer a wide range of skin benefits such as moisturizing, brightening, anti-aging, soothing, calming, and it can even help with acne.
This post may contain affiliate links. Read the full disclosure here
Hydrate Skin
Seaweed is rich in fatty acids that natural hydrate the skin and support a healthy skin barrier. This combo helps replenish hydration to the skin and helps lock it in. Ingredients such as alginic acid (from seaweed) can also help repair and maintain a healthy skin barrier.
Reduce Fine Lines and Wrinkles
These sea plants are rich in amino acids that can help reduce the appearance of fine lines and wrinkles. Yes please! It can also help give the skin a plump, youthful complexion.
Regulate Oil Production
Certain types of seaweed can help balance oil production. Those with an oily skin type can benefit from products that include seaweed-based ingredients that help keep oil in check. This is one of the reasons seaweed ingredients are in acne treatment products.
Brighten Dull Skin
Seaweed ingredients such as carrageenan can help exfoliate and brighten the skin. It can help physically exfoliate by buffing away dead skin cells to reveal a bright, glowy complexion.
Calm and Soothe Skin
Seaweed can help soothe and calm skin troubled with redness, rosacea, or irritation. It is packed with anti-inflammatory properties and minerals that can help reduce the appearance of redness on the skin. By strengthening the skin barrier, seaweed can also help decrease the chances of future skin flare-ups.
Even Tone and Texture
Reduce the appearance of uneven tone, dark spots, and hyperpigmentation with seaweed. It can help reproduce new healthy skin cells for a more even tone and texture.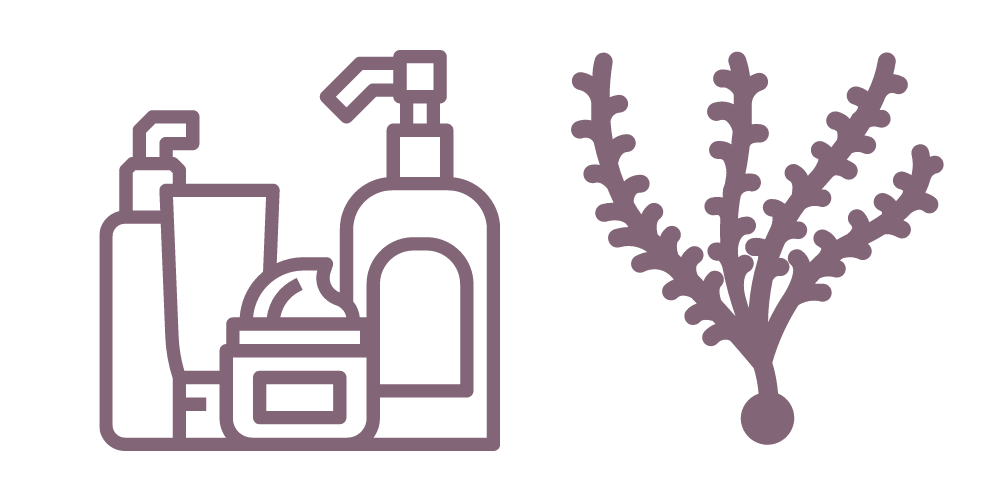 Best Products With Seaweed
After seeing all the amazing benefits seaweed can offer the skin, it's natural to start wondering about the best products with seaweed. Take a look at favorite products that have seaweed and seaweed-based ingredients.
Bobbi Brown Skin Relief No. 80 Calming Algae Complex
This skin-soothing complex by Bobbie Brown uses a blend of seaweed-based ingredients such as Algae Extract, Laminaria Digitata Extract, Ascophyllum Nodosum Extract, Asparagopsis Armata Extract, and more. This product is designed for sensitive, stressed, and irritated skin.
Help reduce the appearance of redness
Soothe and calm irritated skin
Reduce the appearance of dark spots and uneven tone
Helps prevent wrinkles and sagging skin
Perfect option for sensitive skin
This product isn't a treatment for any skin condition but reviews share that it can be helpful for rosacea and perioral dermatitis. It offers a great blend of seaweed ingredients to soothe and calm unhappy skin.
Dr. Dennis Gross Skincare Hyaluronic Marine Oil-Free Moisture Cushion
The gel-cream by Dr. Dennis Gross provides a nice mix of proven skin moisturizing and nourishing ingredients paired with algae. It's a lightweight hydration product suitable for all skin types.
Provides light hydration (not greasy)
Improves skin elasticity and moisture content
Helps smooth away the appearance of fine lines and wrinkles
Get a dewy, glowing complexion
Great for all skin types
It refers to a 'marine-enriched moisture cushion' that uses Japanese algae fortified with amino acids and vitamins. The Hyaluronic Marine Moisture Cushion offers a unique take on a lightweight gel moisturizer. Use in the morning or at night.
Mario Badescu Seaweed Night Cream
The Mario Badescu Seaweed Night Cream relies on the benefits of Bladderwrack seaweed extract for a nourishing and hydrating overnight cream. This cream also includes sodium hyaluronate for hydration and glycerin for soft, supple skin.
Replenishes skin hydration
Plump and firm skin
Smooth away the appearance of fine lines and wrinkles
Softens and smooths skin
Smooth on this lightweight cream before bed to wake up with a replenished, soft, glowy complexion.
Skinceuticals Daily Moisture
The Skinceuticals Daily Moisture is another light moisturizer perfect for normal, oily, and combination skin. Minimize the appearance of pores and replenish moisture to dry, dehydrated skin.
Replenish moisture to the skin
Reduce the appearance of pore size
Protect skin from free radicals that can cause premature aging
Great for normal to oily skin
Daily Moisture is formulated with vitamin E, algae extract, and botanicals to nourish and restore skin moisture. Enjoy the skin benefits of seaweed without excess moisture. Consider other options or follow up with another moisturizer for dry skin types.
If you love Skinceuticals products, check out our article on the best SkinCeuticals Triple Lipid Restore Cream Dupes.
Biossance Squalane + Probiotic Gel Moisturizer
The Biossance Squalane + Probiotic Gel Moisturizer is a soothing gel made to reduce redness and calm skin. It claims to even help with redness associated with rosacea.
Restore and maintain skin hydration
Reduce the appearance of redness
Soothe and calm stressed skin
Reduce the appearance of pore size
This Biossance gel moisturizer uses probiotics to help balance skin complexion, squalane for hydration and age-defying benefits, and red seaweed (Chondrus Crispus extract) to calm irritated skin. It also has ginger extract that helps with redness and irritation and swiss garden cress sprouts to even tone and brighten skin complexion.
Love Biossance products? Check out our in-depth review of the Biossance Squalane + Phyto-Retinol Serum.
True Botanicals Clear Pure Radiance Oil
The True Botanicals Clear Pure Radiance Oil truly has it all. This nourishing oil helps treat breakouts, hydrates skin, soothes, calms, and offers anti-aging benefits.
Helps treat breakouts for a clearer complexion
Soothes and calms skin
Hydrates and moisturizes skin
Fight free radicals that can lead to premature aging
Reduce the appearance of fine lines and wrinkles
The ingredient profile is loaded with natural ingredients. It has jojoba seed oil, safflower seed oil, hemp seed oil, argan oil, squalane, cranberry seed oil, various algae extracts, and more. Nourish the skin with fatty acids, antioxidants, vitamins, and minerals. This blend of natural extracts and oils isn't cheap but the ingredients justify the higher price.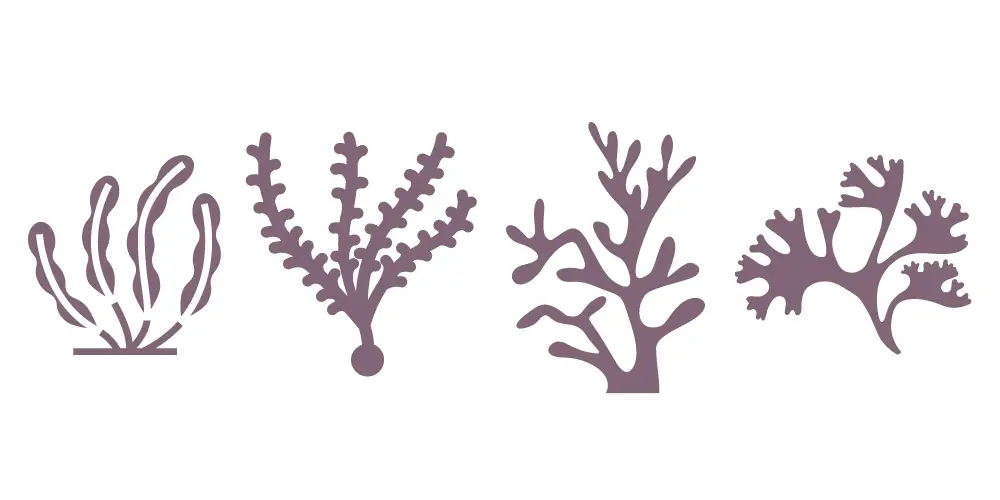 Types of Seaweed for Skin
There are thousands of types of seaweed, each with its unique properties and benefits for the skin. Seaweed is classified into three major groups: brown algae (Phaeophyceae), green algae (Chlorophyta), and red algae (Rhodophyta). Brown seaweed is often referred to as kelp, this type of seaweed is also the largest.
Here are some of the most common seaweed ingredients in skin care products and the top benefits they each provide.
Algin
This ingredient is derived from brown seaweed and can also be found on skincare labels as alginic acid. Algin is in lotions, moisturizers, and creams focused on replenishing moisture to the skin. It offers hydration and it also has film-forming benefits.
In addition to its direct skin benefits, it also acts as a thickening agent to products achieve that thick, rich, creamy texture. Algin is also a great binding agent. It is used to help water bind with other ingredients in skin care formulations.
This ingredient is safe to use but avoid if you have acne or blemish-prone skin. Algin has a comedogenic rating of 4, meaning it can clog your pores.
Bladderwrack (Fucus vesiculosus)
Bladderwrack is a brown seaweed that grows off the coast of the Atlantic and Pacific Oceans. It offers vitamins, minerals, antioxidants, and nutrients that help the skin.
This seaweed is a great option for redness-prone or irritated skin since it helps soothe and calm the skin. But that's not all, bladderwrack can also hydrate, reduce the appearance of redness, and improve skin tone and texture.
Carrageenan
Carrageenan is derived from Chondrus crispus, a species of red seaweed. This ingredient also referred to as Irish Moss, is popular in skincare and cosmetics products. Chondrus crispus extract, also known as red algae, is a small fanned looking red seaweed found along the Brittany coast. This seaweed makes for a great skincare ingredient with antioxidants, peptides, polysaccharides
It is also useful in formulations to thicken products and as an emulsifier. The latter helps various ingredients (such as oil-based and water-based) ingredients mix.
It offers one direct skin benefit too. Similar to algin, it helps hydrate the skin.
Learn more about Carrageenan here
Corallina Officinalis Extract
This pinkish-red seaweed grows around the edges of tide pools. This seaweed is harder and more rigid than the average seaweed. Corallina officinalis forms calcium carbonate deposits in its cells, which is where the harder structure comes from.
The gritty texture made from ground up corallina officinalis is perfect for exfoliating the skin and increasing cell turnover. It is in exfoliating facial cleansers, body scrubs, and face masks. Smooth away dead skin cells and rough patches to reveal smoother, softer skin.
Corallina officinalis extract has a comedogenic rating of 3 so it can clog pores. However, in the most common uses in face wash and masks that are washed away, this is less of a concern.
Learn more about Corallina Officinalis Extract here
Enteromorpha Compressa Extract
This nutrient-rich greenish macroalga (seaweed) grows in the Mediterranean Sea. It's safe enough to eat. In fact, it's popular in soups and salads to add flavor. But it also has its place in skincare.
Similar to other seaweeds, it helps thicken products for a higher viscosity. This can improve the application of certain products and even improve efficacy. Enteromorpha compressa extract is rich in antioxidants that can help protect skin against irritants and premature aging. It helps ingredients mix and reduces the chance of separation after sitting on the shelf.
Enteromorpha compressa extract is safe enough to eat and considered safe to use in skincare products.
Learn more about Enteromorpha Compressa Extract here
Laminaria Digitata Extract
This extract comes from laminaria digitata algae, or also known as oarweed. This brown seaweed has big, wide, brown leaves and it can grow up to 12 feet tall!
Laminaria digitata extract offers a natural source of vitamins, amino acids, and antioxidants. This ingredient is more common in cosmetics but it's in skin care products as well.
It provides worthy benefits to the skin. Oarweed helps hydrate, repair, and protect the skin with vitamins A, D, E, and K, amino acids, and helpful proteins. It is in suncare products for its ability to block the absorption of harmful UVA and UVB sun rays. Oarweed also helps soothe and calm irritated skin.
Learn more about Laminaria Digitata Extract here
Macrocystis Pyrifera (Kelp) Extract
Macrocystis Pyrifera is often referred to as giant kelp and is a large brown seaweed found along the eastern coast of the Pacific Ocean. This kelp grows in forests and can grow up to 150 feet tall!
While this giant kelp is edible, it also makes for a great skincare ingredient. It's rich in vitamins, minerals and has anti-inflammatory properties that help soothe and calm the skin. Macrocystis Pyrifera extract helps hydrate the skin and supports a healthy skin barrier. It's a great seaweed for sensitive and irritation-prone skin.
Palmaria palmata extract
This red seaweed is also known as "dulse" is a type of macroalgae. Palmaria palmata extract is rich in vitamins and nutrients that help the skin maintain a healthy glow. It can also improve the tone and texture of the skin.
It is also in products for its film-forming and emollient properties, making it popular in lotions and sunscreens to help create a protective barrier when applied. As an emollient, it can help the skin attract and retain moisture. This helps keep the skin healthy and plump.
Learn more about Palmaria Palmata Extract here
Sea Spaghetti (Himanthalia elongata)
Sea spaghetti, also known as the spinach of the sea, grows in the Atlantic Ocean, Baltic Sea, and the North Sea.
This brown alga helps nourish, hydrate, and soften skin. It's a great option to replenish dehydrated skin and calm irritation from acne, eczema, or a damaged skin barrier. Sea spaghetti can help fight free radicals, improve skin tone, elasticity, and help the skin retain moisture.
Spirulina
This dark green powder is perhaps better known as an ingredient in dietary supplements and protein powder, it's also a fantastic ingredient in skincare products. Spirulina is a blue-green algae rich in fatty acids, antioxidants, vitamins, and nutrients. This "superfood" also does wonders for the skin. It offers a wide range of skin benefits.
Spirulina helps even tone and texture with vitamin B-12, vitamin A, and vitamin E. It's rich in antioxidants that help protect the skin from free radicals that can lead to premature aging. Also, it has antimicrobial properties that may help fight off issues such as acne. Spirulina can even help reduce the appearance of dark spots and dark circles under the eyes.
It is considered safe to use for all skin types.
Learn more about Spirulina here
Side Effects or Concerns
Most seaweed-based ingredients are safe to use in skincare. They offer great (natural) skin benefits without needing to resort to synthetic or chemical-based ingredients.
Watch out for the comedogenic rating on certain types of seaweed. Some with higher ratings could clog pores so they aren't the best option for acne or blemish-prone skin.
Frequently Ask Questions
Should You Use Sea Kelp-Based Ingredients?
Yes, absolutely. With so many different types available that are safe for skincare, seaweed ingredients can be a great addition to a new skincare routine. These ingredients offer natural alternatives to synthetic and potentially harmful ingredients that can be found in mass-market skin care products.
With any new product or ingredient, start slow and first try a patch test on a small spot before applying to the entire face. Everyone's skin is unique and may react differently to products with seaweed ingredients.