Here's another fun-sounding ingredient name. Mongongo oil is even more fun to say than jojoba oil. Most haven't heard of this precious fruit seed oil but it has some interesting benefits. Is this the new coconut oil or argan oil?
This post may contain affiliate links. Read the full disclosure here
What is Mongongo Oil?
Mongongo oil, also known as manketti oil, has been used in Africa for years to soothe and protect the skin. In recent years, this oil is starting to pop up in popular skin care products. As it grows in popularity, manketti oil is often compared to argan oil, coconut oil, and marula oil. The primary benefits are for hair care but it provides worthy benefits for the skin as well. It's a yellowish-green oil with a mild nutty scent.
Mongongo oil, or Schinziophyton rautanenii oil, is derived from the fruit of the manketti tree. This large spreading tree is native to Sub-Saharan Africa and grows 50-65 feet tall. The egg-shaped fruit has a thin edible layer and a thick pitted shell. Inside the thick shell is the mongongo nut.
These mongongo nuts rich in nutrients, making them a popular food in northern Botswana and Namibia. The oil in hair care and skin care products is derived from the mongongo nut.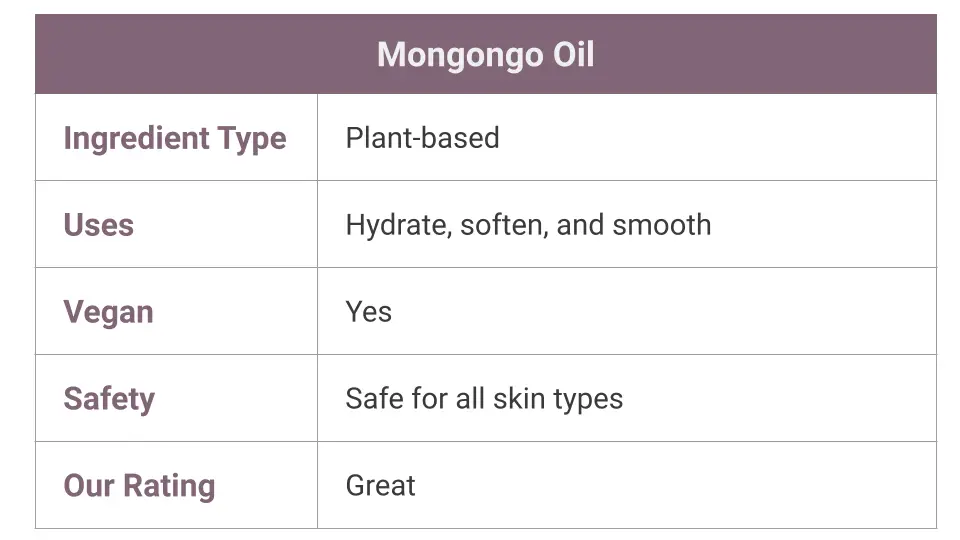 Mongongo Oil Composition
Mongongo oil has a unique composition which makes it useful for skin care and hair care. It is rich in fatty acids such as linoleic acid, eleostearic acid, oleic acid, and palmitic acid. Also, mongongo oil contains vitamin E, magnesium, zinc, and protein. This mix of fatty acids and nutrients hydrate, help the skin retain moisture, and supports a healthy skin barrier.
Linoleic Acid – 36% to 49%
Eleostearic Acid – 25%
Oleic Acid – 15%
Palmitic Acid – 8%
This unique oil is high in polyunsaturated fatty acids. On the other hand, coconut oil is high in saturated fatty acids and jojoba oil is high in monounsaturated fatty acids. This is important in skincare since polyunsaturated fatty acids remain on the skin longer.
Mongongo Oil Skin Benefits
Mongongo oil offers some great skin benefits. It's an emollient that makes the skin softer, smoother. It nourishes and revitalizes the skin for a healthy, natural glow. This oil also helps restore hydration to the skin and helps prevent water loss from the skin. It's in anti-aging and moisturizing products such as the Drunk Elephant Lala Retro Whipped Cream.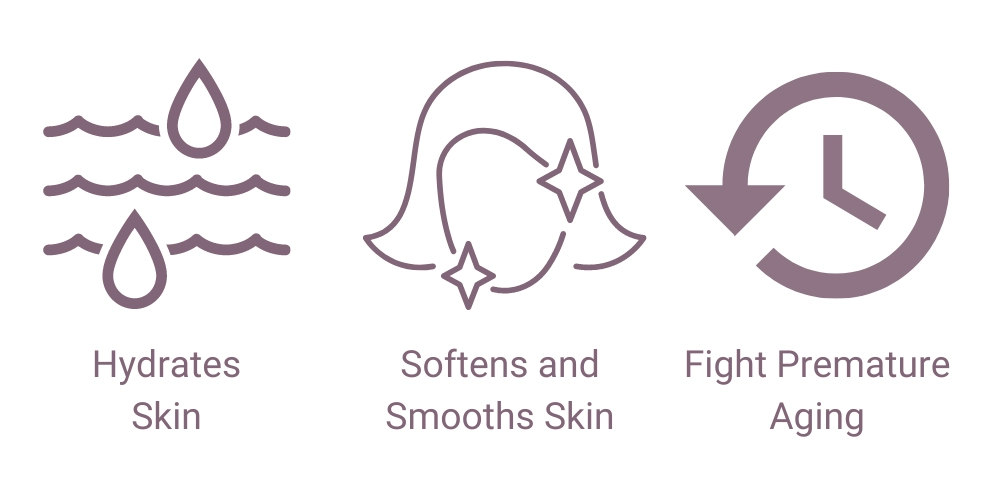 Hydrates
The fatty acids in mongongo oil help replenish hydration to the skin. But it also helps lock-in that moisture. Essential fatty acids can decline in the skin as we age, making it harder for the skin to retain moisture. This ingredient helps protect against moisture loss and supports a healthy skin barrier.
Softens and Smooths
As an emollient, mongongo oil helps make the skin softer and smoother. When the top layer of the skin doesn't contain enough moisture, it starts to flake and crack. We know this as dry, rough, or flakey skin. Emollients help replenish the skin with lipids for a smooth even texture and softer skin.
Sun Protectant
Mongongo oil contains eleostearic acid. This unique acid polymerizes when exposed to UV rays which can help protect the skin against harmful rays. It's not a replacement for SPF products but it does have some built-in sun-protection power.
Anti Aging
Mongongo oil's ability to smooth, soften, and hydrate the skin can help decrease the signs of aging. Keeping the skin hydrated and nourished can help decrease the appearance of fine lines and also protect the skin against premature aging.
Soothes Skin
The mix of fatty acids in mongongo oil help soothe and calm the skin. It can even help reduce the appearance of redness.
Fights Free Radicals
Mongongo oil contains antioxidants that help fight free radicals. This helps protect the skin from premature aging and irritation from environmental stressors. Antioxidants help promote a healthy, glowing complexion.
Mongongo Oil Comedogenic Rating
Mongongo oil hasn't been assessed with a comedogenic rating. This rating scale from 0-5 associates a number for ingredients based on their likelihood to clog pores. If an ingredient has a higher rating, it is more likely to clog pores. On the other hand, ingredients with lower ratings are less likely to clog pores. It goes without saying, these ingredients are better options for blemish-prone skin, acne, and clogged pores.
Based on the mongongo oil composition, the comedogenic rating is assumed to be lower. Mongongo oil has a higher linoleic acid ratio and a lower oleic acid ratio which tends to be better for those struggling with acne and breakouts.
If breakouts and clogged pores are a concern, start with a small patch of skin first to see how the skin reacts.
How to Use Mongongo Oil
As noted above, the most common uses for mongongo oil are in skincare and hair care. It's in products such as shampoo, conditioners, lotions, serums, creams, lip balms, and even massage oil.
It can be found (and used) in its pure form or mixed with other ingredients as normally found in most products.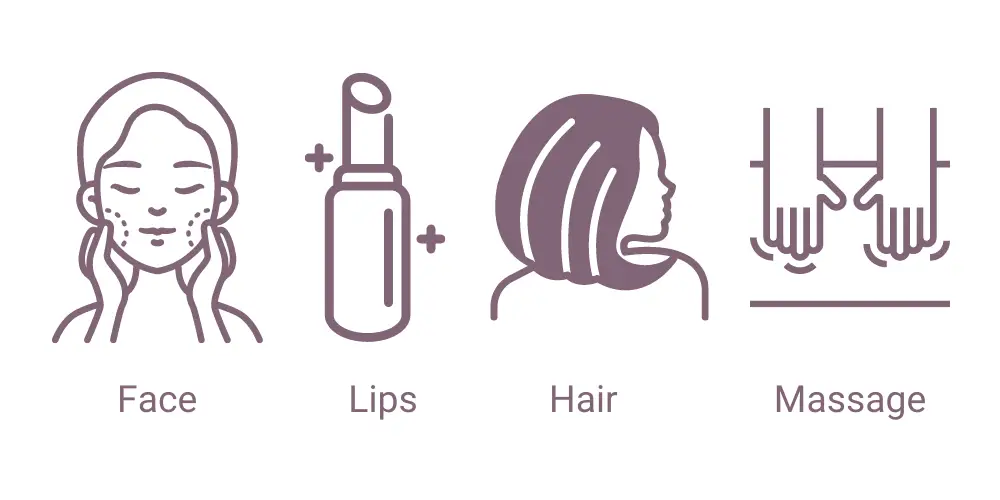 For Lips
Mongongo oil is a great option for chapped, dry lips. It helps replenish moisture, soothe, and soften skin. It's the core ingredient in Mongo Kiss, one of the popular natural lip balms on the market. This brand mixes mongongo oil with fun flavors and other natural ingredients such as sunflower seed oil, cera flava, theobroma cacao (cocoa) seed butter, and more.
For Face
Follow product instructions when using mongongo oil on the face. For pure mongongo oil, start with a small drop on the fingertips and massage onto the face until absorbed. Mongongo oil pairs well with other favorite oils such as argan, carrot seed, and rosehip oil.
For Hair
The same nourishing fatty acids that benefit the skin can also do wonders for hair. Mongongo oil helps condition, hydrate, and protect hair. It can be used as a conditioner by applying it to washed, wet hair. Massage in and then rinse.
Mongongo oil also hydrates the scalp, protects hair against heat styling, and helps control frizz and shine.
Massage Oil
Mongongo oil is also a great option for massage oil. It makes for a pleasant relaxing experience while it helps smooth and soften the skin.
Bottom Line
Mongongo oil is another fantastic natural oil to try. It offers many of the same hydrating, anti-aging, and nourishing benefits as the staple face oils. The options to purchase aren't as diverse but there are a few great options on Amazon and likely in the local beauty store.
This oil is definitely worth a try!
Other Natural Oils You May Find Interesting: