This post may contain affiliate links. Read the full disclosure here
What Is Betaine?
Betaine is an amino acid commonly found in hair care and skin care products. Betaine occurs naturally in the body, and also occurs in a lot of different plants. Most commonly, it's derived from the sugar beet, but it can be obtained from several sources, and even synthesized artificially. When synthetically produced, it's referred to as cocamidopropyl betaine which is used as a surfactant.
Betaine is used in face masks and anti-aging products, but it's also used in moisturizers. It can be found in shampoos and other hair care products too, as it helps smooth and hydrate the keratin of your hair.
| | |
| --- | --- |
| Ingredient Type | Plant-Based |
| Uses | Anti-aging, hydration, soothe skin |
| Vegan | Yes, Betaine is 100% plant-based |
| Safety | Considered safe for all skin types |
Betaine Uses & Benefits In Skincare
Betaine has many uses and benefits in skin care. Let's take a look at a few betaine skin benefits now, and discuss how it's used in various skin care products.
Anti-aging properties – It has skin smoothing and plumping effects that can help reduce the visible appearance of fine lines and wrinkles. By hydrating the skin properly, it can fill in creases in the face to reduce the appearance of fine lines and deep wrinkles. You'll find betaine in creams and serums aimed at fighting aging skin.
Balances skin hydration – Betaine is a humectant, which means that it helps keep moisture inside your skin cells. This is one of the best betaine skin benefits. Not only that, but betaine is also an "osmolyte," which means it can help your skin adapt to both moisture losses and gains, and prevent over-moisturization.
Soothing and calming on the skin – Beyond all of the above betaine skin benefits, it also has a soothing, calming effect on the skin. It's less irritating than pure water, so it's often used in skin products to soothe irritated or damaged skin. After a procedure like microdermabrasion, for example, a high-percentage betaine product may be recommended to protect and soothe the skin.
Anti inflammatory properties – It may help calm irritated or sensitive skin based on its anti inflammatory properties.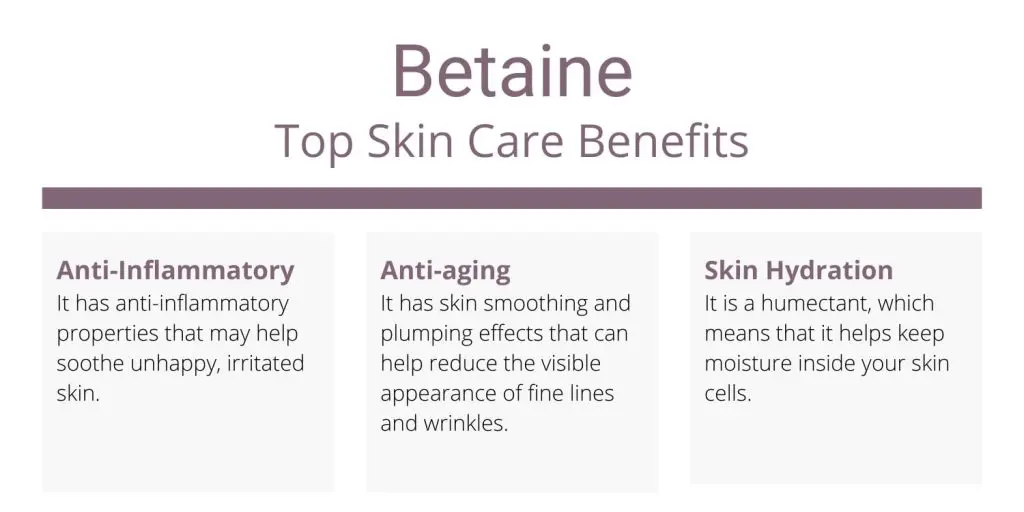 Is Betaine Vegan?
Yes. Betaine in skincare is completely vegan because it's derived from plants like the sugar beet, or artificial sources. The production of betaine does not involve animals in any way.
However, make sure to check the labels of skincare products carefully. Products that contain betaine may still contain other animal-derived ingredients, or be tested on animals. If you want vegan, cruelty-free products, always make sure you verify the status of the skincare product you're interested in buying.
Is Betaine Safe To Use In Skincare?
Betaine is considered safe to use in skincare. It has been rated as a "low hazard risk" for external use and has no known serious side effects. The Cosmetic Ingredient Review (CIR) rated Betaine as safe to use in cosmetics when formulated to be non-irritating.
It's even taken orally by some people, as it's been approved by the FDA for the treatment of high urine levels of "homocysteine," which is common in some inherited genetic disorders.
Also Known As:
Betaine is also sometimes called TMG, glycine betaine, and trimethylglycine. These terms all refer to the same basic skincare ingredient, so be on the lookout for these variations while you're shopping for skincare products that contain betaine.
References
Cosmetic Ingredient Review: Betaine Ingredient Status Report