When reading the back of skincare products you come across ingredients such as these that sound scary! But when you put the crazy names and labels aside, sometimes ingredients aren't as scary as they seem. Olea europaea oil unsaponifiables is a perfect example of this. It sounds like it could be bad but it's a great plant-based ingredient!
This post may contain affiliate links. Read the full disclosure here
What Are Olea Europaea Oil Unsaponifiables?
Olea europaea oil unsaponifiables is a part of the processed oil from the fruit of the olive tree. Unsaponifiable represents the portion of the olive oil that is not broken down during the refinement process.
Though it sounds like the "leftovers" during the manufacturing process, this plant-based ingredient is rich in fatty acids that can do wonders for the skin. While this excess part can't be used in the olive oil we cook with, it makes for a great skincare ingredient.
Rich in phytosterols and glycolipids, it's a great ingredient for dry and sensitive skin. Phytosterols are cholesterol-like molecules found in plants and nuts that can help restore aging skin. Glycolipids can help condition and moisturize the skin.
You may also find this oil listed as hydrogenated olea europaea. You might be wondering what does hydrogenated mean? This form is produced by adding hydrogen atoms. This process is common in food since it extends shelf-life but it's also used in cosmetics and skincare in some cases. Concerns have been raised with this process for food since it is linked to weight gain and heart diseases. Most consider this process safe for skincare ingredients but not all agree. Purists tend to avoid this type of processed ingredient in skincare and cosmetics.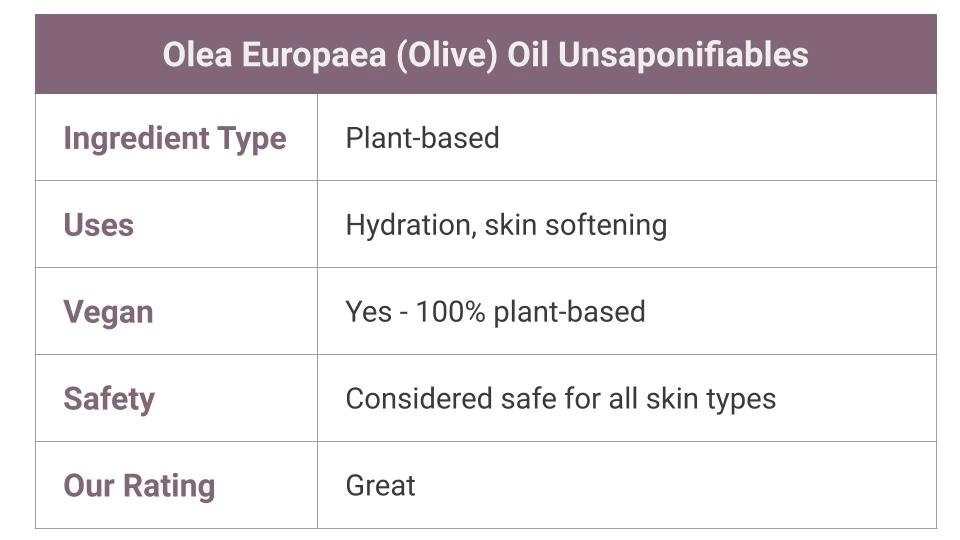 Olive Oil Unsaponifiables Uses In Skincare
Olive oil unsaponifiables serve primarily as emollients in skincare products, leaving the skin soft, hydrated, and replenished. You'll find this ingredient in lotions, masks, cosmetics, and serums. It is rich in squalane and squalene making it a great alternative ingredient for animal-based squalane. This oil also has a composition similar to sebum (waxy substance naturally found on skin).
Moisturize Dry, Flaky Skin – This rich ingredient can be easily absorbed in the skin making it great for dry, flaky skin.
Safe for Sensitive Skin – This ingredient is considered gentle, so it's safe for those with sensitive skin.
Antioxidant-Rich – Fight free radicals and ward-off environmental stressors.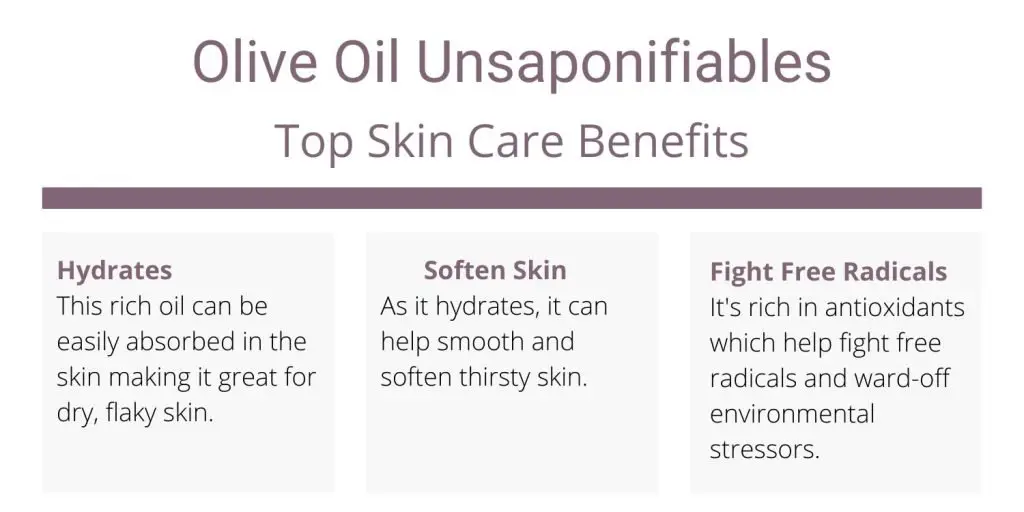 Does Olea Europaea Oil Clog Pores?
Olive oil has a comedogenic rating of 2 (moderately low), which means it has a low likelihood of clogging pores but it's higher than ingredients such as argan oil. It may not sound like a great idea to use skincare products with olive-based oil but it's not as bad as it sounds. You can enjoy the hydrating and soothing benefits of olea europaea without a huge risk of clogging your pores.
If you are struggling with acne or blemish-prone skin, then you'll want to be more careful about the ingredients you use on your skin. Even though the risk of clogging pores is lower with this ingredient, it's still a good idea to avoid if you have moderate or severe acne.
Is It Vegan?
Yes, olea europaea oil unsaponifiables is vegan and cruelty-free. Since this plant-based ingredient contains squalane and squalene, it makes for a great vegan alternative to animal-based squalane sources.
Are Olea Europaea Oil Unsaponifiables Safe?
Yes, this ingredient is considered safe for all skin types. Olive oil unsaponifiables is a plant-derived ingredient without any notable concerns or side effects. It is also gluten-free so there isn't any concern for gluten related allergies.
The Cosmetic Ingredient Review expert panel also considers olea europaea oil unsaponifiables safe to use as an ingredient in skincare and cosmetics products. This is considered a safe-to-use ingredient along with 244 other plant-based fatty-acid oils as used in cosmetics.
EWG rates this ingredient a 1, which is the safest rating they give to ingredients based on its likelihood to cause cancer, be toxic, or trigger an allergic reaction.
Also Known As
This ingredient may also be referred to as olive oil unsaponifiables, Olea europaea unsaponifiables, or unsaponifiable olive oil.