More and more of us are curious about the ingredients that go into the product we love and use. Not all products or ingredients are the best options for the skin. In fact, some are straight up bad.
This post may contain affiliate links. Read the full disclosure here
But there are also a lot of great, new, plant-based ingredients available too!
In this article, we'll be taking a look at cucumis melo melon fruit extract, which is a common ingredient in natural and clean skincare products. And yes, we are talking about cantaloupe or honeydew melon here. But this isn't an article about brunch, although we do love a good mimosa.
Read on to learn more about how cucumis melo melon fruit extract is used in skincare products and the benefits it offers your skin.
What Is Cucumis Melo Melon Fruit Extract?
Cucumis melo (melon fruit) extract comes from the melon that's more commonly known as cantaloupe or honeydew, which is also sometimes called the "muskmelon." There are hundreds of different types of muskmelon, but cantaloupe and honeydew are the two that are the most widely cultivated.
Melon fruit extract can come from the roots, seeds, or fruit of the plant, and the compounds derived from all of these sources are beneficial for the skin, though most extract comes from the seeds. This ingredient is found in facial and body care products such as moisturizers, creams, and anti-aging products.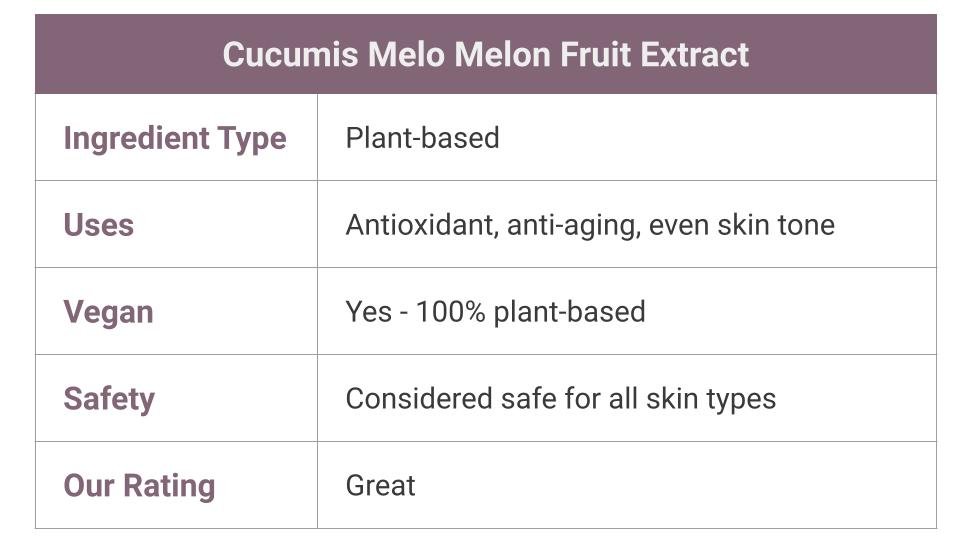 Melon Fruit Extract Benefits
Wondering what cucumis melo (melon fruit) extract is used for in skincare? We know it tastes good but what does it do for the skin? Melon is rich in vitamins and antioxidants that can help repair skin, calm skin, even tone and texture, and help fight premature aging. Here's more detail about the top melon skin benefits:
Helps repair skin
Cucumis melo melon fruit extract is very rich in vitamin A, which helps increase the rate of new skin cell formation, and can also help with issues like scar tissue and stretch marks.
Acts as an antioxidant
In addition to vitamin A, cucumis melo contains antioxidants such as vitamin C, lycopene, superoxide, and dismutase. These can help fight inflammation, signs of aging, and fine lines and wrinkles.
Smooths and tones the skin
Cucumis melo melon extract contains proteins that can help smooth and tone the skin, while decreasing the appearance of your pores. For this reason, it's often incorporated into products like toners.
Anti-Inflammatory properties
Melon has natural anti-inflammatory properties than can soothe and calm irritated skin.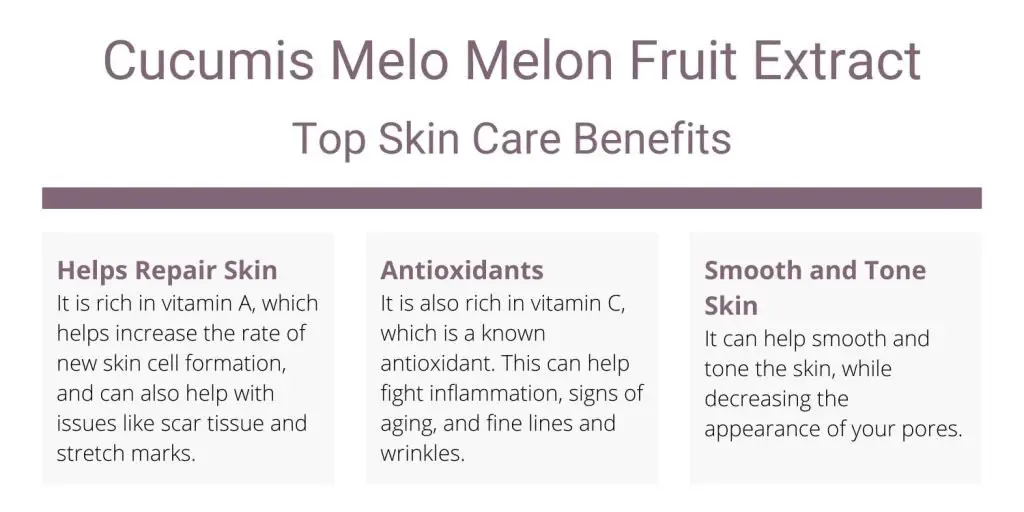 Learn more about other common fruit extracts used in skincare such as Ananas Sativus Fruit Extract, Citrus Aurantium Dulcis (Orange) Peel Oil, Cranberry Seed Oil, and Limonene (from citrus peels).
Is Cucumis Melo Fruit Extract Vegan?
Cucumis melo melon fruit extract is completely vegan. Since it's extracted from melons, it's a completely plant-based ingredient, making it cruelty-free and vegan.
Of course, we always recommend reading skincare packaging and labels completely if you're vegan to ensure it does not contain any animal products. Some moisturizers and products that include cucumis melo melon fruit extract may include other ingredients that are not vegan, so it's a good idea to double-check.
Is Cucumis Melo Melon Fruit Extract Safe In Skincare?
Yes. Cucumis melo melon fruit extract is considered safe to use in skincare. It's derived from the completely edible melon plant. This ingredient isn't super common so there isn't a ton of research supporting its benefits or potential concerns. But it isn't known to cause any serious side effects.
However, since it is derived from melons, we recommend avoiding this compound if you are allergic to melons like honeydew or cantaloupe.
Also Known As
Cucumis melo is also called muskmelon, cantaloupe, and honeydew. There are many other varieties of melon that go by different names, but these are the most common terms used to refer to cucumis melo. This ingredient may also be simply labeled "melon extract" on some skin care products.
References: