Sour cream is great for enchiladas, dips, nachos, and baked potatoes. But you probably hadn't thought about spreading sour cream on your face. It turns out there is a reason why this DIY mask trend is catching on.
This post may contain affiliate links. Read the full disclosure here
This unsuspecting food turns out to be a great DIY option for skin exfoliation. That's right. Sour cream contains lactic acid, which offers a wide range of benefits for the skin.
Let's take a deeper look at what sour cream can do for the skin.
Sour Cream Skin Benefits
What are the benefits of doing a sour cream face mask? Sour cream can help brighten the skin, visibly reduce dark spots, even tone, and reduce the appearance of fine lines and wrinkles.
Lactic acid speeds up cell turnover to slough off dead skin cells. The exfoliation reveals smoother, softer skin with a more even complexion.
Reduce the appearance of fine lines and wrinkles – Lactic acid can help increase skin firmness and thickness and show improvements in skin smoothness, fine lines, and wrinkles. These results are based on lactic acid concentrations of 5% and 12%
Can help fight acne – Lactic acid may also help reduce the number of acne lesions on the skin.
Exfoliates – Again, the lactic acid in sour cream dissolves dead skin cells that can clog pores and trap oil.
Even texture and tone – The gentle exfoliation process reveals smoother skin with a more even complexion.
Helps the skin retain moisture – It can help the skin retain moisture for a youthful and glowing complexion.
Is Sour Cream Good for Your Face?
The lactic acid in sour cream offers several skin benefits. It can help brighten skin, even tone, and visibly reduce wrinkles. However, using lactic acid and other AHAs can increase sensitivity to the sun. Be sure to apply SPF during the day to protect your skin. It's always important to use sun protection, but sour cream makes it even more necessary.
Peeling and redness can also occur after using products that contain lactic acid. Exfoliation can reveal glowing skin but proceed with caution if you have sensitive skin.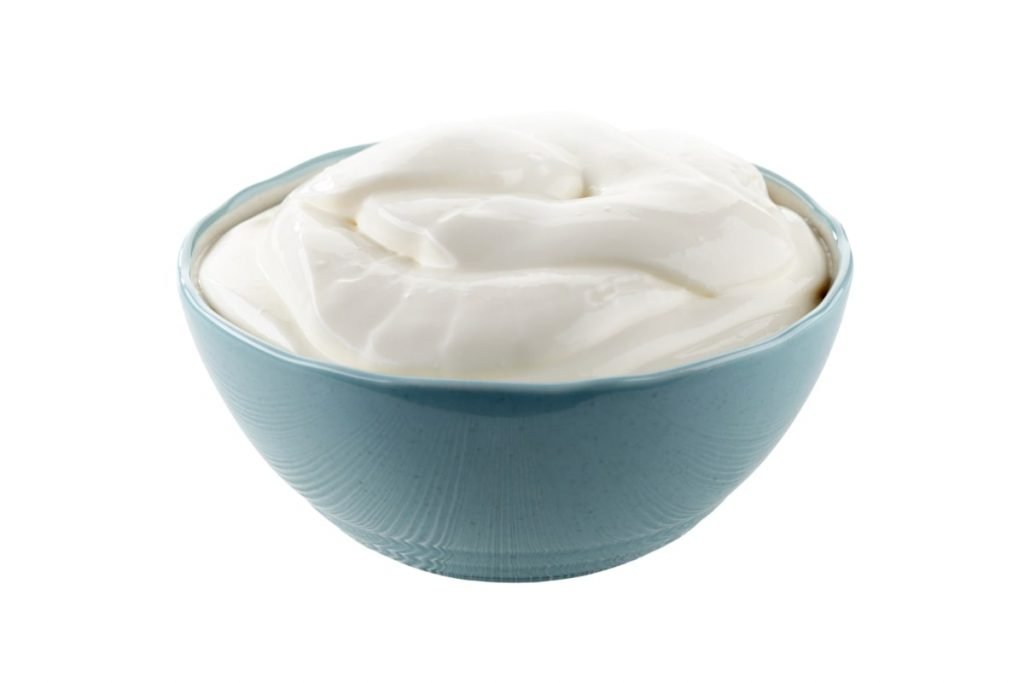 How to Use a Sour Cream Face Mask
Sour cream can be good for the face but how do I use it? Luckily, it's super simple to do a DIY sour cream facial!
Kim Sevy has one of the best tutorial videos of the sour cream face mask. She even used this on her wedding day!
She breaks down the sour cream facial in a few simple steps:
Put 3-4 tbsp of full-fat sour cream in a bowl and place in the freezer. Leave it in the freezer for 5-10 minutes.
Once the sour cream is extra cool, apply it freshly washed skin. Spread it around the entire face avoiding the eyes and mouth. Let it sit for 5-15 minutes.
Use a damp warm cloth to steam your face for 2 minutes.
Wash over with warm water and pat dry with a towel.
Follow up this face mask with your favorite moisturizer or routine. Don't forget to apply sunscreen.
Frequently Asked Questions
Find answers to some of the most frequently asked questions about using sour cream for skin.
Other DIY recipes and ingredients to try: