Ingredients such as polymethylsilsesquioxane sound scary but they have their purpose. Polymethylsilsesquioxane is a silicone, which helps skincare products to improve the texture, feel, and improve appearance of the skin.
This post may contain affiliate links. Read the full disclosure here
This silicon offers limited direct skin benefits but it can greatly enhance the experience of a product. Have you ever used a product that gently smoothes across the skin with a silky, matte finish? It's not sticky, greasy, or heavy, but it spreads super easily. Chances are the product contains silicone-based ingredients.
While the experience with silicones such as polymethylsilsesquioxane is nice, these ingredients come with controversy and potential concerns.
What is Polymethylsilsesquioxane?
Polymethylsilsesquioxane is a type of silicone popular in skincare, cosmetics, and personal care products. It uses methyltrichlorosilane and methanol to form methyltrimethoxysilane. That is then polymerized by hydrolysis and condensation to form polymethylsilsesquioxane.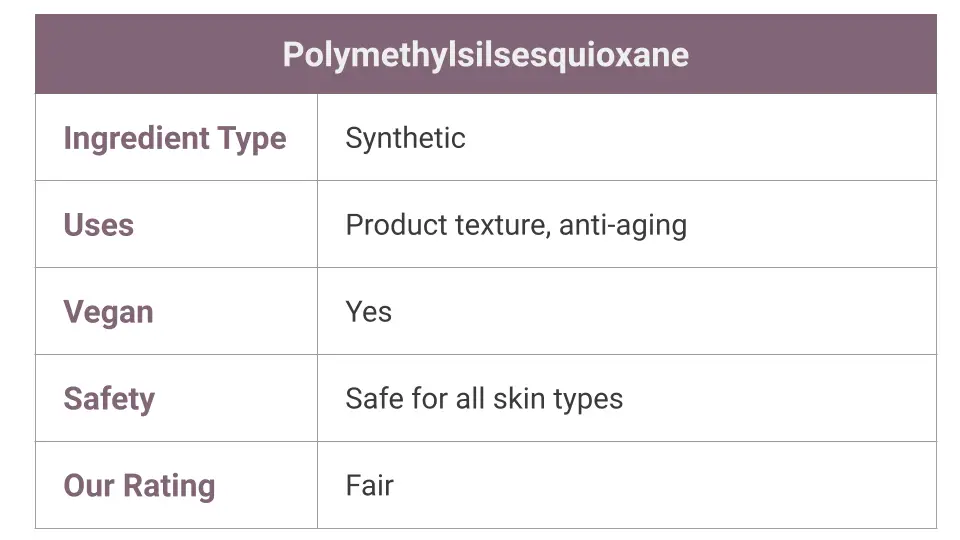 It provides a wrinkle masking effect by smoothing over fine lines, wrinkles, and imperfections. Polymethylsilsesquioxane comes as a fine white powder with a particle size of 4-6 microns.
Silicone ingredients such as polymethylsilsesquioxane are in moisturizers, anti-aging creams, eye shadow, shampoo, conditioners, and more.
Polymethylsilsesquioxane Benefits for Skin
This silicone ingredient is beneficial in skincare and cosmetics as a texture enhancer, film former, protectant, absorbing excess oil, and improving complexion.
Improves Product Texture and Feel
That nice silky texture in luxury beauty products is often from a silicone-based ingredient such as polymethylsilsesquioxane. It helps provide a smooth product texture that is easy to spread across the skin.
Polymethylsilsesquioxane also contains anti-caking properties that are useful in cosmetics.
Film Former
Polymethylsilsesquioxane forms a thin film on the skin that offers a smooth, silky feel. This helps lock in moisture on the skin and it offers water-repellent properties. This is useful in formulations for sunscreen and cosmetics such as eye shadow.
Youthful Complexion
Silicones such as polymethylsilsesquioxane are popular in anti-aging products since they can help the skin retain hydration for a smoother and fuller complexion.
It can also reduce the appearance of fine lines and wrinkles. Polymethylsilsesquioxane can actually fill in fine lines, wrinkles, and uneven texture (temporarily) for a smoother, youthful appearance.  
Absorbs Oil
Polymethylsilsesquioxane absorbs sebum on the surface of the skin. This reduces the feeling of greasy over oily skin. It also helps limit that dreadful "shine" that can happen later in the day for those with oily skin.
Is Polymethylsilsesquioxane Safe?
The Cosmetic Ingredient Review Expert Panel considers polymethylsilsesquioxane safe to use in cosmetics based on present practices. Their analysis in 2017 found products that use polymethylsilsesquioxane in up to a 55% concentration. This analysis didn't identify concerns when looking at irritation, sensitization, toxicity, and more.
EWG's Skin Deep rates polymethylsilsesquioxane as a 1, which is the lowest (safest) rating they provide. This is based on the likelihood to cause cancer, be toxic, or trigger allergic reactions.
Polymethylsilsesquioxane Concerns
There are plenty of conflicting opinions about the use of silicone in skincare products. On one hand they offer great formulation benefits that can help improve skin hydration and appearance.
On the other hand, there is concern that silicones like polymethylsilsesquioxane clog pores, irritate the skin, and are bad for the environment. However, there isn't strong research that confirms polymethylsilsesquioxane clogs pores or makes acne worse.
There is risk of irritation with any skincare ingredient, but the risk of irritation is low.
The impact of silicone on the environment is less clear. Silicone is not biodegradable so these ingredients can wash down the drains and eventually make it into our oceans. One report believes the impact of ingredients such as polymethylsilsesquioxane are negligible compared to other soaps and detergents.
Polymethylsilsesquioxane vs. Dimethicone
Polymethylsilsesquioxane and dimethicone are both silicones that are useful in skincare, personal care, and cosmetics products.
Both ingredients give formulations a smooth, silky texture that easily smooths across the skin. They both help seal in hydration, protect the skin, and help the skin appear smoother.
Dimethicone or polydimethylsiloxane (PDMS) is a more common ingredient in skincare products than polymethylsilsesquioxane. Since this ingredient is more widely used, there is also more controversy surrounding dimethicone.
Frequently Asked Questions
Find answers to some of the most commonly asked questions about polymethylsilsesquioxane.
Related Articles You Might Like: