Image above source: Backyard Forager
This post may contain affiliate links. Read the full disclosure here
Purslane has been classified by the Department of Agriculture as a noxious weed. What is often mistaken as a weed may actually be a miracle plant that provides many health benefits.
Before you grab that weed eater, you may want to think again. Purslane is an abundant source of antioxidants and omega-3 fatty acids. One surprising fact about Purslane is its critical role in skincare.
What Is Purslane?
INCI Name: Portulaca Oleracea Extract
Purslane is a weed that is packed with nutrients, including omega-3 fatty acids and antioxidants. It's a green, leafy vegetable that is edible and can be eaten cooked or raw.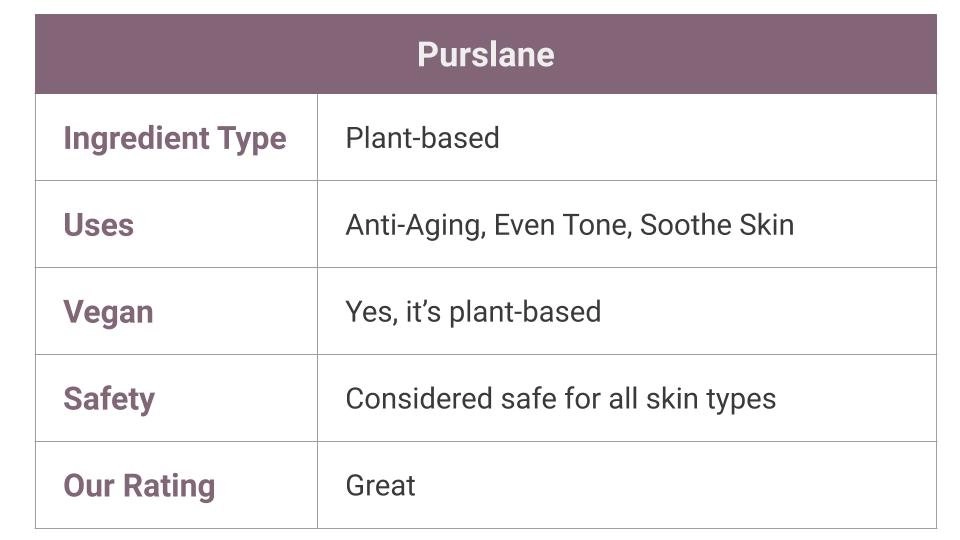 It has many health benefits including improving heart health, weight loss, and can aid with the development of children. It can be utilized in similar ways as lettuce and spinach. You can add it to your salad or top off your sandwich. It has a track record of being used in traditional and alternative medicine and is grown in a large number of environments. You can find purslane in gardens, sidewalk cracks, and farmers' markets.
Here are some of the vitamins and nutrients in portulaca oleracea extract:
Vitamin E: It may safeguard your cell membranes from harm.
Vitamin C: This is an ascorbic acid that is an antioxidant that is fundamental for maintaining bones, skin, and muscles.
Vitamin A: It has beta-carotene, which is an antioxidant that your body transforms into vitamin A. This vitamin is well-known for its beneficial role in healthy eyes.
Melatonin: This is a hormone that can aid with you falling asleep plus other health benefits.
Glutathione: This is a critical antioxidant that can safeguard cells from being damaged.
Omega-3 fatty acids: Purslane has the highest amount of alpha-linolenic acid (omega 3 fatty acid) compared to any leafy vegetable. Fatty acids can help balance oil production, hydrate, soften, and soothe the skin.
Purslane Benefits for Skin
Purslane is rich in antioxidants, vitamins A, C, and E, fatty acids, and anti-inflammatory properties that provide a range of benefits to the skin. It helps calm, soothe, neutralize free radicals, even skin tone, and fight the signs of aging.
Toning and Smoothing
Purslane contains the maximal levels of omega-3 fatty acids among vegetables which are paramount to maintaining absorptive cell walls that allow nutrients to enter while releasing toxins. Another ingredient is CoQ10 which aids in keeping your skin smooth, toned, and tight.
Anti-aging
Purslane has the ability to decrease the appearance of scars and wrinkles due to the powerful antioxidants contained in purslane. The antioxidants stimulate cell repair and collagen which results in a younger-looking appearance and brighter skin.
The hyaluronic acid is bolstered by copper that plumps the skin while the antioxidant enzymes are activated by manganese. Purslane promotes telomerase which is an anti-aging enzyme that safeguards the DNA repair function of the cells.
Calms and Soothes
Skin conditions such as psoriasis and dermatitis can be treated with purslane. It contains anti-inflammatory properties that can help soothe and calm unhappy skin.
Protects the Skin
Purslane is rich in antioxidants that help neutralize free radicals. This helps protect the structure of the skin to prevent sun damage and premature aging. Antioxidants can help slow the formation of fine lines, wrinkles, and age spots.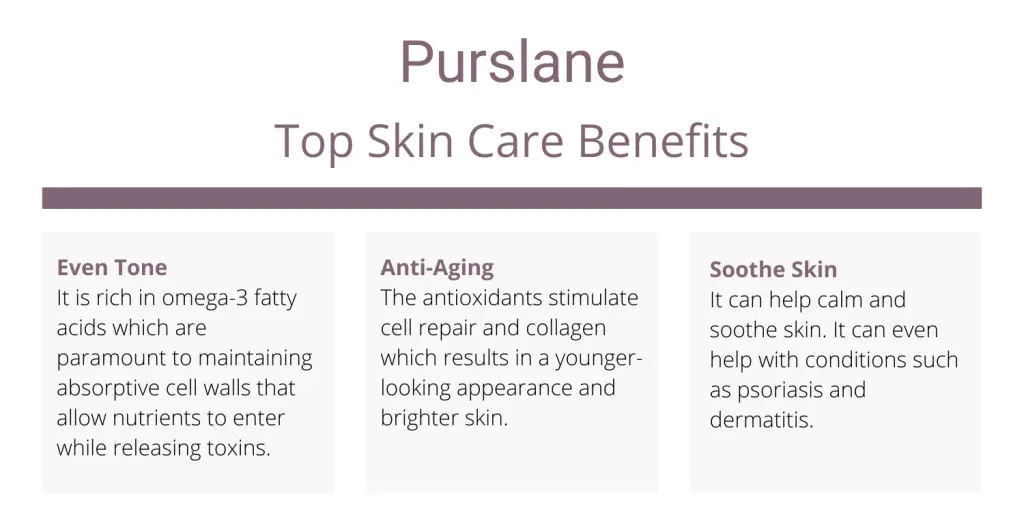 You can make a paste by crushing the purslane and mixing it with bark from a slippery elm tree. You will need one part of slippery elm powder and three parts of the purslane. Spread this mixture to the affected area to calm the skin.
How to Know if It's Purslane
Purslane grows near to the ground in thick patches that are widely spread. Keep in mind that you will need to be careful of spurge. Prostrate spurge is a similar weed that appears to look like purslane, but it's poisonous. It has a comparable growing pattern but the leaves are smaller and thinner.
You may also notice a blotch of red coloring that is located in the center of the leaf. Additionally, the spurge stems are hairy. While the spurge is not fatal, it can make you sick.
Is Purslane Safe for the Skin?
Purslane is safe for the skin and can be consumed. Individuals who have kidney disease or high uric acid should not consume purslane due to it containing oxalic acid. It can aid in treating a large assortment of skin conditions. Based on a study from 2004, purslane leaves have high amounts of vitamin A. Another study found that applying purslane leaves can help alleviate skin allergies. Make sure that you check with your doctor before you take any herbal supplements.
Popular Products and Types of Products That Use Purslane
There are a variety of products that use purslane.
My Clarins Clear Out: This is a gel that dries up skin blemishes and other flaws with instant results.
Edible Beauty- Deep Sea Elixir Serum Plump and Refine: This is a serum that concentrates on refining and plumping the skin. It was formed to bolster natural cell aging and supply heightened hydration for a smooth complexion and impeccable skin texture.
Dr. Barbara Sturm Cleanser: This is a gentle foaming cleanser that removes pollutants, makeup, and other contaminants. It makes your skin ready for serum or moisturizer without disrupting the pH-balance or your skin's barrier.
Seed Phytonutrients-Superseeds Serum: This serum is lightweight and does not get tacky or sticky. It absorbs easily into the skin. The product contains protective antioxidants and vitamin C.
Skinceuticals Face Cream: This face cream restores moisture and collagen to aging skin. It tones and moisturizes while restoring a youthful texture to your complexion. The antioxidants contained in this product help to prevent environmental damage and promote your skin's regeneration. It's most-fitting for individuals who have skin dryness, aging skin, dehydration, wrinkles, and fine lines.
ESPA Skin Radiance Moisturizer: This moisturizer hydrates, softens, and brightens your skin to make it appear more radiant. The moisturizer will revitalize dull, dry skin while perfecting and smoothing for a softer and glowing complexion.
In many parts of the United States, purslane is mistakenly frowned down upon and is considered to be an annoying weed. In contrast, purslane is a healthy, green leafy vegetable that provides many benefits, particularly for the skin. It's filled with omega-3 fatty acids, antioxidants, and other beneficial compounds.
Related Ingredients: