In the skincare and beauty world, there is a separate product for everything. Have dark spots? There's a product for that. Have fine lines and wrinkles? There's a product for that. With all the products and brands out there, it can be overwhelming to choose the right product for your skin.
This post may contain affiliate links. Read the full disclosure here
The key ingredients in a product formulation play a big role in the benefits it will offer the skin. For instance, rosehip seed oil is great for brightening and soothing the skin. Squalane oil is an amazing hydration and anti-aging ingredient. But what about the product texture? What's the difference between moisturizing gels, and creams?
Do gels and creams all do the same thing? They can but each product type offers unique benefits that can improve effectiveness. Let's take a deeper look at these two major moisturizing product types.
What is a Moisturizing Gel?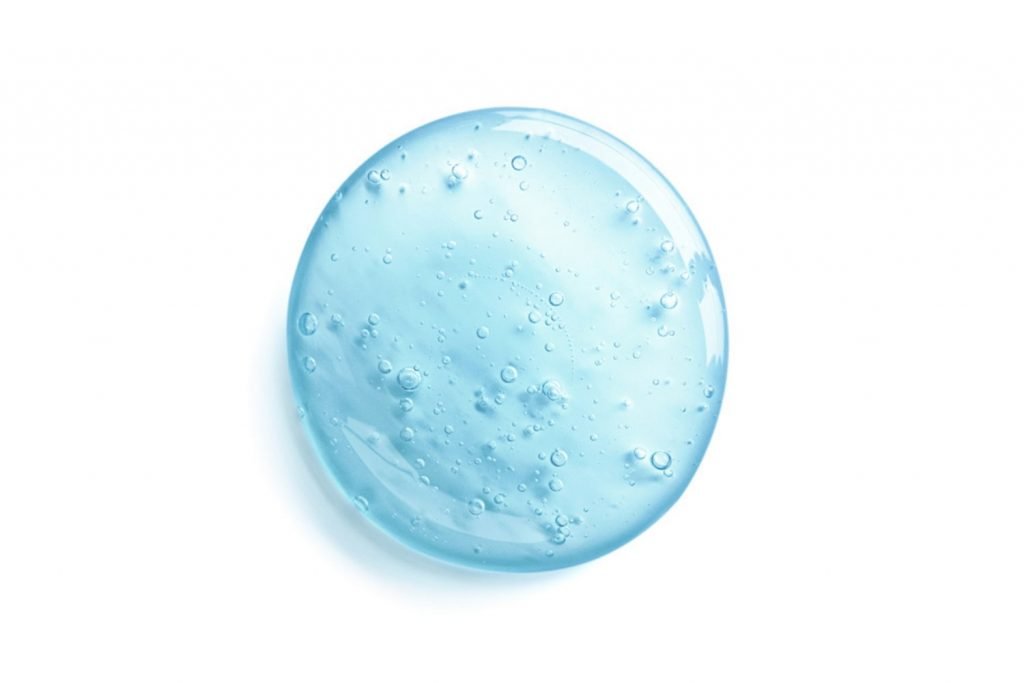 Face gels have a jelly-like texture and they are semi-transparent. They are not quite a liquid but not quite a solid. Gel-based moisturizers are lighter, water-based, and absorb quickly into the skin. Gel products usually leave the skin with a matte finish. They often have a higher water percentage and contain humectant ingredients like glycerin, sorbitol, and hyaluronic acid.
Moisturizing gels are a great option for oily and acne-prone skin. Lightweight, oil-free gels can be a great option to moisturize the skin without clogging pores. Or leaving a heavy or greasy residue. Gels often come in a tube or container with a pump. Since gels are thinner than creams, they can be dispensed effectively with a pump.
Gels are also popular for applying under makeup. They absorb quickly so you can continue on with your makeup routine after applying. As you might expect, this makes gel moisturizers a popular option to daytime use.
Tend to be oil-free
Water-based
Absorb quickly
Good option for under makeup or oily skin
Semi-transparent
What is a Moisturizing Cream?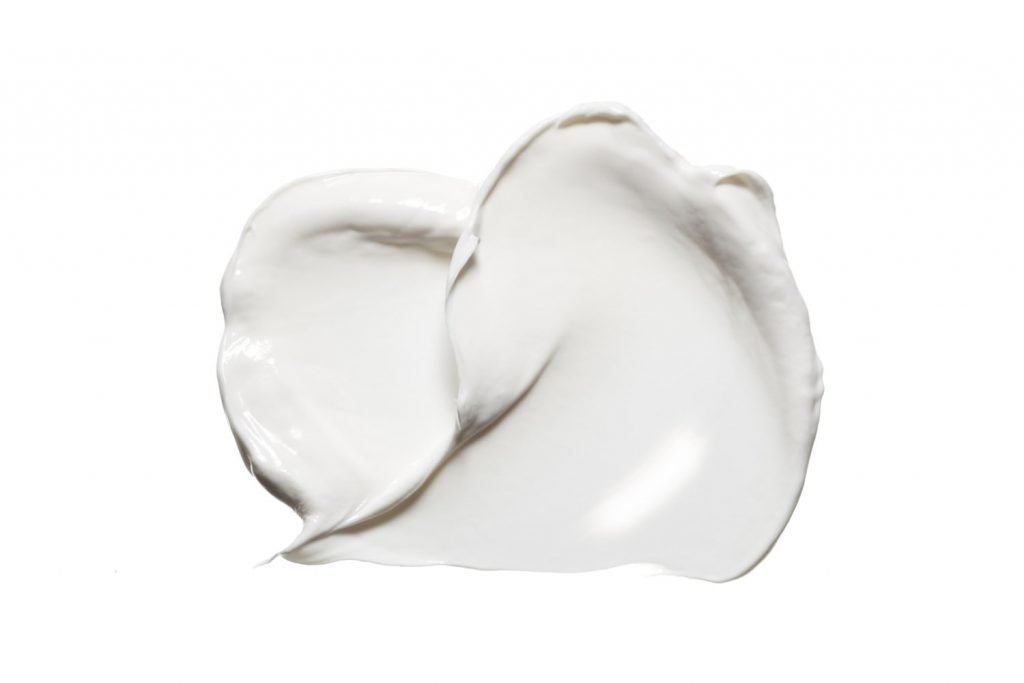 Creams are thicker and have a smooth, creamy texture. Face creams generally have an off-white color and are not transparent. These can be made with oil-based and water-based ingredients. Creams take longer to absorb into the skin.
Moisturizing creams often focus on skin hydration and anti-aging benefits. Have rough patches or dry skin? A cream is the way to go! They contain intense hydration ingredients to restore hydration and smooth skin texture. Moisturizing creams contain hydrating and nourishing ingredients such as vitamin E, ceramides, and oils with fatty acids.
Creams are most commonly sold in jars, but they can be sold in squeezable tubes as well.
Thicker, creamy texture
Water and oil-based
Takes longer to absorb
Great for normal to dry skin and mature skin
Gel vs. Cream – Which is Better?
Between gels and creams, which one is better? Well, it comes down to personal preference and skin needs. If you struggle with acne or oily skin, then a gel moisturizer is the better way to go. However, if you're battling dry or dehydrated skin, then a rich moisturizing cream is the way to go.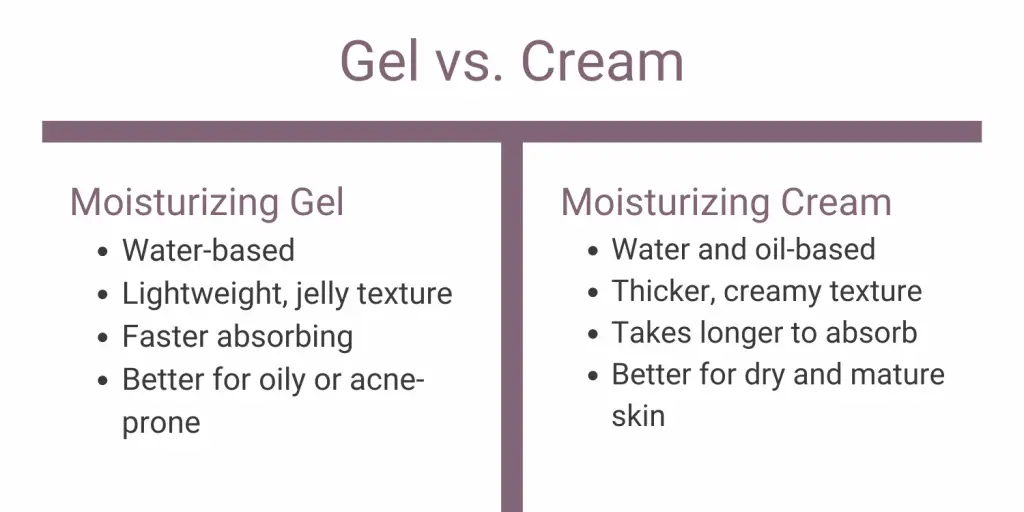 Here are some of the key differences between creams and gels.
Gels are better for oily, acne-prone skin, and creams are better for dry skin
Gels are lighter and creams are heavier on the skin
Gels absorb faster than creams
Creams generally offer more hydration than creams
Gels are water-based and creams often contain oil-based ingredients
Gels work better before applying makeup
Let's take a deeper look at some of the main factors to consider before choosing a face cream or gel.
Skin Type
The best product for your skin depends on your skin type. If you have dry, or dehydrated skin, go with a cream. This is also the case for mature skin. Creams can offer deeper hydration and nourishment to help lock in moisture. Moisturizing creams can moisturize, hydrate, nourish, and soothe the skin.
However, if you have oily skin or have acne, go with a moisturizing gel. Gels absorb quickly and are less likely to leave the skin feeling greasy or heavy. Since gels are oil-free they have a lower chance of clogging pores. We're generalizing here though. Be sure to look for non-comedogenic products (meaning they won't clog your pores) if you have acne or clogged pores.
Makeup Application
Planning on applying makeup after moisturizing? A gel-based product is the best option. Gel products will absorb quickly and won't leave a heavy texture. Thicker cream products can make it harder to apply foundation and keep that flawless look.
Want to go barefaced? Go with a nourishing cream. Moisturizing creams keep the skin hydrated and healthy throughout the day!
Climate
Depending on where you live, it might get cold and dry in the winter. The skin can get dry and damaged with cold weather. Reach for a rich cream that can restore hydration and replenish the skin.
But if it's a hot, humid summer, a gel-based moisturizer is key. Just like clothing, you'll be looking for skincare products that are light and airy. Gel moisturizers are better for warmer, humid weather.
Texture
There are general traits that make gels and creams better for certain situations. But it comes down to personal preference. Choose a gel or a cream based on what feels the best for your skin.
If you like the idea of a product absorbing into the skin quickly without leaving much of a texture, go with a gel-based product. But if you like the smoother, rich feeling of a cream to lock-in hydration, go with a cream.
The outlines listed above are talking in general terms. It depends on the product too. Some creams may feel lighter on the skin than gels that are out there.
What About Gel-Based Creams?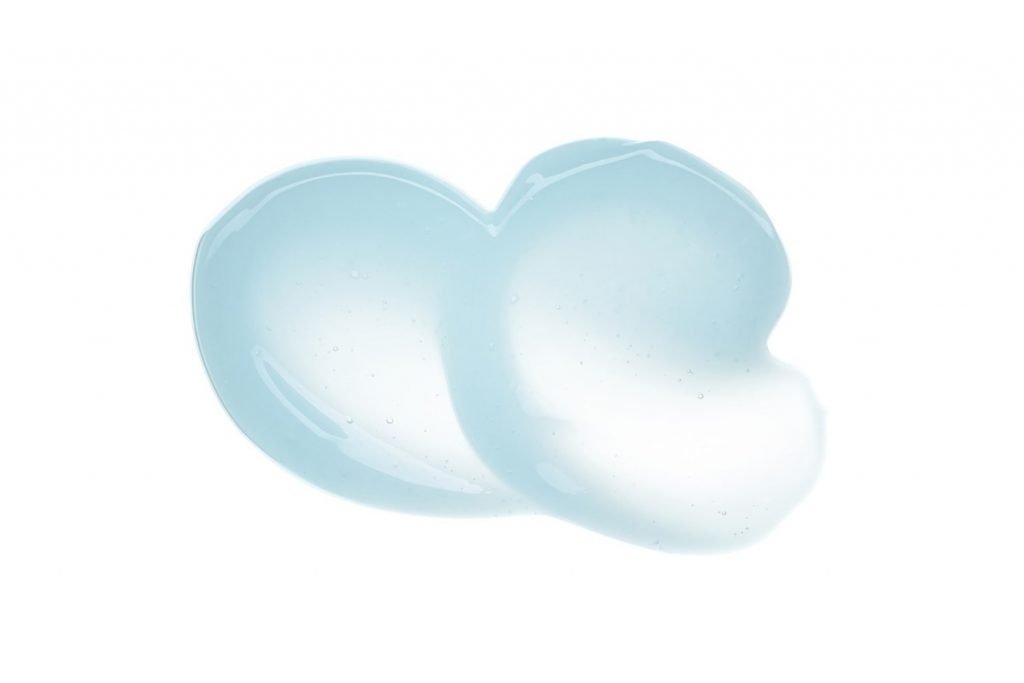 First, there were only creams. Then moisturizing gels were introduced. Now there are hybrid products that fall somewhere in between. These products are thicker than the typical gel but don't have the thick creamy consistency of a cream.
Gel-cream moisturizers look like a cream. They are thick enough to be in a jar and are not transparent. In other words, gel-creams are thicker gels. Or thinner creams. Depending on how you want to look at it.
Moisturizing gel creams are often designed for skin that needs an extra boost of hydration without a heavy or greasy feel. If gel moisturizers aren't delivering enough hydration, a gel-cream product is worth a try.
Frequently Asked Questions
Find answers to some of the most frequently asked questions about moisturizing gels vs. creams.
Other Helpful Articles You May Like: