Considering buying chrysanthemum extract, or a product containing this ingredient? You may be wondering what this compound is, and whether or not it will be a useful part of your skincare routine. We'll break down the benefits and basics of chrysanthemum extract in skincare, and tell you everything you need to know.
This post may contain affiliate links. Read the full disclosure here
What Is Chrysanthemum Extract?
Chrysanthemum extract is a concentrated herbal extract that comes from the chrysanthemum flower – which means "gold flower" in Greek. It's prized for a wide variety of anti-inflammatory and skin revitalizing properties, and it's regularly used in skincare products.
Chrysanthemum has long been used in traditional medicine, and they originally grew in China, but are now grown and harvested throughout the world – both for their beautiful appearance, and for the use of their flowers in the creation of chrysanthemum extract.
Thousands of different varieties and cultivars exist, so there are a lot of different types of chrysanthemums that are used to create cosmetics and skincare products. Wondering what the purpose is of using chrysanthemum extract in skincare? Let's discuss the basics!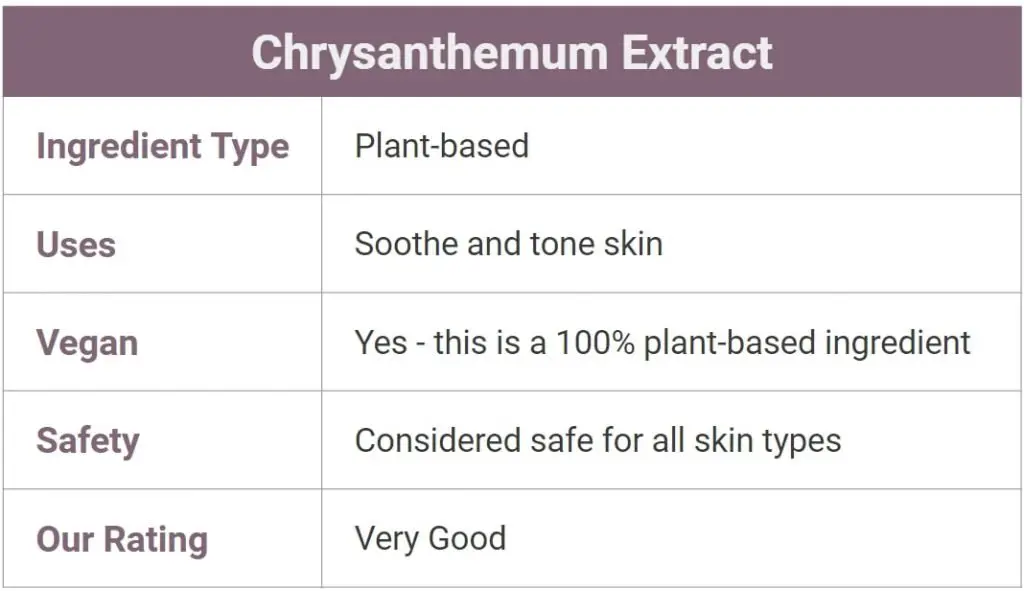 Chrysanthemum Oil Skincare Benefits
Chrysanthemum extract has a number of benefits and users in skincare. It can help soothe and calm skin unhappy, irritated skin. It also acts as an astringent which is why you'll see this ingredients in toners and cleansers.
Natural astringent
Many people choose to use chrysanthemum extract as a toner in their skincare routine. It has natural astringent properties that are very gentle and are similar to other natural toners like witch hazel. For this purpose, chrysanthemum extract can simply be mixed with water and applied directly to the face.
Skin revitalizer
Chrysanthemum oil has been used in traditional Chinese medicine to help revitalize the skin, particularly the skin below the eyes. It's very gentle, so it's a great option for revitalizing the skin around your eyes and eyelids, and anywhere else that the skin is thin and delicate.
Anti-irritant
With its anti-inflammatory properties, chrysanthemum extract can act as an anti-irritant, similar to other soothing ingredients like aloe vera. From soothing sores on the face to helping with sunburn, you can use chrysanthemum extract to help with a variety of common skincare irritants.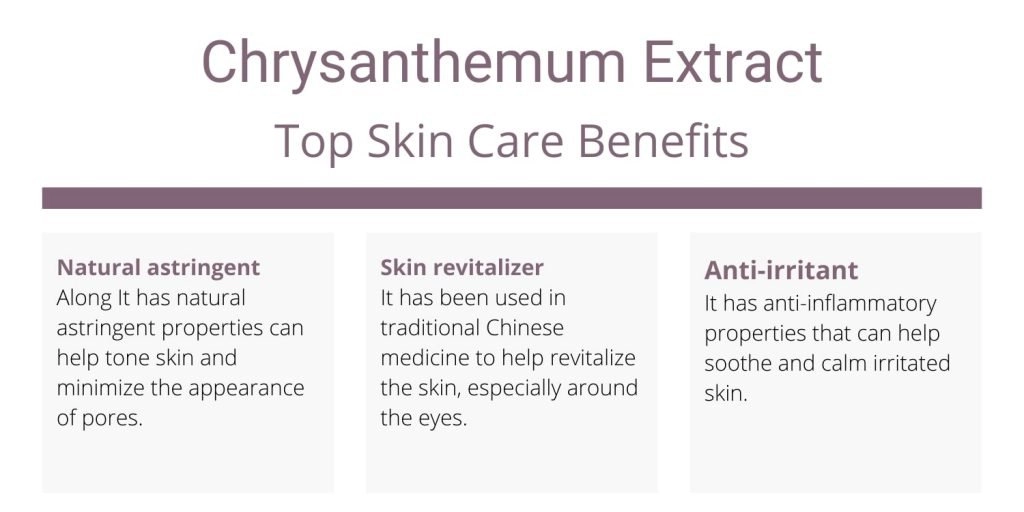 It has similar benefits to flower-based ingredients such as Chamomilla Recutita Matricaria (German Chamomile) and Anthemis Nobilis (Roman Chamomile) extracts. Chamomile is a common ingredient in skincare products to soothe and calm skin. But there are also lesser known flower extract ingredients such as Swertia Japonica that offer great skin benefits as well! Flowers can offer soo much more than beauty and a lovely scent.
Is Chrysanthemum Safe In Skincare?
Yes. Chrysanthemum extract in skincare is completely safe. This ingredient can be natural, organic, and non-toxic, and will not cause any negative effects when used properly. Whether it's used alone or as part of a skincare product, you will not have to worry about any safety risks when using chrysanthemum extract in skincare.
Also Known As
Chrysanthemum extract is also sometimes called chrysanthemum concentrate, which is the same thing. The flowers themselves are also sometimes called "mums" or "chrysanths." These terms all mean the same thing.
Other Flower-based ingredients you may like: