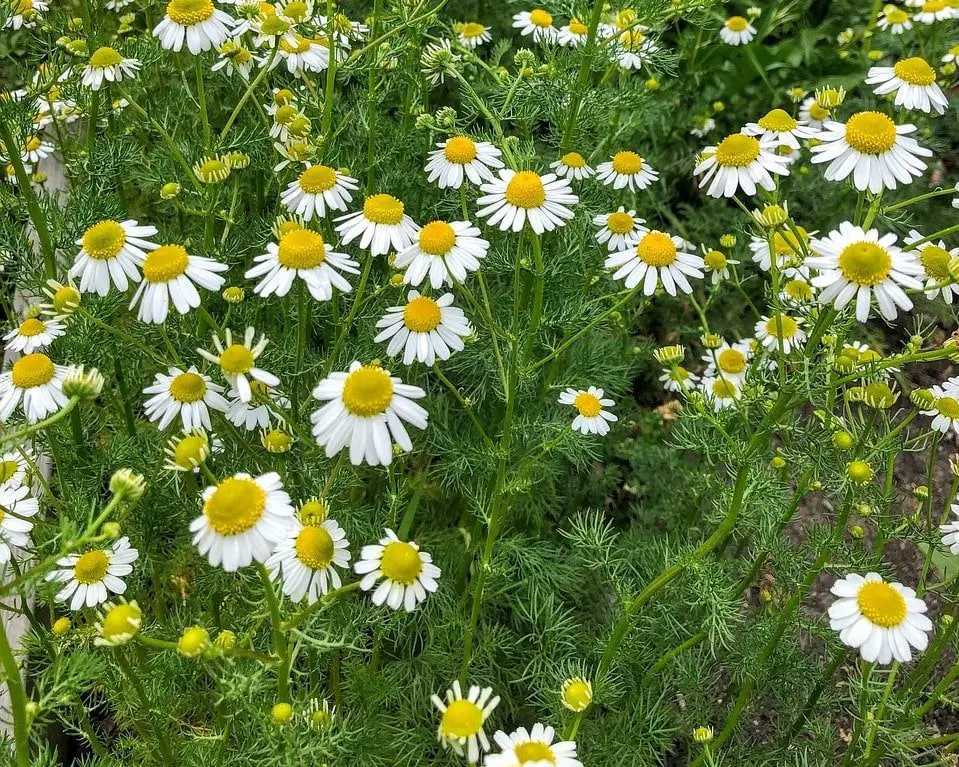 If you want to improve your skin, learn more about the basics of skincare, and ensure that your skincare products are cruelty-free and vegan, learning more about common skincare ingredients is a great place to start.
This post may contain affiliate links. Read the full disclosure here
For this ingredient profile, we'll take a look at Chamomilla recutita flower extract, or as some simply call Chamomile. This lovely daisy looking flower is best known for its calming effects. Chamomile makes for a great herbal tea or a calming essential oil. But it also has a worthy place in skin care products.
In fact, Chamomilla Recutita extract is an ingredient on our 'good list' that offers great benefits to the skin. It's no surprise this ingredient is popular skin care product formulations.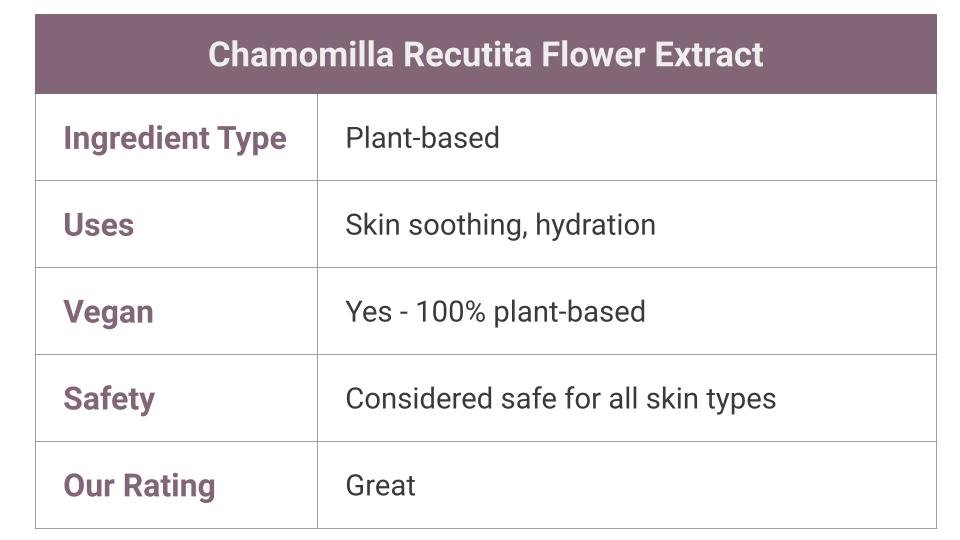 What Is Chamomilla Recutita Flower Extract?
Chamomilla recutita flower extract is made from the flowers of the Chamomilla recutita plant, or also known as German chamomile. As that name suggests, Chamomilla recutita is a part of the larger Chamomile family.
Chamomilla recutita is popular in tea and other products, along with the similar plant Chamaemelum nobile, which is often called "English chamomile." Anthemis nobilis flower extract (Roman Chamomile) is used in skin care and personal care products as well.
German chamomile (Chamomilla Recutita) extract can be more effective than Roman chamomile in skincare products based on its anti-inflammatory properties. Largely for this reason, it's more common in skin care products than other chamomile types.
The Chamomilla recutita plant has a wide variety of health benefits, and is often used in herbal infusions and folk medicine. The concentrated extract of the Chamomilla recutita flower is also used in skincare.
Chamomilla Recutita Flower Skin Benefits
Wondering why Chamomilla recutita flower extract is a common ingredient in skincare products? Chamomilla recutita extract can help calm, moisturize, and protect the skin. It offers anti-inflammatory properties, antioxidants, and hydrating benefits.
Anti-inflammatory properties – The top benefit of German chamomile extract is its anti-inflammatory properties. It's high in beneficial compounds like chamazulene, apigenin, and bisabolol, which all can help soothe inflammation and calm itchy, irritated skin. This is why you'll find it in moisturizers and cleansers, particularly for damaged, dry, or irritated skin.
Fights back against itchiness and sun damage – it has shown promise in reducing photodamage from UV exposure and it can also soothe itchy skin. Moisturizing properties

–

Products with

Chamomilla recutita flower extract have natural moisturizing properties that help lock moisture into your skin, making them powerful additives to skin care products.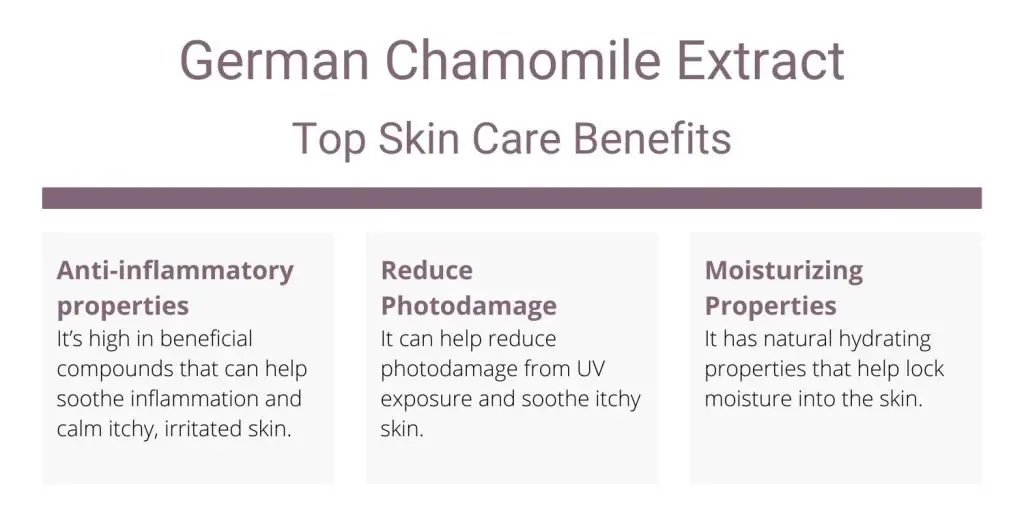 Is Chamomilla Recutita Flower Extract Vegan?
Yes. Because it's derived entirely from plants, Chamomilla recutita flower extract is completely cruelty-free and vegan. No need to worry about using this ingredient in your vegan skincare and hair care routine.
As always, we encourage consumers looking for vegan products to look at product packages and labeling carefully. Though Chamomilla recutita flower extract is vegan, many skincare products may also use animal-derived ingredients. Always be thorough in your research.
Is Chamomilla Recutita Flower Extract Safe In Skincare?
According to the FDA (Food and Drug Administration), Chamomilla recutita flower extract is considered safe to use for its intended purpose. Chamomile is often even used to create teas and herbal infusions, so if it's safe to consume, it makes sense that it would be safe to put on your skin.
In rare cases, though, Chamomilla recutita flower extract that is extremely high in bisabolol (an anti-inflammatory compound) may cause itchiness and contact dermatitis in some individuals. This is very rare, and unlikely to occur unless you are using a highly-concentrated Chamomilla recutita flower extract product.
Overall, it is safe to use even for allergy-prone and sensitive skin. There is no need to be concerned if you see this ingredient in one of your favorite products. Chances are, it's helping your skin stay calm and smooth!
Also Known As
Chamomilla recutita has a lot of other names. A commonly-used synonym is Matricaria chamomilla. It's also called German chamomile, Hungarian chamomile, kamilla, wild chamomile, scented mayweed, or blue chamomile. All of these terms refer to the same plant, so they're essentially synonymous.
Other Flower-Based Skincare Ingredients You May Like
References
https://www.accessdata.fda.gov/scripts/cdrh/cfdocs/cfcfr/CFRSearch.cfm?fr=182.20&SearchTerm=chamomile