This ingredient name is fun to say but it's also fun to look at. It comes from a flower. You may have heard of this previously as an old Japanese remedy for nausea or an upset stomach. Or maybe not. Either way, this is a fun, natural skincare ingredient with notable benefits. Swertia Japonica is not a super common skincare ingredient (at least in the U.S) but will find it in select specialty products.
This post may contain affiliate links. Read the full disclosure here
Swertia Japonica extract is rich in antioxidants, flavonoids, and metal chelators. This unique ingredient profile can help reduce melanin synthesis in the skin caused by too much sun. In other words, this ingredient may help prevent the darkening of skin, uneven tone, and age spots.
What Is Swertia Japonica Extract?
Swertia japonica is a flowering plant part of the gentian family and is also known as "felworts." The Swertia japonica flower is native to East Asia and Japan.
Swertia japonica was used in ancient medicine and for folk cures in India, Japan, China, and Tibet for centuries. It has bluish-purple flowers and is often used to help cure stomach troubles, and it was often used to help treat and reduce the intensity of fevers, and it has also been used to treat hair loss. It can be found in liquid form for ingestion.
You'll generally find Swertia japonica in skincare as an extract. This is a concentrated version of the plant that intensifies its benefits with less volume.
Swertia Japonica Benefits for Skin
Wondering what the skincare benefits are for this silly-sounding flower? Swertia japonica extract has a few benefits from its flavonoid and antioxidant-rich properties.
Even skin tone – Swertia japonica has been shown to help inhibit the synthesis of melanin, which is the pigment that causes the skin to tan on exposure to sunlight and helps lighten and brighten the skin. This benefit may help reduce the appearance of age spots, hyperpigmentation, or uneven skin tone.
Soothe skin – Swertia japonica extract has anti-inflammatory and antioxidant benefits which can help soothe and calm skin.
Contains many antioxidants – Thanks to high levels of antioxidant compounds, Swertia japonica can help fight back against free radicals and premature skin aging. This is why you'll find Swertia japonica in anti-aging creams, serums, and moisturizers.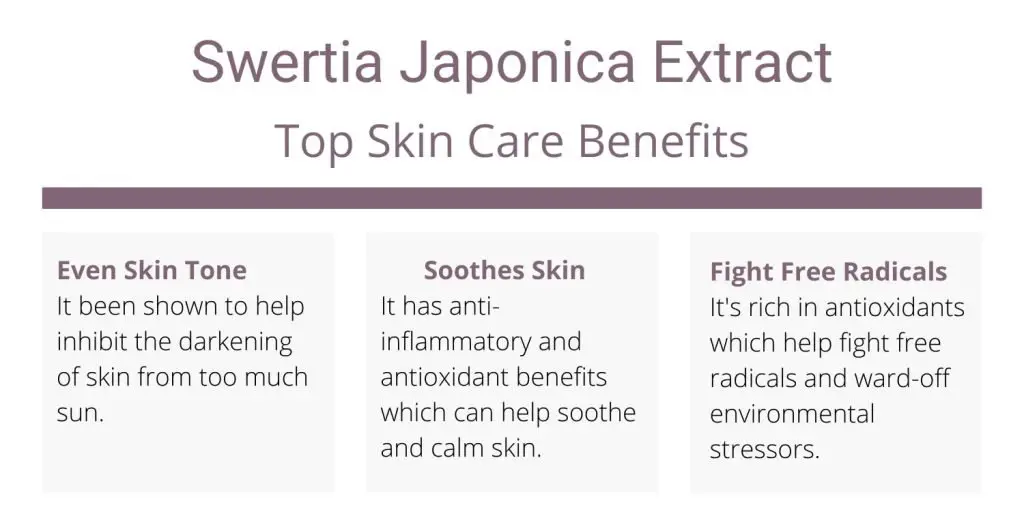 Is Swertia Japonica Vegan?
Swertia japonica is completely vegan and safe to use if you live a vegan & cruelty-free lifestyle. It comes straight from the flower so there is no need to worry about this ingredient. As always, though, consult the ingredients list and manufacturer information to make sure the products you use are free of other non-vegan ingredients and are not tested on animals.
Is Swertia Japonica Safe To Use In Skincare?
While the research is limited, Swertia Japonica is considered safe to use in skincare. This ingredient can be taken orally (obviously for other uses) without safety or toxicity concerns.
Also Known As
You may also see Swertia japonica called Frasera Walter, Lomatogoniopsis, angallidum griseb, Gentianaceae, or Semburi. You may find any of these names on skincare products, but Swertia japonica is the most common by far.
Other Flower Based Ingredients You Might Like: