It's always a good idea to be knowledgeable about the ingredients used in your skincare products. Knowing more about common ingredients helps you make more informed choices, improve your skincare routine, and get clear, beautiful skin. Who doesn't want that?
This post may contain affiliate links. Read the full disclosure here
Buddleja davidii extract is a lovely flower also known as summer lilac and butterfly bush. In this article, we'll break down the basics of Buddleja davidii extract, a plant-based ingredient commonly used in a wide variety of skin products.
What Is Buddleja Davidii Extract?
Buddleja davidii extract is obtained from the buddleja davidii shrub, which is also called the summer lilac. This bush is native to the Chinese provinces of Hubei and Sichuan, and can also be found in Japan. However, it's also made its way into the United States, where it's been classified as an invasive species in several states, including Oregon and Washington.
There are more than 180 unique cultivars of the plant, so there are a lot of different types of Buddleja davidii extract out there. The plant is prized for its ornamental qualities, and is also a valuable source of nectar for butterflies and some other insects. But beyond this, it's becoming used in skincare products more frequently, thanks to the helpful benefits of Buddleja davidii extract in skincare.
Buddleja Davidii Extract Skin Benefits?
So, what does Buddleja davidii extract do in skincare products? It has a wide variety of useful traits when incorporated into creams, moisturizers, cleansers, and other such products.
Here's a quick look at a few of the uses and benefits of this plant. Summer lilac contains antioxidants that can help prevent premature aging. It also has amino acids and moisturizing properties that can help hydrate, soothe, calm, and protect the skin against harmful UVA rays.
Antioxidant properties
Buddleja davidii is loaded with antioxidants that help fight back against skin aging and inflammation. It also helps stimulate your skin's self-repair functions, improving the overall texture and appearance of your skin.
Soothes skin
Buddleja davidii is high in amino acids, phytosterols, and polysaccharides, which help contribute moisturizing properties to skincare products, and soothe dry, irritated, or damaged skin.
Protects from the sun
Summer lilac has been clinically proven to help protect against damage from UVA rays. This wavelength of UV light from the sun is associated with accelerated skin aging, so products with Buddleja davidii extract can help you avoid skin damage and stay safe in the sun.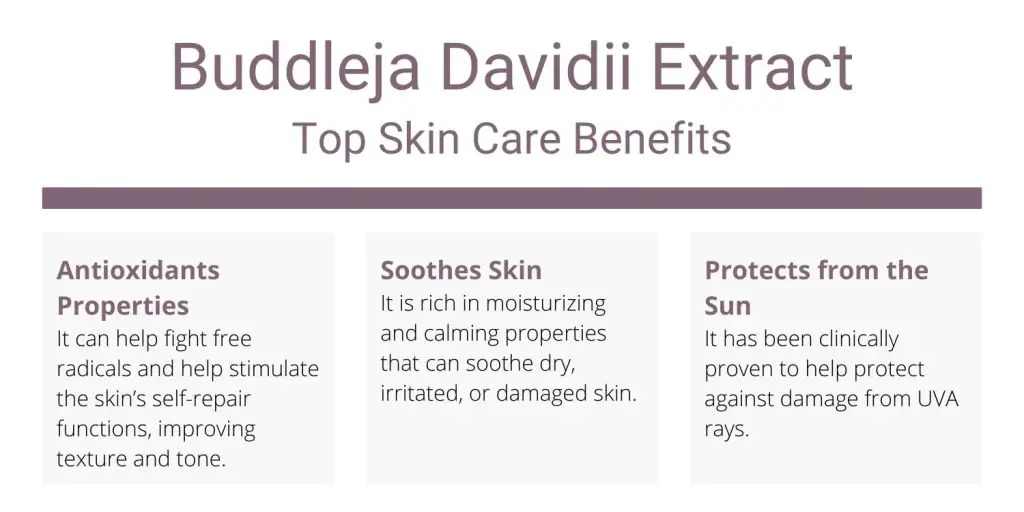 Other Flower-based Ingredients You Might Like:
Is Buddleja Davidii Extract Vegan?
Yes. Buddleja davidii extract is 100% vegan, since it's extracted from a naturally-occurring plant. It's perfectly acceptable as a vegan skincare ingredient.
As always, though, we recommend you consult the list of ingredients in products containing Buddleja davidii extract carefully to make sure there are no other potentially non-vegan ingredients used in the product. This will ensure that you only choose cruelty-free products for your skincare routine.

Is Buddleja Davidii Extract Safe In Skincare?
Yes. There are no known risks or side effects of Buddleja davidii extract in skincare, and it's completely safe to use. Most products containing this ingredient are also not heavily concentrated, which further enhances the safety of Buddleja davidii extract.
Also Known As
There are a lot of other names for the Buddleja davidii plant, including summer lilac, butterfly bush, and orange eye.
The Latin name is also sometimes spelled "Buddleia davidii." You may find any of these terms on the packaging or ingredients list of skincare products, but they all refer to the same plant.
References