This post may contain affiliate links. Read the full disclosure here
What Is Cocamidopropyl Betaine?
Cocamidopropyl betaine is a natural surfactant that's derived from the mixture of a betaine and coconut oil. This ingredient is often used in skincare products and hair care products for its hydrating effects and its ability to thicken various cosmetic products.
As a surfactant, Cocamidopropyl betaine is able to make water molecules more slippery so that they do not stick together. This enhances the ability of a cleaning product to stick to dirt and oil. Then, when the product is rinsed away, the contaminants are also rinsed away.
Though Cocamidopropyl betaine is created in a synthetic process, it is derived from natural, organic ingredients, so it's still typically considered to be a "natural" product. However, it can cause some side effects, like other surfactant chemicals, which we'll discuss later.
Cocamidopropyl betaine is a similar ingredient to Cocamidopropyl hydroxysultaine and Cocamidopropyl dimethylamine, which is made from a chemical reaction between 3-dimethylaminopropylamine and coconut oil.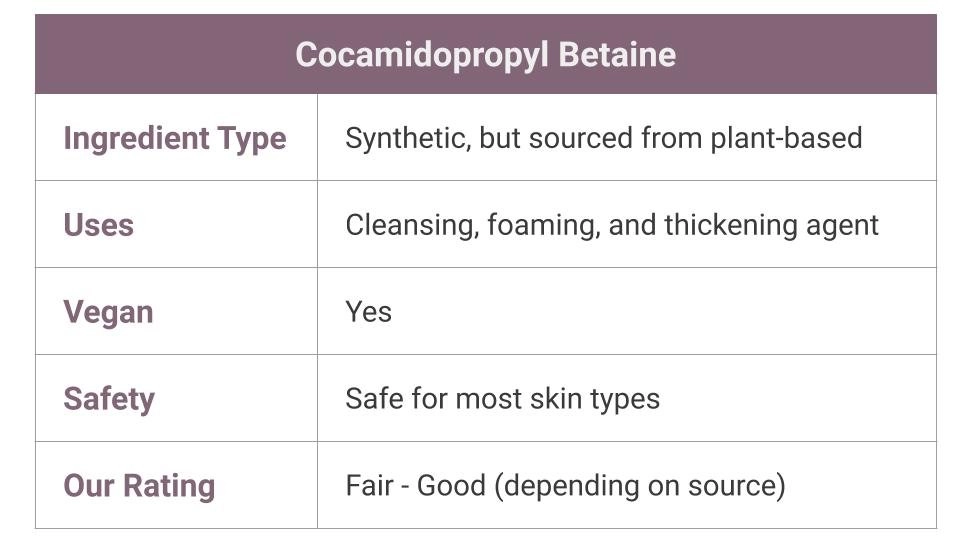 Cocamidopropyl Betaine Uses & Benefits In Skincare
Cocamidopropyl betaine for skin has a number of uses and benefits in skincare. It's one of the fun combo ingredients that helps enhance the texture of products but it also offers direct moisturizing benefits to the skin.
Cleansing agent and promotes lather – It promotes proper cleansing and also helps soaps, body washes, facial scrubs, and other products create a pleasant, foamy lather.
Hydrating properties – Since it's derived from coconut oil, Cocamidopropyl betaine retains many of the same helpful hydration properties of coconut oil and can help hydrate the skin and prevent it from drying out.
Thickening agent – It is highly viscous, so it can help thicken cosmetic products and skincare products.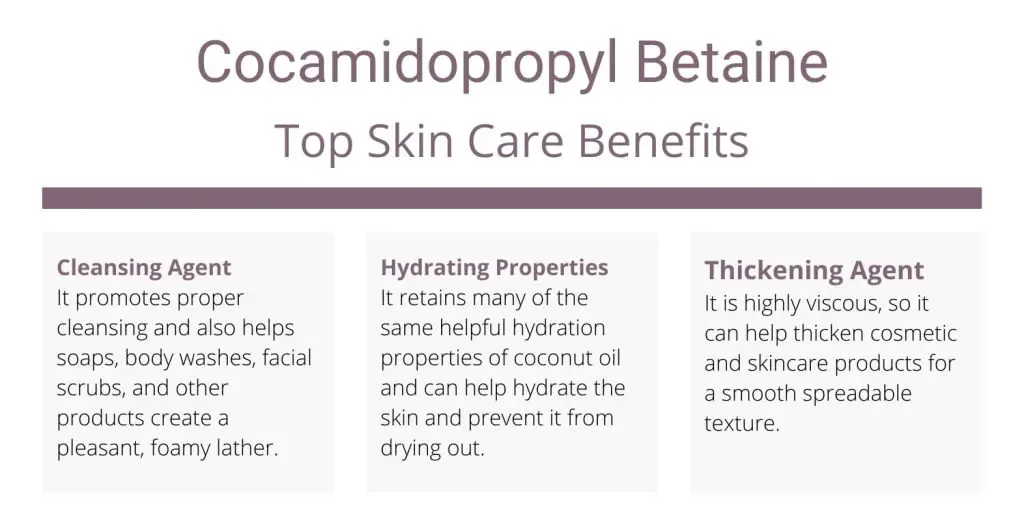 Is Cocamidopropyl Betaine Vegan?
Yes. Cocamidopropyl betaine is completely vegan since it's derived from plant-based betaine as well as coconut oil. However, since it's a relatively common ingredient in skin care and hair care products, it's present in many non-vegan formulations. When shopping, make sure to refer to the ingredients list and check with the manufacturer to ensure that a particular product does not contain any animal-derived products.
Is Cocamidopropyl Betaine Safe?
For most people, this ingredient is safe to use in skincare. However, Cocamidopropyl betaine has been found to cause allergic reactions and sensitivities in some individuals, particularly in the eyes, and the American Contact Dermatitis Association called it the "Allergen of the Year" in 2004.
Because the skin around the eyes is particularly thin and sensitive, this is particularly common in products that may run into your eyes in the shower, like shampoo, body wash, face wash, and makeup removers. Closing the eyes can help prevent dermatitis and reactions to this ingredient.
Concerns
A study done in 2012 found that high-grade Cocamidopropyl betaine did not cause allergic reactions. Instead, two impurities called amino amide and 3-dimethylaminopropylamine were the cause of allergic reactions. In other words, it's the ingredient itself that posed the concern but rather a low-quality source that led to allergic reactions.
High-grade Cocamidopropyl betaine products free of these impurities may be safe to use, but you should still take care when using any product containing this ingredient.
Also pay closer attention to generic and lower priced products that contain this ingredient. When lower quality sources of this ingredient are used it may lead to issues.
Also Known As
Cocamidopropyl betaine for skin is also sometimes referred to by a few other terms. This includes CAPB, 1-propanaminium, hydroxide inner salt. In cleaning products, it's also sometimes called Cocamidopropyl dimethyl glycine, disodium cocoamphodipropionate, or CADG.