If you are someone who cannot get up in the morning without that first cup of coffee, then you know that caffeine can provide you with a number of benefits. It can help you wake up more quickly, feel more energized, and get your day going in the right direction. In addition, there are other benefits of caffeine as well.
This post may contain affiliate links. Read the full disclosure here
Did you that caffeine can also be used in skincare? For years, caffeine has been present in a variety of products.
Think about what happens when you drink your morning cup of coffee. Caffeine is responsible for waking you up, providing you with energy, and helping you focus on what you have to do during the day.
Therefore, it only makes sense that a few drops of caffeine in your skincare products can do wonders for your skin as well. Even though this is true, it is not that simple. It is important to take a closer look at how caffeine can help you with your skincare routine.
The High Points: Caffeine Uses In Skincare
A few quick points regarding caffeine include:
Caffeine is an anti-inflammatory substance
Caffeine can help you brighten your skin, tighten your skin, and reduce wrinkles by eliminating information in your skin cells
Caffeine in skincare products is usually used about once per day, typically in the morning
Caffeine can be combined with a number of other ingredients such as vitamin C and ginseng for further skincare benefits
Caffeine can be helpful for those with concerns regarding wrinkles, lines, and aging
This is a brief overview of caffeine and its applications when it comes to skincare routines.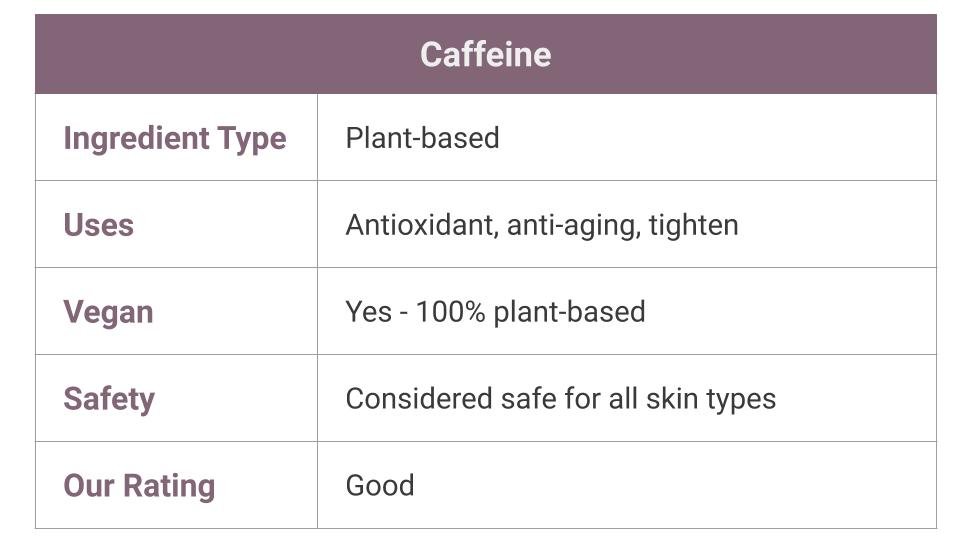 What Is Caffeine?
The majority of people in the United States drink at least one cup of coffee in the morning. This does not include those who drink tea or coffee, which also contain caffeine. Therefore, it is obvious that caffeine plays an essential role in the daily lives of countless people across the country. When caffeine is ingested, it acts as a stimulant. In addition to providing you with more energy, it has a similar impact on your skin.
When you ingest caffeine, it's targeting the central nervous system. It helps you stay alert, providing you with more energy while also preventing you from feeling tired. While coffee has been consumed for centuries, caffeine became more common in people's everyday lives with caffeinated soda. This reached the market in the late 1800s. Soon after, caffeine was present in energy drinks as well.
Because caffeine is so common today, it only makes sense that scientists and researchers are taking a closer look at this substance. Therefore, the applications of caffeine have gradually expanded over the years. Now, caffeine is also used as an integral part of numerous skincare routines. There are a few important points that everyone should keep in mind.
How Is Caffeine Used in Skincare?
When people ingest caffeine, it travels directly to the brain, helping to keep you awake. On the other hand, caffeine acts a little bit differently when it comes to skincare. First, caffeine penetrates the skin quickly. Therefore, it impacts not only the skin cells on the surface but also skin cells better beneath the epidermis as well.
After this, caffeine exerts several effects on the skin itself. First, caffeine targets blood vessels beneath the surface of the skin. It also targets fat in the area as well. A few of the key mechanisms of caffeine include:
Vasoconstriction: The impact that caffeine has on blood vessels present in the skin is called vasoconstriction. This means that the blood vessels beneath the surface of the skin gradually tighten. This can make the visible veins on your face less visible.
Reduce Swelling: As the blood vessels constrict, the other cells in the area begin to construct as well. Therefore, those who are concerned about their skin looking a bit puffy or saggy may be able to use caffeine to correct these issues.
Reduce Inflammation: Caffeine is a powerful anti-inflammatory substance. As caffeine reduces inflammation, it might be able to help you reduce swelling that is present in the skin as well. This is another way that caffeine can be used to tighten various areas of your skin.
Dehydrate Excess Tissue: In addition to being an anti-inflammatory substance, caffeine is also a diuretic. This means that caffeine targets water that is present in your tissues and expels it. When this impact reaches fat cells beneath the surface of your skin, caffeine causes them to dehydrate. Therefore, this can help you reduce the fat that is present in your skin cells as well.
Guard Against UV Damage: Finally, there is also evidence that caffeine can protect against UV radiation. UV radiation comes from the Sun and is the reason why people who spend a lot of time outside to get a sunburn. Caffeine targets specific proteins that would otherwise react poorly to ultraviolet radiation. Therefore, caffeine could help you prevent the development of certain types of cancer.
These are a few of the most important mechanisms of caffeine when it comes to skincare regimens. It is important to understand these mechanisms when it comes to the benefits of caffeine.
What Are the Benefits of Caffeine in Skincare?
Now that we reviewed what caffeine does to the skin, we can take a closer look at the caffeine extract benefits to the skin. Some of the main caffeine skin benefits include: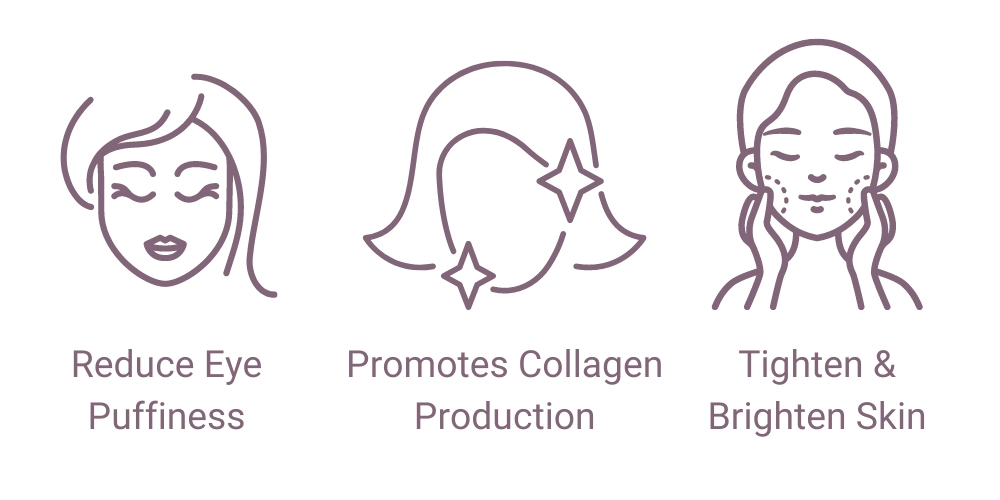 Skin Tightening
Caffeine for skin tightening is one of the most important benefits. When caffeine exerts its vasoconstrictive effects, it tightens your skin. Therefore, it can be used to reduce puffiness that is present under your eyes, tighten wrinkles and might be present throughout your face, and increase circulation that will help your skin glow, reducing fine lines that might have developed over time. If you are looking for additional ways to get rid of hooded eyes, check out our post here.
Dissolve Fat
Caffeine is a cosmetic ingredient that can also help you dissolve fat that is present beneath the surface of the skin. Caffeine can convert these fat cells to fatty acids that are then removed by the circulatory system. Of course, caffeine is not a pill that is going to help you get skinny overnight. Topical application of caffeinated cosmetic products will only remove fat that is beneath the surface of the skin. It will not target internal fat.
Reduce Cellulite
Caffeine is the primary substance that is present in cellulite creams. It has been made with ingredients that are designed to increase blood flow to certain parts of your body. It can help reduce the appearance of annoying cellulite that could have built up over time.
Produce More Collagen
There are certain caffeinated cosmetic products that can help you increase collagen production throughout your body. When your body produces more collagen and elastin, this helps you tighten your skin even further. Therefore, there are multiple ways that caffeine can help you tighten skin throughout your body.
Caffeine as an Antioxidant
Finally, caffeine is also an antioxidant. As an antioxidant, caffeine will scavenge free radicals throughout your skin. If these free radicals are allowed to move throughout your skin cells unchecked, this will damage your skin cells. Free radicals are responsible for the development of fine lines and wrinkles. When caffeine is Gavin just do free radicals, it prevents this damage from taking place. Therefore, caffeine can help you reduce fine lines, prevent the development of wrinkles, and tighten your skin.
While caffeine has a wide variety of benefits when it comes to skincare products, skin tightening is its main benefit. Therefore, it is important for everyone to understand how caffeine works, its benefits, and how it can help someone with their skincare routine.
Enjoying learning about the anti-aging benefits of caffeine for skin? Learn more about other anti-aging ingredients such as bakuchiol for skin.
Is Caffeine Good or Bad for Your Skin?
There are lots of people who are wondering whether caffeine is good or bad for their skin. There are a number of factors to consider. Some of the most important factors to keep in mind include:
How caffeine is being applied to the skin
Whether someone is also ingesting caffeine and their morning coffee or tea
The type of skin they have
How much and how often caffeine is being used
The other ingredients that are present in the products
Overall, the biggest benefit of caffeine for someone's skin is its ability to cause skin tightening. For those who are looking for a way to eliminate fine lines and wrinkles, caffeine can be effective.
At the same time, caffeine in skincare products can lead to a number of side effects. The biggest side effect of caffeine in skincare products is that it could cause the skin to appear red following its application. Because caffeine increases circulation throughout the skin, there is going to be more blood flow to the skin cells. As a result, the skin could appear red. Too much caffeine could cause someone to start itching on the surface of their skin as well.
Furthermore, there are some people who might actually be allergic to caffeine. In this situation, people need to be careful when it comes to the symptoms of a caffeine allergic reaction. Some of the symptoms of an allergic reaction to caffeine include:
The development of hives
Small, red bumps on the surface of the skin
Swelling of the lips and tongue
Itching profusely all over the body
Anyone who is developing these symptoms needs to make sure they seek the attention of a medical professional immediately.
Finally, for those who have dry skin, it is important to think carefully about whether or not they want to use caffeine in their skincare products. Remember that caffeine causes certain skin cells underneath the surface to dehydrate. Therefore, this dehydrating effect could make dry skin worse. It is critical for everyone who has dry skin to try to avoid caffeine in their skincare products. This could cause their skin to start cracking if it dries out excessively.
Is Caffeine Absorbed Through the Skin?
Yes, it is true that when people use skincare products with caffeine in it, this caffeine is going to be absorbed through the skin. Eventually, caffeine is going to reach someone's circulatory system, which is how it causes vasoconstriction.
At the same time, this also means that there is a chance that caffeine in skincare products could keep someone awake. Even though it is unlikely that every milligram of caffeine in skin care lotion is going to reach the digestive system, caffeine that is present in skincare products does count towards someone's overall daily intake of caffeine. As a result, it is important for everyone to monitor how much lotion they are using, how much caffeine they are putting on their face, and the impact of this caffeine on their energy state. It is possible that caffeine present in skincare lotion could keep someone awake. Therefore, it might be a good idea for someone who is using caffeine in their skincare products for the first time to consider skipping that morning cup of coffee.
Frequently Asked Questions
Popular Skincare Products That Contain Caffeine
There are a number of popular skincare products that contain caffeine in them. A few of the most prominent examples include:
Caffeine and Ginseng Moisturizers: One popular combination that is found in a number of skin care products today in Boston sing and caffeine. In addition to containing caffeine, ginseng provides another energizing boost to the skin. Therefore, this product can be used to help people keep their skin hydrated for several days. There are also examples of caffeine moisturizers that do not contain oil, helping people prevent the development of outbreaks.
Caffeine Skin Scrubs: For those who are looking for a way to exfoliate their skin, they understand that this can cause the skin to turn red and become irritated. Caffeine is perfect as a follow-up product to exfoliators. Because caffeine is used to reduce stress and inflammation on the skin, it can help people avoid this redness and irritation. This can improve the overall health of the skin itself.
Caffeine Eye Creams: One of the most popular examples of caffeine in skincare products today involves eye creams. There are lots of people who are looking for ways to reduce puffiness and swelling that shows up beneath the eyes. Caffeine eye creams often contain additional substances as well, such as Lipo Hydroxy Acid, which can also target dark circles beneath the eyes themselves.
Caffeine Solutions: Finally, there are also topical caffeine solutions. Often, these caffeine solutions are combined with an antioxidant called EGCG, which comes from the leaves of green tea, to provide an added antioxidant boost. Many people like to apply these caffeine solutions to their face before they go to sleep at night to maximize the antioxidant benefits that caffeine provides.
These are just a few of the most popular examples of skincare products that contain caffeine. It is important for everyone to take a close look at all of these products so they can find the right one for their needs.
The Growing Popularity of Caffeine in Skincare Products
These are a few of the most important points that everyone has to keep in mind when it comes to caffeine and skincare products. During the past few years, there has been a lot of Buzz regarding the presence of caffeine in skincare products.
Caffeine does have the potential to provide a number of benefits when it comes to skincare routines. Most importantly, caffeine has the potential to help people eliminate fine lines and wrinkles, tightening their skin.
On the other hand, everyone has to start low and go slow when it comes to caffeine in skincare products. Similar to taking a new medication or supplement for the first time, everyone has to figure out how caffeine is going to impact them when they first start using it in their skincare products. When it is used appropriately, caffeine has the potential to dramatically improve the health and appearance of someone's skin.