This ingredient has a crazy name. But don't worry, Cocamidopropyl hydroxysultaine isn't as scary as it sounds. It uses a synthetic process to create a modified version of coconut oil that has foaming, cleansing, and thickening benefits. It is derived from a natural ingredient but it is technically not natural.
This post may contain affiliate links. Read the full disclosure here
What Is Cocamidopropyl Hydroxysultaine?
Cocamidopropyl hydroxysultaine is derived from coconut oil and is synthesized in laboratories using a variety of different chemical reactions. The result is a surfactant that acts as both an acid and a base.
This ingredient is in facial cleansers, soap, body wash, shampoo, conditioner, and more.
Cocamidopropyl Hydroxysultaine Skin Benefits
Wondering what Cocamidopropyl hydroxysultaine skin benefits are offered from products containing this ingredient? Cocamidopropyl hydroxysultaine is a foaming agent, helps condition skin, and has thickening properties to improve product texture. Learn more about its formulation and skin benefits:
Foaming agent
As a surfactant, Cocamidopropyl hydroxysultaine helps make water molecules more "slippery," allowing cleansers to interact with oil, dirt, and other particles on the skin more effectively.
This helps boost the overall cleansing power of skin and hair care products, and also helps build foam that allows for even distribution of the product on the body, face, or skin.
Conditions hair and skin
It can help to smooth, condition, and moisturize hair and skin upon contact, providing hydration and keeping the hair and skin soft and supple.
Thickening properties
It helps thicken skincare and hair care products, providing them with a pleasing texture and making them easier to spread evenly across skin and hair.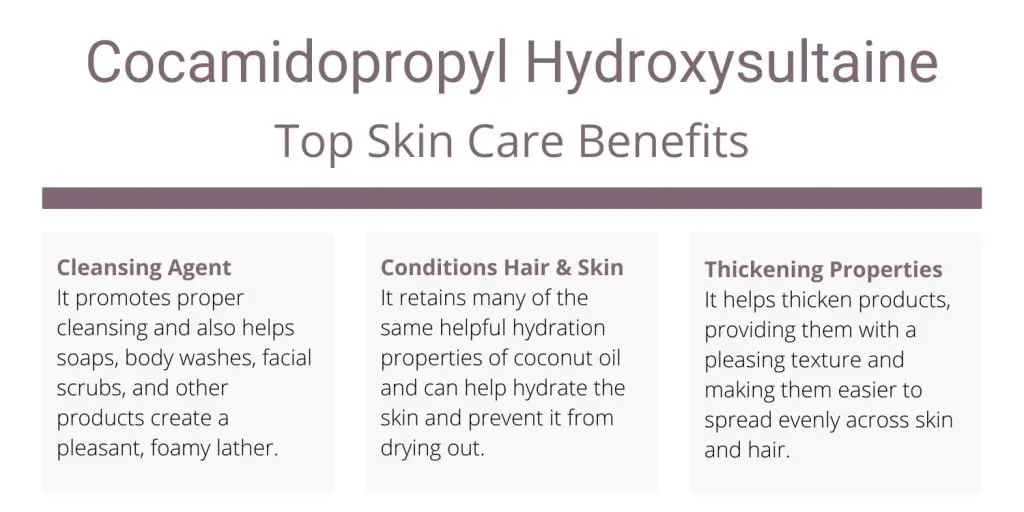 Is Cocamidopropyl Hydroxysultaine Vegan?
Yes. Since it's derived from coconut oil and other plant products, Cocamidopropyl hydroxysultaine for skin is considered to be vegan. Despite being artificially processed, it is naturally-derived.
As always, though, we always recommend that vegans read skincare product labels carefully. Many products can include non-vegan ingredients, so it may be a good idea to shop with brands that exclusively offer cruelty-free products free of animal-derived products if you're vegan.
Is Cocamidopropyl Hydroxysultaine Safe?
The Cosmetic Ingredient Review (CIR) has rated Cocamidopropyl hydroxysultaine as "lowest risk," based on factors such as toxicity, carcinogens, allergic reactions, and skin irritation. Cocamidopropyl hydroxysultaine has been tested in concentrations of up to 50% and has not caused dermatitis or other negative reactions during these tests, and it is present in most products at a much lower concentration.
Concerns
Although it's safe for humans, a European commission found that Cocamidopropyl hydroxysultaine can be toxic to aquatic life with long-lasting effects. If you're vegan or concerned about the dangers of your products on the environment, this is something to keep in mind.
This ingredient hasn't been around long and it has limited tests to validate its safety. Another similar ingredient is Cocamidopropyl dimethylamine.
Cocamidopropyl hydroxysultaine is often compared Cocamidopropyl betaine, a similar synthetically produced coconut-based ingredient. Cocamidopropyl betaine can cause skin irritation and sensitivities. It isn't the ingredient itself that has side effects but rather the impurities that are sometimes found in the manufacturing process.
In this case, the quality and source of the ingredient are a major factor of the safety. Some believe Cocamidopropyl hydroxysultaine face a similar tradeoff.
Frequently Asked Questions
Find answers to some of the most commonly asked questions about cocamidopropyl hydroxysultaine.
Also Known As
Cocamidopropyl hydroxysultaine is also sometimes called "coco hydroxysultaine", or just "coco hydroxy" for short. However, in skincare labels, the full name is much more common.
Bottom Line
Cocamidopropyl hydroxysultaine is not a perfect ingredient but it's a better option than many other surfactants used in skincare. It's vegan and safe to use in skincare for most skin types.
You don't need to run when you see this ingredient but it should be eliminated if you are prone to allergies or skin irritation and you haven't used this ingredient before. The quality of the ingredient source may also be a factor. Be more suspicious of products with this ingredients from cheaper or unknown brands.