If you're a person who regularly uses skincare products, there are several ingredients in common beauty and skincare products that you might not be familiar with.
This post may contain affiliate links. Read the full disclosure here
Ethylhexyl Palmitate is a great example of this. It's an ingredient in cosmetics and beauty products that you might have some questions about.
Ethylhexyl Palmitate is generally considered safe to use but it can clog pores, so it's not the best option for those with oily or blemish-prone skin. It's a useful emollient and formulation enhancer in cosmetics and skincare products.
It's a great alternative to silicone-based ingredients.
What is Ethylhexyl Palmitate?
Ethylhexyl Palmitate is a combination of 2-ethylhexanol and palmitic acid, which creates a fatty ester. Ethylhexyl Palmitate, also referred to as Octyl Palmitate, is free of any color and is nearly odorless, while Cetyl Palmitate is a white, wax-like material.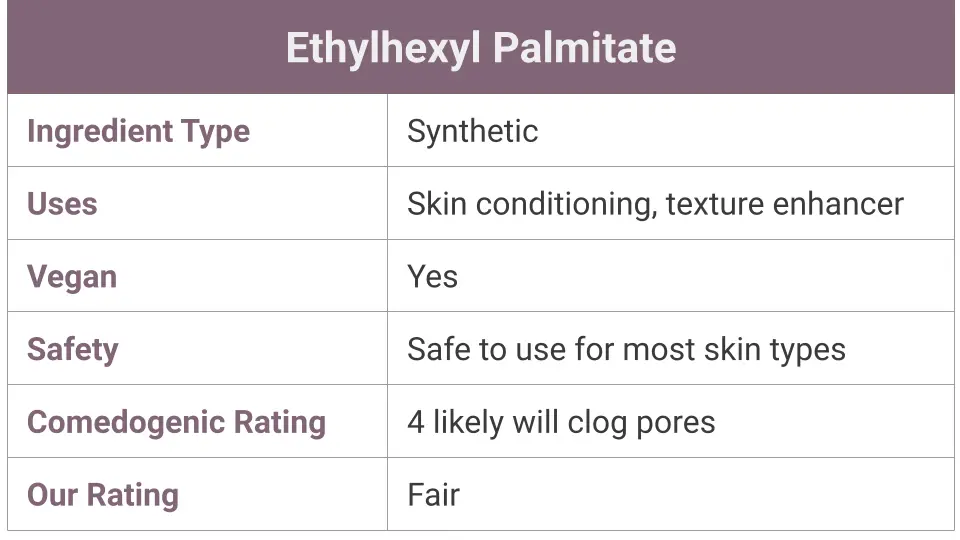 Ethylhexyl Palmitate is in many beauty product formulations, as it acts as a carrying agent for fragrances, as well as an emollient. In other words, it helps to moisturize the skin.
While many skincare products use silicone as an emollient, others use Ethylhexyl Palmitate as a replacement.
Ethylhexyl Palmitate Benefits for Skin
There are many benefits to using Ethylhexyl Palmitate in cosmetics and skincare. It helps the skin retain hydration, improves product stability, and helps color-based products keep a smooth, even color.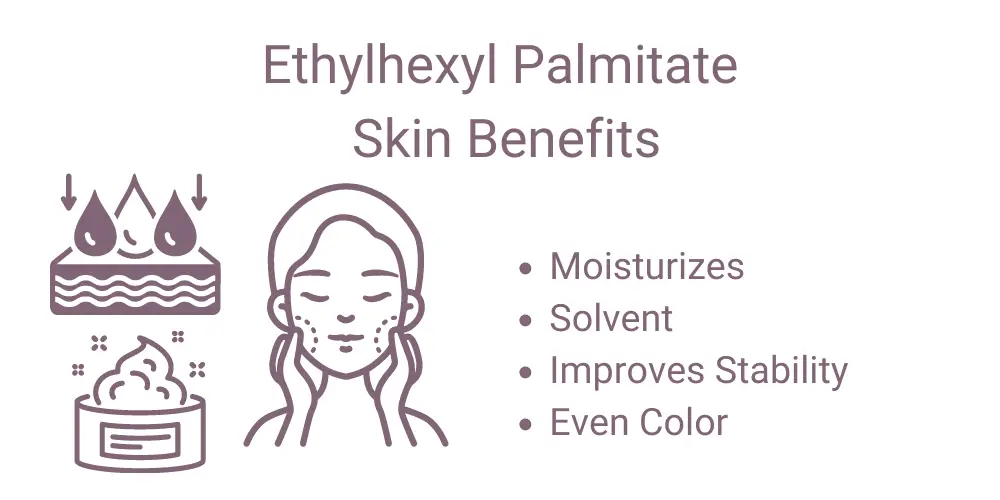 Reduces Moisture Loss
One of the main benefits is this chemical's ability to reduce the loss of water from the outer layers of skin. This helps to promote moist, soft, and supple skin, and in some cases, it even encourages younger-looking skin.
Beauty products containing Ethylhexyl Palmitate are especially useful for those with flaky, parched skin that is prone to psoriasis, eczema, and similar inflammatory skin conditions that can cause dryness.
Solvent for Formulations
Ethylhexyl Palmitate is also a common beauty cream ingredient because of its ability to function as a solvent. Solvents work by helping products to dissolve so they can be adequately mixed to form a specific formulation.
Ethylhexyl Palmitate helps increase the absorption of certain ingredients into the skin.
Improves Stability for Fragrance
Fragrance is a valuable ingredient in makeup and other skincare products, and the use of Ethylhexyl Palmitate balances the volatility of fragrance elements.
This helps the product to last longer and also maintain its stability while on the skin.
Even Color for Cosmetics
Another important role of Ethylhexyl Palmitate in skincare products is to improve the circulation of color throughout the product, so the pigment is even.
Makeup like foundation, lipstick, and eyeshadow are good examples that can explain how using Ethylhexyl Palmitate as a wetting agent helps the color to be more uniform throughout the entire product.
Without Ethylhexyl Palmitate or a similar ingredient, the pigmentation in eyeshadow, foundation, lipstick, and other cosmetics and skincare products would fail to meet the standards of most manufacturers—or consumers.
Is Ethylhexyl Palmitate Natural?
Ethylhexyl Palmitate is derived from palm oil, a natural plant oil used in many common foods. So, even though Ethylhexyl Palmitate must undergo a chemical process to combine 2-ethylhexanol and palmitic acid, it is still considered a natural, organic compound.
In fact, Ethylhexyl palmitate is frequently used in all-natural and organic products.
Is Ethylhexyl Palmitate Safe for Your Skin?
The Cosmetic Ingredient Review Expert Panel (CIR) is a panel that was established in 1976 by the industry trade association and the U.S. Food and Drug Administration to ensure the safety of the ingredients used in cosmetics and skincare products.
After carefully assessing the ingredient Ethylhexyl Palmitate, the CIR has deemed this ingredient safe to use in all cosmetic and skincare products. During their investigation of Ethylhexyl Palmitate, the CIR did find that this compound has the tendency to cause eye irritation, but only in those with extreme sensitivities, or those who have used highly concentrated products containing Ethylhexyl Palmitate.
So, yes, Ethylhexyl Palmitate is considered safe for most skin types, although it's more appropriate for those with normal or normal to dry skin, as opposed to oily.
Ethylhexyl Palmitate Comedogenic rating
Ethylhexyl Palmitate has a high comedogenic rating. It can clog skin pores leading to undesirable skin breakouts. It is a 4 on the comedogenic scale, meaning it has a rather high chance of clogging skin pores.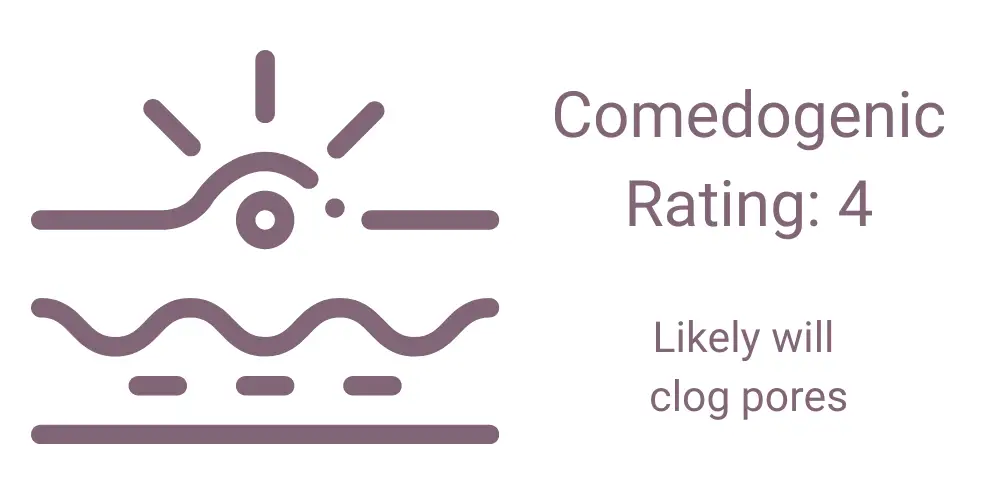 Here is the comedogenic scale of oils and butters:
0 – Non-comedogenic (will not clog pores)
1 – Slightly comedogenic (very slight chance of clogging pores)
2 – Moderately comedogenic (may clog the pores of some, but may cause no clogging for most)
3 – Comedogenic – (will clog pores in acne-prone and oily skin types)
4 – Fairly high comedogenic (will clog pores in just about all skin types)
5 – Highly comedogenic (will clog pores)
This doesn't necessarily mean that Ethylhexyl Palmitate is bad for the skin, but it simply means that this compound can cause clogged pores, just like coconut, almond, and soybean oils also can.
However, you should avoid products with Ethylhexyl Palmitate if you struggle with acne, blemishes, or clogged pores.
Some people do just fine with this ingredient regardless of skin type, and sometimes it might be necessary to sample a product to determine if your skin thrives with it or not.
Dangers/Irritations of Ethylhexyl Palmitate
Ethylhexyl Palmitate has not been implicated in any cases involving dangerous toxicity levels, cancer, or death. In fact, the only problem that some consumers have experienced as a result of using products containing Ethylhexyl Palmitate is irritation, mostly around the eyes.
This has only been known to occur in cases in which significantly greater than normal amounts of the product containing Ethylhexyl Palmitate were used, or in individuals with extremely sensitive skin. In some cases, it was difficult to determine whether the Ethylhexyl Palmitate is what caused the skin irritation, or if another ingredient did. Further investigation would have been necessary in order to make a definitive determination. 
What Types of Products Contain Ethylhexyl Palmitate?
There are a tons of products with Ethylhexyl Palmitate that consumers use on a daily basis. Here is a list of just some of the products that contain Ethylhexyl Palmitate :
Lip gloss, lipstick and lip balm
Facial cleansers
Body lotions and creams
Facial foundations
Body fragrance
Matte powder, and much more
Is Ethylhexyl Palmitate a good ingredient in skincare?
Ethylhexyl Palmitate is an okay ingredient to use in skincare products. Those with oily or super-sensitive skin may want to steer clear of products containing Ethylhexyl Palmitate, because it could lead to acne breakouts and skin irritation.
However, those without oily or very sensitive skin should do well with just about any product containing Ethylhexyl Palmitate. In fact, most consumers who use skincare products containing Ethylhexyl Palmitate will notice more benefits rather than side effects.
Most people will enjoy skin that is more hydrated than usual, which is what most people expect from a skincare product, especially one that they use on their faces. 
Related Articles You Might Like: