Diazolidinyl urea gets a lot of negative attention since it's a formaldehyde-releasing ingredient. While that sounds pretty scary, the amount of formaldehyde released is minimal. But any amount of formaldehyde is enough to scare away many people.
This post may contain affiliate links. Read the full disclosure here
But the bigger consideration for this ingredient is the impact on the skin. It's not the best option for those with sensitive or allergy-prone skin. Let's take a deeper look at what diazolidinyl urea is and why it's in skincare and cosmetic product.
We'll even highlight some alternative preservatives in case this ingredient isn't for you.
What is Diazolidinyl Urea?
Diazolidinyl urea is a water-soluble preservative found in skincare. cosmetics, and personal care products. It increases product shelf life by preventing the growth of bacteria, yeast, and mold.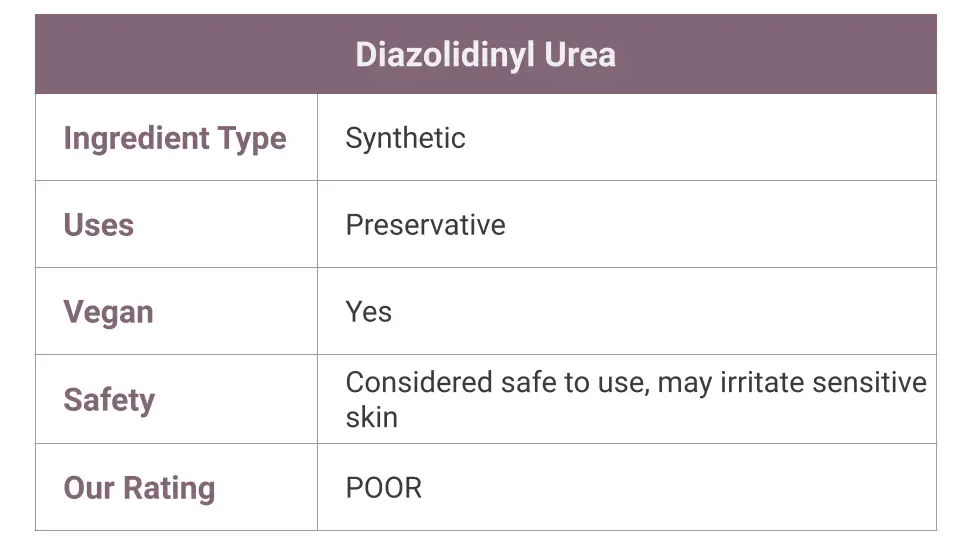 This antimicrobial preservative is made with a chemical reaction of allantoin and formaldehyde along with a sodium hydroxide solution. Then, the mixture is neutralized with hydrochloric acid.
Similar formaldehyde-releasing ingredients include:
DMDM hydantoin
Sodium hyroxymethylglycinate
Imidazolidinyl urea
Diazolidinyl Urea Uses in Skincare
Diazolidinyl urea is an antimicrobial preservative that improves product safety and longevity. Products without preservatives such as diazolidinyl urea can spoil.
This preservative is popular in skincare, cosmetics, personal care, and hair care products. It's in creams, lotions, bubble baths, shampoo, baby wipes, and more.
Diazolidinyl urea is in products by popular brands such as Paul Mitchell, Mario Badescu, Aveeno, Peter Thomas Roth, Proactiv, L'Oréal, Dermalogica, and Sun Bum.
Is Diazolidinyl Urea Safe?
The Cosmetic Ingredient Review Panel considers diazolidinyl urea safe to use under present practices in concentrations up to 0.5%. However, EWG gave this ingredient a rating of 5 (Fair) based on the risks of allergies and immunotoxicity.
Diazolidinyl urea can cause irritation when used in higher concentrations. This is one of the main reasons its use is capped at 0.5%. It may not cause irritation for normal skin but it can be problematic for those with sensitive skin.
The American Academy of Dermatology noted diazolidinyl urea as a cause of contact dermatitis.
Having preserving ingredients such as diazolidinyl urea is safer than not having any preservatives in a product formulation. Without preservatives, products go bad and can produce harmful bacteria. But there have been concerns about diazolidinyl urea being a formaldehyde-releasing ingredient.
Does Diazolidinyl Urea Release Formaldehyde?
Diazolidinyl urea is a formaldehyde-releasing ingredient. This may sound scary, like an ingredient you should run from. But since the level of formaldehyde released is so low, it's not considered a concern.

Formaldehyde is a gas that is naturally produced in our bodies and it's also present in fruits and vegetables. For instance, you'll be exposed to similar levels of formaldehyde by eating a pear or an apple.
Diazolidinyl Urea Alternatives
Having preserving ingredients such as diazolidinyl urea is safer than not using any preservatives. With them, products will spoil and can grow harmful bacteria. You definitely don't want that. But diazolidinyl urea isn't the only preservative that's effective.
Luckily, there are alternatives to diazolidinyl urea that keep products fresh and don't release formaldehyde. The following options can help inhibit bacteria and mold growth with lower chances of irritating the skin:
Frequently Asked Questions
Find answers to some of the most frequently asked questions about diazolidinyl urea.
Is Diazolidinyl Urea Good for the Skin?
Diazolidinyl urea doesn't provide any direct benefits to the skin. But it's useful in skincare formulations by protecting from the growth of mold, yeast, and bacteria. It's a preservative that increases the safety and shelf life of a product.
While preservatives are critical in many product formulations, this particular ingredient isn't. Diazolidinyl urea isn't our favorite preservative. We prefer to see alternatives such as phenoxyethanol, potassium sorbate, and/or benzoic acid.
Diazolidinyl urea is a formaldehyde-releasing (despite low levels) ingredient and it can irritate sensitive and allergy-prone skin. While this ingredient isn't bad, it's not really good for the skin either.
Related Ingredients: